Stellar Data Recovery Professional is a data recovery software that can be used to recover lost or deleted files from a variety of storage devices, including hard drives, USB drives, and memory cards. The software has a user-friendly interface and can be used to recover a wide variety of file types, including documents, photos, videos, and emails.
Stellar Data Recovery Verdict
Stellar Data Recovery has a good reputation and is widely used by businesses and individuals. The software has a high success rate and can recover files that have been deleted or lost due to a variety of reasons, including accidental deletion, formatting, corruption, and virus attacks.
Overall, Stellar Data Recovery is a good choice for anyone who needs to recover lost or deleted files. The software is easy to use, has a high success rate, and offers a free trial.
Pros
Easy to Use,
High success rate,
You can scan and preview deleted files before you buy it,
Cons
Not Free,
Email verification is needed to Download software.
About Stellar Data Recovery
Stellar Data Recovery is a highly acclaimed professional data recovery software that has established itself as a reliable solution for recovering lost or deleted data. With its intuitive interface and user-friendly features, it has garnered praise from both professionals and casual users alike.
One of the standout qualities of Stellar Data Recovery is its comprehensive file recovery capabilities.
Whether you've accidentally deleted important documents, lost precious photos, or experienced a drive failure, this software excels at retrieving various file types with remarkable success rates.
It can effortlessly recover data from formatted, encrypted, or corrupted drives, providing a lifeline for users facing data loss situations.
Features of Stellar Data Recovery
File Recovery: Easily restore deleted files, photos, documents, and other file types. A simple and intuitive process, requiring just a few clicks.
Drive Compatibility: Recover data from various storage drives, including

Internal hard drives,
External hard drives
Solid State Drives (SSD)
USB drives, SD cards and other memory card utilities.

Versatile Data Recover: Restore data from formatted drives, even if they are encrypted of corrupted. Retrieve lost or inaccessible data from different storage media.
Compatibility: Fully compatible with different versions of Windows OS, software also supports Mac.
Recover Data from Crashed Windows: You can even create a bootable recovery drive to recover data from Windows PC that failed to even boot, the reason can be anything like a hard drive failure, corrupted file system, virus attack or any other error.
Preview Date before Save: You can view all files and folders that are found in the scan of lost files, you selectively restore files and folders you want to store.
How To Use Stellar Data Recovery
First download and install Stellar Data Recovery from the official website and install it on your system.
Now Open the software Select the data types you want to recover and then click the Next Button
Now Select the drive from where you want to recover lost/deleted data, Make sure to select the right storage from where you want to recover files.
Next, It's time to wait and let Stellar Data Recovery do the work for you, after a few minutes depending size of the storage, you will see a list of recoverable files and folders. Now choose the files and folder you want to recover.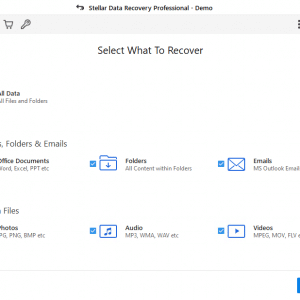 Conclusion
In conclusion, Stellar Data Recovery software has proven to be an exceptional tool for recovering lost or deleted data. Its user-friendly interface and straightforward recovery process make it accessible to users of all levels of technical expertise. The software's ability to restore files from formatted, encrypted, and corrupted drives showcases its versatility and reliability.
Furthermore, Stellar Data Recovery software offers extensive drive compatibility, supporting various storage devices such as internal and external hard drives, SSDs, and more. Its compatibility with multiple Windows operating systems ensures a wider user base can benefit from its exceptional recovery capabilities.
Overall, Stellar Data Recovery software delivers on its promises, providing a powerful and efficient solution for data recovery. Whether you are a professional or a novice user, this software is an excellent choice for restoring your valuable files, photos, and documents with ease.