With every new release of iOS, your experience gets better and smoother. New iOS 13 brings more performance, bold new looks to apps, privacy and Dark Mode to your devices.
While there is a huge list of features from small to huge we will try to cover almost all features that have been announced by Apple.
For updating your iOS version to iOS 13 follow the official instructions by Apple.
iOS 13 Release Date
iOS 13 has been released on September 2019 but iOS 13.1.2 was announced a few days back to fix the major bugs which users were complaining.
If you are interested in beta version enrol here.
Dark Mode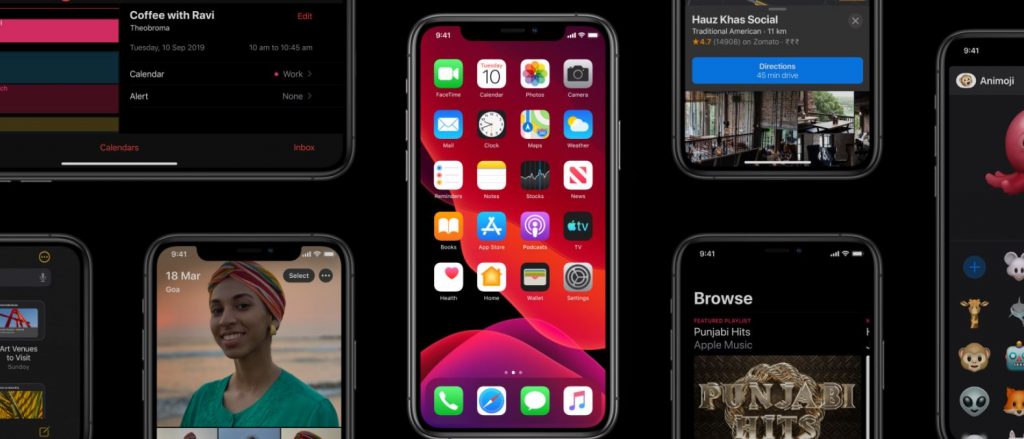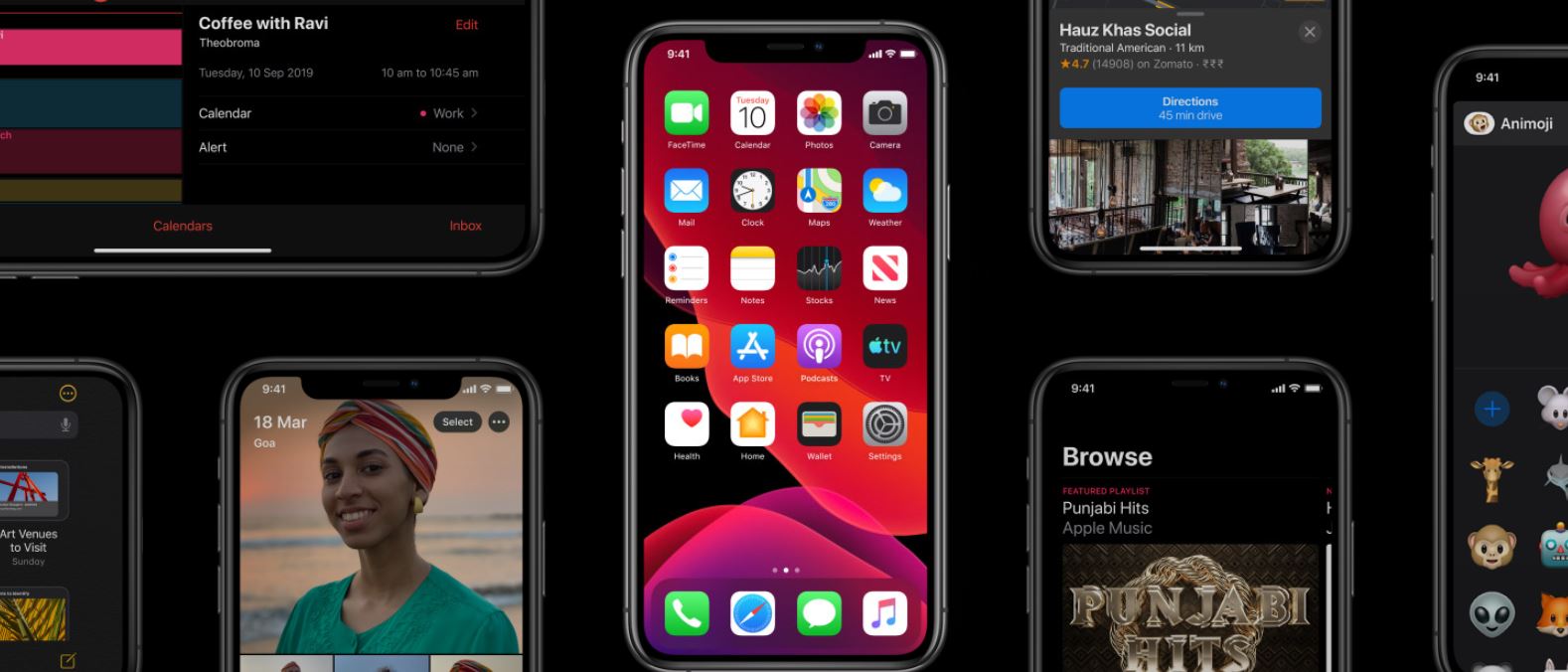 The biggest highlight of new iOS is a dark mode which was the most requested feature by almost every apple user.
You can toggle dark mode from control centre anytime. This has been designed to seamlessly blend with complete UI with all the inbuilt apps to make the experience seamless.
Performance of iOS 13
Face ID now uplocks upto 30 percent faster compared to iOS 12. Apple has also changed how apps are delivered to your device.
The new way of packaging the apps allows 50 percent smaller download size for the first time and upto 60 percent smaller when apps are updated which means huge saving for users.
In the new ios apps launch much faster than the previous version of iOS 12
Photos App & Camera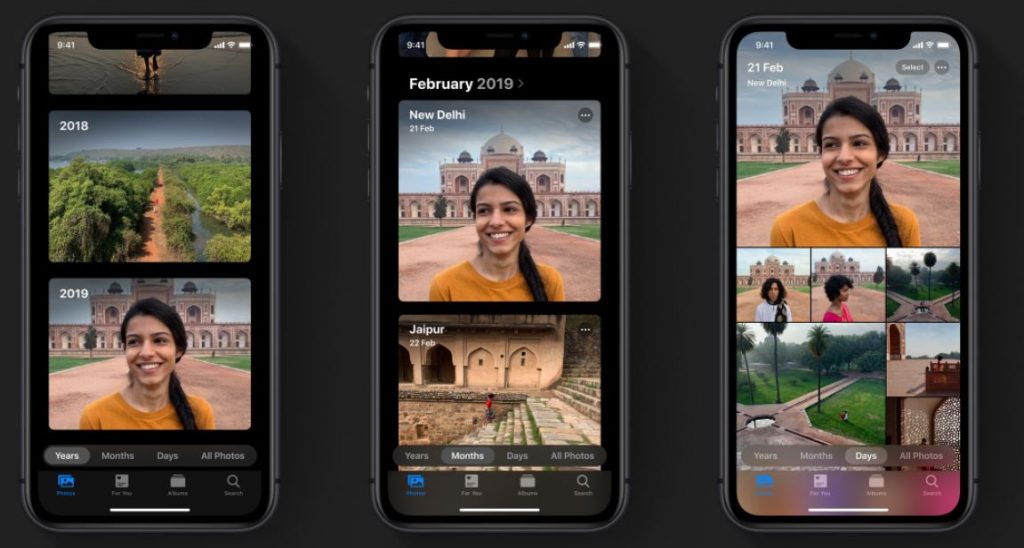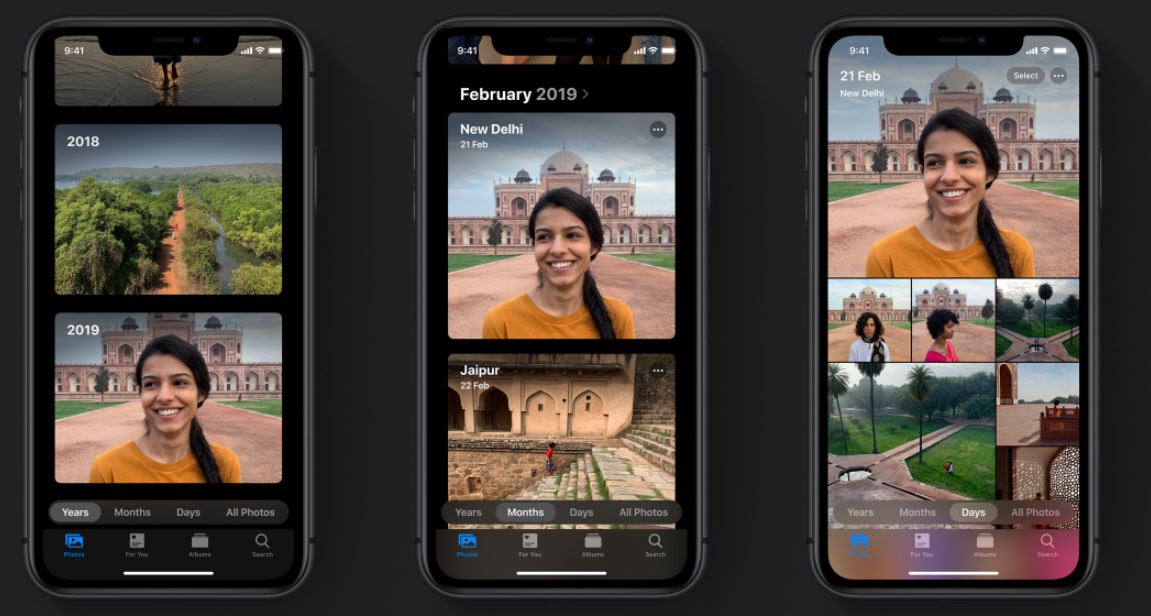 Inside the photos apps, you get an all-new photos tab which will display all the curate moments of your life by day, month and year.
The app also provides new editing options to fine-tune the photos you want. Portrait lighting edit allows controlling the intensity of the photos.
Privacy and Security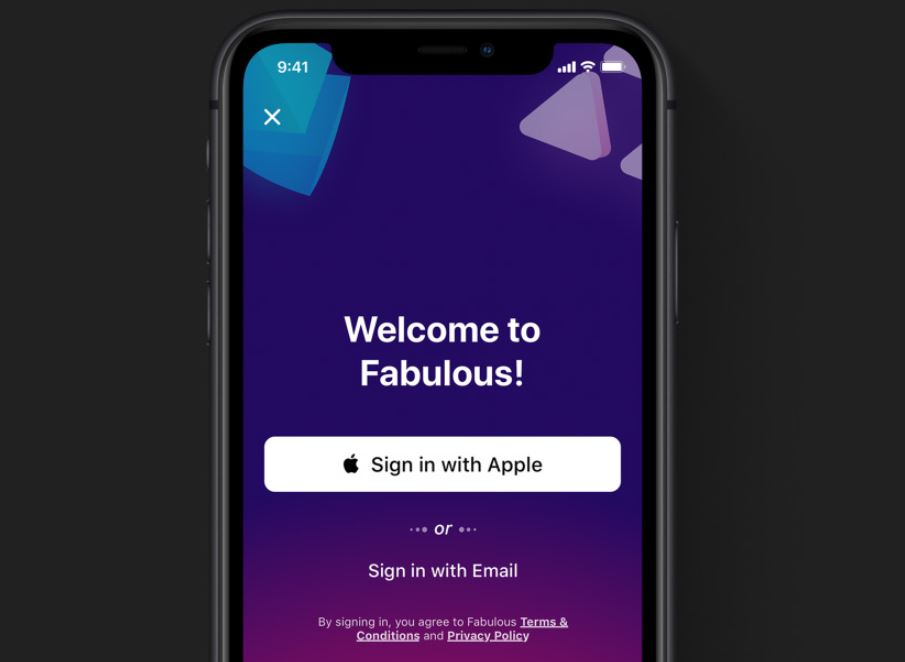 Apple always provides much higher security with every new release and this release is also no exception.
Sign In With Apple provides one-tap login to apps and you don't need to fill out any forms. After that apps can ask for your name and email address. If you don't want to give your email address you can even generate one that will forward all emails to your original one. So your email address is always protected.
Location privacy settings has been also improved and restricted to apps so you can choose to allow with the apps you trust.
Maps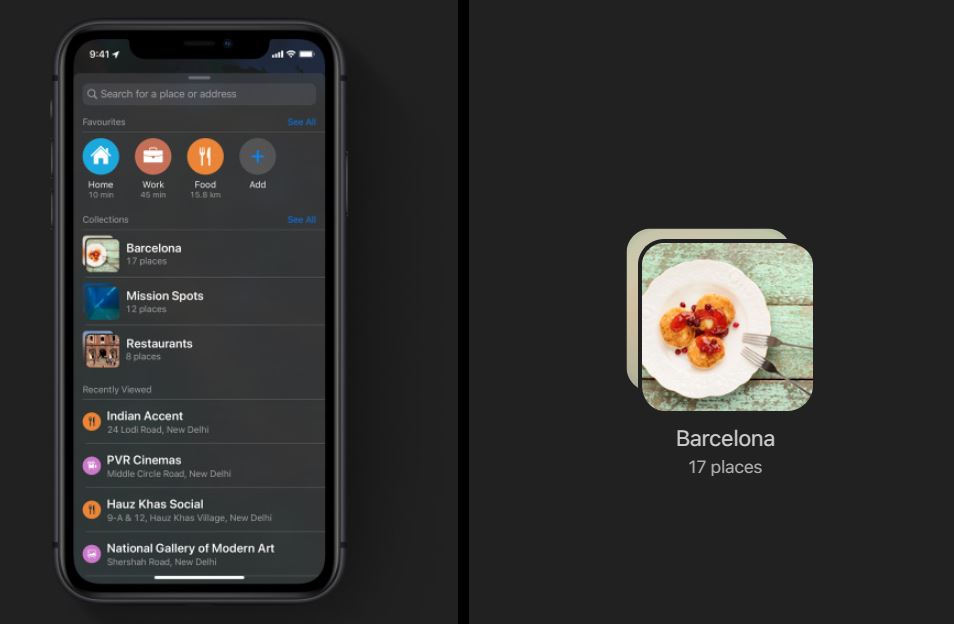 New maps app unveils more information about your surroundings. In the search section, you have quick options for selecting home, work, school or favourite shops.
You can build list of favourite places or must have and share with everyone as well.
Audio Sharing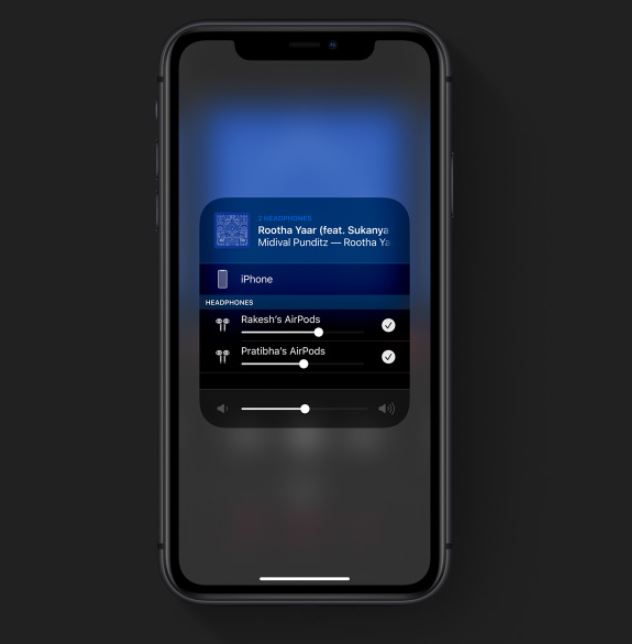 You can now pair two AirPods with one single iPhone to listen to same songs with your friends. This feature is so cool wirelessly listening the same stuff from single iPhone.
It's not limited to AirPods any wireless buds that comes with H1 and W1 processor will work. Some of the popular earbuds are Powerbeats Pro, BeatsX, Powerbeats 3, Studio3 Wireless.
Siri on AirPods
Remember those times when you are doing something while listening to songs or podcast and you get a message now you need to pick up your iPhone to check what it's about. Now you don't need to do that. Siri will read the messages for you and you can keep working on what you are working.
Memoji Everywhere
You can your own memoji with more options for hairstyle, headwear, makeup and other elements.
You memoji becomes the sticker pack that can be used anywhere in third party apps like mail, messages. So the fun of memoji gets even better.
QuickPath Typing (Swipe)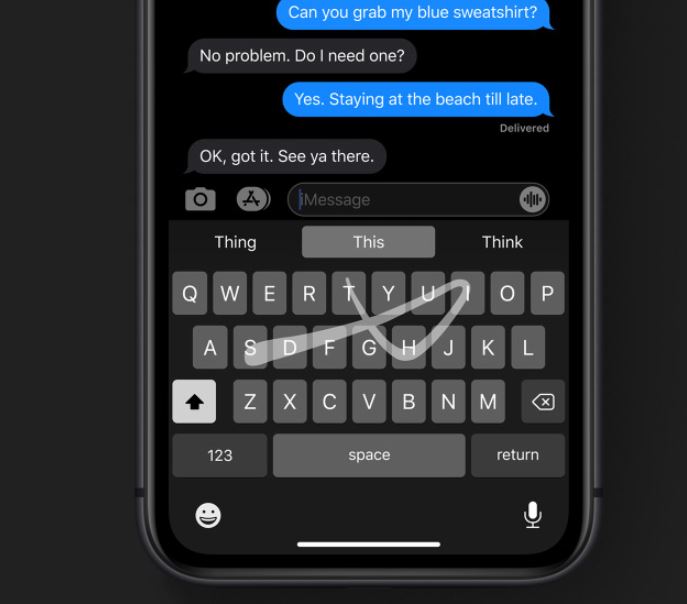 Apple finally supports swipe typing. Android has these features for years and has got even better with times.
It works exactly the same for single word just swipe your finger from letter to letter to complete the words.
New Reminders app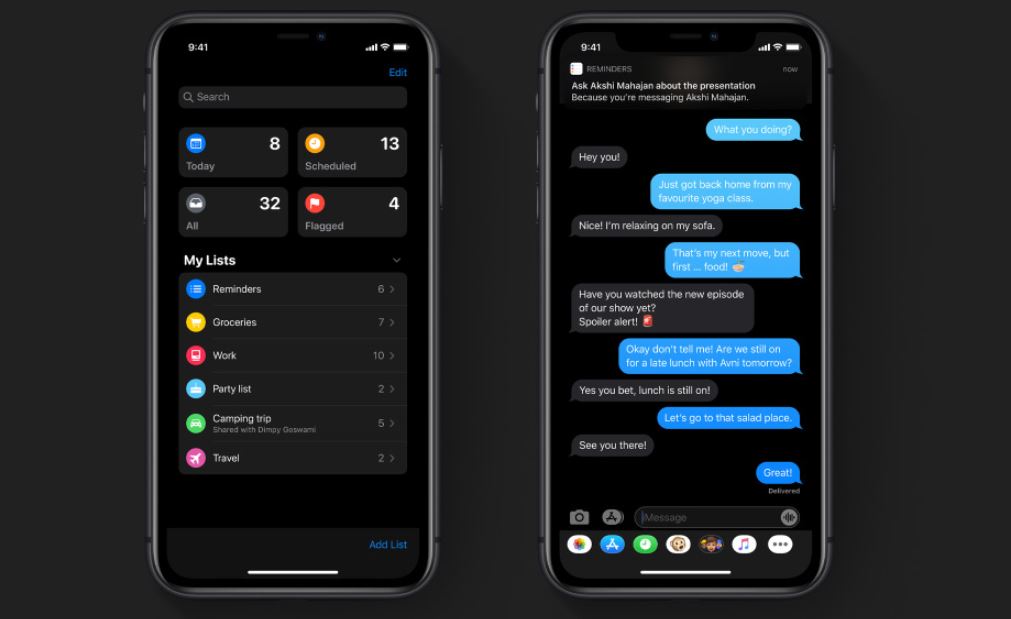 When you combine Siri shortcuts with reminders it can be very powerful automation stuff.
New reminders app comes with very minimal design with focused on today, scheduled and you can make your reminders with smart lists and Siri intelligence. You can also get new Quick Toolbar which can be used to quickly add date, time, photos, location and documents for reminders.
CarPlay


With iOS 13 CarPlay provides more simplified controls so you can focus on driving and perform general steps easier.  You can get a full view of your schedule with a calendar app and navigate to your favourite music much faster because of the album photos now visible.
Augmented Reality
AR apps are getting better and better now you can place any object behind or in front of any person which can look super cool and fun. With more fun objects you can share these photos or videos with friends its
Voice Control
Now you can control your iPhone with just voice. Write text with smart editing features that can make corrections as you speak. You will also see numbers on different options to select and perform an action.
This feature can involve more in upcoming releases and becomes much better.
Game Controller
Now you can use your PlayStation 4 game controller with iPhone directly. You gaming experience just got even better. You can also connect your Xbox controller via Bluetooth with the iPhone.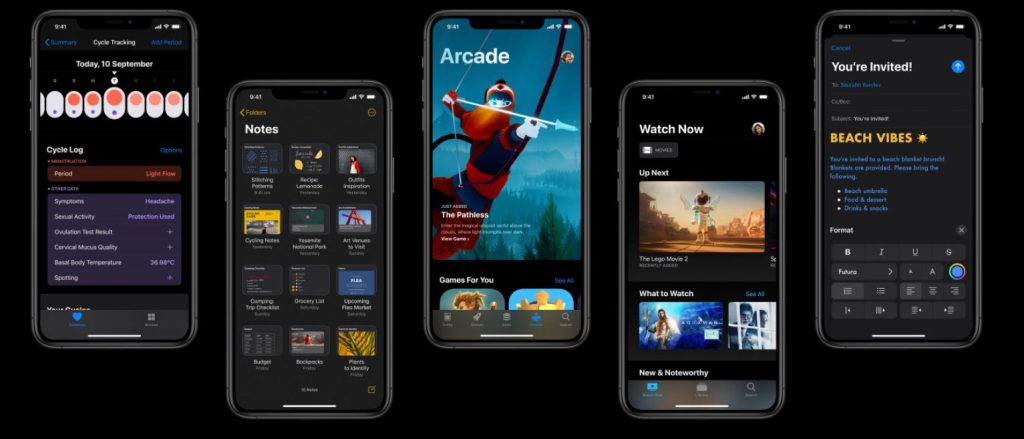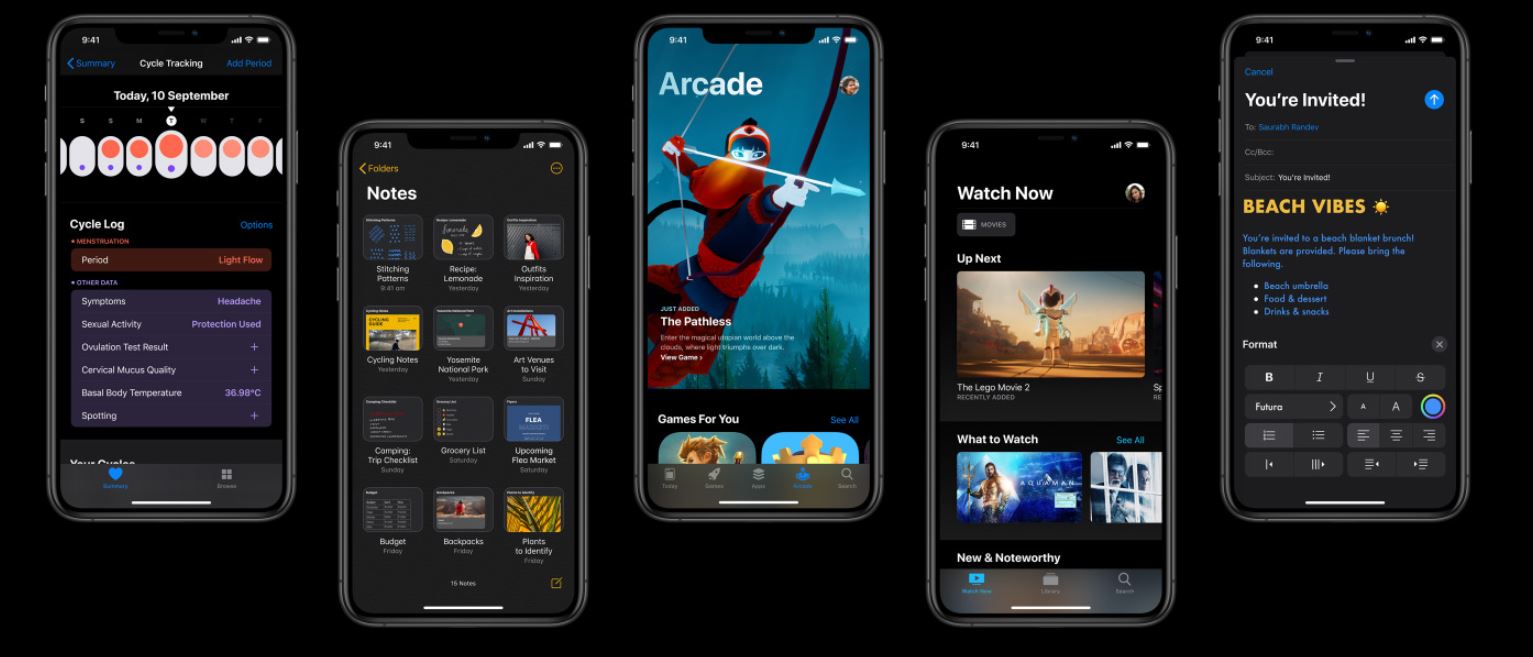 More Highlights of Features
More Personalized Health App
Font Management
Tex Formatting in Mails
Pinch to Zoom in Voice Memos
Volume Control on Left
Low Data Mode to save data
New Updated Start Page in Safari
Silence Unknown Callers
New and Improved Notes App
Lyrics in Music app with Time-Synced
More Languages Support in Keyboard
Locate Offline devices with crowd-sourced location
New Relationship labels in Contacts
Optimized Battery Charging after 80% by using on-device Machine Learning
Apple Arcade- Game subscription service to play all game with one subscription
Download huge apps over cellular if you want
iOS 13 Supported Devices
Following devices support iOS 13 and can update to the latest version:
iPhone 11
iPhone 11 Pro
iPhone 11 Pro Max
iPhone XS
iPhone XS Max
iPhone XR
iPhone X
iPhone 8
iPhone 8 Plus
iPhone 7
iPhone 7 Plus
iPhone 6s
iPhone 6s Plus
iPhone SE
iPadOS Supported Tablets
Apple has also added new features to iPadOS here are the supported tablets:
12.9-inch iPad Pro
11-inch iPad Pro
10.5-inch iPad Pro
9.7-inch iPad Pro
iPad (7th generation)
iPad (6th generation)
iPad (5th generation)
iPad mini (5th generation)
iPad mini 4
iPad Air (3rd generation)
iPad Air 2
iOS 13 Wallpaper
Here are all the new iOS 13 wallpapers for your anyone.
What's your favourite feature of iOS 13? There will continuous updates so these features will improve.
If you want to read in-depth features you can read here. For iPadOS features read here.