Every year at WWDC Apple makes a lot of announcements for iPhone, iPad, Apple Watch, this year at Apple Special Event which was held on June 4, 2018, it was more on the software side making things faster and better.
Apple showcased brand new iOS 12, macOS Mojave, watchOS 5 and Apple tv 4k at Worldwide Developers Conference (WWDC) 2018, California (US).
New iOS 13 Features: iOS 13 New Features List, Supported Device, Wallpaper and Release Date
iOS 12 release date
Most of the new features introduced in iOS 12 are already available in Android, users will be able to get hands on stable iOS 12 in September 2018.
If you want to get the taste of iOS 12 early then signup for iOS 12 beta release here, developers can start using ARKit 2, SiriKit, HealthKit, and more, more details at Apples website for Developers  here
We are excited to share features list of iOS 12 that will make every user happy, so lets gets started –
Performance of iOS
With every new version of iOS, Apple claims they made the iPhone and iPad faster than ever and more responsive to user,
iOS 12 as per Apples Test*
App launch is 40% faster in day-to-day usage while multitasking under heavy load app launch is 2x faster
70% faster Camera launch from lock screen
50% faster keyboard display
2x faster Share sheet display under heavy load
 *Testing conducted by Apple in May 2018 using iPhone 6 Plus supporting normal peak performance, prerelease iOS 11.4, and prerelease iOS 12. App launch tested by launching from the Home screen; keyboard tested using Safari; Camera tested by swiping from the Lock screen; Share sheet tested using Photos and 50 third-party apps with Share extensions installed. Performance varies based on specific configuration, content, battery health, usage, and other factors.
MeMoji and Animoji
Now iPhone users can create their own personal Animoji MeMoji and can share with friends and family,
You can customize MeMoji to match your personality, you can edit like Hair, eye wear and skin color etc.
It gives users a customization to express their feelings and emotions with their own MeMoji, you can use MeMoji in messages and FaceTime.
4 New Animoji added – Koala, tiger, ghost and T. rex.  Now you can stick your tongue out  and wink at girls. Animoji can now recorded up to 30 sec.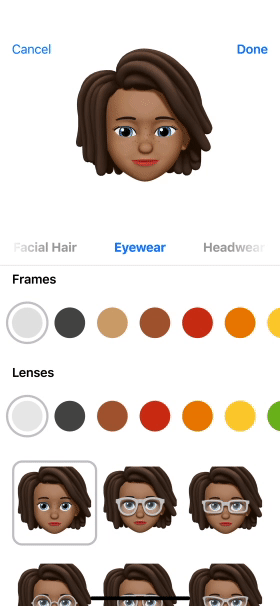 Notification Grouping
Probably best news for iOS users after so many request and head scratches, Apple finally introduced notification grouping. At first glance it clearly looks like directly copy of how Android manages notification and groups them app wise, you can turn off notification from specific app to appear on your screen or make it appear silently. Siri will be helping you with some intelligent suggestions based on user interaction with notification. You can clear all notification at once.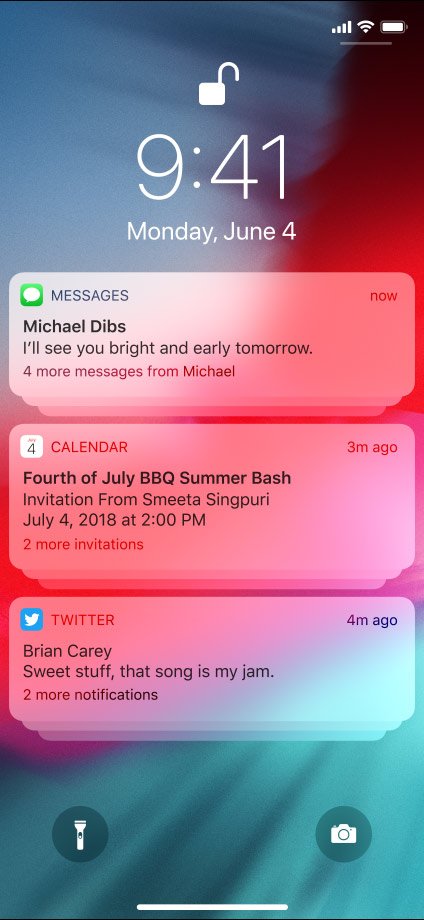 Screen Time
Now you track how much time you are spending in social apps and productivity apps, you can set your own limits how much you want to use any specific app when time is about to end you will get a heads up notification about it,
You will also get information about how much time you are spending on any specific website.
Screen time has some neat features like
Activity reports where you can see daily usage or weekly usage pattern
for Kids parental control  parents can set time limits for specific app like games, social media app for their kids, kids will be able to request more time from parents to approve. Parents can remove some important apps from app usage time limits like messages or education apps.
Downtime, you can set specific time like office meeting or bed time when apps and notification will not disturb you.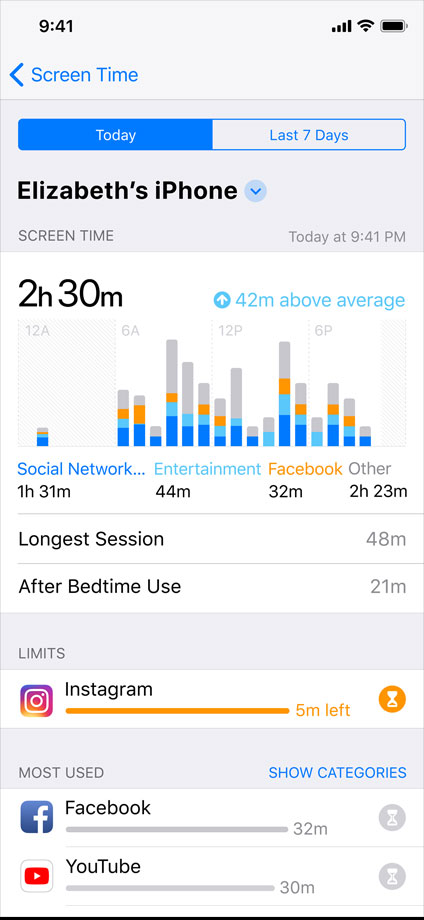 Do not Disturb
Enhanced Do not disturb during bedtime will dim your iPhones display while muting your notification till morning so you can sleep properly, during this time if notification arrives it will light up lock screen with dark and minimal UI.
You can set rules for automatic activation of DND like on specific locations, meeting time based on your calendar or in an hour as you set.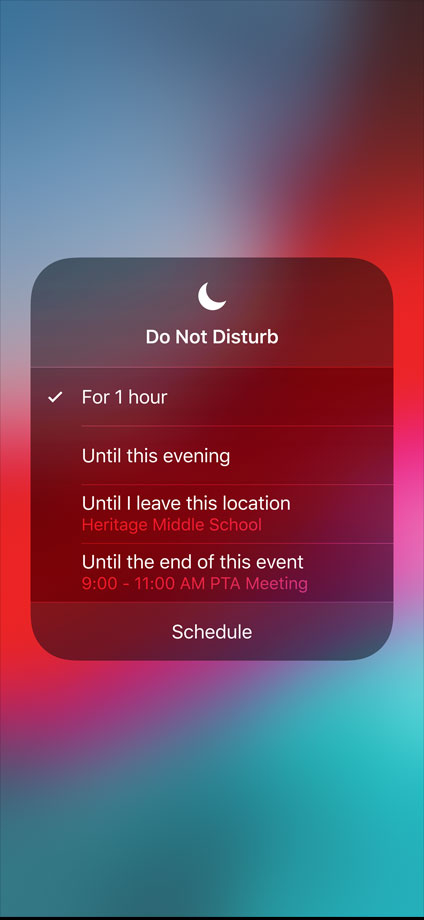 FaceTime
You can now start a FaceTime (video call) up to 32 people simultaneously at the same time for fun you can use camera effects, animoji, text effects, filters and iMessage stickers etc.
FaceTime can be started from group messaging conversation where others can join ongoing FaceTime with single tap or directly from conversations list,
FaceTime focuses on user who is speaking they will be placed in center and focused automatically or you can enlarge any users tile individually.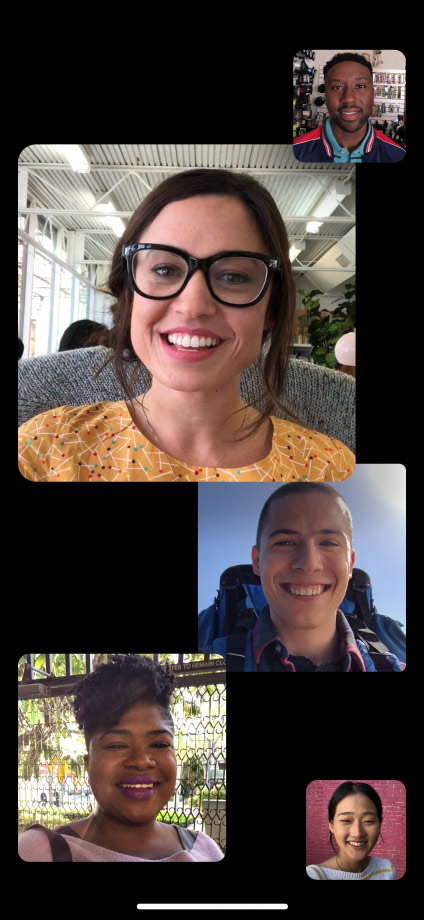 Augmented Reality
Apple had done some great work in AR, in Augmented Reality now user can share current experience with other users live and can also interact with it like playing multiplayer games in Augmented reality with friends.
New USDZ file format is co-created by Apple for 3D content creators to share AR experience information easily between apps and devices.
AR Quick Look, you will be able to experience AR in Safari, Mail and messages in day-to-day usage.
Measure App is app that helps to measure distance between two points in real world environment with help of AR, like how wide a table is? Without touching any measurement tape, just using camera.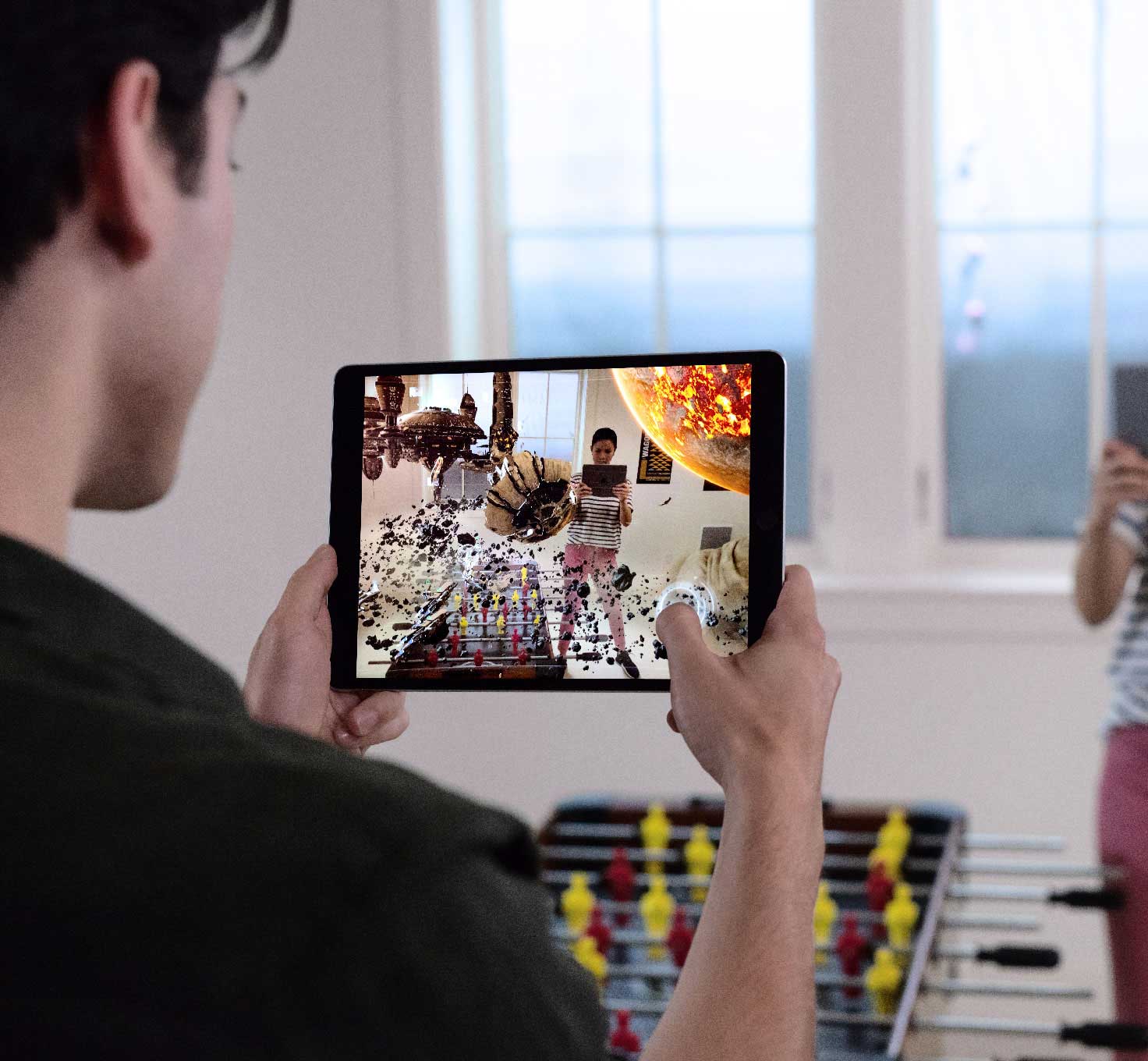 Smart Photo Sharing and Search
Sharing Suggestion like if someone shares a photo with you of any trip or event and you have some other photos of same event then photos will suggest you to share those photos with others, sharing suggestion can be based on person in photos also.
For you tab is like Google Photos app's assistant tab where you will get your memories, shared album activity, best moments in your library, new featured photos and effects suggestion.
Search is greatly improved now you can search using place, event and multiple keyword name because photos now understands the context of images that can be any festival, food, animal, any activity like surfing etc.
Last but not least RAW photo support, now you can edit RAW photos on your iPad and iPhone.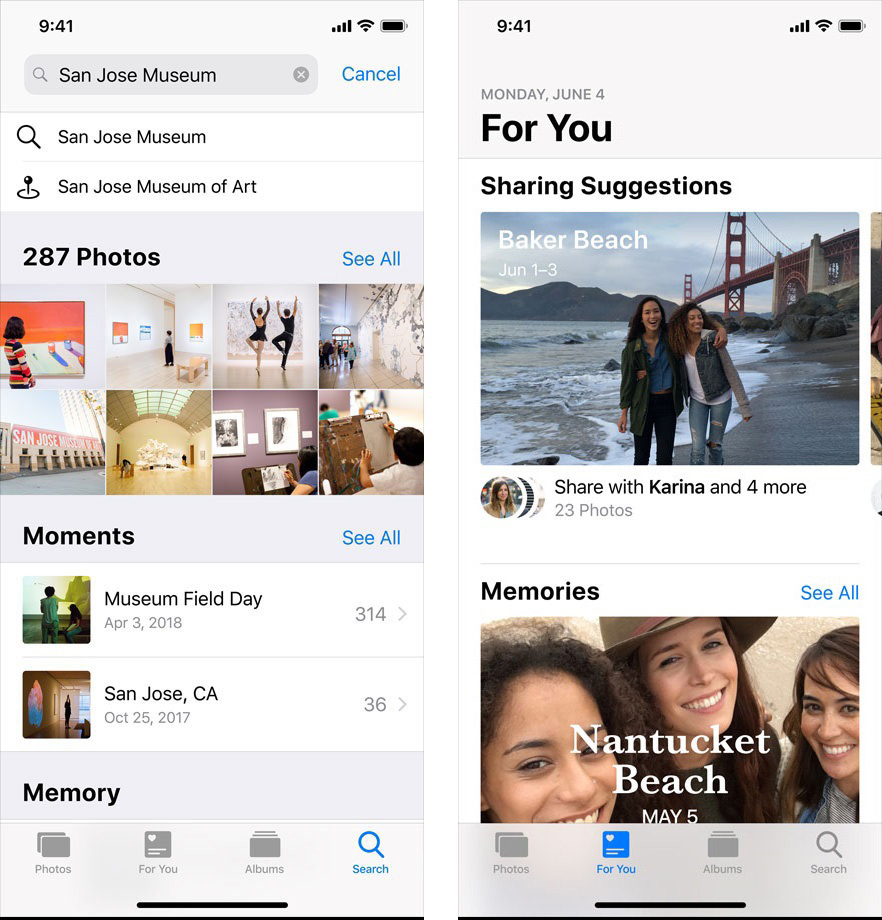 Camera
Camera now captures photos in layers i.e it distinguishes between people in foreground from background via Portrait Segmentation API that is available for third-party developers.
QR Code will be highlighted if in frame for easy scan.
Portrait Lighting is now further improved now it creates a mask and separates the person from scene effectively if it detects a person.
Smarter Siri
Siri is now going to give you smart suggestions based on your routines and how you use your phone while performing search or on lock screen.
Shortcuts App is where you will manage your shortcuts that are group of multiple steps, these steps will be performed at once by Siri on your defined voice command. App will be having some examples to start with that can be further customized as per your usage. These steps can be related to multiple apps.
Now  Siri can help you with celebrity facts, motorsports scores and food knowledge. You can also ask Siri about your photos memories and password.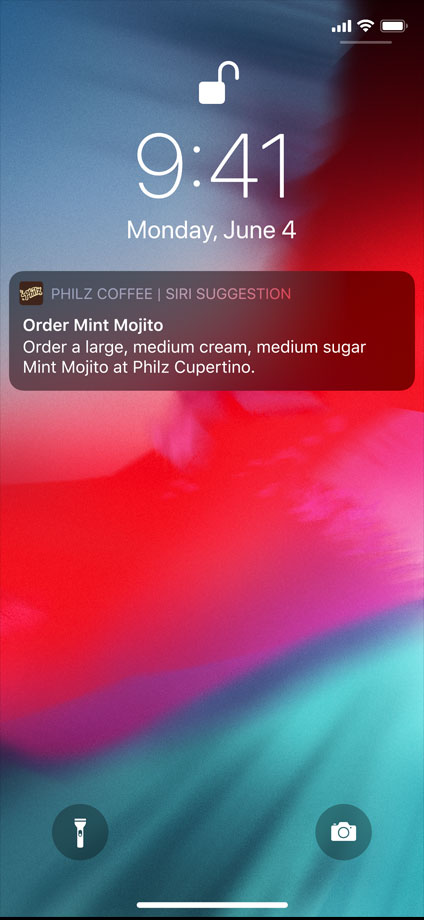 Web Privacy and Security
Tracking protection in safari is improved by preventing social share button and widgets to track you without your permission.
In iOS 12 Password will be automatically created, filled and stored for users that can be accessed on all users devices. If you are feeling lazy you can directly ask Siri. Passwords will be checked if any password is reused for better security.
In iOS 12 OTP will be added as autoFill suggestion so you don't have to jump between apps to fill an OTP.
Retouched Apple Apps
With iOS 12 Apple retouched some apps for better user experience
Navigation apps in CarPlay
Now CarPlay supports Google Maps and other third-party navigation apps.
Redesigned Stock app
Stock app is redesigned that keeps you informed about the market ups and downs. You can create watch list of stocks and check when you want at a glance, all business related news is at one place. Stock app is now available on iPad and iPhone.
News app update
News app is now more organized and colorful.
Apple Books and Voice Memos app also got enhanced.
Better Battery details
Now battery details in setting shows you details of your battery consumption of last 24 hours or 10 days, you can see app usages for that period based on your choice.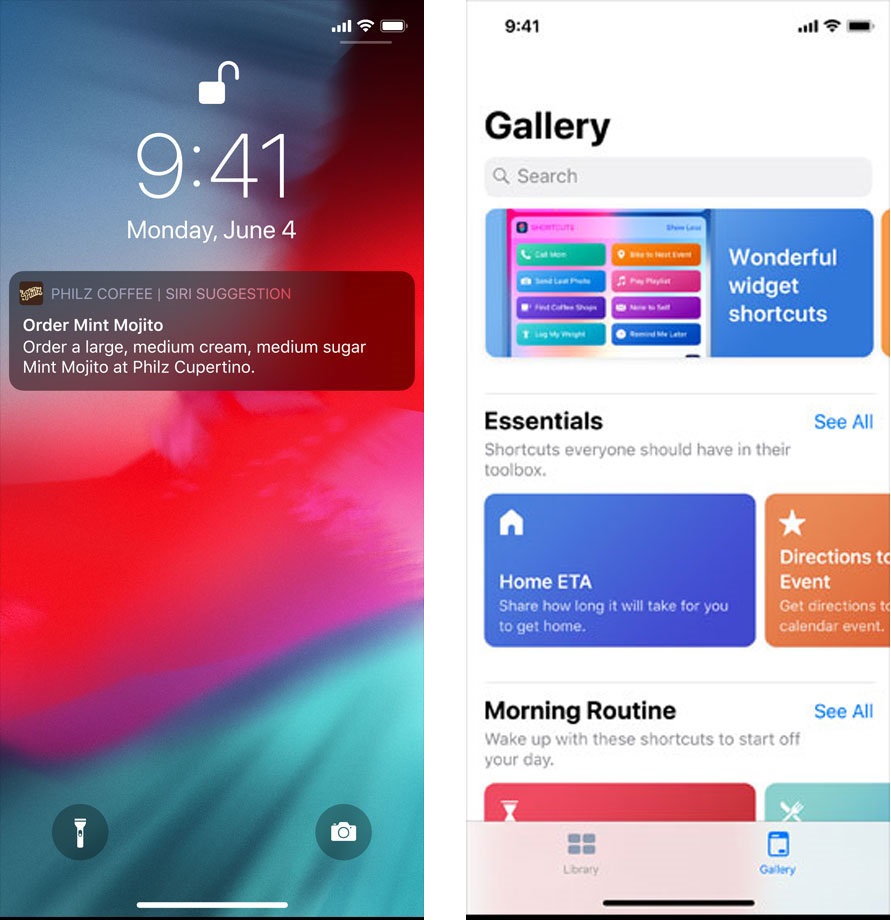 iOS 12 Supported Devices
iPhone
iPhone X
iPhone 8
iPhone 8 Plus
iPhone 7
iPhone 7 Plus
iPhone 6s
iPhone 6s Plus
iPhone 6
iPhone 6 Plus
iPhone SE
iPhone 5s
iPad
12.9-inch iPad Pro 2nd generation
12.9-inch iPad Pro 1st generation
10.5-inch iPad Pro
9.7-inch iPad Pro
iPad 6th generation
iPad 5th generation
iPad Air 2
iPad Air
iPad mini 4
iPad mini 3
iPad mini 2
iPod
iPod touch 6th generation
iOS 12 Wallpaper
iOS 12 wallpaper for your iPhone and iPad