Have you ever had a meeting that you wanted to repeat, or you wanted to hear again because you had a lot of good ideas at that meeting?
Then you need to record your meetings!
It is good to record your meetings because it gives you a way to go back to the meeting and hear what you said.
Note: Make sure it's legal and the other party is aware the meeting can be recorded specially for video recording where faces can be recorded for privacy reasons some people may or may not like.
There are a few different ways that you can record your Google Meet or Zoom calls
Ways to Record Meeting
Use In-Built Recording Options – One way is to use the built-in recording. But that may or may not be available on all platforms as there are tons of meeting apps which are used.
Use Online Services to Record on Cloud – These types of services are mostly Paid but they are more than just recording as they also transcribe the whole meeting. Mostly all salespeople use it with more features. They send a bot to join the meeting and then the whole meeting gets recorded and saved in the cloud

fireflies.ai
trywingman.com
Chorus.ai and more

Use Software to Record Locally on Device – This is 100% free and record as much you want either video or just audio or both with full flexibility. This is what we will be explaining in the below later part with steps.
Use a third-party recording tool locally. Which will work on all types of calls as long as you are attending and starting the recording locally on your system.
These tools will give you more control over the recording process.
Whichever method you choose, recording your meeting calls is a great way to capture important meetings, presentations, or conversations.
Steps to Record Google Meet or Zoom Meetings for Free
For recording, we are going to be using OBS Studio which works on Windows, macOS and Linux and on top of it it's 100% free, Open Source.
What we want to achieve is as we are attending the meeting we are capturing the screen as the recording of the meeting.
Step 1: Download OBS Studio based on your operating system and Install it

Step 2: Configure OBS Studio for Recording the right window/tab of your meeting:
Open the OBS Studio and follow the basic first-time setup instruction.
After that follow just a few steps to start recording your meeting. Follow the number marking on the below screenshot
Click on Add Source: Add Window Capture from the options
Click on Window Capture
From the dropdown select the window where the meeting is happening.

If your meeting is on Chrome Tab, make sure you first open the meeting tab in the browser then you will see the tab name
If your meeting is on Zoom software or any other software. Start the application and you will find the window in the dropdown

Click on Start Recording if you are seeing the preview just like the image below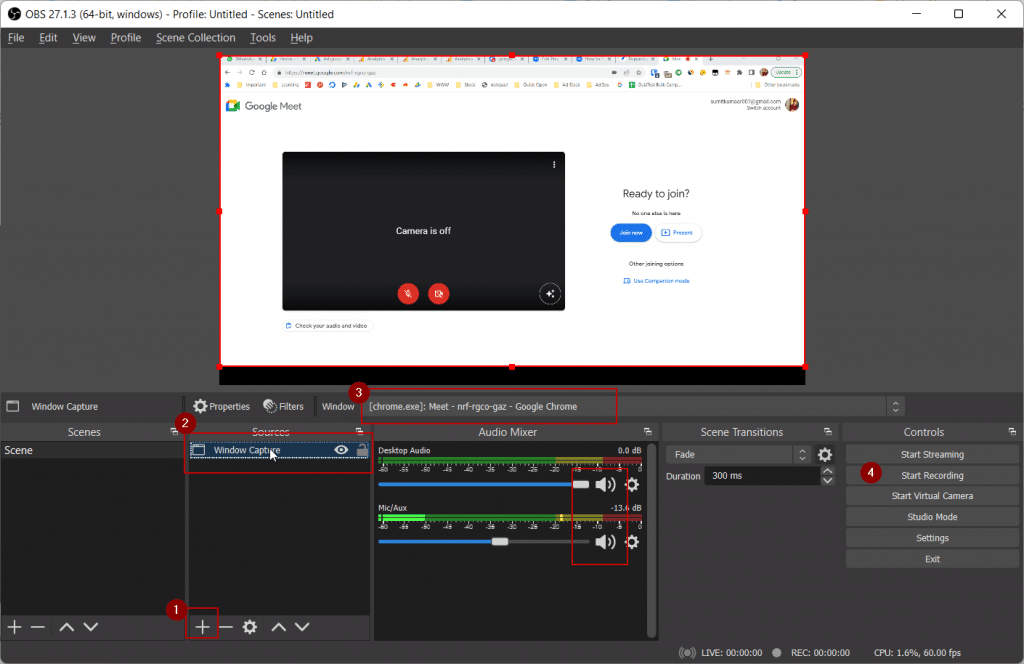 Make sure the audio is not muted as highlighted above under Mic/Aux. You can also reduce or increase to maintain volume in the recording.
Tip: If you do not want your other tabs to be recorded, just open the tab in a new window and record that window.
OBS Studio has tons of options hence sometimes you might need little help for which you can use the Guides written by community members.
The community has created a few guides on how to use OBS Studio:
Most Popular Video Meeting Platforms
What is Google Meet
Google Meet is the easiest way for teams to meet online. With Google Meet, you can get a video conference started in minutes—for free. It's simple to get started, whether you're on a computer or on your phone. Just share a link and people can join instantly.
What is Zoom
Zoom Meeting is a great tool for anyone in the business field. This is a distant, virtual meeting tool. It allows you to speak with others from across the globe. This is great for people that are in different locations and want to communicate with each other. They can speak, see each other, and collaborate. It's also great for people with multiple meetings in one day who can save time by having all of their meetings in one place. Anyone in business who wants efficient and productive meetings should use Zoom Meeting.
What is Microsoft Teams
Microsoft Teams is a fairly new software that has been created by Microsoft and is free for every small business.
Microsoft Teams is a communication and collaboration platform that has the ability to improve the work experience. It allows teams to communicate more efficiently through chat, voice and video. It's a great application for both small and large businesses and offers many of the same tools and features of Microsoft Office 365.