Privacy is becoming a number one concern for everyone. While there are way too many free VPN available in the market which claims to be providing privacy to you but they itself use your data to target ads or provide that information to third-party services to keep running there services for free.
When the service is free you become the product. While it's obvious how someone can run servers for free.
But what if you can run your own server that can be used as your own VPN? Isn't going to much safer and privacy-focused way?
Just in case you are getting anxious about the idea of your own server and,
thinking like
I don't think I can run a server or it will be too complex
Let me clarify this its way to easy and simple
Just stick around till the end of the and then decide.
How to Make Your Own VPN: Step by Step
Requirements:
A Server – We will use Digital Ocean $0.007/hour usage (Try 30 Days free VPN: Get $50 Digital Ocean Credits)
Outline Manager – An open-source software ( Available on Windows, macOS, Linux)
Outline Client to connect VPN ( Available on Android, iOS, Chrome OS)
Everything is available in the graphical user interface so no typical setup required.
How to Setup Outline Manager on Server
First Download Outline Manager from here as per your system Windows, macOS or Linux
Install it and Open
You will get a screen something similar like this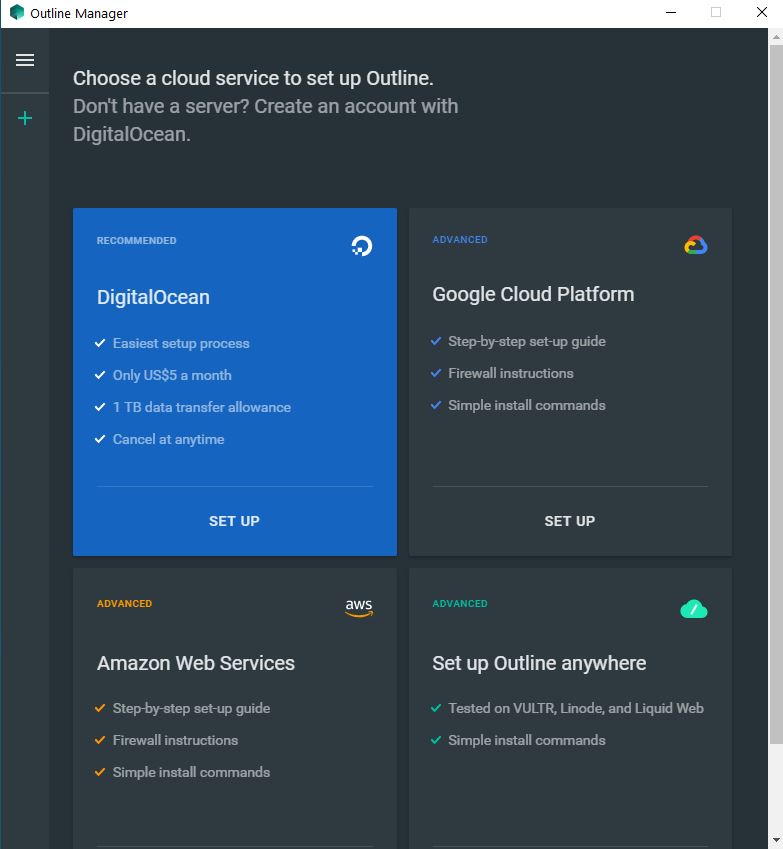 You have the option to use Digital Ocean, AWS, Google Cloud or any other service provides where you can run commands to install outline on the server.
If you use the available options you don't need to do any installing it will be installed automatically via API call.
We will select Digital Ocean for this tutorial as our website is also hosted on it and we have billing and everything setup their.
After selecting Digital Ocean you will be redirected to your browser for granting access to your account, complete the step.
Now in the Outline Manager, you will be given the option to select a region of server like below, select the one which is nearest to your region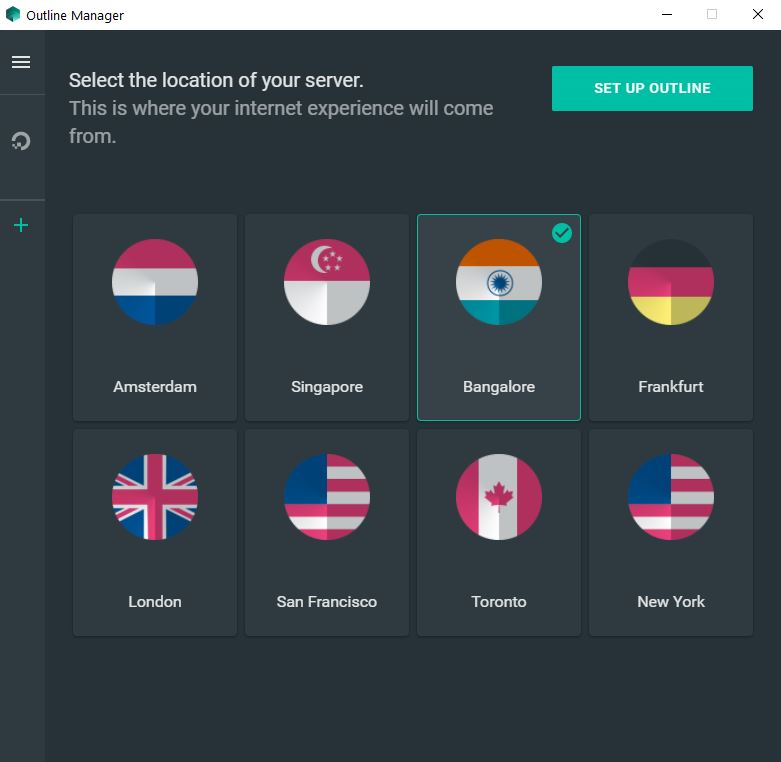 Wait for few minutes as Outline will be installed on your server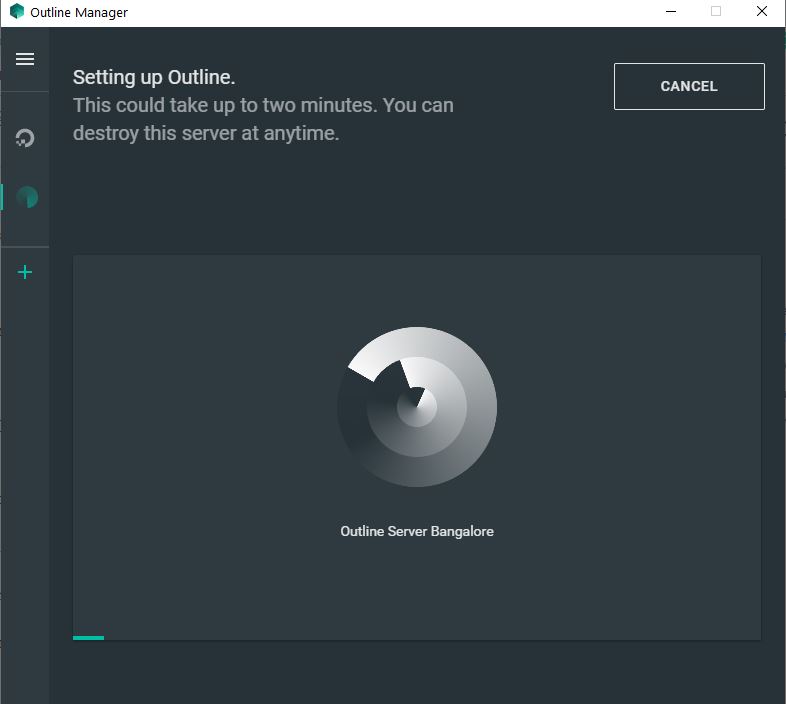 You can also check your Digital Ocean account as the droplet is being set up by Outline Manager something like this: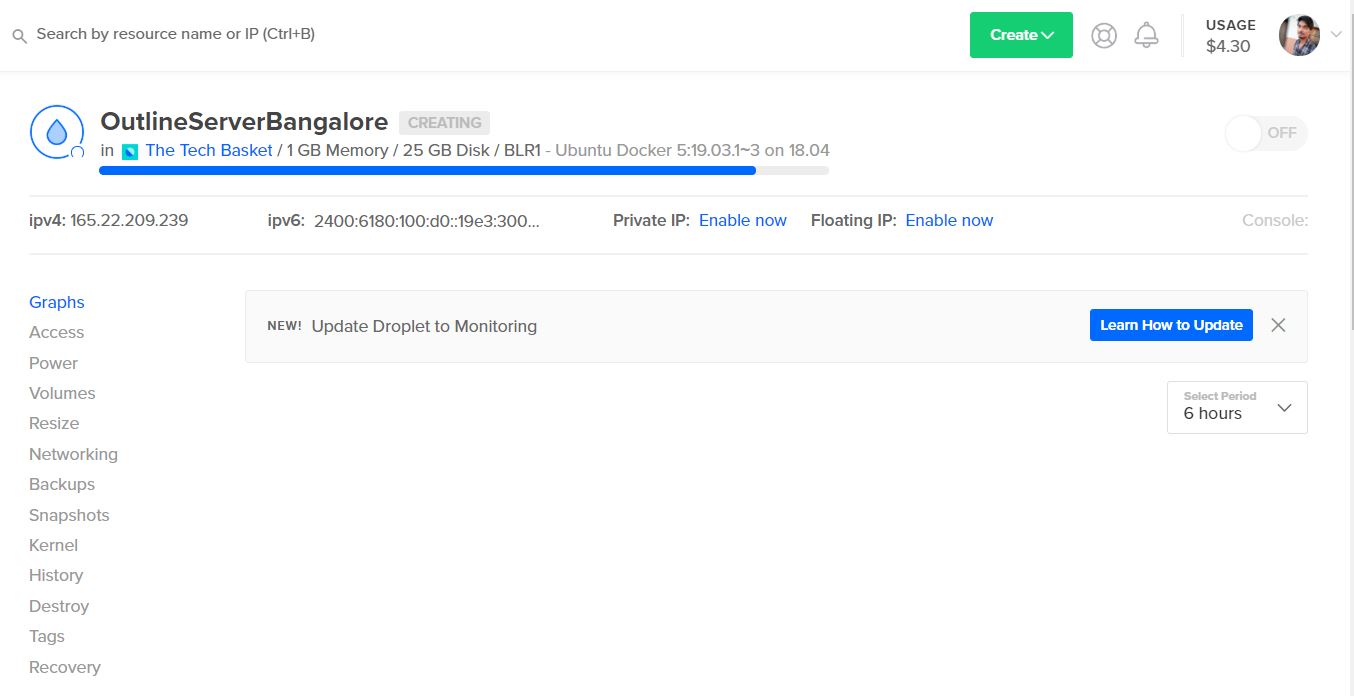 Once done you will get a screen like below with basic stats and one access ready to use
Now the only thing left is to connect your PC or Mobile to VPN.
How to Connect to VPN on Desktop or PC
Inside Outline Manager in front of access key click on the device icon which will open a popup like this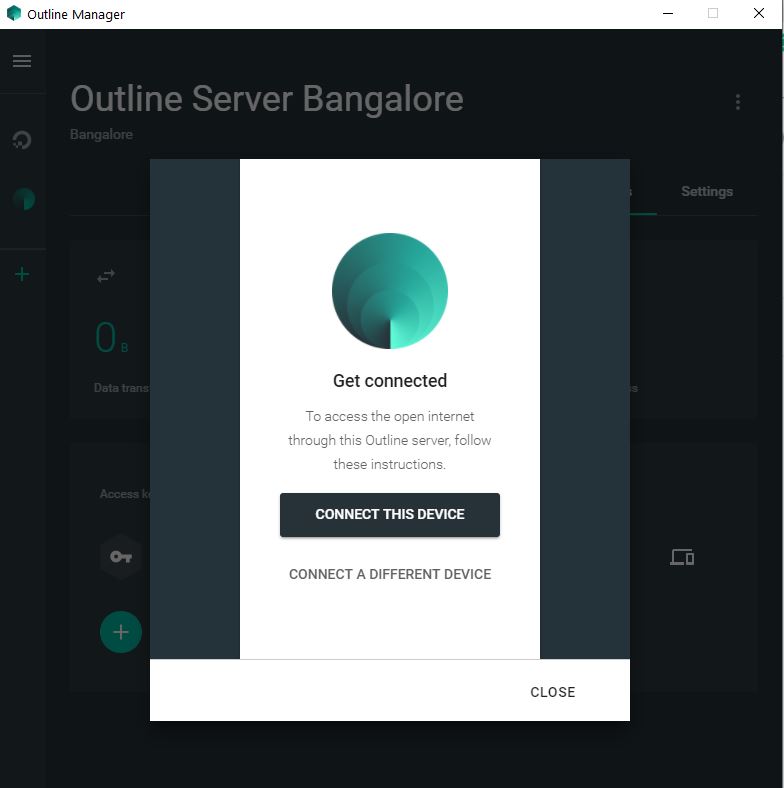 Select Connect to this Device, then click on Install Outline
It will download the Outline, install it and open it
In the outline manger, you will be shown access code click on it and you will see the below screen on your device just click on add server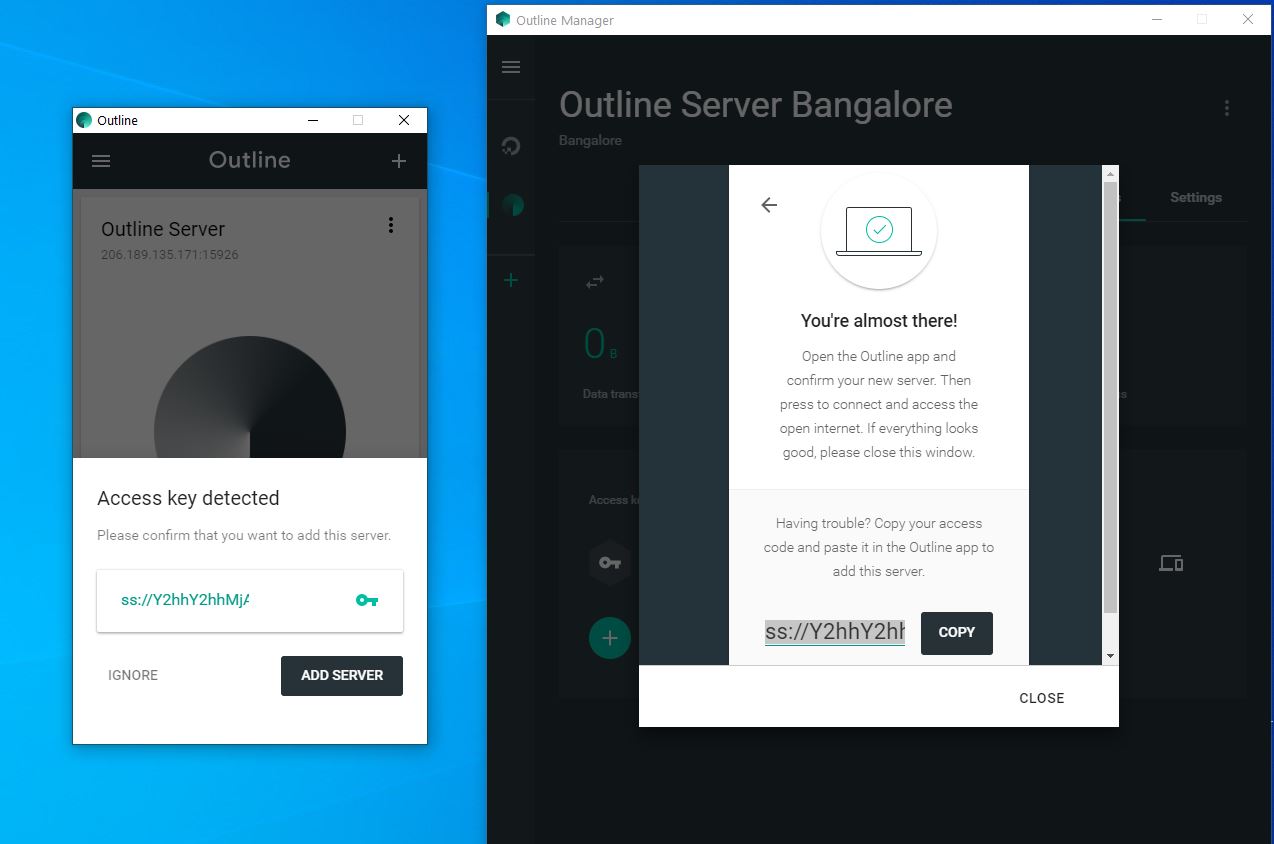 Once the server is added in Outline Client, hit connect and you will be successfully connected to VPN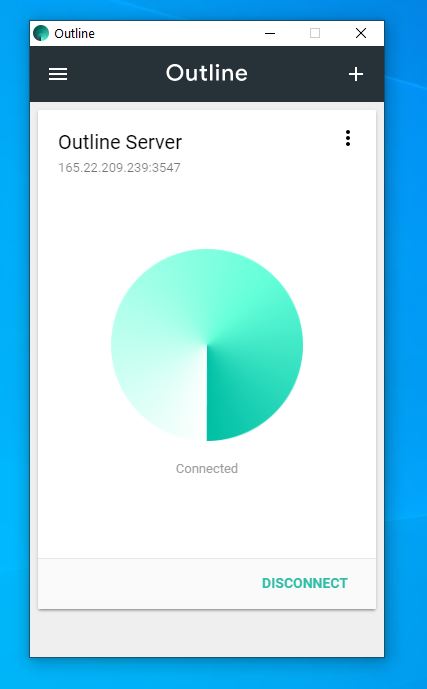 To verify open incognito tab in your browser and search my location
You will be shown a location which you selected while selecting a region of server, in our case it was Banglore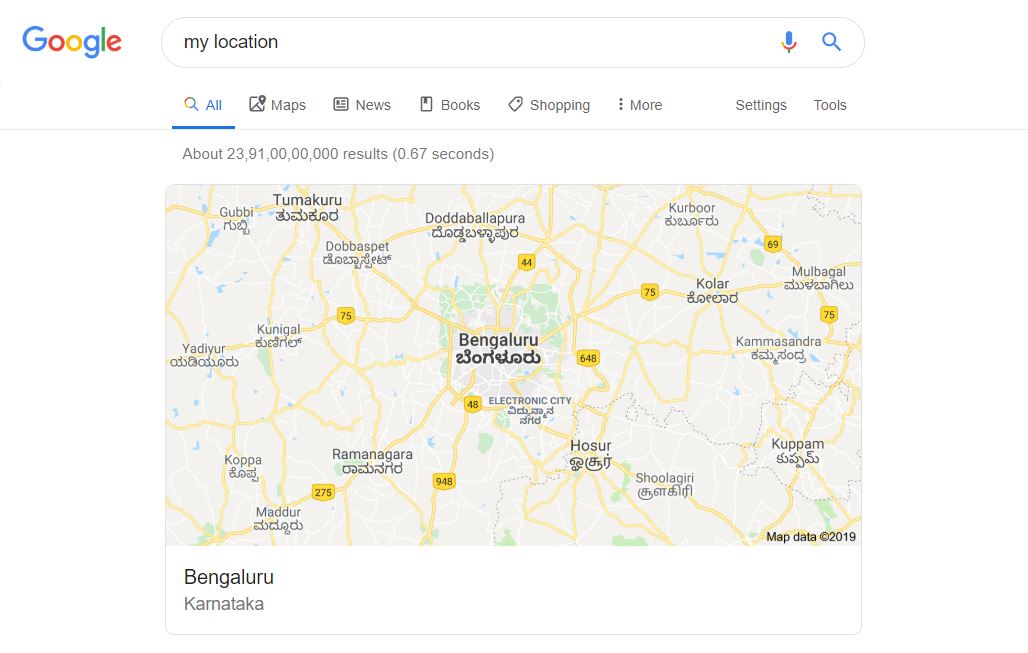 How to Connect to VPN on Andriod and iOS
You can have multiple devices using the same server. For example, you and your friends can use the same server to save cost.
In the outline manager click on the new "Add new key"
Copy the instructions and send it your mobile device
Download Outline Client on your Device from here
Open up the app and click on add server
Paste the access key in the box and you're done. Just hit connect it will start working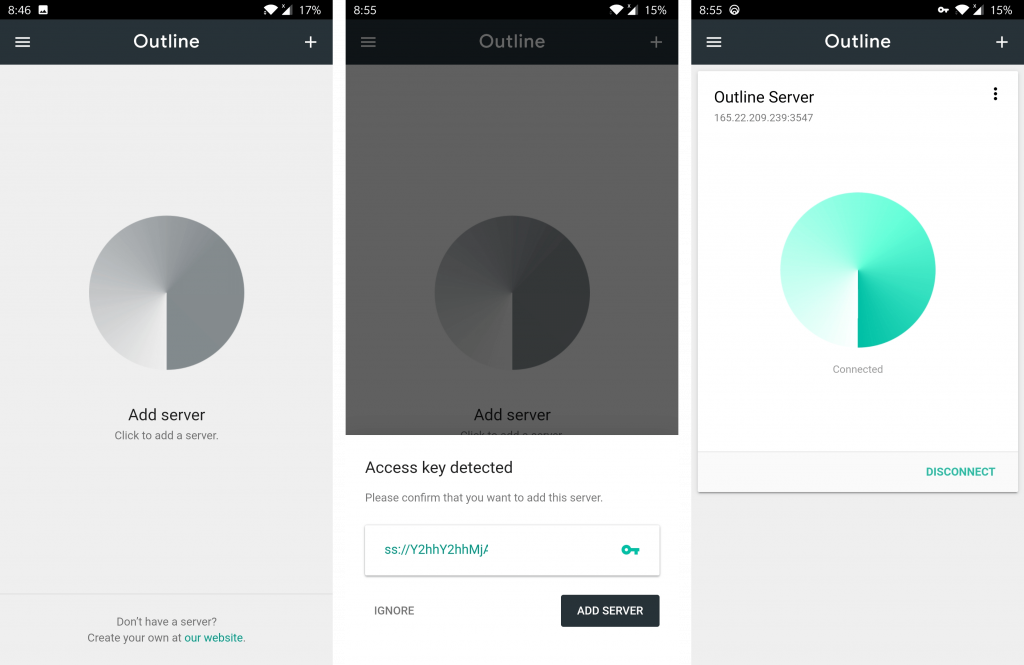 How to Destroy Server
Once the server is destroyed you will not be billed by your hosting provider. If you no longer need the VPN you can destroy it in one click.
Select three-dot options which will show only one option to destroy the server, select it and you're done.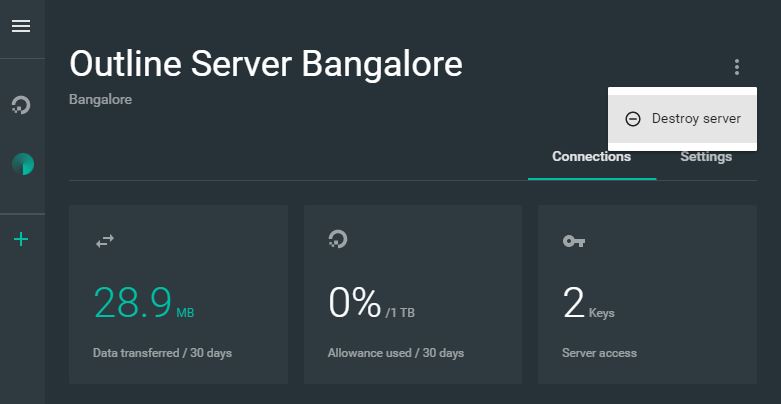 How much you will be charged
Digital Ocean provides pricing in hourly basis which means if you use VPN for 2 hours then destroy the server then it will be only $0.014 only with some additional tax as a final invoice.
Which means you don't need to buy a yearly or monthly plan. If you want always available server then it will be just $5/month predictable pricing no more extra charges.
If you use AWS or Google Cloud make sure to check the pricing conditions before starting.
Why have your own VPN?
You have complete control over your information rather than some VPN companies selling your info
Complete Privacy and peace of mind
Cost-effective as you can run VPN when needed and destroy so no more cost.
Multiple friends can share the same VPN for a more cost-effective solution
Region selection based on the server for flexibility
If you need to login in your personal computer remotely use VPN to be safe.
Best VPN Without Making Your Own Server
If you are still not convinced to have your own VPN and bear these very minor complexities.
No worries you can still choose from the available options which are best VPN in the market right now.
Wrapping up How to make your own VPN
While creating your own VPN is too easy and also cost effective with more control over your data. You can have more privacy and security for your work. Still, a lot of people will find it a bit of hassle to setup hosting provider, their billing and use different software. Where they can just use the most popular VPN without the need of doing anything extra.
Which VPN services do you use? and Which one do you recommend for other users?