Space is always a problem on android phone that has limited space like 8 or 16 GB, the problem is when space is running low on your android phone, the phone starts to lag, you won't be able to install new apps play store and constant notification shows up "like space is running low".
The solution of space running low is simple either increase the space available on android phone by using an bigger expandable storage or clear the unnecessary stuff from the phone like residual of uninstalled apps, apps that you don't need anymore, clear cache of apps like YouTube, Reddit, Facebook and other apps.
If you are going this manually it will take time-based on how your android phone is managed by you, to help you out here are some apps that will help you out with space problem on android without stealing your private information.
SD Maid
First on the list is SD Maid, it's a system cleaning tool that will scan your android phone and let you know what things you can do to make some space on your device like finding files and folder of apps that are uninstalled but they left some files on the storage that can be deleted,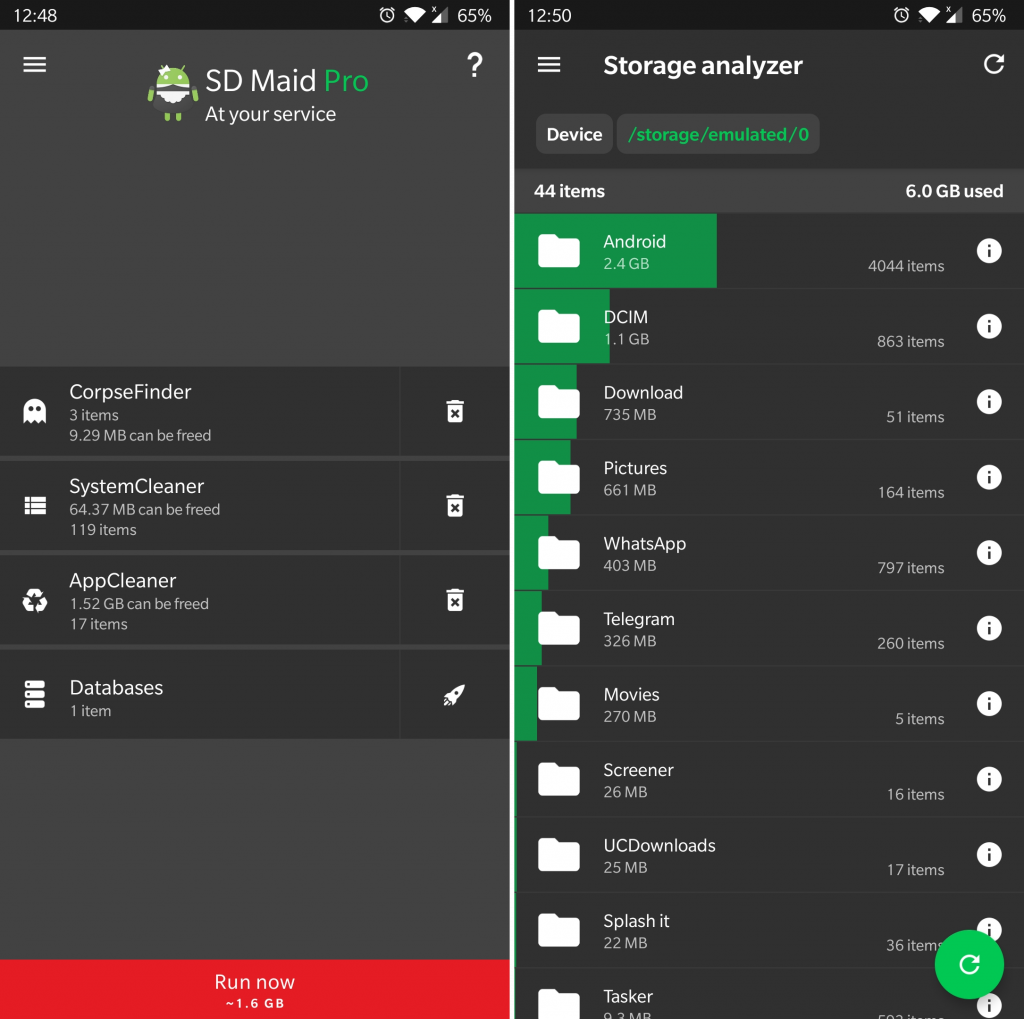 SystemCleaner will scan for files and folders location where files can be easily deleted to recover some space without losing any data like .thumbnails files and temp folders,
AppCleaner will check if any files can be deleted of any app without losing any important data like YouTube cache of video, temp files in your galleries recycle bin. You have full control what's get deleted what stays, you can see app-level which files are actually taking that space by tapping the info symbol, you can even delete files one by one if you don't want to delete all files.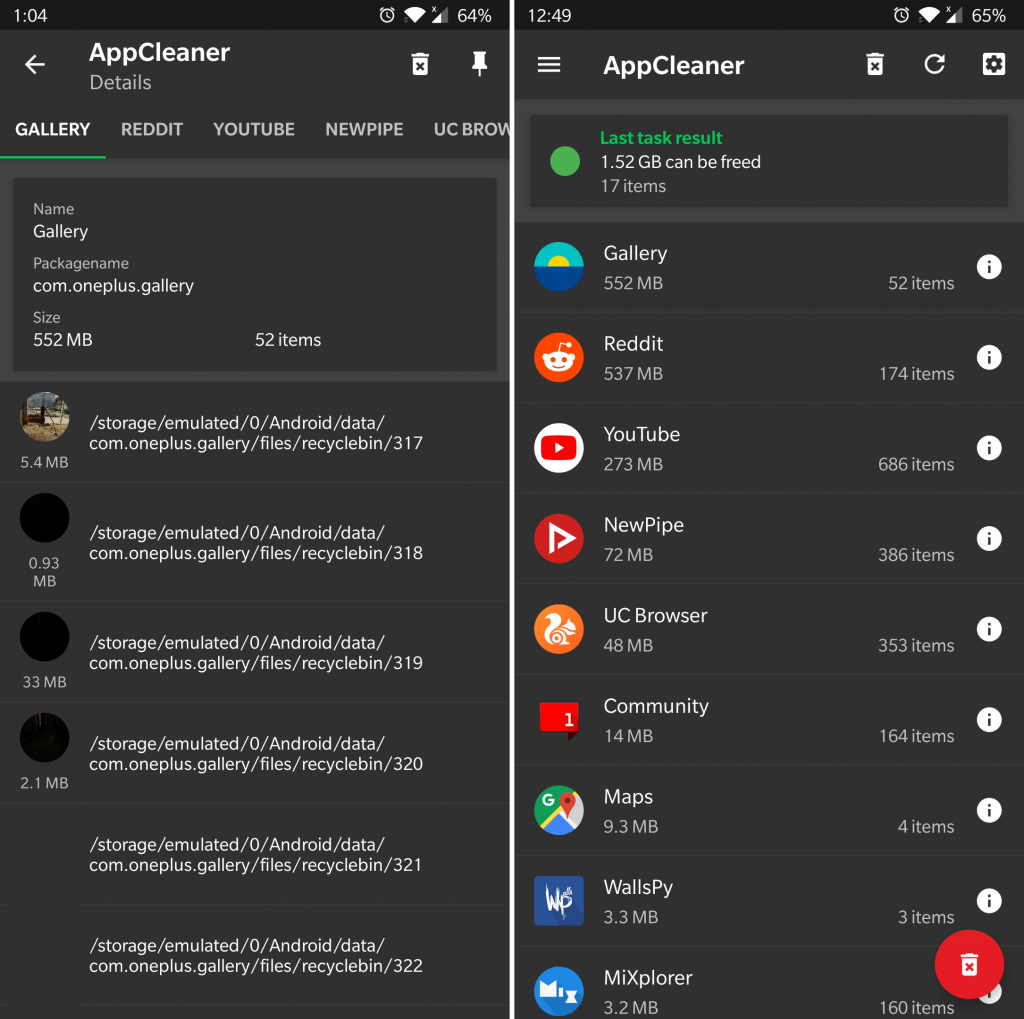 Also, you can remove any important app from AppCleaner list so next time SD maid will not scan that app.
On top of that SD Maid can help you find duplicate files that are taking up your precious space, to find duplicate images SD maid compares files checksums and size to make sure you don't lose any important files.
Files Go
Another great app made by Google to make life easier, files app is not just app too clean junk files from android phone, you can use to share files with your friends and family without using other file sharing apps that are now bloated with ads.
Files Go doesn't distract users it has pretty straight forward options to clear junk files, just open app and tap the buttons and you are done you don't need to look for the options here and there. Files Go also identifies duplicate files for you, if you give app usage permission to the app it will also give suggestion to uninstall apps that you don't use.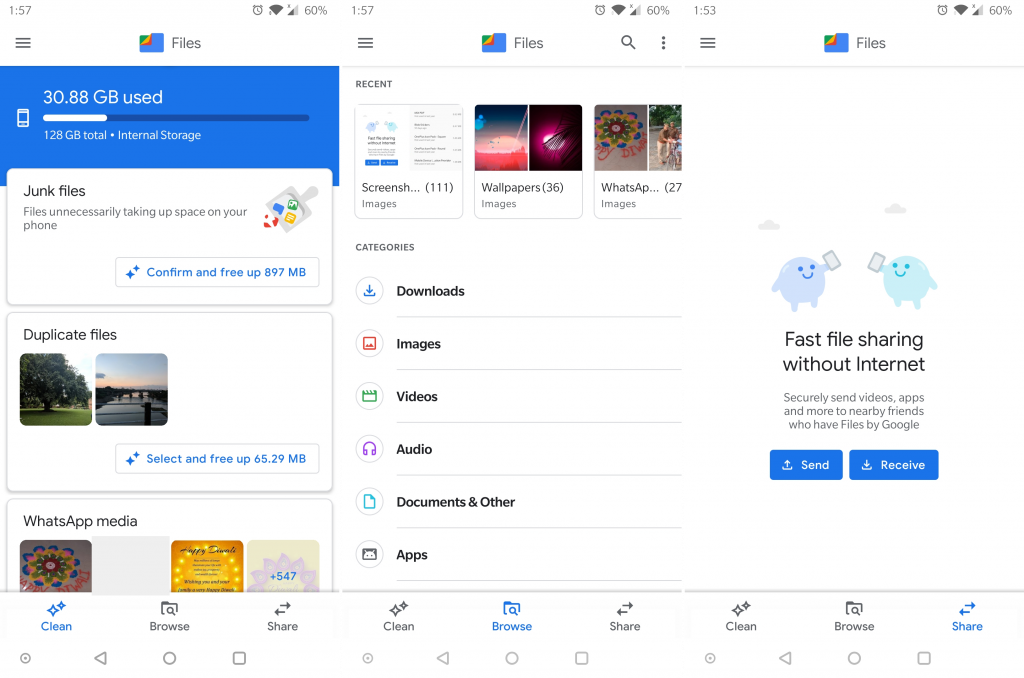 Use Lite Apps
One thing you can do is use lite apps instead of full apps where possible because lite apps take less space and have all core functionality of the full app. Normally Google has lite apps Google Go, Maps Go, YouTube Go, Files Go, Gallery Go and many more. The same pattern is followed by many well-known android apps to give apps to users that take less space on android and the do the work without being bulky.
We have curated a list of lite apps for android you should check out to find lite apps you can use.
System Storage Setting
On Android 8.0 and above in storage settings you can enable Smart Storage options that will delete files and folders that are backed up in the cloud to clear some space on your device,
system storage also gives you option to free up space option, tap the button to see the recommendation of files to deleted and apps to uninstall based on your usage.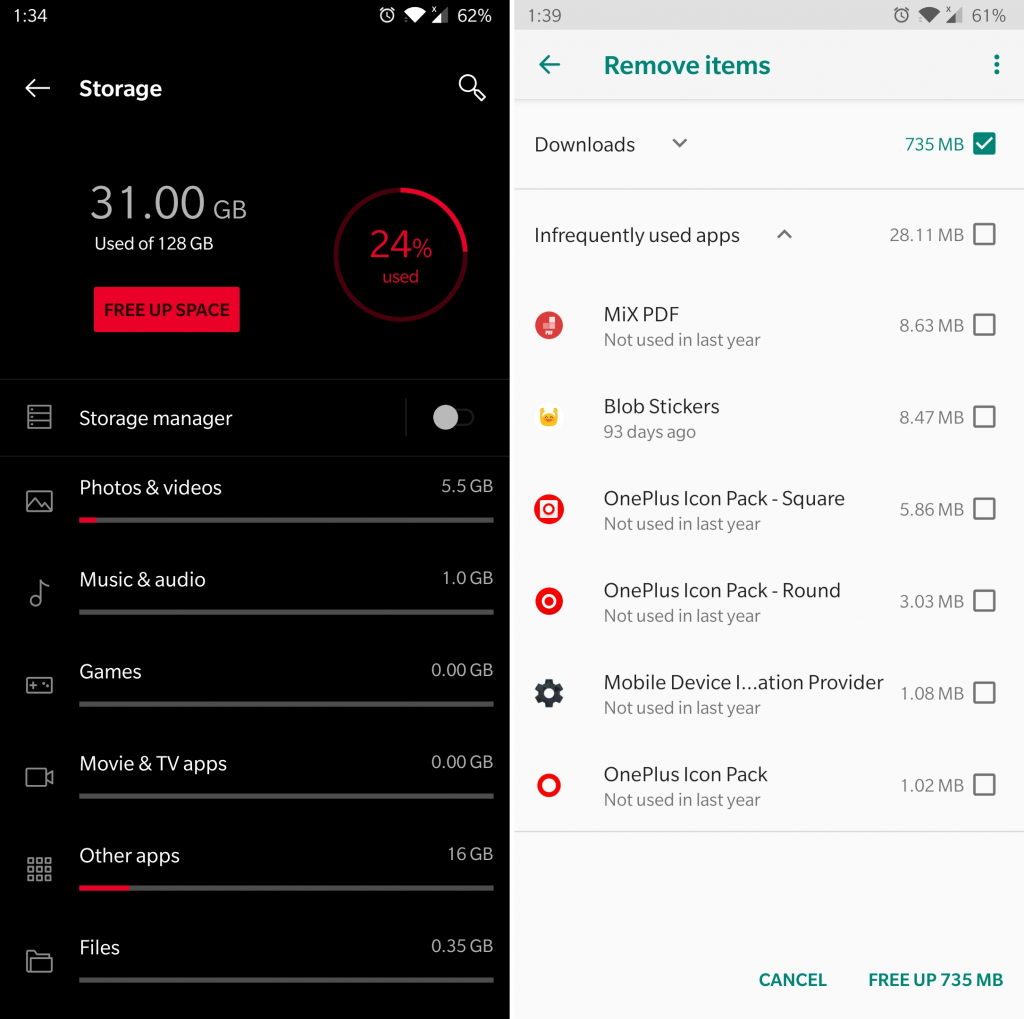 also, form storage setting you can see what actually eating up your space like is this apps, photos & videos, games or system files. You can tap any section to see in details what taking up space like in my case it's Chrome that sitting on 1.29 GB and Reddit 0.91 GB now you can tap the app to see space used breakup on app-level and if you want to clear cache just tap the clear cache button.
On Android 7.0 and lower in settings, you will not get options like smart storage and free up space button but storage section setting will tell you where your storage space is used and you can see what apps are taking most apps. You can directly clear cache of your all android apps from there your storage section option.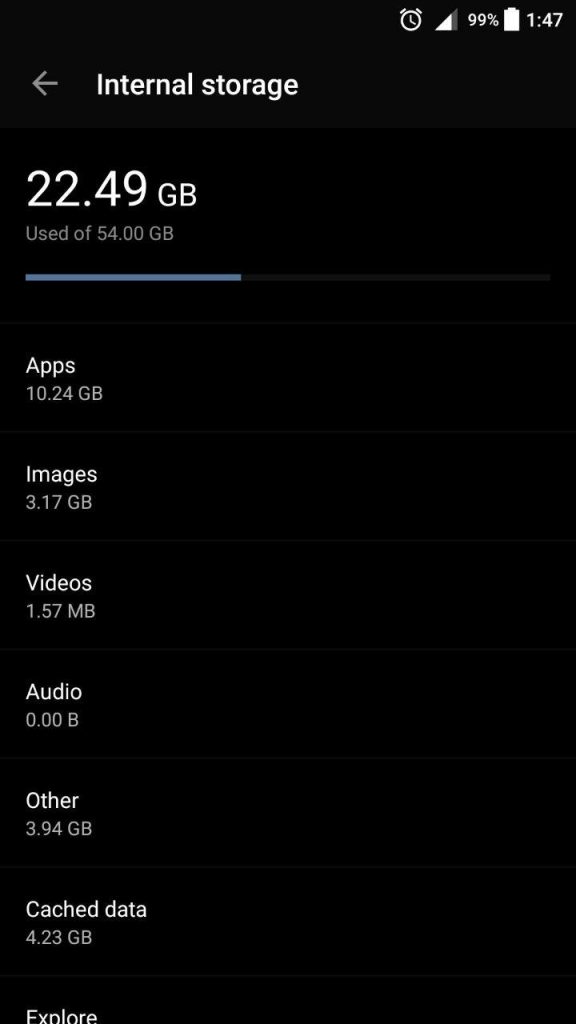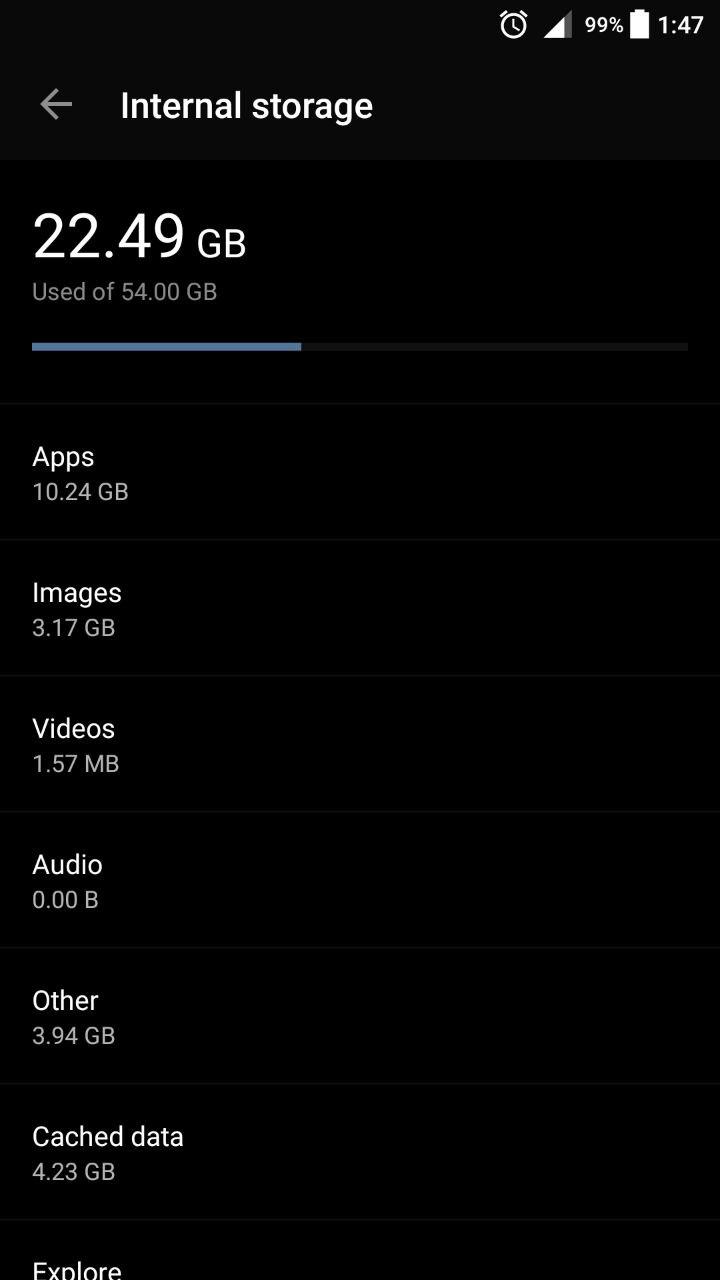 Use Cloud Storage
If you time to time suffer from low space problem on your android then you should consider cloud storage for your workflow, You don't need to actually set up anything complex to use cloud storage you just need to pay attention to setting of apps which offers cloud storage options like for instance Google Photos can automatically backup photos and videos to cloud so if you need more storage you can clear up photos and video from phone memory that are already backed up to cloud to make space for other things.
Same thing goes with other apps like for music use apps like Spotify, Saavn or Gaana to listen to songs anywhere anytime without the need to carry your whole songs collection(usually in GBs) on your android phone.
As and when required use your Google Drives 15 GB storage and other apps like Dropbox to make important files backed up in cloud so you can delete files from device when needed.
Conclusion
Take away from this post is simple and straight forward if you are on low space problem use the apps to clear unused apps and data from phone, proper use of cloud storage functionality offered by apps so that you always have ample amount of storage. Most of the popular apps offer lite apps so make full use of that apps and if possible use web version of apps so you don't even have to install an app on your device.
If you still face low space problem again and again maybe it's time to have a bigger SD card for your android if your android phone supports.