To turn your videos made using a mobile phone or an amateur camera into a presentable video that will not be embarrassing to show to friends and acquaintances, you need to edit the source material. For this, there are quite a lot of free video editors working both under Windows and Mac. But if for some reason you cannot or do not want to install one of these applications on your computer, then, in this case, you can find a way out. Today, even resource-intensive operations such as video editing can be performed directly through the browser.
Many modern online video editors differ little in their functionality and capabilities from applications installed on a computer. At least, they are quite suitable for processing home videos. And today, you will see this by reading our review of the best online video editors available on the Internet.
WeVideo
WeVideo is a powerful yet easy-to-use cloud-based video editor. It is one of the most popular online video processing applications available on the Internet for free. WeVideo has a wide range of functions. There are, for example, options for editing footage, adding animations, applying voiceover, and a green screen. You can control everything in your video: transitions between scenes, motion effects, and much more. Since the processed files are uploaded to the cloud storage, you can access them from anywhere and from any device.
WeVideo is a free editor, but if you wish, you can connect additional paid features that expand the capabilities of the application. Among them: custom branding, screencasting, and the ability to add audio tracks from a large library of musical compositions that are not protected by copyright.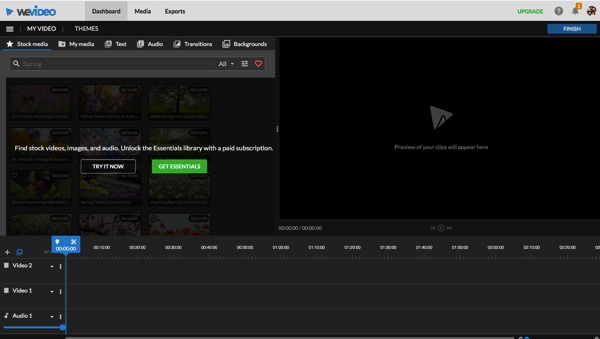 Magisto
Magisto turns your amateur videos and photos into captivating, catchy movies that you'll want to watch again and again. After adding the files, you can select the best fragments of the video or photo, add music, additional effects, themes and combine all this into an unusually beautiful short film. This web application has all the necessary editing tools to make your video better.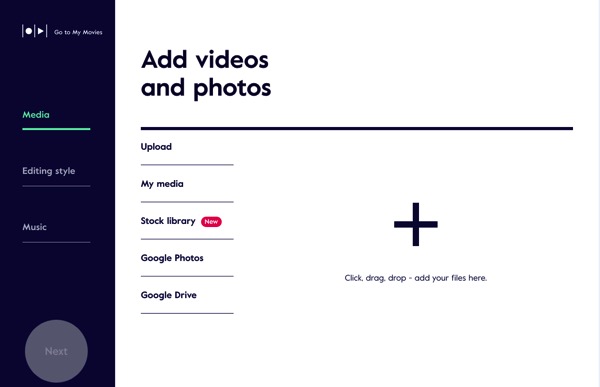 FlexClip
FlexClip is a convenient platform for quickly creating and editing videos directly in the browser. The service offers a wide range of stock media, including high-resolution photos, royalty-free videos, and music. You can also upload your own clips, pictures, and music.
Using FlexClip tools, you can easily create your desired video. Add text, animations, logos, and more.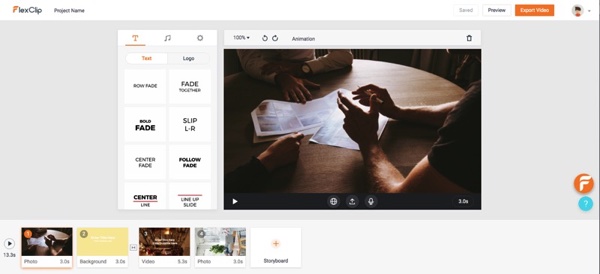 YouTube Editor
YouTube has its own video editor with good functionality. You can select a video from your channel and then mix it with other videos or photos, add text and animation, and thus create a new masterpiece. It is possible to add background music from the collection.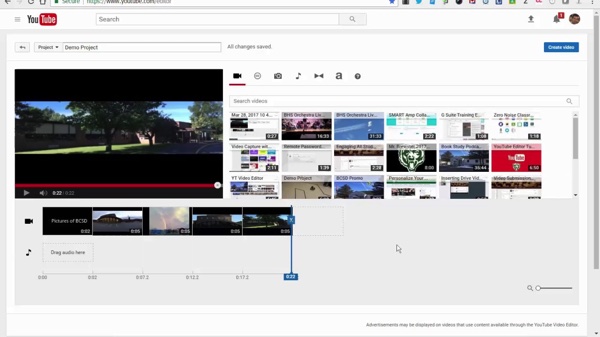 Kizoa
Kizoa is another useful online video editor. It is easy to use, but at the same time, it offers a wide range of functions, including cutting a video into clips, combining videos and photos, applying special effects and transitions, working with animations, and applying a musical background. The hundreds of templates available here and customizable options will make your job easier, and the result is better.
The operation of this online video editing service is very simple since to add each of the effects, you just have to drag them to the part of the video where you want to include it.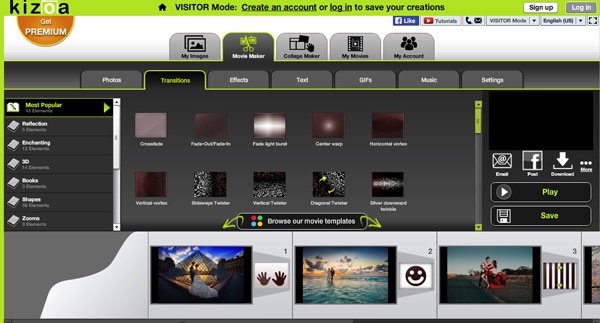 ClipChamp
With ClipChamp, you can not only upload any video and edit it, but also record through the webcam of your computer. As for the options offered by ClipChamp, you find the possibility to crop videos, crop an area of the screen, rotate the video, flip it, or adjust the brightness and contrast levels. In order to use this service, you must register through your Facebook or Gmail account. It also does not require Adobe Flash Player.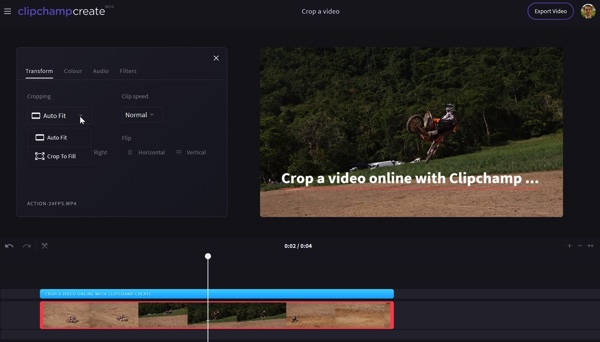 Powoon
PowToon is very different from the other online video editors discussed in this review. If you need to make a presentation in the form of an animated video that will serve as educational material, advertise a new product or explain a complex concept in a visual form, you simply have to try PowToon. This application allows you to make presentations using cartoon characters superimposed on a colorful background.
The main disadvantage of the service is the limitation of the video duration to 45 seconds. If you want to create a full-length animated film, you have to use the paid version.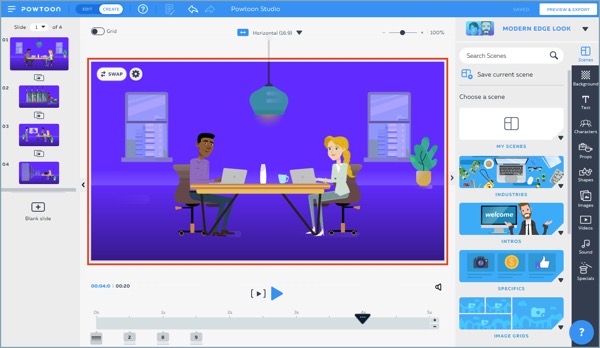 Video toolbox
This online editor allows you to convert video between the most popular video formats (GP, AMV, ASF, AVI, FLV, MKV, MOV, M4V, MP4, MPEG, MPG, RM, VOB, WMV). In addition, it can perform the simplest manipulations in the form of video cropping, extracting audio tracks, combining fragments from different files, adding watermarks, etc. It works with video files up to 600 MB in size.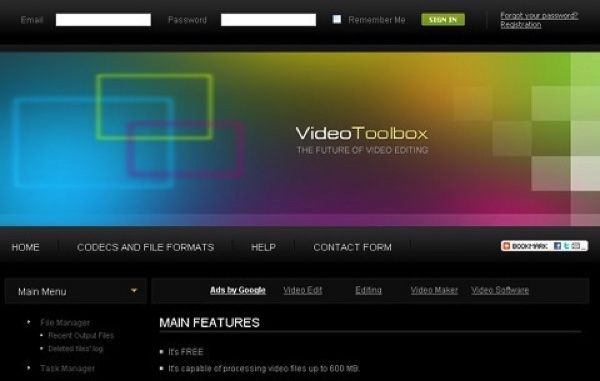 Wideo
Wideo is another amazingly simple and convenient online editor with a good set of tools for creating and editing videos.
The service provides its users with a library of various elements: animated characters, drawings, photographs, fonts, sounds, music. There are no restrictions on the use of design elements available on the site. Of course, you can upload your own videos and photos to create your own personalized video.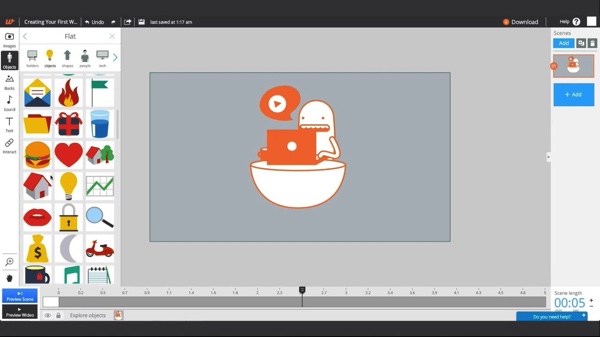 Design wizard
Design Wizard is a great choice for creating high-quality videos. You can create videos to promote your business, announce events, and more. The service has a set of videos with the quality of TV advertising. This is a great utility for creating and editing videos for social networks, presentations, and sites.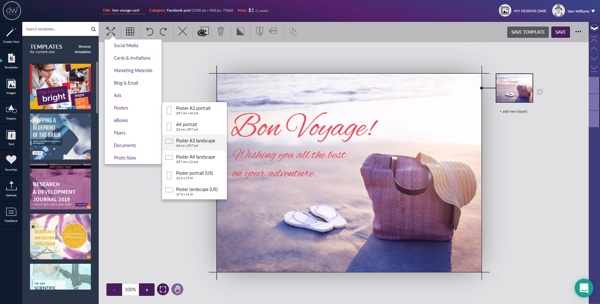 Invideo
InVideo is an online video editor with a set of 1000+ templates for fast video processing. The difference between this service and alternatives is the ability to create video from the finished text. You can quickly create a video for a specific social network.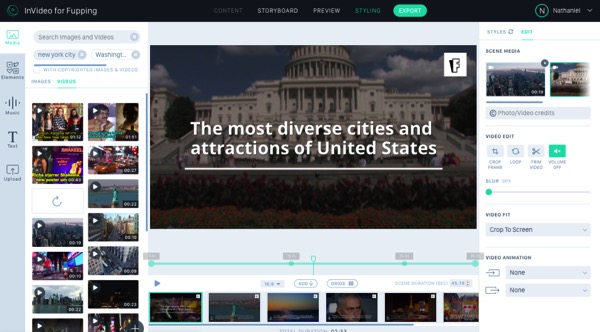 Conclusion
Thus, online video editing is available to every user and does not require any knowledge or skills. All services presented are similar to each other. The only difference is the interface, the maximum file size, and some additional features. Just choose the one that best suits your needs and turn your inner creativity into attention-grabbing work.