Everyone loves cool wallpaper on their devices whether it's your mobile phone or desktop or laptop. Even Studies have shown that having a good wallpaper can have an impact on your mood as thought the day you see your home screen mobile or desktop way too many times. Your wallpaper is a reflection of your mood and it affects your productivity.
Chances are you must be having a great collection of cool wallpaper stored somewhere in your storage that you use occasionally.
But why??🤔
Why not change your wallpaper automatically with your downloaded wallpapers??
Well, it can be done on all of your devices with just a few clicks. You can even use Google Photos as Wallpaper on Android.
Follow along we will describe how to automatically change the wallpaper on Windows, Linux & Android.
Apps for Linux
Variety
If you are a developer or avid user of Linux you can use Variety: an open-source wallpaper changer for Linux.
You can use your local images or download from unsplash and rotate them according to your need.
To Install this on Ubuntu or Debian based system run the following command
sudo apt update && sudo apt install variety
for more detailed installation instructions you can read here
If you want to check the source: Variety GitHub Repository
Apps for Windows
John's Background Switcher (JBS) for Windows
This one is my favourite and free,
John Conners made a pretty sweet windows wallpaper changer utility with tons of features,
list of features in this app is long so here I am going to explain only few of them and other features you can check while trying JBS for windows download size is less than 3 MB ?.
You can use it to set wallpaper from multiple sources like Flicker, Google Photos, Unsplash, Pixabay, Local Folders, OneDrive, PhotoBucket etc.
Since you have a lot of wallpapers setting every wallpaper one by one may not feel a way,
So for those people, JBS offers a cool option where you can make a collage of photos, Mosaic of Photos and set that as a wallpaper.
Here is an example how to use Google Photos as Wallpaper source
Click Authorise to list services that need authorisation, select Google Photos and tap ok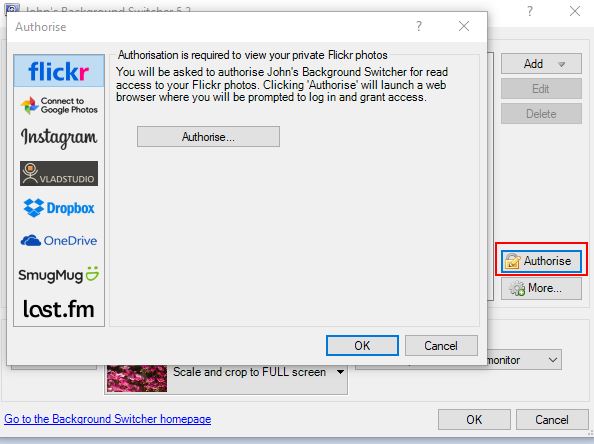 Now JBS will open a browser window where you need to select Google account from which you going to use images as wallpaper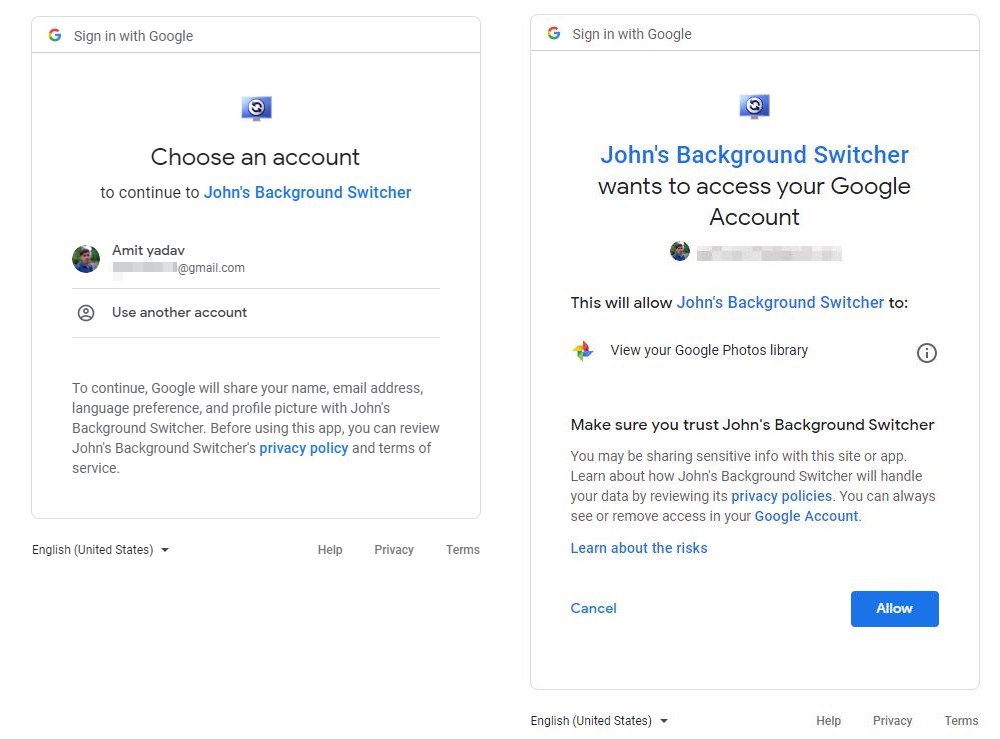 After authorisation in browser keycode will appear copy that keycode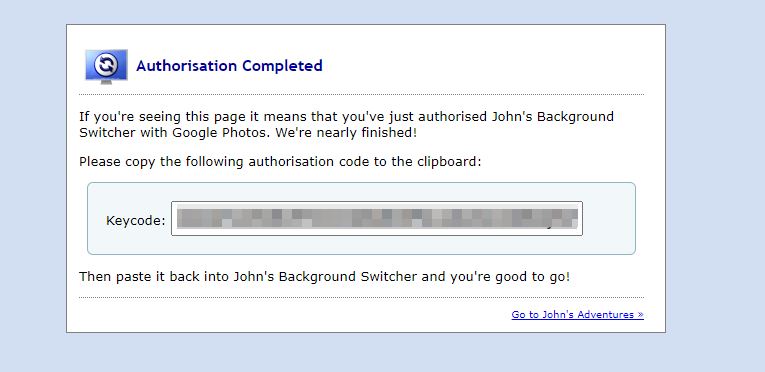 Paste the copied keycode and hit ok, now your are authorised to use Google Photos as a Wallpaper Source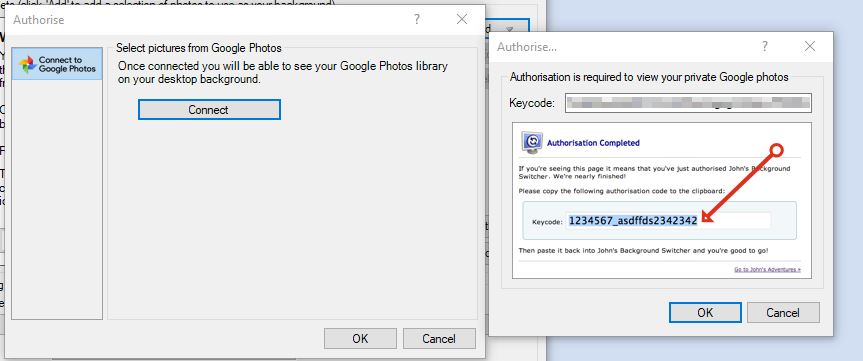 Now Select Add from top right and select Google Photos now you can select Any Album or newest uploads on Google Photos Account as Wallpaper source, You can add multiple variations of the same Source.
In my case, I am going to select my wallpaper album that has 3000+ wallpapers(all wallpapers are vertical wallpaper so they are not a good fit for windows), in case you want to join just hit me up on any social media.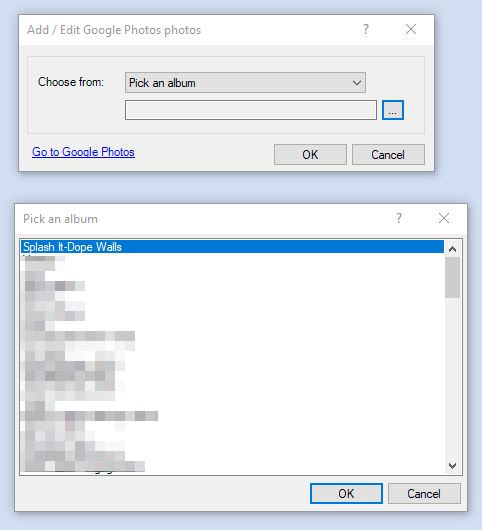 You can go on and add other sources too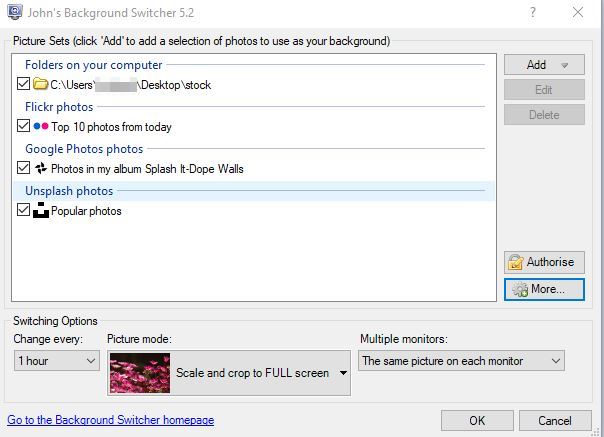 Now just change the wallpaper apply setting according to you and rest will be handled by JBS
Don't forget to tweak further JBS because it has lots of customization settings.
Reddit Wallpaper Changer
Open-Source software is written in C# which scrapes your favourite subreddits to bring fresh wallpapers every day. You can define all your favourite subreddits at once and leave it.
App offers some neat customization, you can filter NSFW images, low res images, Reddit post that contains any specific text to narrow down wallpapers list to your liking, even you can block some wallpapers if want.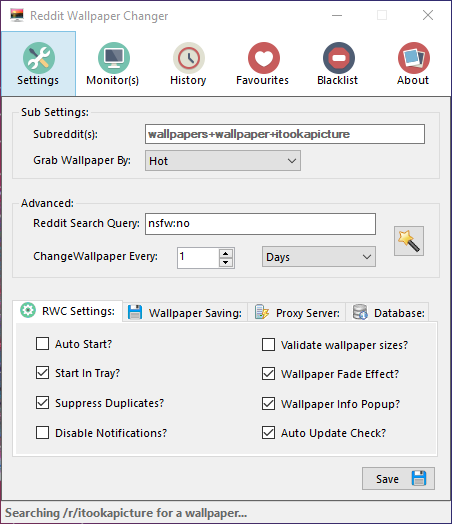 Some of the useful features are:
Option to auto-save favourite wallpapers
Endless wallpaper history instead of 'Per Session'
Multiple Monitor Support
Custom wallpaper change frequency
Wallpaper change with fade effect
Reddit Wallpaper Changer releases
Apps for Android
Wallpaper Changer for Reddit – Auto Wallpapers
Reddit has tons of subreddit focused only on images (wallpapers), by using this app you can select your favourite subreddits and all the wallpapers from these subreddits can be used as wallpaper on your home screen.
Under schedule setting, you can set the frequency for how often your wallpaper needs to be updated with the new one, you can even select only try to update wallpaper when connected to wifi or the battery is above a certain level so these customizations won't drain your battery and bandwidth.
Just in case you want to download some specific wallpaper which was on your home screen 3 days ago you can find that form history. The app will keep the history of wallpapers which have been applied to your home screen automatically.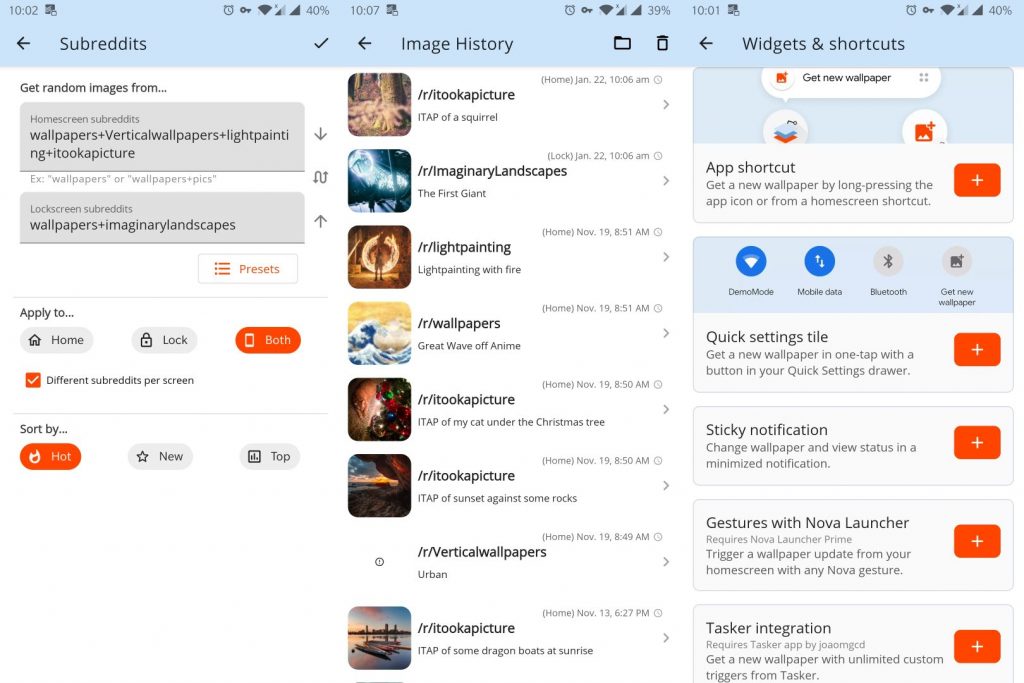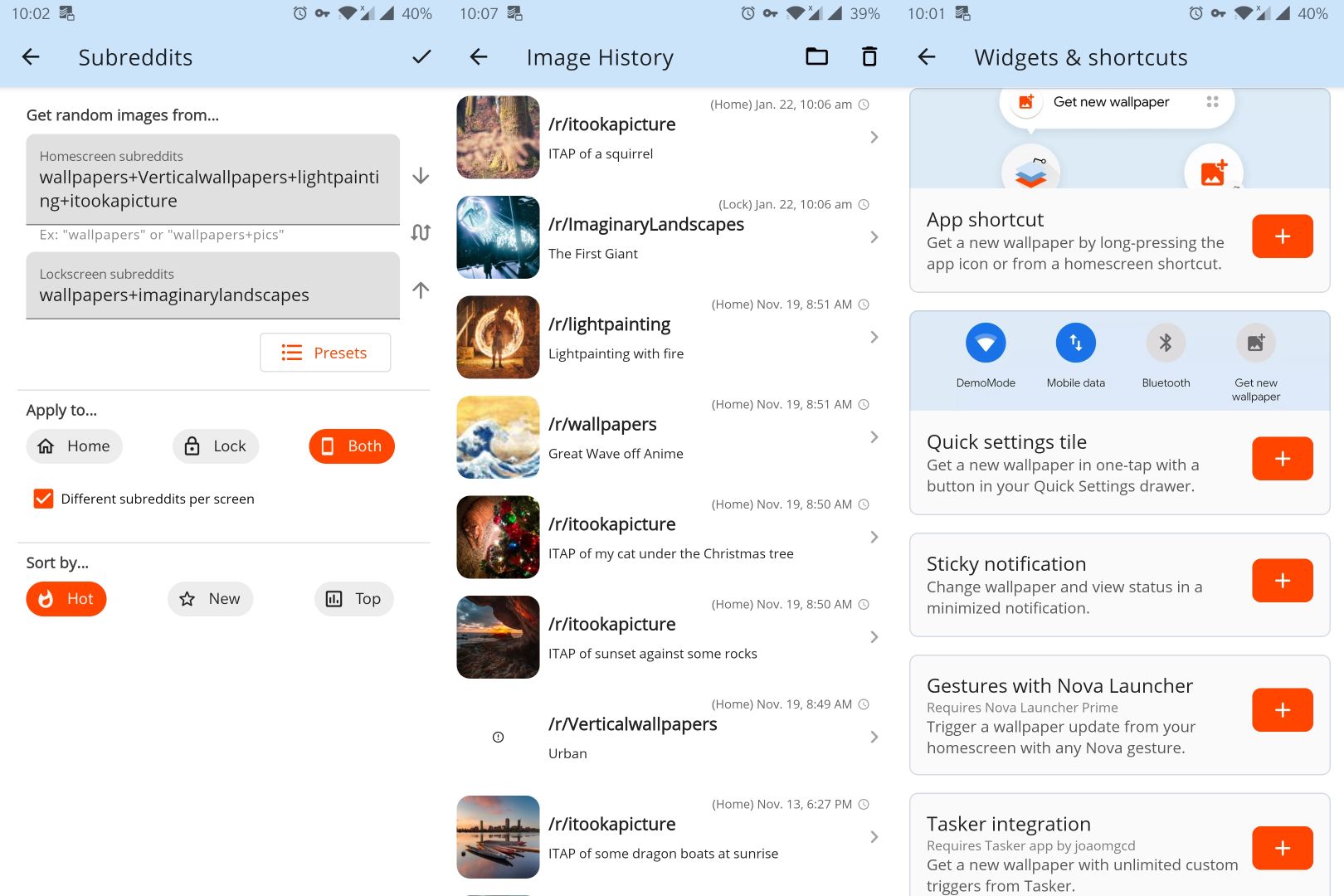 Some great features:
You can set different subreddits for homescreen and lock screen wallpapers,
You have option to change the wallpaper for only homescreen or lock screen or both,
Trigger wallpaper change without opining app (tasker, notification, quick tile, widget)?
Automatic wallpaper change can be set from 15 minutes to 1 day
Wallpaper Changer
Wallpaper Changer is an awesome app that uses your local wallpapers collection for changing your homescreen and lock screen, You can create multiple albums (premium) of wallpapers in-app like one for office, home, gym, cars, motivational as you like that's up to you. In free version, you only get a single album that is default album you can add wallpaper or a folder to that album and that's it.
After setting your album set wallpaper changers live wallpaper to start changing wallpapers if you find wallpapers are not properly aligned after applying then don't forget to change how wallpapers should be applied like fill, stretch or fit in settings.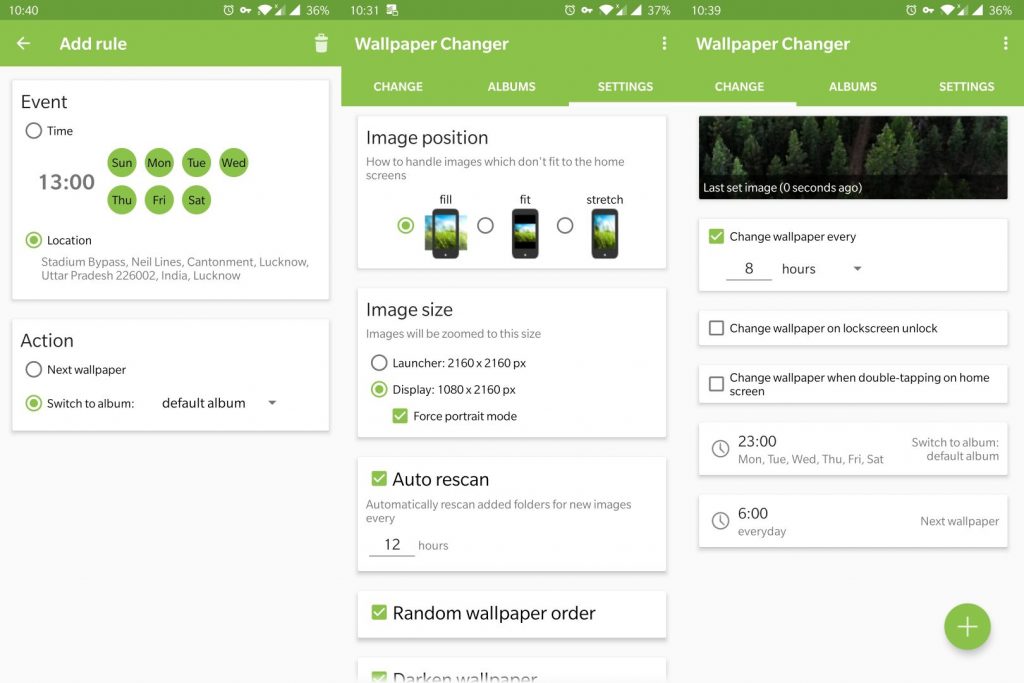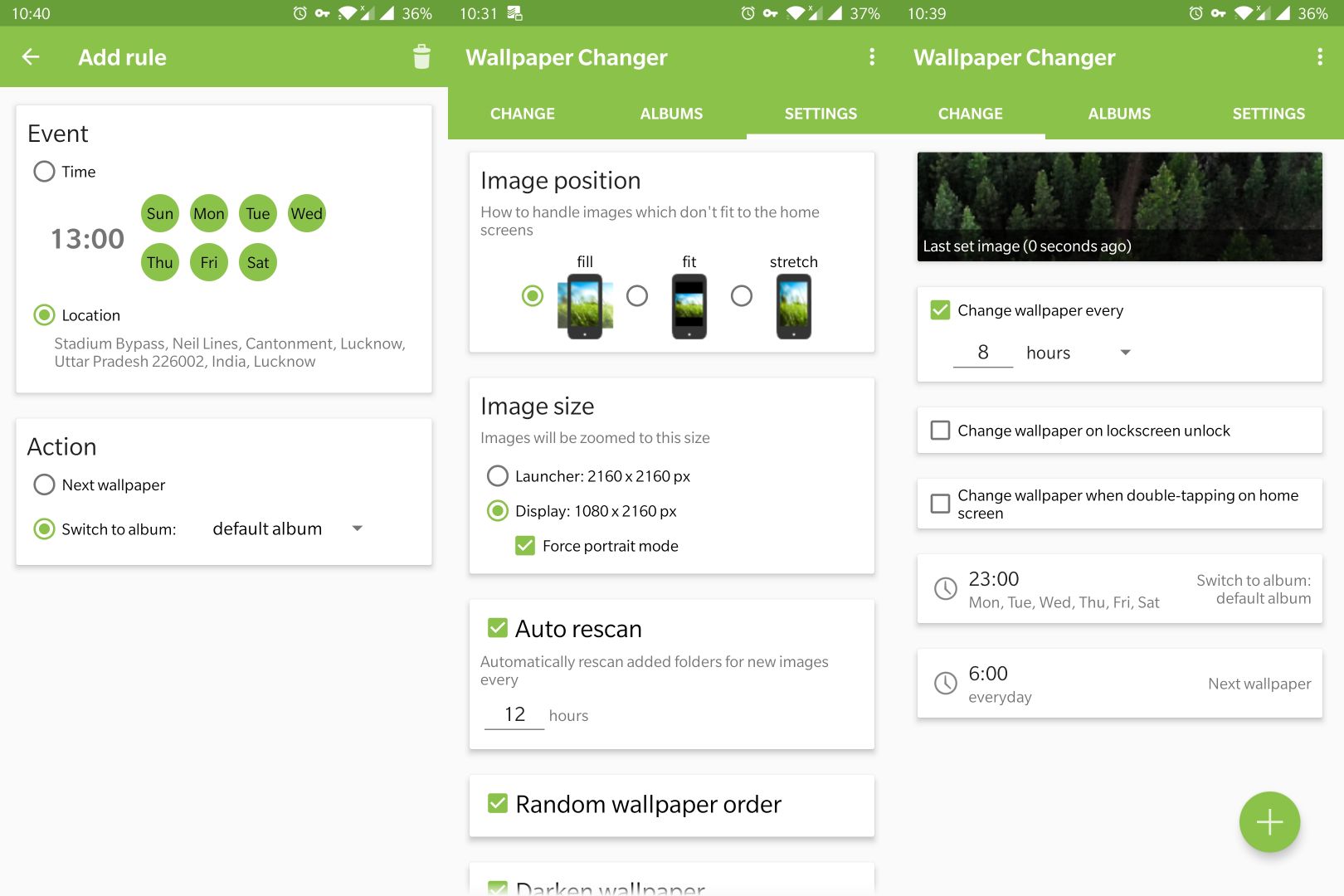 Even better you can select a different album for different days like for weekends you can have a different set of wallpapers and for workdays, you can have simple office wallpapers. Also, you can create a location-based rule to switch to a different album based on location like gym, office, home. Wallpaper changer has been developed keeping in mind battery optimization which is added bonus.
Some great features:
Automatic scan selected folder for new wallpapers,
Automatic wallpaper change can be set based on a rule (day, time, location),
Multiple wallpaper album (premium) can be created and switched using rules,
Works with Offline walls so no need of internet,
Apps widget can be used to trigger wallpaper change,
Supports Muzei
Casualis: Auto wallpaper change
Another super simple wallpaper changer for android. Choose any random hours or days on which you want to change the wallpaper, select your own wallpaper collection from local storage or just let it refresh from among 3000+ wallpapers available.
Even better just shake your phone to change your wallpaper. Cool Isn't?
You can even apply some random effects on wallpapers
https://play.google.com/store/apps/details?id=ph.url.tangodev.randomwallpaper
Muzei Live Wallpaper
This is must try wallpaper app for everyone. Each day experience a new piece of artwork on your homescreen.
You need to provide a source of wallpaper to Muzei, by default Muzei has an art and culture source wallpaper that you can use and Muzei will start its magic on your phone. Adding a new source of wallpaper to Muzei is easy just search on Playstore Muzei apps and you will find a lot of apps that work with Muzei, every app comes with a source of wallpaper that can be bing wallpapers, NASA wallpapers, Pixel Art.
One of the best features of the app is you can double-tap the wallpaper on your homescreen to blur the wallpaper and your icons and apps come into the spotlight instantly. You can also tap with three fingers to trigger the wallpaper change.
If you already have a wallpaper app that app supports Muzei Live Wallpaper then you can use that app straight away with Muzei with all the features of Muzei Live Wallpaper as a source.
You need to select that app as a source and you can now apply wallpapers from your favourite apps with great features of Muzie.
https://play.google.com/store/apps/details?id=net.nurik.roman.muzei
Everyday Wallpaper Changer (Automatic)
This not only works as wallpaper changer but also comes packed with HD 4k wallpapers inside it from Unsplash.com. You can select categories among available ones or you can always select your own albums.
You can add a simple widget on homescreen then tap it whenever you need to change the wallpaper or let it change automatically on the desired duration.
If you like wallpaper set by this app, you can mark that wallpaper as favourite and app will download that wallpaper for you, so you can use it whenever you want or share that wallpaper with your friend.?
https://play.google.com/store/apps/details?id=com.nitin3210.everydaywallpaper
IFTTT (If This Then That)
IFTTT gives you the option to frame your tasks (action) in a logical way, where any task is executed based on condition, that condition can be based on the failure or success of another task, that's up to you how you design your flow of action.
This not actually anyway related to wallpapers or wallpaper changer. It's more of automation tool which can act like wallpaper changer if in a more robust form then other wallpaper changer apps.
Inside you need can build custom applet or use already available one. There are tons of available one which can fetch wallpaper from Reddit or other sources and apply it on your home screen or lock screen automatically.
If you love productivity or automation stuff you will definitely will like this one and this post too Productive Google Chrome Tips
Fluid Simulation
Fluid Simulation is a live wallpaper app that creates colourful patterns using fluids when you touch the screen, you can use it as live wallpaper or create some lovely fluid simulation snaps that can be taken within the app so you can use them as static wallpaper too.
Tapet
You can try Tapet the kind of app which generates random but incredible-looking patterns for your homescreen and trust me they look as good as any wallpaper.
While you are here let me introduce our wallpaper app, Crispy walls and Splash it Walls,
both are great wallpaper apps and free? So don't forget to try them once.