It's not possible for everyone to physically present at every friend, family and customers place to solve their IT related problems or guide them but you can take control of their system with these best remote desktop software. You can remotely control their systems, transfer files from your system to remote systems and much more.
Best Remote Desktop Softwares
Anydesk
Anydesk is great remote desktop software you can use to take control of systems of your friends and family to solve there IT related problems over the web without the need to visit their place.
Anydesk is simple and lightweight software (under 3 MB) so it won't be creating any storage issue for you, you can not only use it to control other systems but also copy files from a remote computer to your computer, customize the look and feel of your profile to make it yours by adjusting settings of app. You can even automatically record all remote incoming and outgoing sessions of Anydesk by using the built-in feature and chat with the remote user also.
Some of the features you should look after the initial run, make changes to security and privacy settings to keep your privacy, adjust desktop and audio settings to make run smoother on the slow network without hickup.
Enterprise users can host Anydesk servers within there network so no connection to third party servers is required for better privacy and security.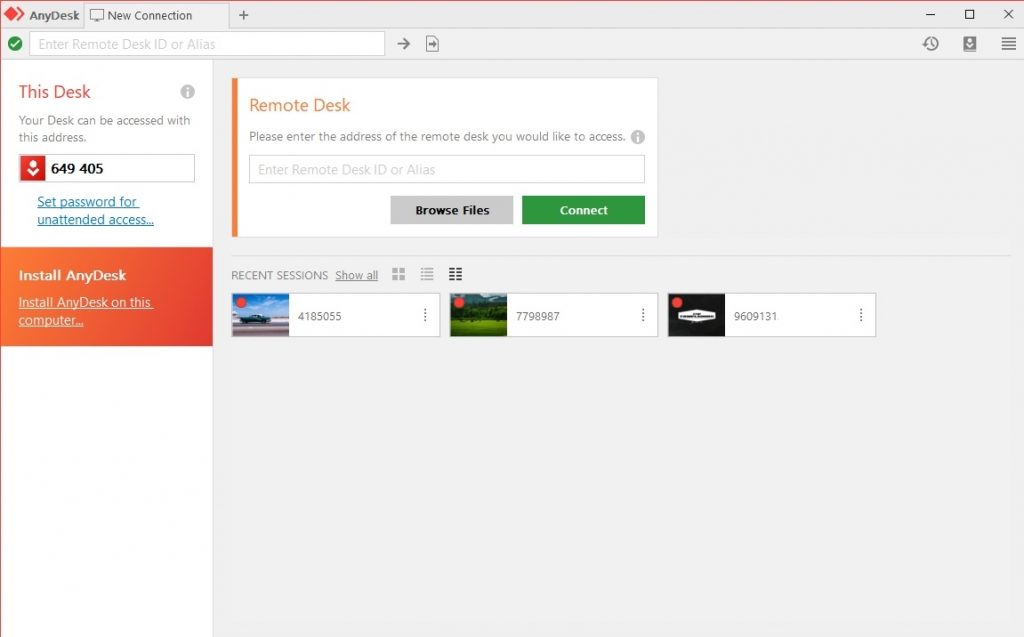 Anydesk is free to use for personal use for commercial use you need to obtain a license (starts at $ 10.99/month)
Anydesk is available on all major platform like Anydesk for windows, Linux, Android, iOS, macOS, Raspberry Pi, Chrome book and many more.
Ammyy Admin
UI of Ammy Admin is pretty clear just enter the client ID (remote desktop users ID) and hit connect and now you have control of the remote desktop.
One weird issue you will face when try to download Ammyy admin using chrome and firefox as it won't let you download it, you have to use Internet Explorer, Edge or Opera to download it. ?
Ammy admin is light as a feather (700-800 kb in size) but gives you full quality control over what gets shared from your pc to remote user or vis-a-vis.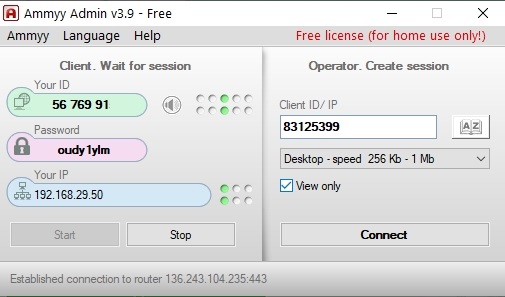 You can save frequently used client ID in the contact book so you don't have to ask the client ID again, files sharing feature is built-in, you can connect to multiple users simultaneously(paid) and audio chat while connected.
To properly work on slow network you should adjust settings in the client tab like disable visual effects, disable desktop background.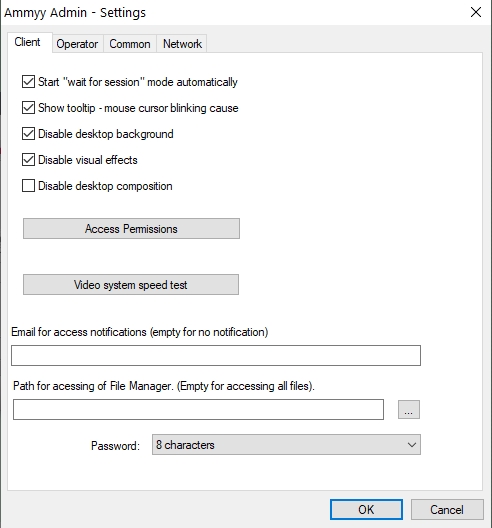 Ammyy is free to use for personal use with limitation of 15 hours of use in a month but paid for commercial use (pricing starts at $33.90 per computer lifetime)
Chrome Remote Desktop
Most of the users don't know that Chrome Browser on PC supports remote desktop sharing with the help of an extension, you can directly share your desktop screen with your friends right from Chrome browser.
To setup Chrome Remote Desktop you can easily just visit the Chrome Remote Desktop support page and install the Chrome Remote Desktop extension after that you need to follow some instruction to run the newly downloaded .msi file.
Now you can generate and share your code to get support from others or enter others code in give support card to take control of their remote desktop.
Also read: Most Useful Google Chrome Flags You Should Enable
Setup process maybe not so good but actual result is great, now you don't need any typical or third party remote desktop software get control of remote systems. As most of the users use Chrome and extensions so it won't be a hassle to setup their system with chrome remote desktop.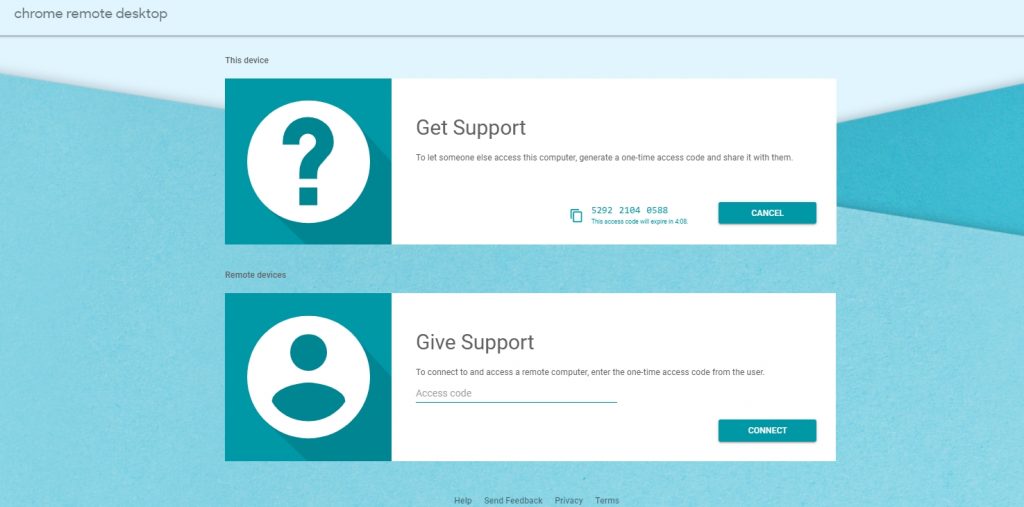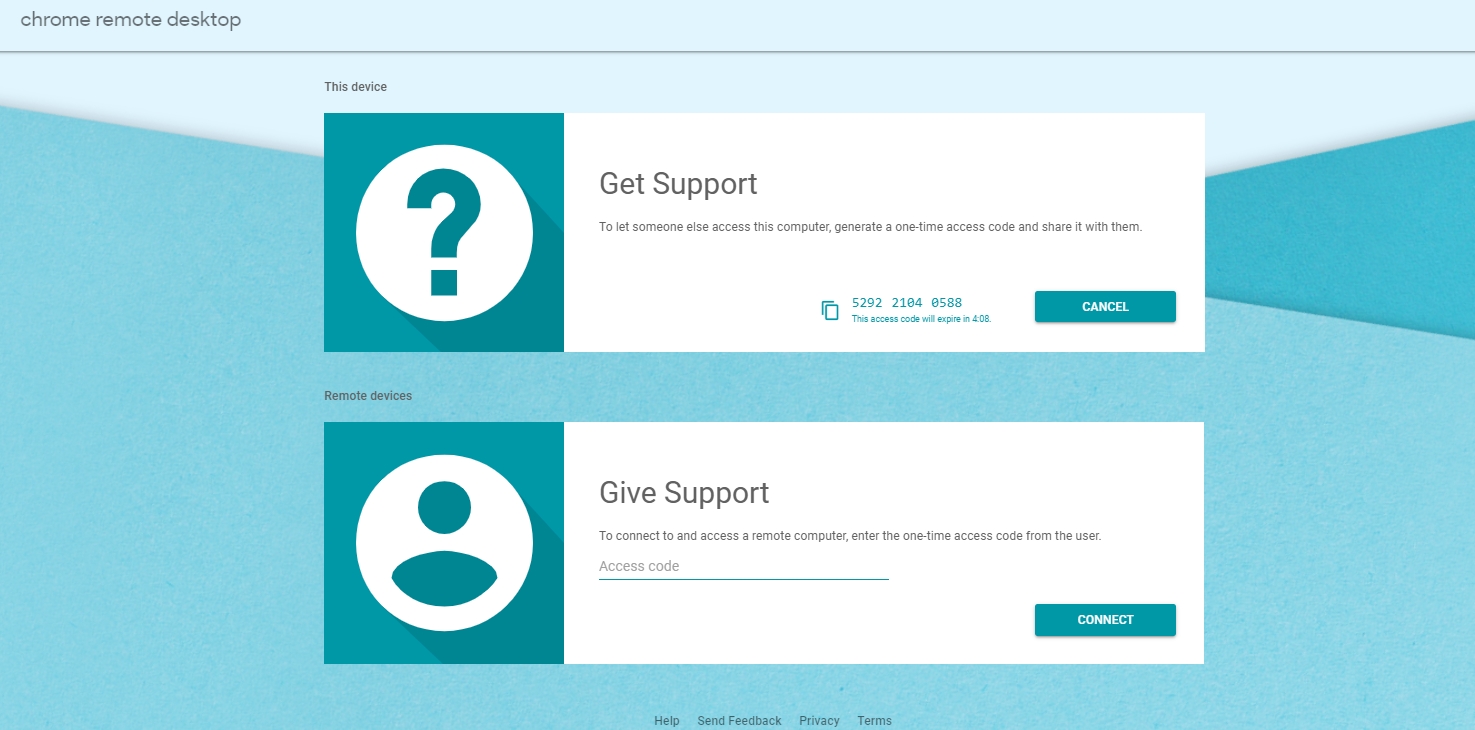 Now come to the best part the Chrome Remote Desktop, on remote access page setup your device name and pin after that you can control your PC with your mobile from anywhere, for this you need to download the app from play store.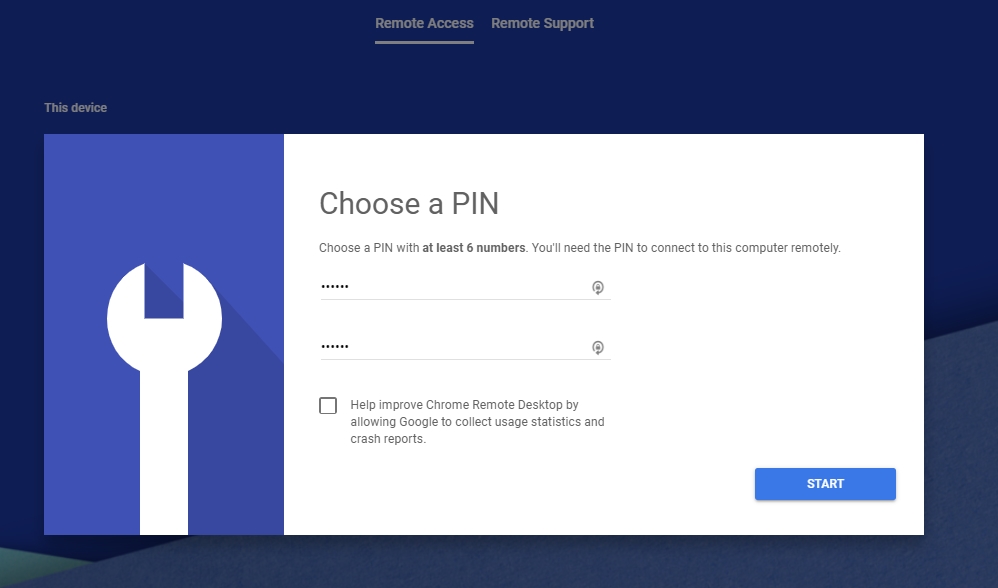 Teamviewer
One of the most popular remote desktop sharing software in the market. Teamviewer is widely used remote desktop software for enterprises to give support to their customers, collaborate with teams, record sessions and control all the remote systems with TeamViewer.
You can easily chat and transfer files between remote and your computer to better assist customers, TeamViewer gives you dedicated option for remote connection or file transfer dedicated for each use case.
To connect with other users using TeamViewer is easy just enter remote systems ID and hit connect and enter the correct password when prompted.
Enterprise users of TeamViewer can control and deploy mass with group policy, they can also create there own custom branding to stand out from the crowd.
One thing you are going to hate about TeamViewer is that both client and host need to be on the same version of software to establish a connection.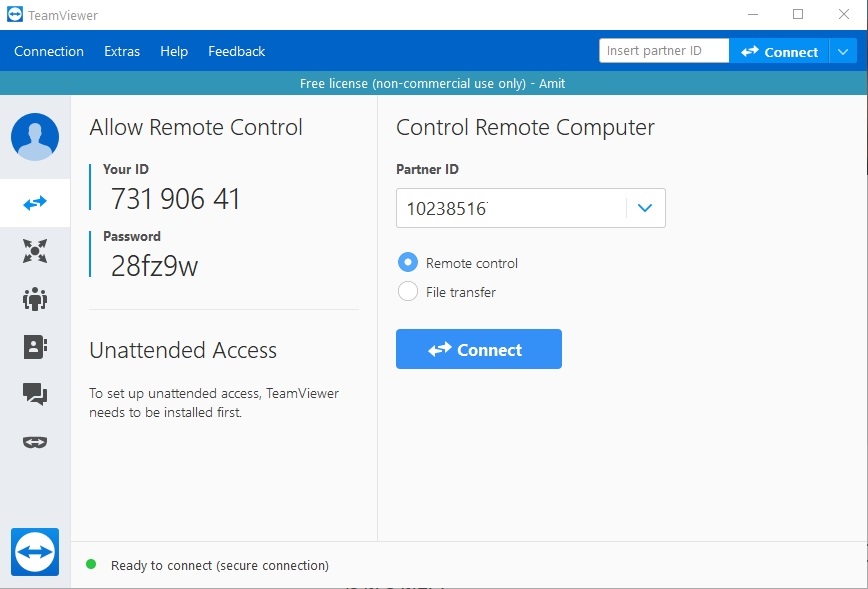 TeamViewer is free to use for personal use with few limitations and paid for non-commercial use (starts at $ 49.00/ month)
Microsoft Remote Desktop
Microsoft also offers a remote desktop app for windows you can use it control your windows pc or laptop remotely using a phone.
Like other software, Microsoft's Remote Desktop also offers an option to copy between remotely connected devices, since the app is made by Microsft you can trust them for security updates and new features over time.
Windows 10 also has remote desktop feature built-in you can access it directly by going to Settings > System and select Remote Desktop or you can simply copy-paste ms-settings:remotedesktop in the browser URL bar.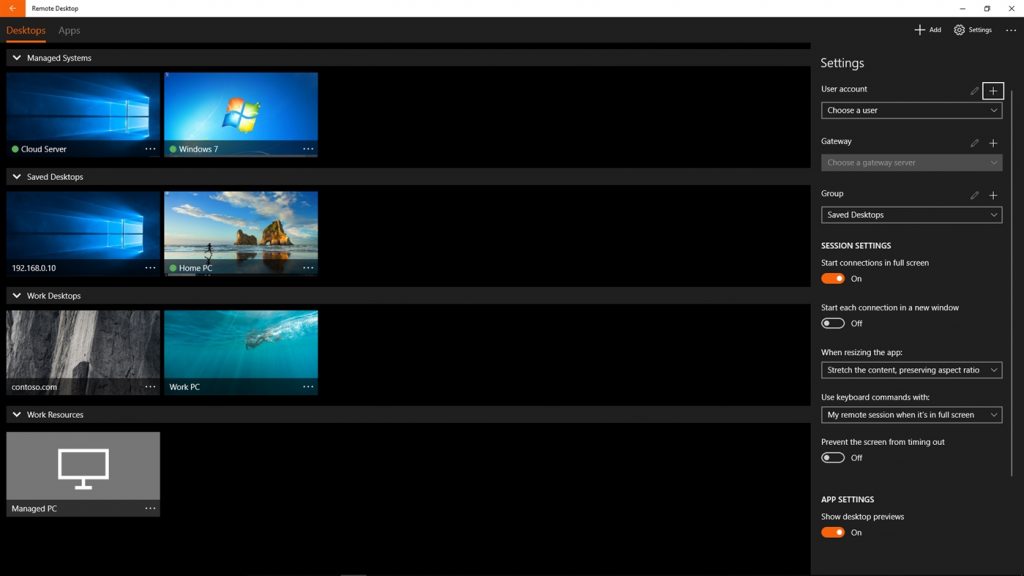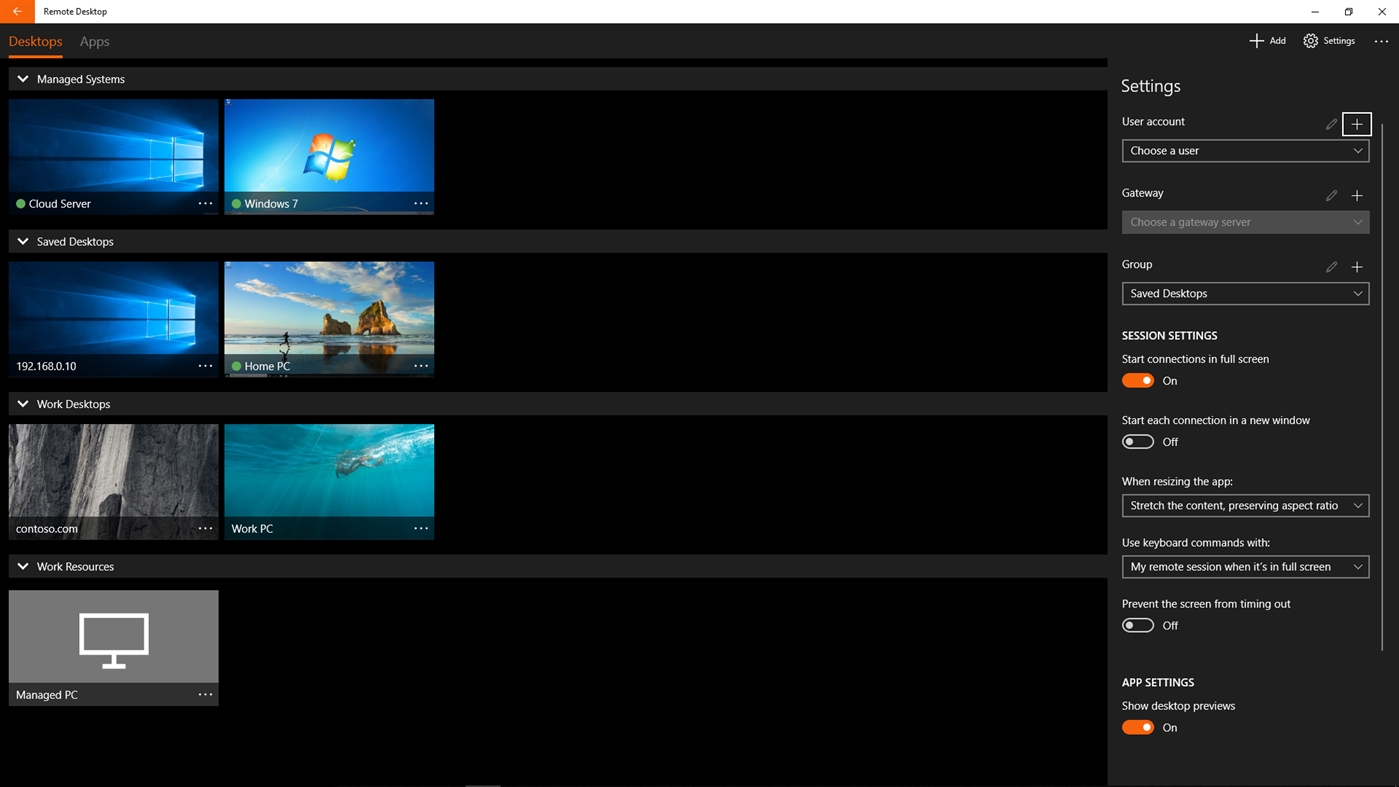 Microsoft Remote Desktop for PC
Honourable Mentions
Questions About Remote Desktop Software
What is the best remote desktop software?
The best remote desktop software would depend on your needs as there are a free version and a paid version for each software as per usage.
How do I access Chrome Remote Desktop from another computer?
You need to visit: https://remotedesktop.google.com/ and install a chrome extension to connect with another computer.
Is Remote Desktop Connection free?
Yes, most of the remote desktop software comes with a free version which is sufficient for the personal use case. If you need more features you can go with paid plans later on.
Is Remote Desktop secure?
Yes, Remote Desktop Software is secured and use various security measures. You can read each software privacy on their respective websites.
Is Google Remote Desktop free?
Yes, Google Remote Desktop is completely free all you need is Google account logged in.
How can I connect my PC to mobile remotely?
You can use Teamviewer, chrome remote desktop, anydesk, Microsoft remote desktop for connecting to your pc with your mobile phone.
How do I access remote desktop through my browser?
Most of the software come with a small utility which you need to install before using remote desktop. Still, there are few services like Chrome remote desktop, showmypc which allow you to access remote desktop through your browser.
Conclusion: Best Remote Desktop Software
For personal use case, AnyDesk and Chrome Remote Desktop is your best bet for enterprise users you should check your actual requirements and features offered by these remote desktop solutions providers at what cost. Most importantly don't forget to check if the provide greate support to their customers or not because the end of you are going to need that a lot.
Sources:
Chrome Remote Desktop – Google Chrome
Remote Desktop –  Allow Access to Your PC – Microsoft