Podcasts are everywhere now. Everyone is coming up with a new podcast. Finding the next best podcast becomes easier if you have the right apps on your smartphone.
Because there are so many podcasts there are so many apps as well to choose from on android and ios.
While most of the apps available on both platform still few apps are only available on either Android or iOS.
Why Podcast?
Podcasts are easy to consumable you can be doing any activity like driving, commuting, cooking and listen to a podcast anywhere. Some podcaster also posts video while recording on their youtube channel as well but mainly podcasts are the audio version. You don't need to stare at any device and you could be doing something else as well.
Audiobooks and podcast are gaining popularity as people are getting busy and spending a lot of time in there daily chorus they can start listening something worthwhile.
Here are some of the best android and ios podcast apps which can help you listen more:
Pocket Casts
It's one of the best podcast app and pretty popular app among users.
Pocket Casts recently announced its free now. Earlier it was a paid app and now you can use it for free. There is Pocket plus if you need more customization, desktop app and cloud storage.
Trust me you are fine without plus version.
The design is great without any bloat in the app.
Features of PocketCasts:
Trim Silence
Cross-Device Sync
Episode Search
Android Auto and CarPlay
Airplay and Chromecast Compatible
Smart Up Next queue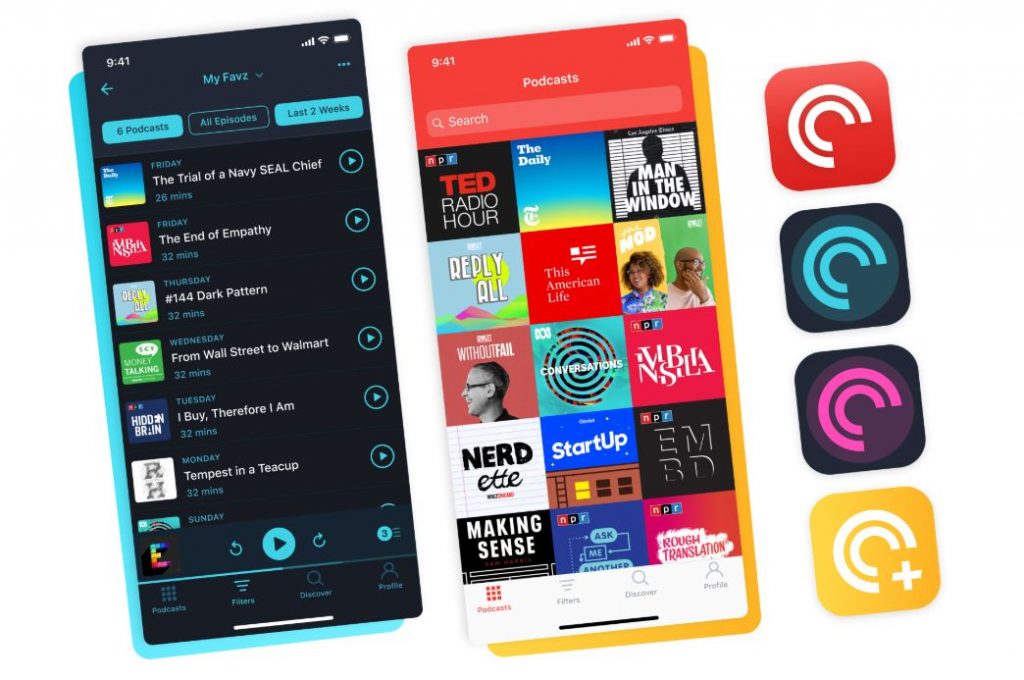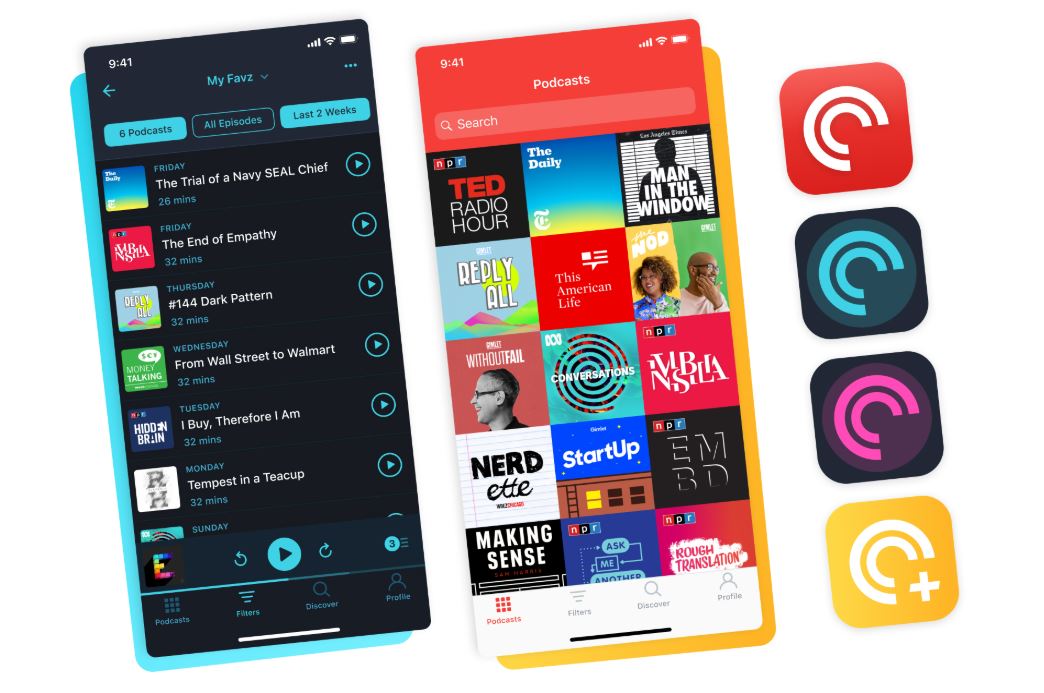 CastBox
A full feature-rich podcast app with a focus on listeners. You can start listening without even registering to tryout.
Chances of stumbling upon new podcasts are much higher as the home section is filled with a great podcast to listen.
They also have a community section with each podcast to comment and share more insights.
While listening you get the options like trim silence, boost volume and playback speed. The app also comes with chromecast support.
By creating the account you can get your listening stats, become part of the community or start your own podcast or go live with Livecast feature.
In the search bar, you can enter any RSS feed or show name to find your podcast or browse the popular queries of users in each category to know what people are searching.
A well-made app for both android and iOS. Castbox Premium costs 0.99 USD which removes all the visual ads from everywhere, custom homepage, priority support, new features and unlimited subscription allowed. Currently, in the free plan, you can have 100 subscription which is more than enough for most people.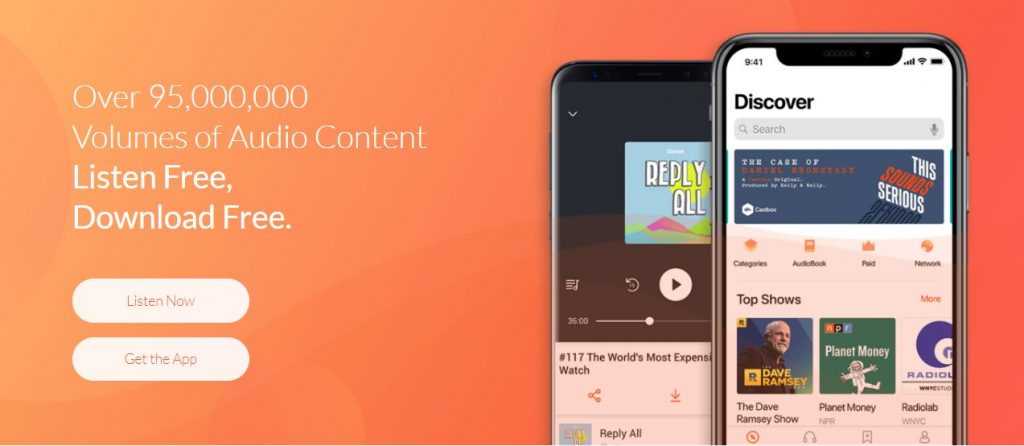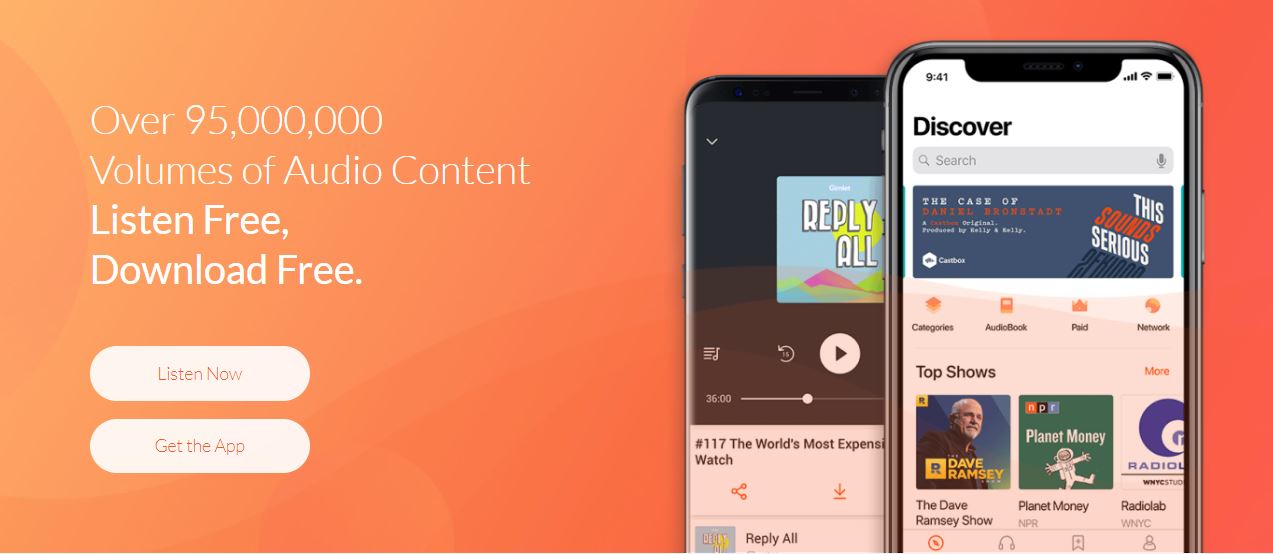 Google Podcast
The most simple to use podcast listening experience. They have an only android app currently.
You can listen to a podcast by searching the name of the podcast in Google search and you will get the result right there click on the play button to start listening.
If you have your Google account sign in it will be synced so next time you can continue where you left.
The android app has a very minimal design and no extra features just simple to search, browse and play with playback speed control.
If you listen to podcast very occasionally and limited one it can be definitely a good option for you. Just search and play anywhere anytime.


Spotify
Spotify is the most popular music streaming service which also has a podcast section.
You get exactly the same features which you have for music streaming.
Discovering new podcast is easy as they categorize the podcast very well.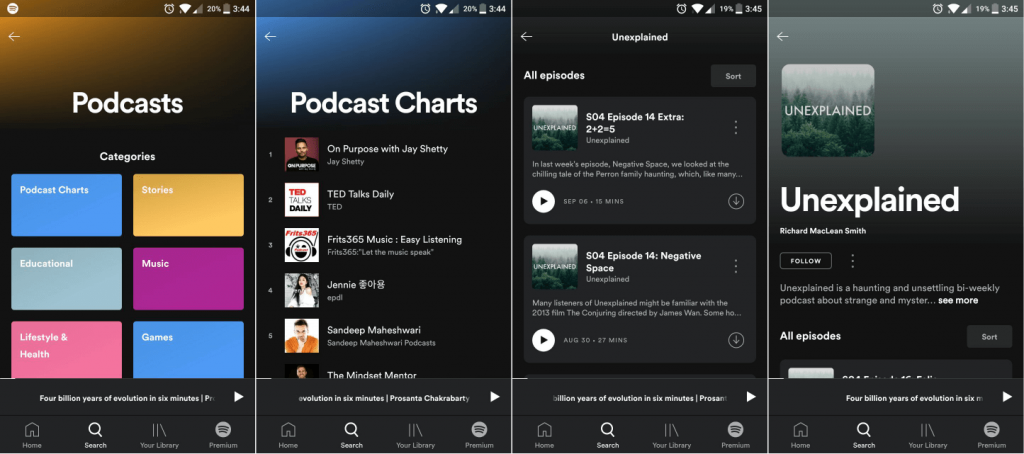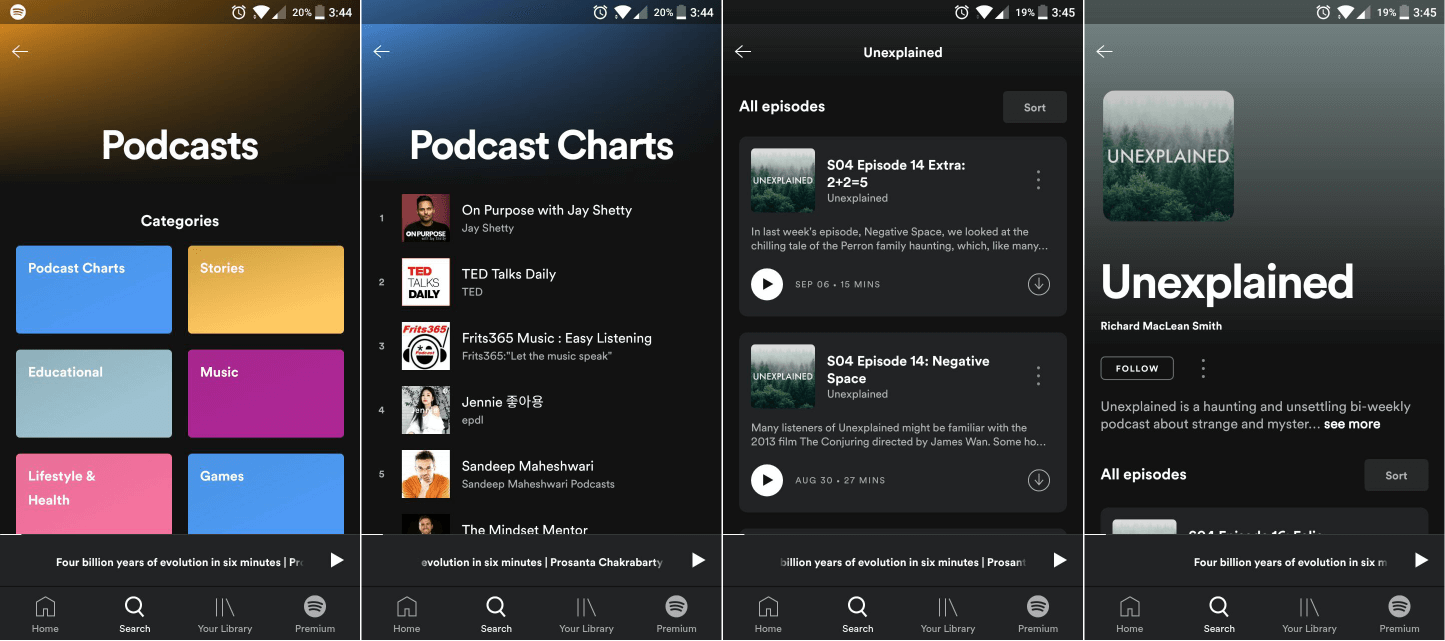 Overcast
Overcast is another great app for the podcast with super simple to use interface. With all the necessary features like volume boost, smart speed to cut silence and listen more, playback speed control.
The app is currently only available for iOS users on iPhone, iPad, and Apple Watch(standalone app).
You might see a few visual ads here and there which you can remove by paying 10 USD/year.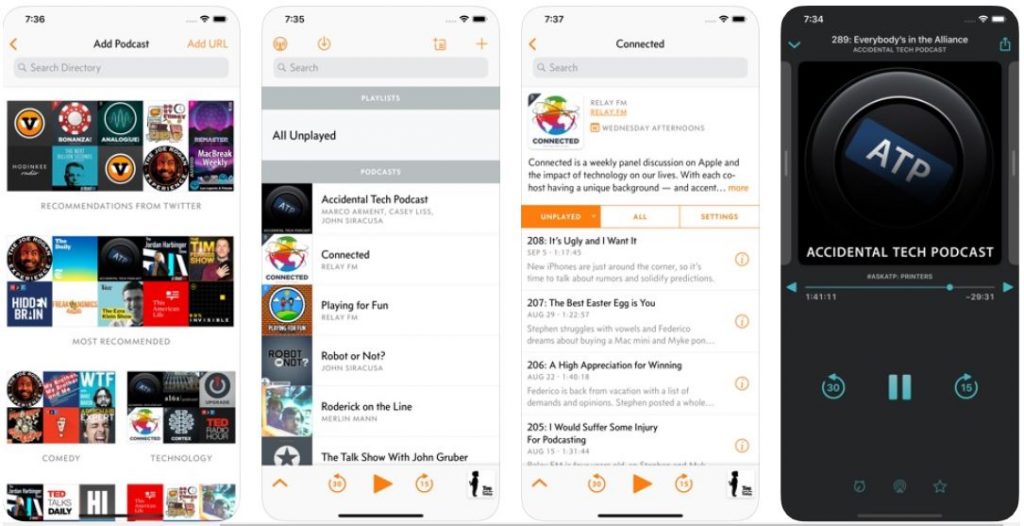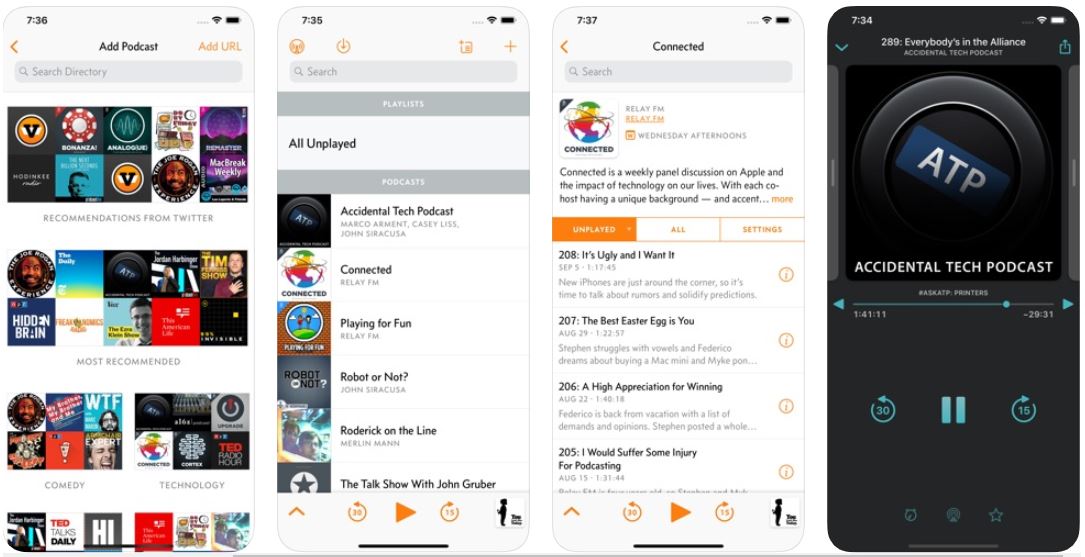 Castro
Another iOS only podcast app with great design. You should definitely try this one as the interface looks intuitive and comes with all the features you would expect.
Features:
Custom Playback speeds
Trim Silence
Advanced Chapter Support
Sideload any audio
CarPlay
Apple Watch Support
A lot of the features are part of Castro Plus which can cost you upto 18.99 USD/year or minimum 2.99 USD/year.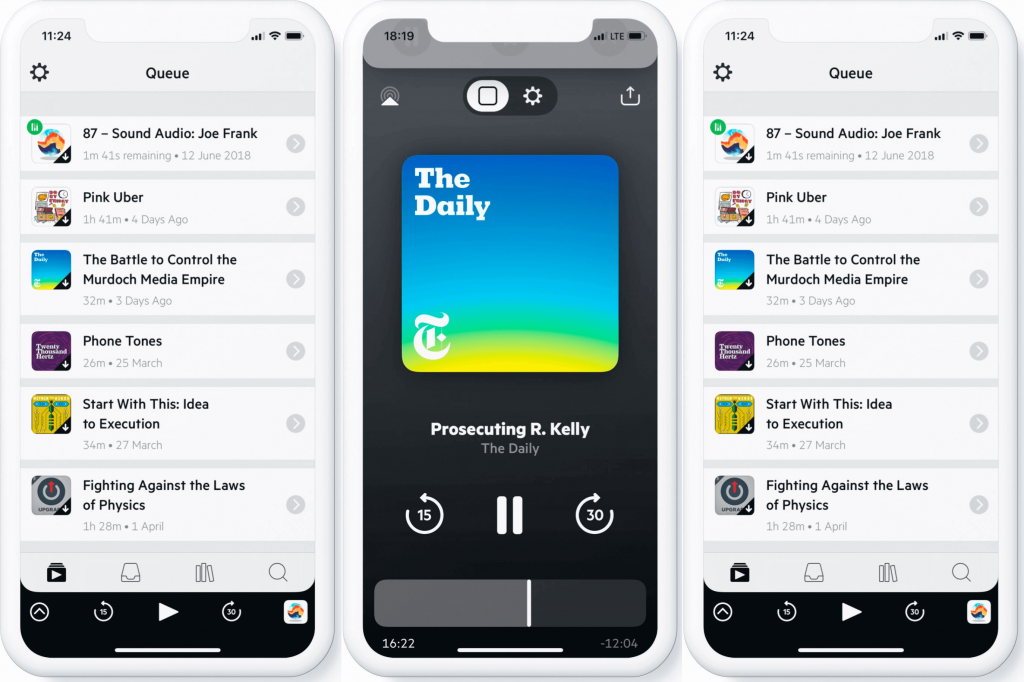 Breaker
A social media approach for podcast apps. Follow your friends to know what they are listening, comment, share and chat about the podcasts with Breaker community people.
Find the podcast that everyone else is listening with more than 5 lakh available podcasts on the platform.
There are also Breaker exclusive podcast which you can buy or support your favourite podcasts.
Breaker comes with dark mode, playback speed control, download new episode automatically, skip silence while listening.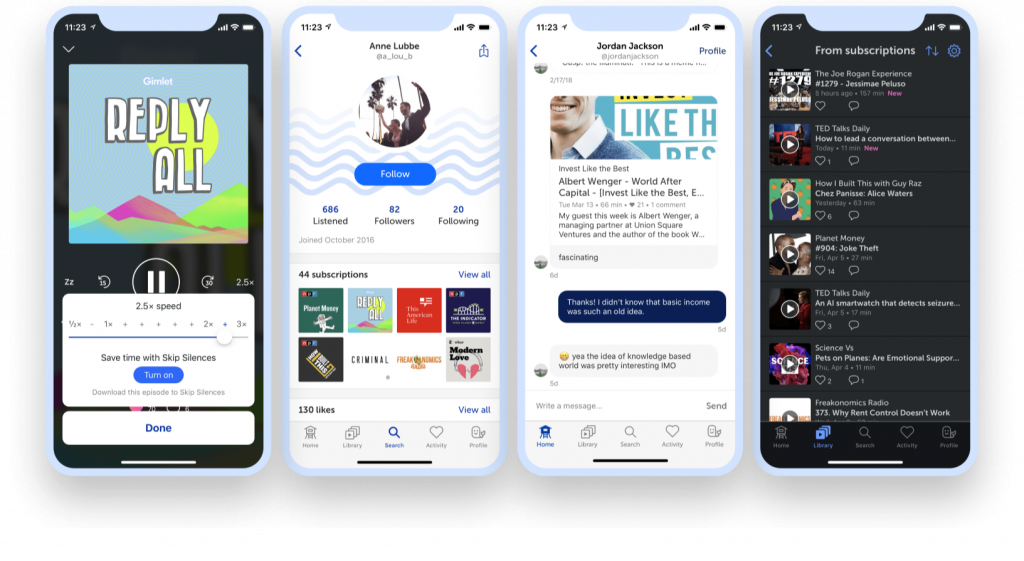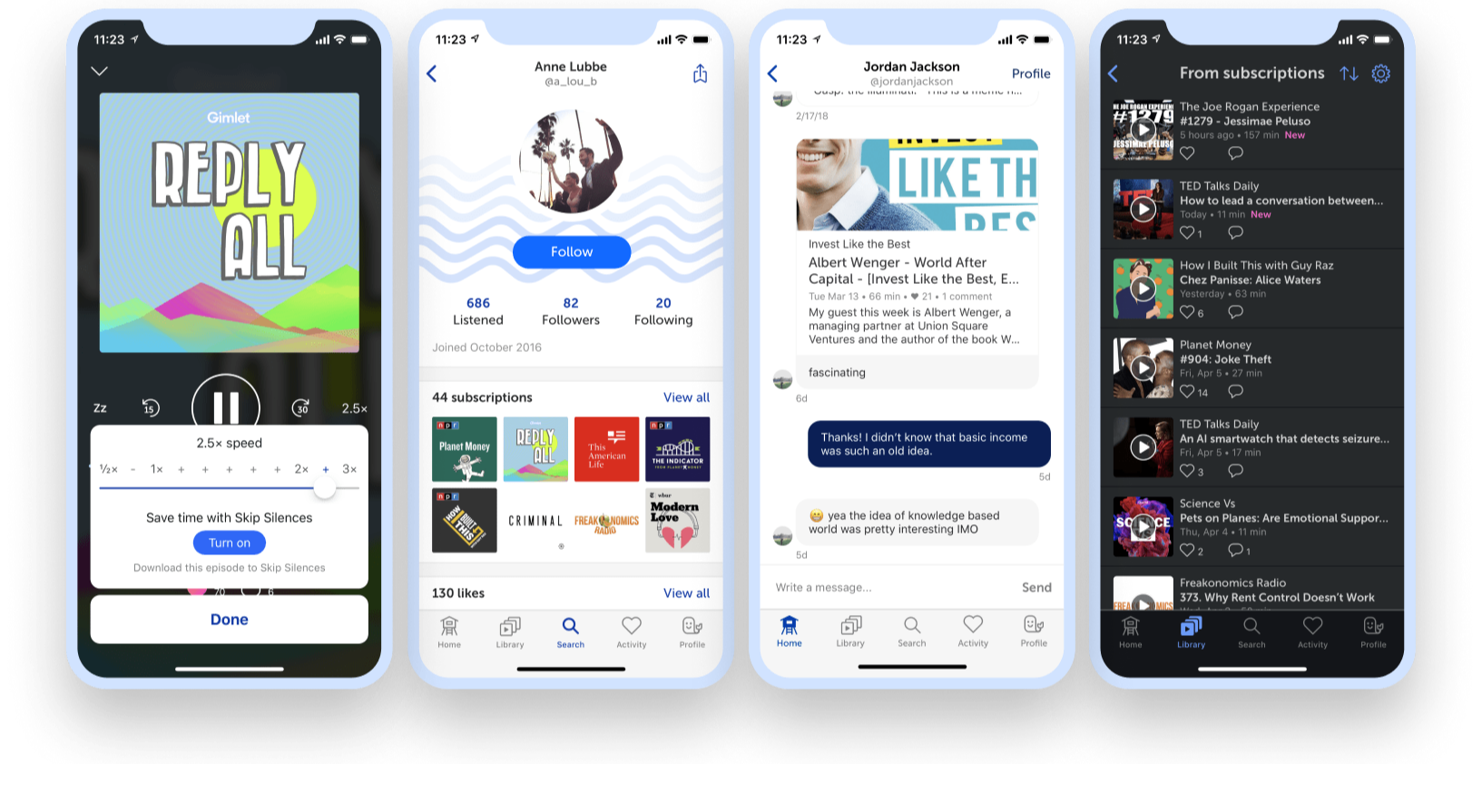 Podcast Addict
The design wise this app feels a little old considering the above mentioned apps. There are just too many options on the interface which can make you overwhelmed sometimes.
Podcast Addict is completely free to use app with ads and no paid plan. But you can download their additional Podcast Addict: Donate app to support the developer and remove the ads.
You can import podcast list from other apps through OPML file. The app also has Chromecast & SONOS support.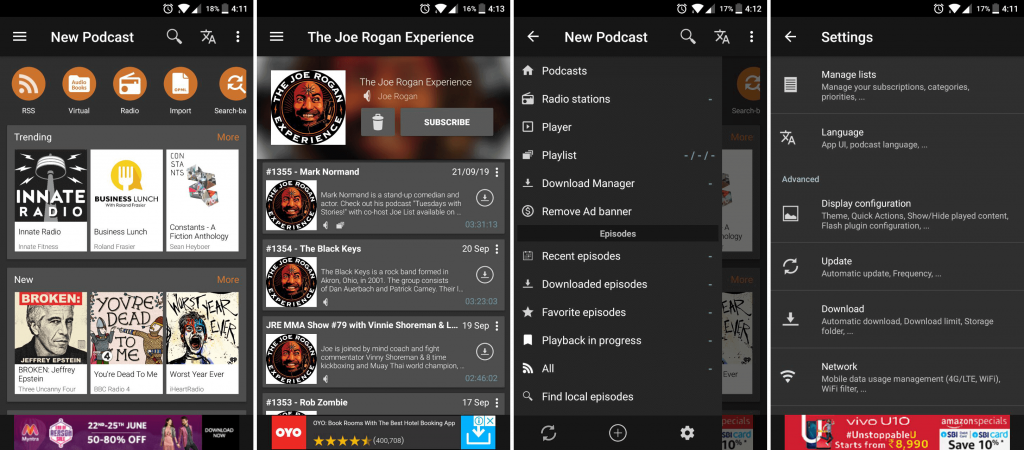 Anchor
Anchor is more than just a good podcast app. It's a platform to create, distribute and monetize your podcast from a single place.
The best part is you don't need to know too much. The interface and tools are great to start.
For podcast listeners, there are not many features with pretty standard search and some popular podcasts visible.
If you happen to be both podcaster and listener this one is perfect for your needs.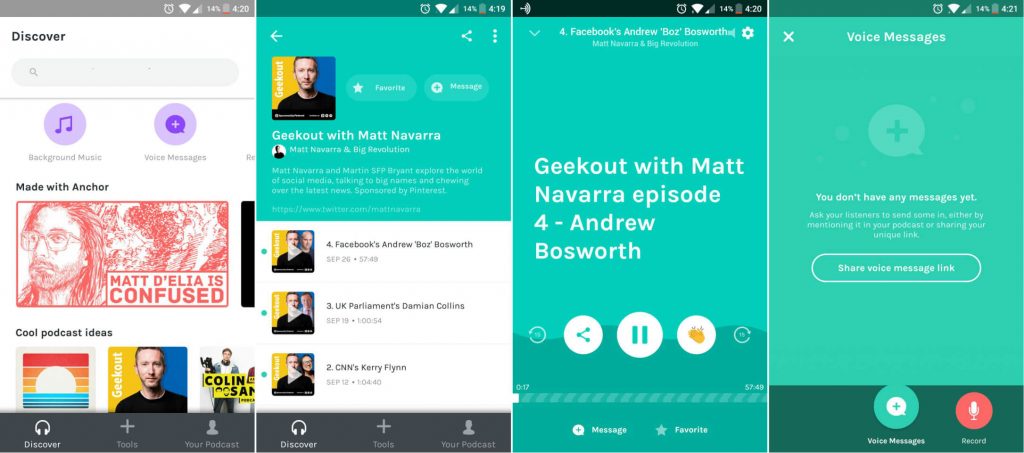 A really cool feature is you can setup your profile then share custom URL to receive audio messages which you can use for your next podcast this is great.
There are some automation available which you can pair with third-party apps like Tasker to do stuff based on intent.
Player FM
Player FM has a great discovery feature which lets you find the best podcast for listening. The interface is clean and easy to use with all the essential features.
Podcasts are categorized into tech, sports, science, storytelling, music, education and so on. Inside you have all the controls for sync, downloads management, playback settings, themes and import from another app.
While the app is free you can still upgrade to unlock more features like sync across multiple devices, auto compress the downloaded files, custom themes, audio backup, full-text search for finding the episode, notes with bookmarks, no ads and priority support. Premium plan cost 3.99 USD/month with a free 7-day trial.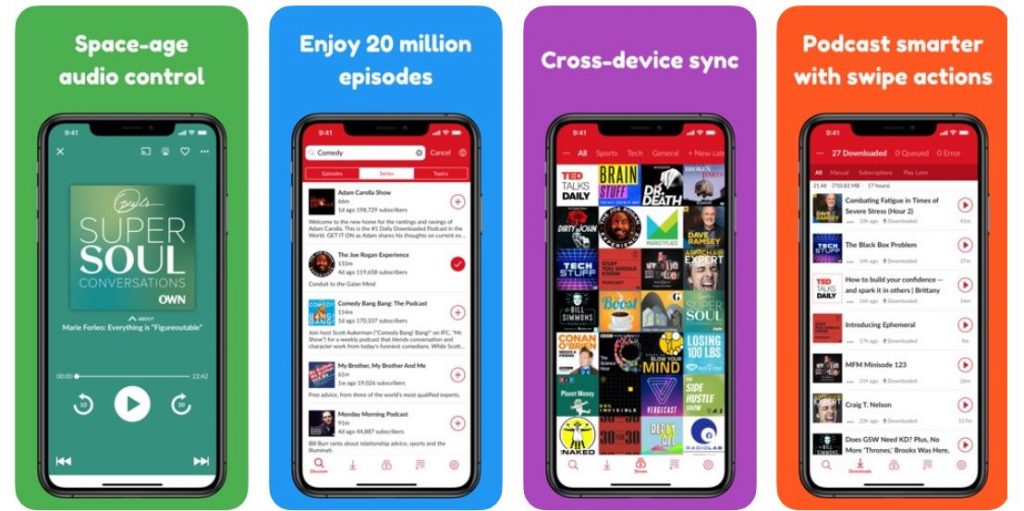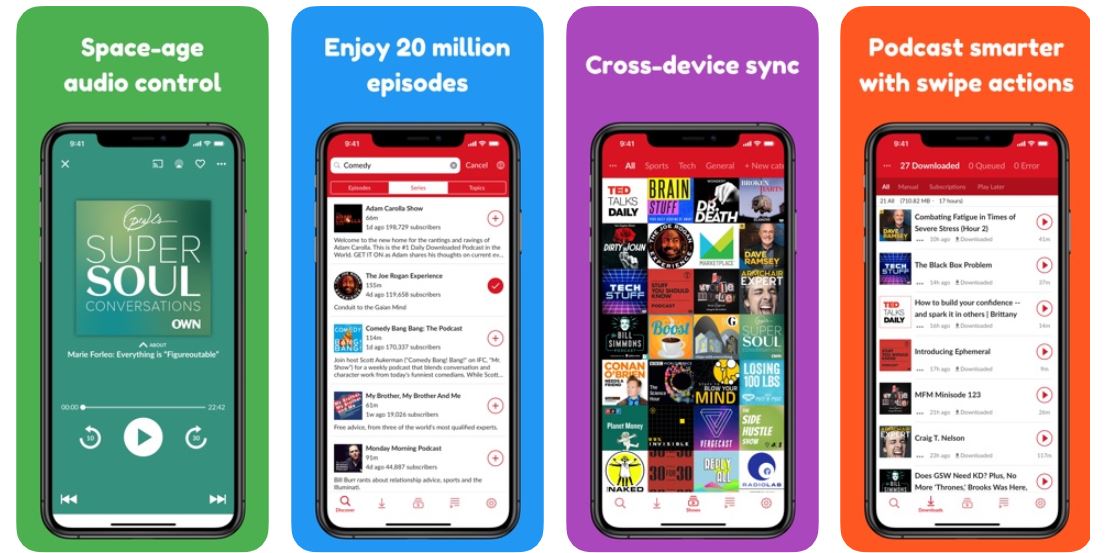 Stitcher
Stitcher has got 5 million+ downloads and 50K+ reviews in play store. The collection of the podcast are great in various categories.
Stitcher also provides ad-free shows and premium plan give you access to Sticher Original Podcast.
Find your favourite podcasts mark them as favourite, download for offline and listen.
Stitcher is available on Android, iOS, Desktop, Alexa and Sonos.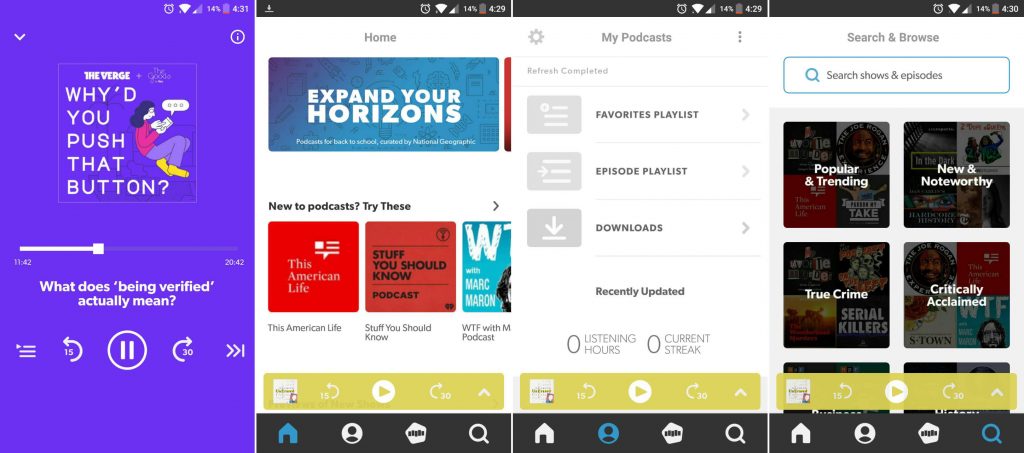 AntennaPod
An open-source podcast manager app. The app comes with all the features and without any unnecessary features or bloat.
There are no ads or in-app purchases which is the best part. Being open-source you can view all the source code here: AntennaPod Github.
For managing the podcast subscription the app uses the https://gpodder.net/ as an integration in the app.
Overall a great full open app if you need privacy.
DoggCatcher
DoggCatcher comes with material design. There is no free version of the app and for downloading it costs around 4 USD(250 INR).
While the features are mostly the same as mentioned above. The app also has video and news section with video playback support.
Podcast Republic
This app also comes with material design and it's so well organized to navigate around it makes it one of the cleanest podcast app.
For all the subscribed podcast there is an option to set up an alarm so you can listen to the next episode.
Podcasts are well organized in categories and top charts section helps to discover the new podcasts easily.
BeyondPod
A simple podcast app with not so great design. But looks like app not been updated from October 2018 which means there can be various bugs on recent and new android versions.
Podbean
Podbean is more focused on providing the hosting space for your podcast but they also have a podcast manager app.
A refreshing user interface than most of the other podcast app. You get to explore a lot of podcasts.
You can personalize the homepage the way you want. Subscribe to your favourite.
The app includes features like intelligent speed, volume boost, sleep timer, chromecast support, android auto support.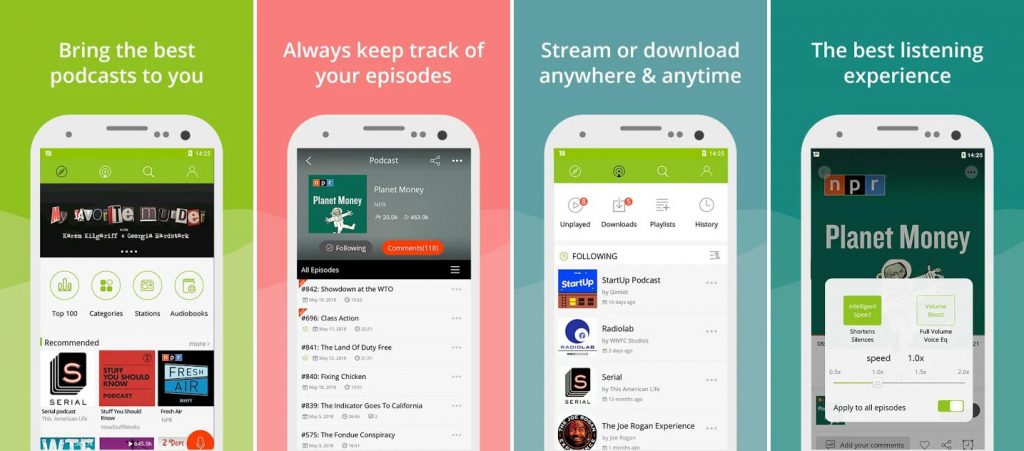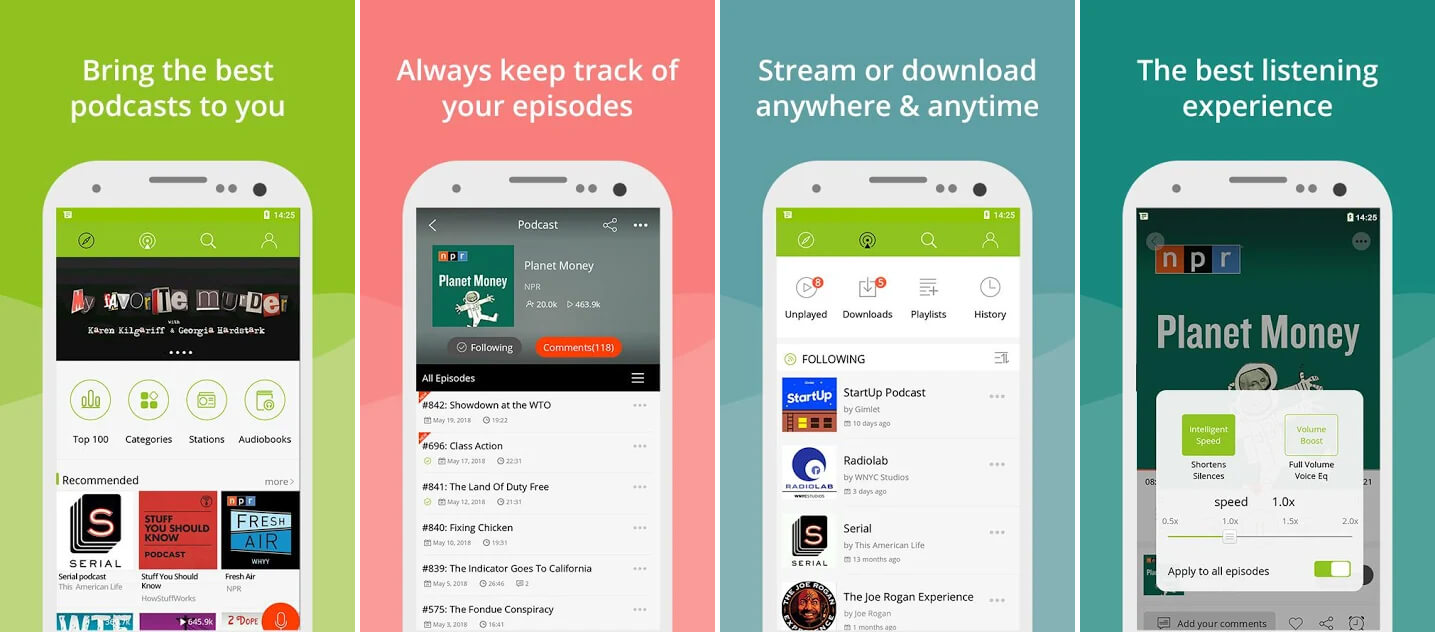 Podcast Go
It's an elegant app with a colourful pallet for podcasts. The app is very well designed to explore popular podcasts in different categories from the sidebar.
You will get few ads in the app to remove them you can pay 4 USD(280INR)
Laughable
Looking for comedy podcasts than no look further than this app. The app has largest collection of comedy podcasts with great comedians, artists to explore.
Not just comedy there are all the podcast just search and you will find them.
Conclusion: 
For Android and iOS users Pocket Cast, Stitcher, CastBox are the best podcast apps with all the features and these apps are available on both platforms. For design and interface Castro, Breaker and Sticher are cool podcast apps.