Curious about where various fonts come from? Want to find a font from the image? As our culture becomes more and more digital, typefaces become more important to how we express ourselves visually. They are fundamental to typography because they shape how we interpret text. The effect of a message may be greatly affected by the typeface used in branding, advertising, graphic design, and web development. There are times, though, when we find a captivating typeface whose identity remains unknown.
This all-inclusive find font from the image manual will provide you with the information and resources you need to solve the mystery of typefaces concealed in pictures. If you're a designer looking for a new typeface or just someone interested in learning more about an intriguing font you've come across, the following methods and approaches will help you begin your quest.
Popular Tools to Find Fonts from Image
Design professionals, typographers, and anybody else on the hunt for the right font may now rely on font finders and identifiers. To find fonts from images, these programs use complex algorithms and large font databases. The most well-known font identities and finders are briefly described here. 
WhatTheFont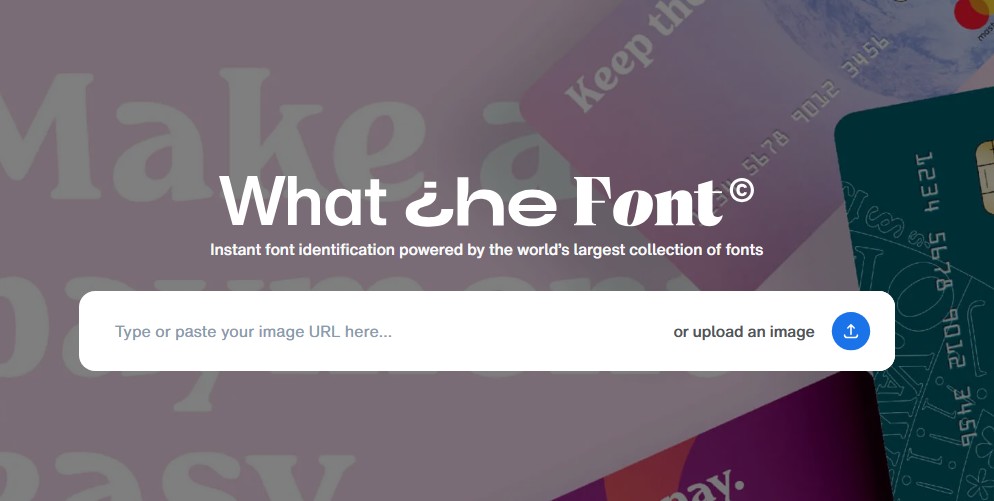 MyFonts to find fonts from images has developed a web app that uses character recognition to recommend suitable fonts for uploaded photographs. It is a well-recognized font identification system.
Font Squirrel's Matcherator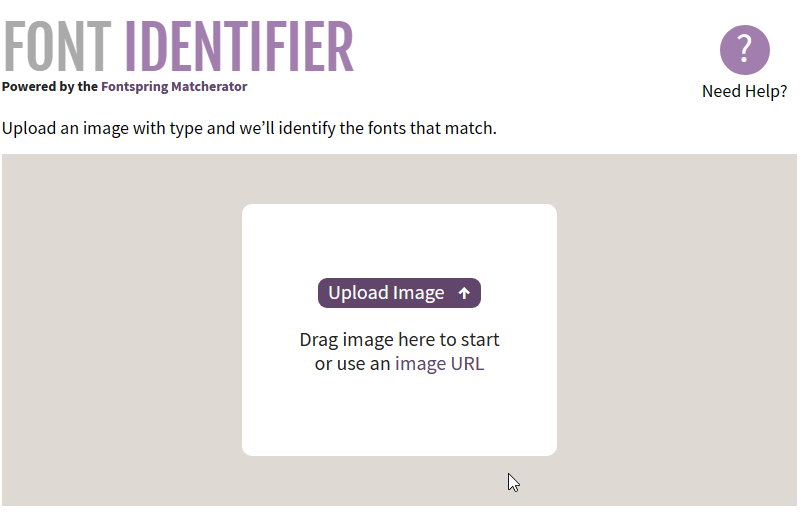 You may use this web app to determine what typeface is included in an uploaded picture. Its ease of use and straightforward design have made it popular.
Adobe Capture
It's an Adobe mobile app that lets you take pictures of typefaces and then figure out what they are. Adobe Creative Cloud users may now save typefaces that have been recognized for future use.
WhatFontIs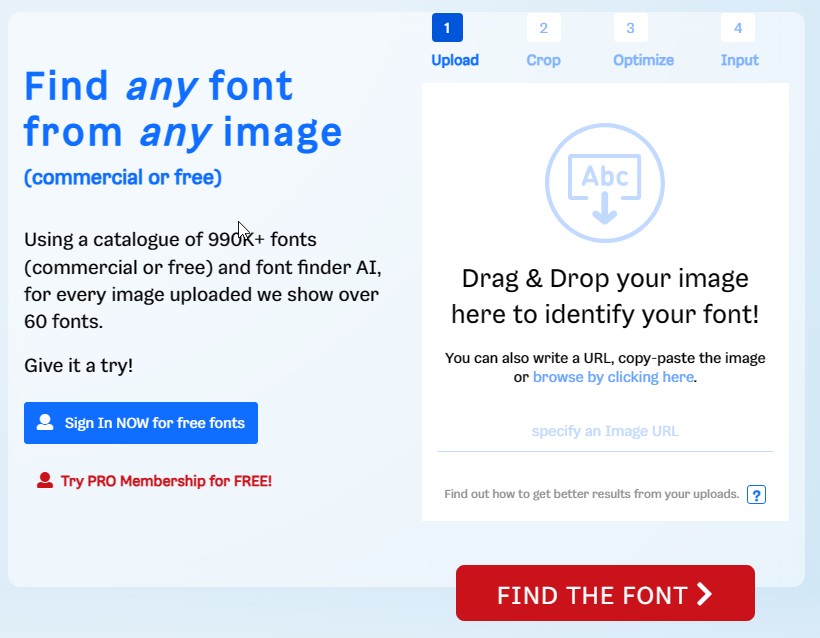 The best way to find a font is from an image with a huge internet database. Users may submit photographs and get recommendations for suitable fonts, along with links to where they can purchase such fonts.
Identifont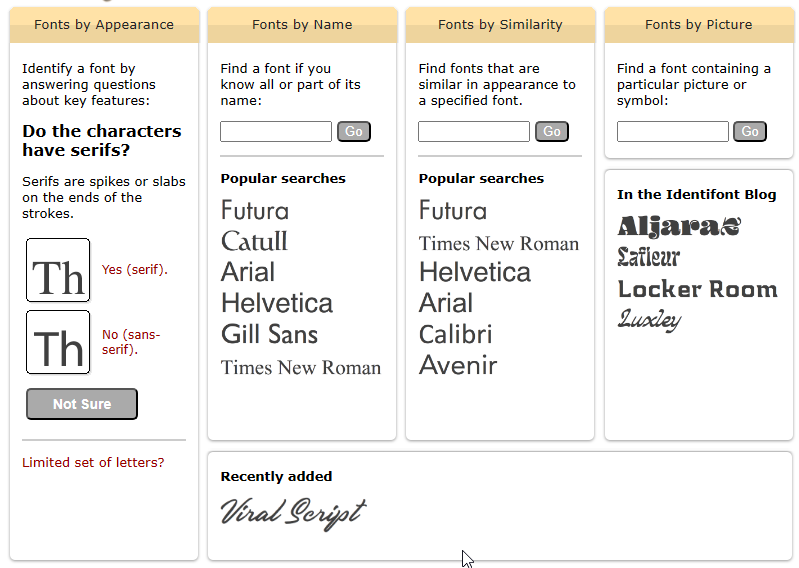 Identifont is a text-focused font identifier that uses a series of questions about the font's attributes to provide font recommendations.
Find my Font
This desktop application for Windows and macOS can analyze photos and recommend suitable fonts. Fonts may be compared to the user's personal library for easy selection.
Font Candy
Font Candy is an app for iOS devices that allows you to not only add text to photographs but also identify typefaces used in such photos.
By simplifying the process of locating and recognizing fonts, these tools have helped designers and fans save a great deal of time in their pursuit of the ideal typeface. You may use these programs on your desktop computer or mobile device, and they all provide many choices for recognizing typefaces in photographs.
Common Steps on How to Find Fonts from Images in All Applications
The process of identifying a typeface from a picture is consistent across software. While the specifics may change based on the program or device you're using, you may generally follow these steps:
Open the Image: To find the font from an image, load the picture file into the program of your choice that contains the text in the mysterious typeface. Adobe Photoshop, Adobe Illustrator, GIMP, or any other image viewer or editor will do. 
Zoom and Crop: Increase the magnification to read the text easily. Crop the picture to isolate the text you need to read if it comprises numerous typefaces or text components. Distractions may be lessened with cropping.
Take a Screenshot (Optional): A screenshot of the text may be taken in an image viewer or web browser if you don't have access to design tools. Make sure the quality of the screenshot is high.
Enhance Image Clarity (if necessary): If the writing is difficult to read, try increasing the brightness, contrast, and sharpness. The picture may be improved using the program's editing features.
Use Text Recognition (OCR): Optical Character Recognition (OCR) is a feature available in certain programs; this is notably true of image editors and PDF readers. Using optical character recognition, the text in a picture may be turned into editable text. When pasting text for additional examination, this might be helpful.
What is a Font Finder or Font Identifier?
A font finder, also known as a font identifier, is a piece of software or hardware that may be used to locate and identify a certain typeface inside a picture it is to find font from the image. Software, a web service, or a mobile app that uses a variety of algorithms and databases to examine the characters and visual aspects of the text in the picture and then matches it with known typefaces is called a font recognition system.
How Font Finder Works
These tools typically function as follows:
Image Upload: Users provide an image file containing the text they want to be recognized. A picture, screenshot, or scanned document might serve as this image.
Character Analysis: To find a font from an image, examine the characters in the picture to determine what font it is based on things like letter forms, serifs, character spacing, and other unique characteristics.
Database Comparison: It takes the characters' visual attributes and checks them against a huge library of typefaces to obtain the best possible match.
Font Suggestions: The software generates a list of potential fonts, ordered by how well they match the characters in the picture.
User Review: The font suggestions are then evaluated by the user to see which one is the closest match.
If you're working on a design or graphics project and need to identify a font, a font finder can save you time and help you locate a similar font that you may use. Access to font identification has been facilitated by the proliferation of online font identification services and smartphone applications.
How to find Font from an image using online tools
The proliferation of specialized internet font recognition services has made it much easier to identify a typeface in a picture. These web-based resources provide a quick and simple method of identifying a typeface inside a picture. Here's a detailed breakdown of the steps required to make it happen:
Upload the Image: To start, go to a website that helps you figure out what font you're dealing with, such as WhatTheFont, Font Squirrel's Matcherator, or WhatFontIs. Typically, you may submit the picture containing the text you want to identify using the service's image upload interface.
Crop and Adjust: In order to better examine the text of interest, it may be necessary to crop the picture if it contains numerous typefaces or other features. In addition, tweak the brightness, contrast, and other visual parameters to your liking.
Submit and Analyze: If everything seems OK, click "Submit" or "Identify" to send the photo out. The online tool's algorithms will analyze the text in question and look for possible matches in their font library to easily find fonts from images.
Review Suggestions: The computer program will provide a set of possible font matches. Look through the options, and choose the font that most closely matches the one in the picture.
Acquire the Font: You may get the font from the font foundry or source if it is for sale. Free replacements or comparable typefaces may be recommended in certain circumstances.
With the advent of online font identification tools, the process of font recognition has been democratized, making it available to designers, enthusiasts, and the inquisitive. They provide an efficient method for identifying typefaces in photographs, which is useful for both typography and design.
How to Find Fonts from an Image Using Desktop Software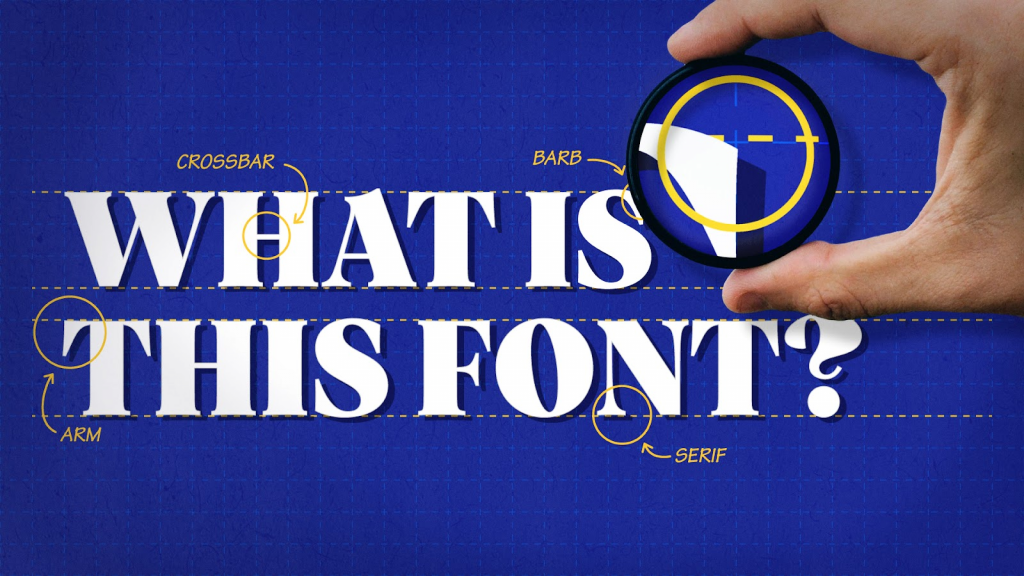 In the fields of graphic design, desktop publishing, and other creative endeavours, the ability to identify a typeface from a picture using desktop software is an invaluable asset. Designers and fans may use it to recognize and work with typefaces even if they don't know what they're called. The first step is to load the picture with the text into the desktop program (usually Adobe Photoshop or Adobe Illustrator). These programs provide a comprehensive range of resources for recognizing fonts and finding fonts from images. 
Clarifying the picture after it has been loaded is crucial. Optimal legibility of text is achieved by adjusting display settings such as brightness, contrast, and sharpness. It is also important to zoom in and crop the picture such that the text is the only visible part of the image. After these steps are completed, the text in the picture may be converted into editable, searchable text using the Optical Character Recognition (OCR) features of some desktop software packages. For analytical purposes, this may be a huge time-saver.
Using the program's in-built font identifier tools is important to the process of identifying fonts on a desktop. Some design programs, such as Adobe Photoshop and Illustrator, provide a function called "Match Font" or "Find Similar Fonts." These programs examine the text for visual cues like letterforms, serifs, and spacing and then look to find fonts from images on your computer that are visually comparable. You may use the results to narrow down the search for the typeface used in a picture. You may unlock the secret of typefaces hidden in photographs and put them to good use in your creative projects by following these steps inside your preferred desktop program. 
How to Find Fonts from Images using Mobile apps
The availability of smartphone applications that allow you to recognize typefaces from photographs has made this process much easier for designers, amateur creatives, and anybody else who has to deal with certain fonts. With the help of mobile applications, it is now possible to quickly and easily identify typefaces in photographs. Detailed instructions are provided below.
Download a Font Identifier App: To get started, go to your app store of choice and look for font recognition software to find fonts from images. Font identification apps like "WhatTheFont," "Adobe Capture," and "WhatFontIs" are all good options. Get the app for your mobile device, then launch it. 
Capture or Import the Image: Take a clear picture of the text using the unknown font, or choose an image from your device's gallery to use in the app. You should get the best lighting and clarity you can for the shot.
Analyze and Identify: After the picture is imported or taken, the program will examine the characters and formatting of the text. It will then use its knowledge of fonts to try to determine what typeface you are looking to find font from the image.
Review and Select Font: When you upload a picture, the app will recommend a set of typefaces that it thinks you'll like. Take a look at each option and choose the one that comes closest to the typeface you need.
Access Font Details: The font's name, style, and size, among other details, may be seen in certain programs.
Download or Purchase the Font (if needed): The app may provide links to the foundry where you can download or buy the font if it isn't currently installed on your device.
Mobile font identification applications shorten the time it takes to discover a certain font, whether it be in an image, graphic, or printed document. They're great for finding new inspiration and trying out new fonts on the road. These applications make it easy to find fonts from images and accessible, whether you're a designer seeking new ideas or just someone who finds a certain typeface interesting. 
How to find a font from an image using offline tools?
Pick Appropriate Computer Programs: To begin, choose reliable desktop software for recognizing fonts. Popular options with built-in font-matching capabilities include Adobe Photoshop, Adobe Illustrator, and CorelDRAW. There is also the option of using font-specific programs like "Find My Font" or "FontExpert."
Open and Enhance the Image: To use the offline tool to find a font from the image of your choice, import the picture containing the text in the unknown font. Brightness, contrast, and sharpness may be increased to improve the readability of the picture.
Use Built-In Font Matching: Offline design programs often include font recognition tools to find fonts from images. Use the program's "Match Font" or "Find Similar Fonts" feature. To use, turn on the functionality, then highlight the image's text for analysis.
Review Font Suggestions: The program will provide a selection of possible font matches. Look through the options and choose the one that most nearly matches the typeface used in the picture. Think about things like letter sizes, serifs, and space between characters.
Access Font Details: The program you use may provide you with further details about the recognized font, such as its name, style, and size. This data is essential for future applications.
Download or Purchase the Font: It may be necessary to get the font from its foundry or creator if it is not already present on your computer.
Tips to find font from the image
The first thing to find a font from the image you should do when trying to identify a typeface in a picture is to improve the image quality. To make the text easier to read, first increase the overall brightness, contrast, and sharpness. Accuracy in identifying fonts is greatly improved with a well-lit, distortion-free picture. If you wish to find certain text inside a picture, you may want to crop the image to remove background clutter.
Examine Distinctive Characters Pay close attention to the text included in the picture and try to pick out the ones that stand out. The font's unique characteristics may include certain letter shapes, characters, or even stylistic elements like serifs and ligatures. You may save time and effort in your search for a suitable font by carefully noting these specifics. Recognizing unusual characters may be the key to successfully identifying a typeface.
Use Online and Offline Font Identifiers Make use of online and offline font identifier tools and services. Uploading the picture to a website like WhatTheFont or Font Squirrel's Matcherator will immediately return a matching font from their respective databases. Font recognition tools are often included in graphic design programs like Adobe Illustrator. It's far simpler to choose the font that most closely matches the one in your photograph by using one of the many font-suggesting programs available online.
Conclusion
In conclusion, finding font from images, and identifying a typeface from a picture is an artistic challenge that is often required in the field of typography and design. With the correct approach and resources, it may be a satisfying and achievable goal. Improving picture quality and seeing individual characters are the first steps toward accurate font recognition. Font identification tools, whether online or built into graphic design software, are another great time-saver and source of inspiration for new typefaces.
Discovering the hidden font isn't just about copying a style; it's an opportunity to learn to find font from images and the art and craft of typography as a whole. No matter your level of experience with typography or interest in visual design, you may benefit from these guidelines and learn to identify typefaces in photos. Keep in mind that determination and attention to detail will serve you well on your fun font-hunting journey.