Every year new flagship and mid-range phones are launched with the latest technology, they have the latest processor, gorgeous display, and upgraded hardware. Game developers also started making heavy resources demanding games like Pubg mobile, Injustice, and many more to give you an awesome breathtaking game.
If you are fed up with the sluggish performance of your phone, failed to fully utilize your phone's hardware to get a smoother game experience then you might want to use some game booster app to help you with that.
Note: Although I don't personally recommend using a Game booster app as most of them are just adware, what they actually just do is like clearing ram, clearing cache, clearing recently used apps & closing background apps. Before trying Game booster app try to lower settings of your game to get a performance boost.
Now with this heads-up let's look at some Game booster apps for android that can help you get more fps in your game.
Game Booster Apps for Android
Game Booster | Play Games Faster & Smoother
Game booster is probably the oldest player in this race, you can always view current FPS while playing any game to monitor how smooth your game is after using Game Booster.
Game booster app has a sleek and clean UI, ads are in available with some in-app purchases to keep the app running. only thing I recommend you is do take a look at their privacy policy you can view from here.
What we Like
Easy to use & clean UI
FPS Tracker
One-touch CPU,
RAM optimizer
Game Booster – One Tap Advanced Speed Booster
Game Booster – One tap advanced speed booster app developed by "Photo Tools Lab, Inc." feels more promising real game booster app for android that does exactly what you need and gives you more options to optimize more.
Other game booster app just clears RAM by closing background process so you will have more RAM and CPU power available for your games, this game booster also does the same but offer you GFX tool that can be used to optimize game graphics settings too so you will have definite FPS boost.
App has multiple gaming modes that will help you get more quality gaming experience, game modes are, Long Play, Power Play, Offline.
What we Like
Easy to use
GFX Tool to optimize graphics performance
Ability to reduce the game resolution
Multiple modes available, you can assign per game a different mode
Adjust other settings like brightness, data auto-sync, mobile-data, Bluetooth within app
Game Booster PerforMAX
Game booster PerforMax is app developed by developer name "Internet Tools".
In-Game Booster PerforMAX app you can always see free memory available so you know when to hit clean memory button, By using apps bookmarking feature you can bookmark games and apps so you can access them quick and fast when needed.
What we Like
asy to use
Bookmark games for quick access
One-touch CPU, RAM optimizer
Read More Best Apps of the Year
Razer Cortex Games
Razer Cortex Games in the list is from reputed company Razer that is known for its gaming hardware in all over the world.
Razer Cortex is not just a Game Booster, it's much more than that, you can get paid to play games(not worth it). I will recommend only use it for game booster purposes.
Razer Cortex Games is an app that works as a gaming hub for android, where you can find all the installed game on your android and also featured games, by playing featured games you can earn Razor silver currency that can be used to buy Razor products. If you want to earn Razor silver currency then you need to create an account.
What we Like
Easy to Use
Earn Razor silver while playing games
CPU Cooler – Cooling Master
CPU Cooler is not a dedicated game booster app but you can use it do the same task that a game booster app does, like clear resources on mobile to make space for more games and clear RAM & CPU so your games have more memory & processing power to use.
CPU Cooler app is quite popular as you can see it has millions of downloads in Google play store, some of the features of CPU Cooler is unique in this list as you can already guess by name you monitor your android phones CPU with this app like, CPU temperature total use of CPU. You should not use your phone for gaming when CPU temperature is high as it causes android phones hardware to deteriorate overtime and also you won't be able to get best performance from your android.
What we like
Easy to Use
Real time temperature monitoring
You can also clear junk, cache from phone
App manager- backup app package, uninstall apps
---
Here are some of the paid android game booster apps that are worth mentioning,
some of them are only for specific game but they get the job done better than other apps as they are made for only single apps,
many apps are not actually game booster app, these apps are tools and game optimizer that optimize game by editing game config files and settings.
PGT +?: Pro GFX & Optimizer (Only for PUBG)
Honourable mention PGT +?: Pro GFX & Optimizer(with advance setting), this app is only for PUBG that gives you tons of option to tweak, by using this app you can definitely boost your PUBG game performance. It's a great game booster app or you can say optimizer app for PUBG. You can find also a free version of this app in play store with limited options.
What we Like
Easy to use UI
You can import settings
Easy to change settings
Boost CPU and Memory
Game Accelerator ⚡Play games without lag⚡
Game Accelerator app is a great app to boost any games performance instantly, best thing about this app is you can enable floating accelerator button so you can boost memory any time during gameplay if you feel game is lagging, also you can enable auto boost, so everytime you launch a game "Game Accelerator" will boost memory and cpu automatically.
App has free version with in app purchase or you can directly buy paid version from Google play store.
What we Like
 Auto Game Accelerator
Floating boost button
One click boost from notification
Game Booster 4x Faster Pro – GFX Tool & Lag Fix
Game booster app by developer G19 Mobile is another great app to get more out of your android while gaming, this app has multiple cool features that definitely will make your gaming experience more smoother.
What we Like
Ability to adjust game resolution
GFX tool to adjust other settings
HUD to monitor storage, memory, temprature
Easy to use
Panda Game Booster & GFX Tool for Battleground
Panda Game Booster app by developer Panda gaming studio is really great game booster app, you can do multiple tweaks other than memory and CPU boost to make games run faster with little to no efforts on your side. Also while boosting games you can whitelist games where you don't want to use any game booster.
What we Like
Easy to use
Ability to change game resolution
Whitelist apps from boosting
Advanced options other than memory and CPU boost
SmartPhones with in-built Gaming Mode
Some companies like OnePlus, Samsung, and Realme offer in-built gaming mode in their phone so if you have a phone from these companies just check if the gaming mode option is available for your phone or not you don't need a separate game booster app.
Fnatic Mode in OnePlus
OnePlus has Gaming Mode that optimizes CPU, GPU, and RAM, when you start playing the game but on top of that Fnatic mode in OnePlus, brings quality control for a better gaming experience like auto background process restriction, Advanced DND so you won't receive any embarrassing notification during gaming,
Fnatic mode also prioritizes primary sim network so you are always connected without any latency issue, secondary sim card will be disabled during Fnatic Mode.
Game Booster in Samsung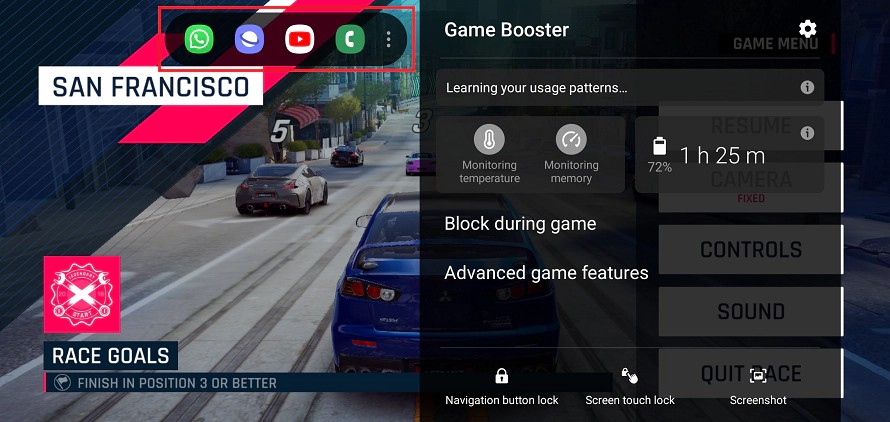 Image Credit: Samsung
Samsung phones now also come with a dedicated game mode that can help you to clear RAM and close background process to get more out of limited resources and do better in-game, The game mode is always one swipe away after enabling it.
Game Space in Realme
Game Space in Realme phones is really great addition for gamers as Realme mobiles have great specs that are great for gaming.
UI & functionality of Realme game space is pretty straight forward, add games manually or enable option to add automatically in game space, so your all favorite games are available at same place not scattered here and there.
Now you can enable some tweaks in game space setting, so when you next time open any game available in game space these settings will be activated  that time. You can automatically enable DND when you are playing game so you won't be interrupted during intense gaming moment.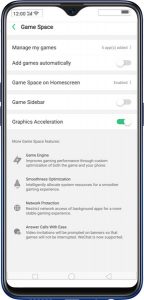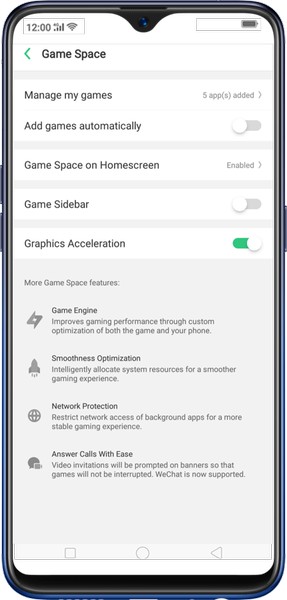 Image credit: Realme
X Mode in Asus Rog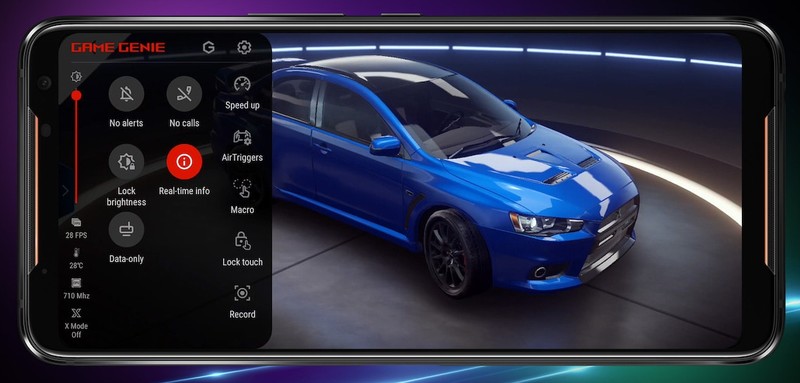 Asus Rog (Republic of Gamers) is series dedicated to gamers of the modern world since its a gaming phone it also has the Game mode to tweak everything needed to get a smoother gaming experience
Asus Rog is not a low or mid-budget phone it's a high-end phone with a high price with that high price it comes with pretty great hardware too.
If you like Asus phone then you might like Asus Wallpapers too, go check out on their website Asus Wallpapers Collections.
Important Features
Adjust CPU and GPU clock frequency
Disable Call and Notification during gaming
Per game custom settings can be set
Option to manual and automatic adjustment
Ultra Game Mode in iQOO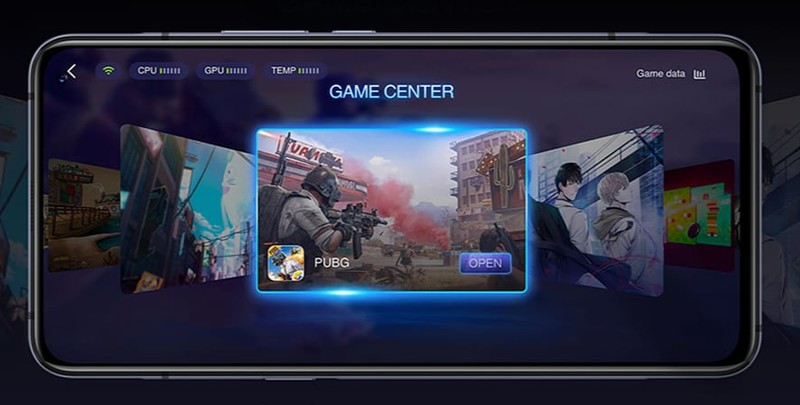 iQOO is currently competing in India in Flagship range with iQOO 3 power-packed hardware (Snapdragon 865, Monster 6.44 inch Amoled Display boasting 12 GB RAM, 2 dedicated gaming touch buttons) and software to support high intensive work and gaming.
iQOO features Ultra Gaming Mode in their smartphones in-built to boost up gaming performance with a smooth and stable experience. What makes it different is it gives a whole lot of customization and options to tweak like
Block Calls and Notifications during game
Colour enhancement & contrast adjustment
Ability to tweak settings per-game basis
What is Game Booster?
Game booster are apps that kill apps and services running in background on your devices that you are not using while playing game so more RAM and Processing power is available for game to use, that gives fps boost to games.
Does Game Booster really work android?
Game booster app won't be able to help you boost game if your android device's hardware is old and outdated for modern games. Even if your android phone has great specs game booster won't be able to boost fps of your game, it just clears RAM, CPU and cache to make more resources available nothing more that can be done manually too.
Game boosters are third party apps they have limitations on what they can do, if your phone has buitin game mode then that gaming mode can really boost your gaming experience like Fnatic mode in OnePlus.
Do You Need a game booster app?
It depends on your phone if your phone always runs a lot of process in the background and poorly manages RAM then definitely you need to use a game booster app on your android.
But if you always have enough RAM and CPU for games then you should avoid any third party game booster apps as they are not going to help you much.

Conclusion
I hope after reading this post you found a great game booster app for your android phone that you can use to play games without any lag, do share your thoughts and suggestions with us.
Article Sources