The field of digital marketing is undergoing a dramatic shift thanks to AI-powered solutions. To get the most out of ChatGPT, check out our list of 20 must-have ChatGPT Chrome Extensions. When it comes to facilitating regular digital marketing and SEO activities, ChatGPT has been a game-changer.
Why Use Chrome Extensions for ChatGPT?
The chat interface of ChatGPT is intuitive and works well for group brainstorming. The chat interface may be restrictive, forcing you to copy and paste everything into the target page if you wish to grow your work with ChatGPT.
Although this might work for a small number of articles, it could become inefficient when used for larger projects, such as updating meta descriptions for a thousand websites.
In certain situations, a specialized tool powered by ChatGPT that doesn't have those constraints might be useful. If you work in search engine optimization or digital marketing, you probably use Google Chrome on a daily basis. Using any one or more of these ChatGPT extensions, your experience will be much improved.
While installing extensions make sure to pay attention to the permissions they require, If any extensions ask for excessive permissions then deny it or accept it at your own risk.
Top Rated ChatGPT Chrome Extensions
Chrome extensions may greatly enhance your experience with this AI-powered ChatGPT. New ChatGPT tools seem to pop up every week, making it hard to stay up. I've saved you some time by compiling a list of the best 20 ChatGPT Chrome Extensions available right now.
ChatGPT for Google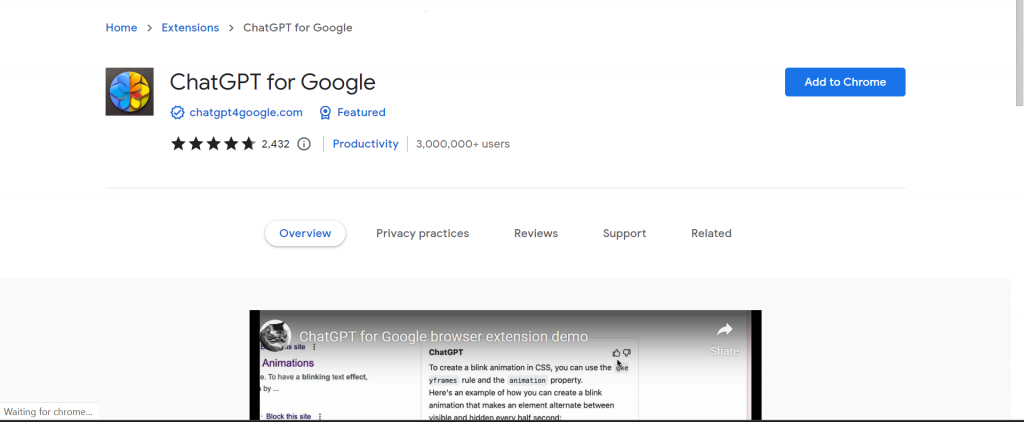 Popular search engines like Google, Bing, and DuckDuckGo now include ChatGPT's responses alongside their own.
ChatGPT Chrome Extensions allows you to ask questions and get responses in real-time right on your results page. You don't have to open the ChatGPT website to get your query answered.
ChatGPT for Google extension makes it very easy to get your query answered while on the search page, You can enable GPT-4 in options also, just make sure you have access to GPT-4.
WebChatGPT: ChatGpt with internet access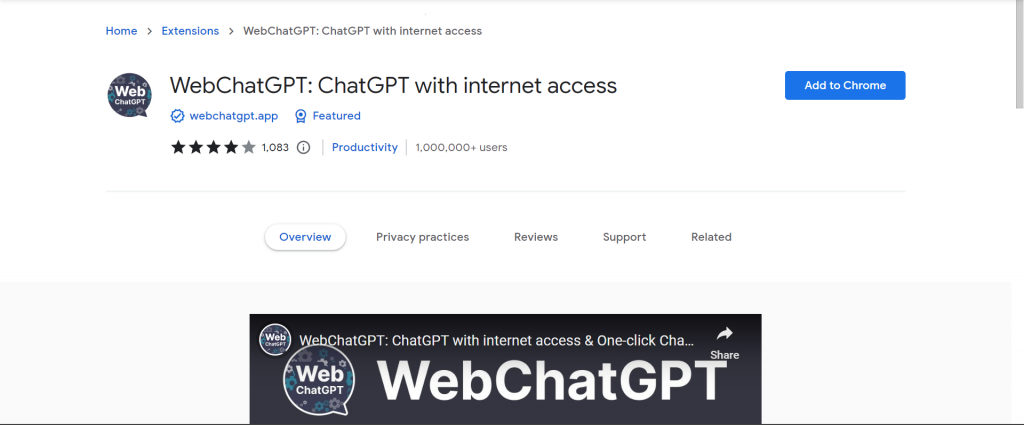 ChatGPT's primary shortcoming is that it can only provide information up until the year 2021.
However, this is no longer a problem thanks to WebChatGPT. This ChatGPT Chrome Extensions plugin incorporates site results that are related to the prompts, making the talks more precise and up-to-date.
Promptheus – Converse with ChatGPT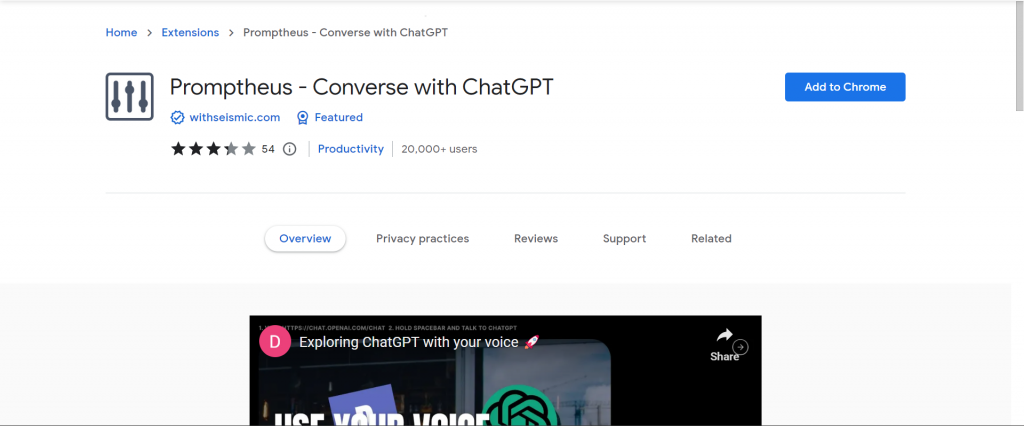 Promptheus adds microphone support to ChatGPT, transforming it into a voice assistant.
To speak to ChatGPT instead of typing, just press and hold the space bar. This frees up the pace of speech from the confines of the keyboard, allowing for more natural exchanges.
TweetGPT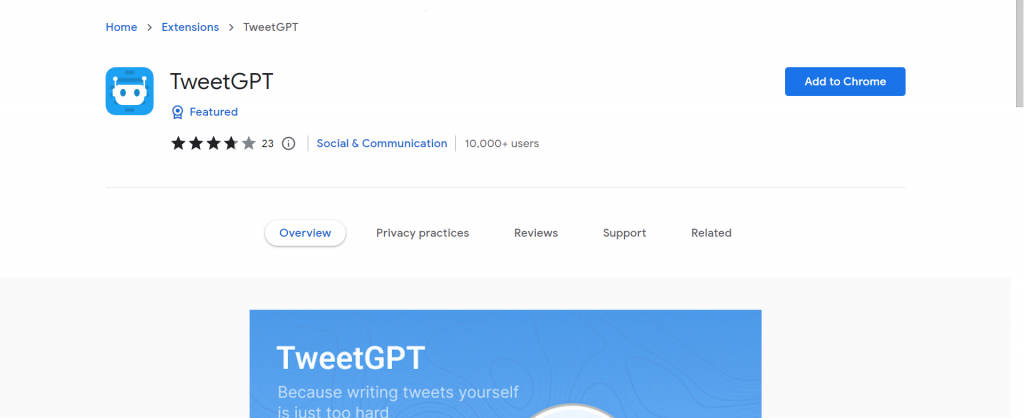 TweetGPT incorporates ChatGPT Chrome Extensions into Twitter so you may compose thoughtful tweets or thoughtful replies to others.
Using the ChatGPT Chrome Extensions API, you can craft tweets that speak directly to your target demographic and start meaningful discussions.
ChatGPT Writer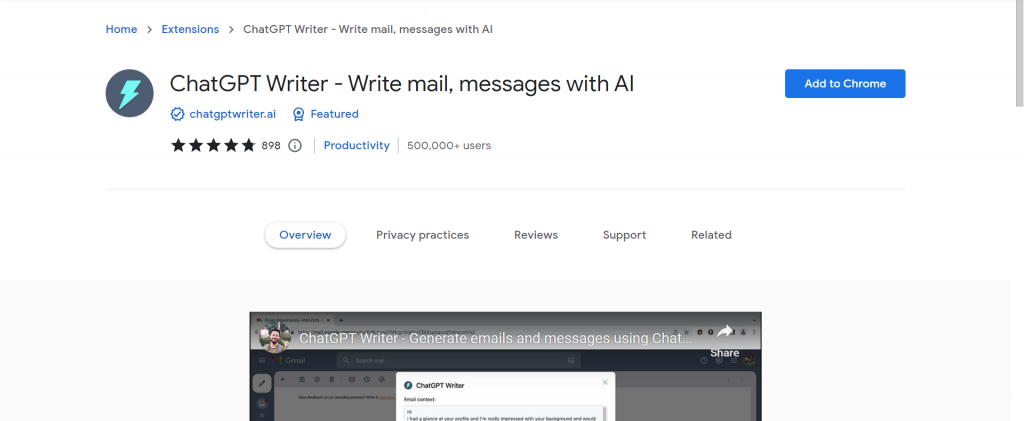 Writing emails and messages on any website is a breeze when you use ChatGPT Writer.
This add-on works independently and requires just an OpenAI login to provide answers that often surpass those of competing programs.
ChatGPT for Chrome
If you use Google, Bing, or any other search engine on Chrome, you'll get better results by adding ChatGPT Chrome Extensions replies to the page.
With this simple and free add-on, you can use ChatGPT Chrome Extensions' cutting-edge AI features without ever leaving your Chrome browser.
Wiseone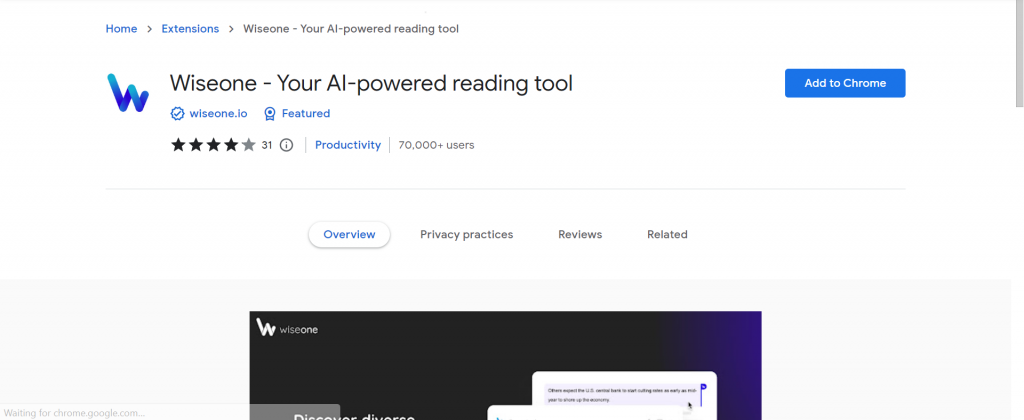 With its seamless integration into the browser window and its ability to recognize any sort of content, Wiseone is an AI-powered reading companion that streamlines your time spent reading online.
Complicated passages are read and simplified automatically. The Discover, Cross-checking, Ask Anything, Summarize, and Suggestions capabilities of this extension will revolutionize the way you read and consume content on the web.
Merlin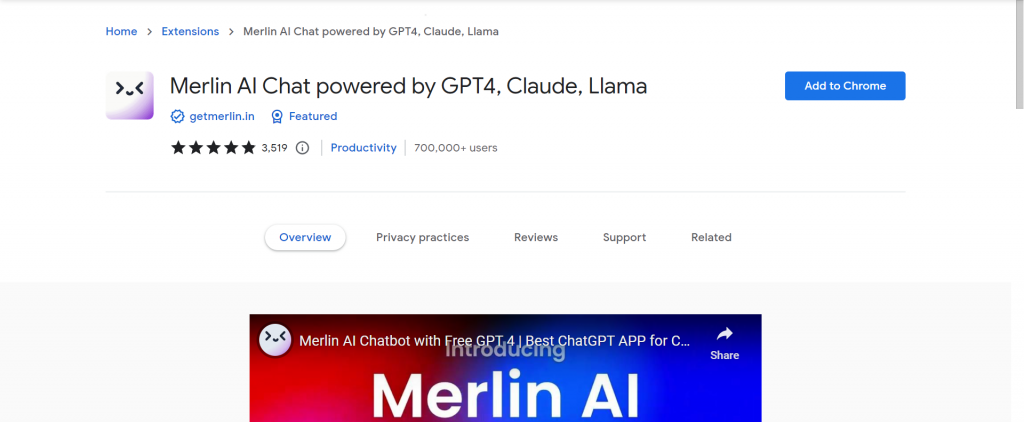 Merlin is a fantastic ChatGPT add-on that functions across the full browser. ChatGPT is available on all Google services (including Gmail) through the shortcut keys Shift Cmd M.
Save time by summarizing YouTube videos, automating email answers, and producing AI-driven social activity on networks like Twitter and LinkedIn with this free, privacy-first tool.
AI Prompt Genius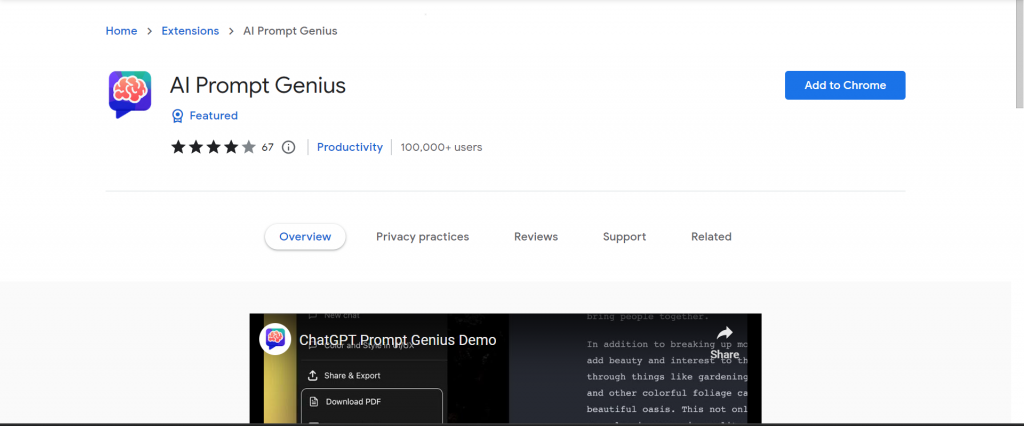 You may get a wealth of prompts, personalization settings, and other conveniences by installing ChatGPT Prompt Genius, a free and open-source browser extension.
This add-on syncs your conversation history locally so you can access it quickly and simply whenever you want, and it also makes it simple to find, share, import, and utilize the finest prompts for ChatGPT Chrome Extensions.
Engage AI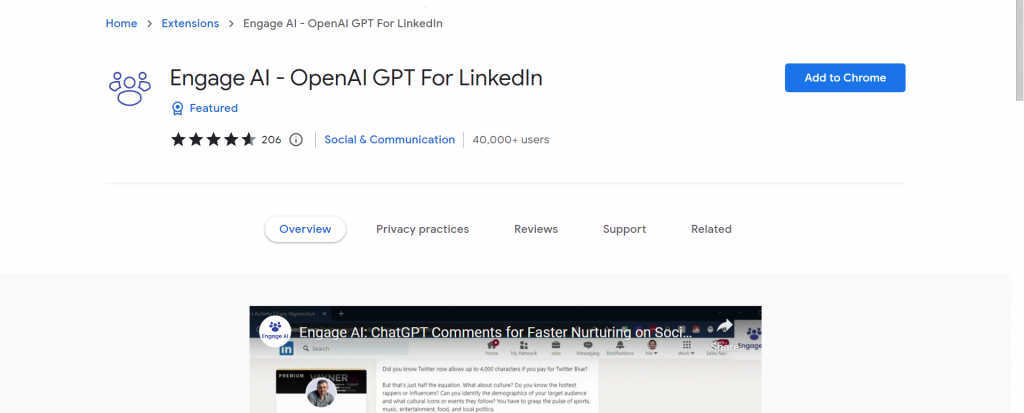 Engage AI is a ChatGPT Chrome plugin intended to aid in the creation of meaningful LinkedIn comments, in the cultivation of relationships, and in the establishment of connections with potential clients. It allows you to come up with responses that are original, thought-provoking, and pertinent.
The plugin also provides many other tone choices, such as "friendly," "funny," "disagree," "congratulate," and "question," so that interactions may be tailored to the exact situation.
ChatGenie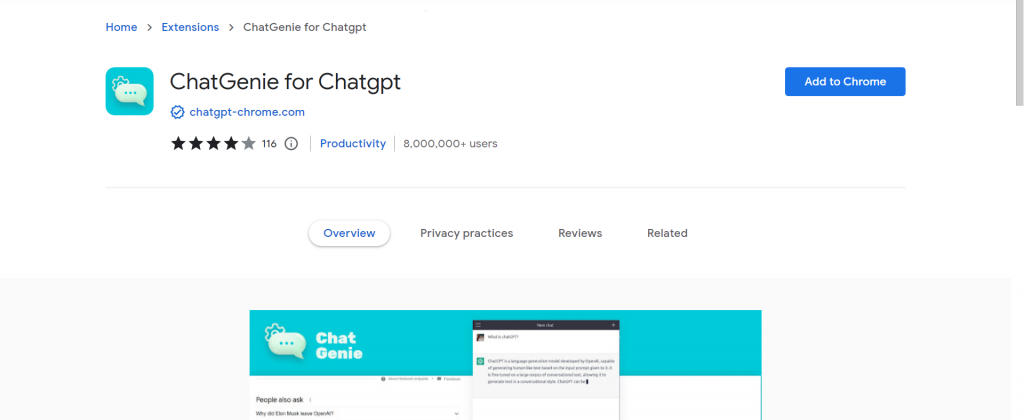 If you want to harness the full potential of OpenAI's ChatGPT Chrome Extensions, go no further than ChatGenie for ChatGPT, the ultimate browser plugin.
With ChatGenie, you may quickly and easily connect to ChatGPT. Whether you're using a prominent search engine like Google, Yahoo, Bing, DuckDuckGo, or more, you can launch ChatGPT Chrome Extensions from the context menu, access it fast from the navigation bar (Omnibox), and receive answers straight from the search results page.
YouTube & Article Summary Powered by ChatGPT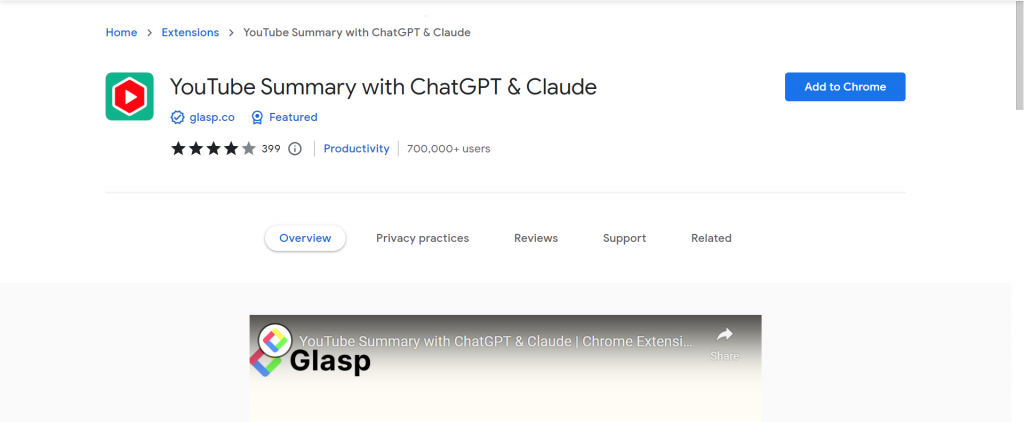 This free Chrome extension, YouTube & Article Summary powered by ChatGPT, uses OpenAI's ChatGPT to offer you concise summaries of videos and articles from YouTube and the web.
If you want a brief synopsis of the video, just click the summary button next to the thumbnail. Articles also benefit from the extension's features.
Summary with ChatGPT – Open AI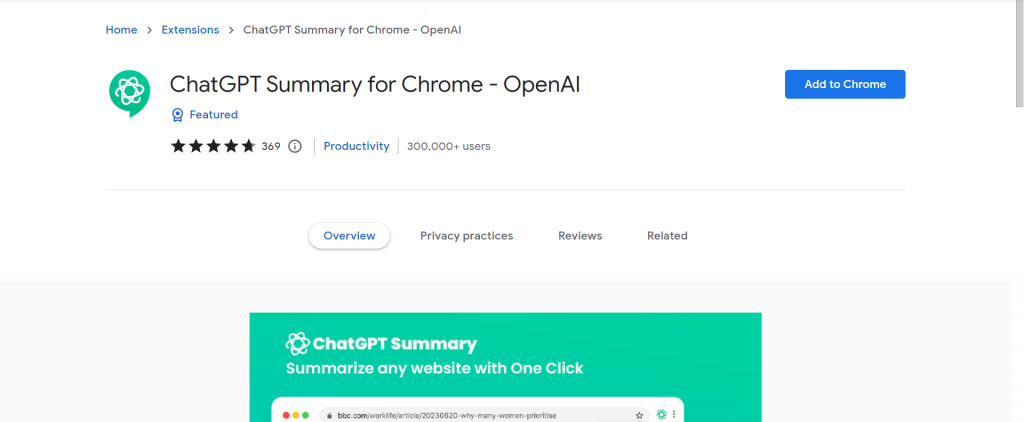 Review includes using OpenAI's AI technology, the flexible ChatGPT Chrome plugin provides users with brief summaries of YouTube videos and articles.
It supports OpenAI API Key and ChatGPT login, among other things, and it can generate bullet point summaries of publications.
ChatSonic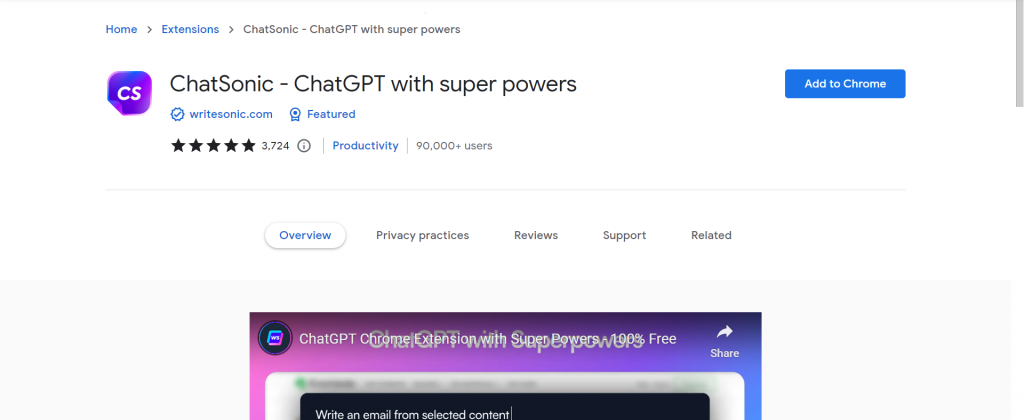 If you use Gmail, Twitter, LinkedIn, Helpscout, or the online in general, you may make use of ChatSonic, a robust ChatGPT Chrome plugin that provides AI-assisted writing.
You may use it for various communication tasks including email, social media, and help desk requests. This add-on provides access to several sample documents for use in areas including marketing, sales, customer service, and individual efficiency.
Talk-To-ChatGPT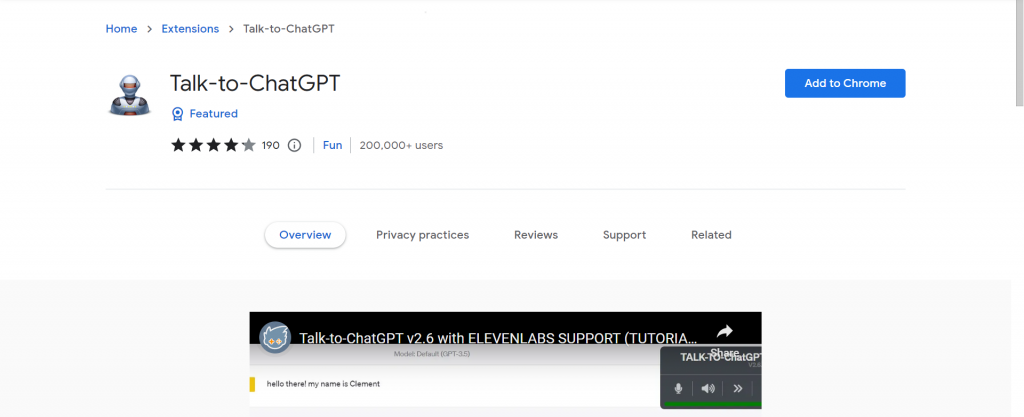 If you don't want to write out your questions, Talk-to-ChatGPT is the way to go. ChatGPT Chrome Extensions microphone integration translates your voice into text and plays back AI-generated answers.
Easily accessible via the ChatGPT webpage, the official addon is available in all major languages.
Copy for Chat GPT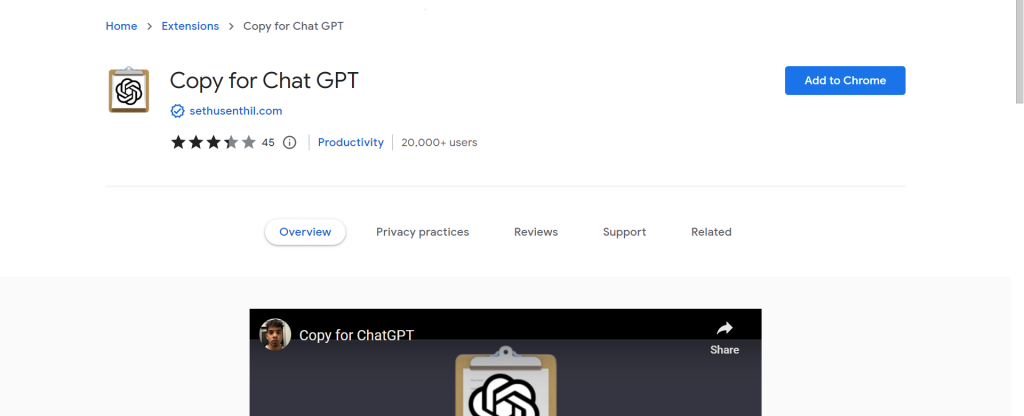 Rather than having to highlight each answer individually, a "Copy" button will appear next to each.
In addition, it has shortcut keys (CMD+K or CTRL+K) and can check copied text for plagiarism before notifying you. This makes it simple to find and secure to utilize the stuff you've copied.
ReaderGPT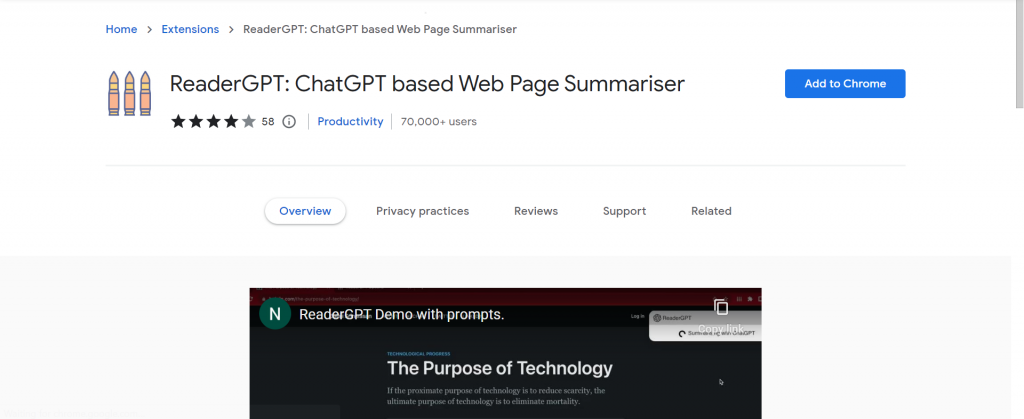 When it comes to keeping track of your online reading, ReaderGPT may be a godsend. It uses ChatGPT to produce summaries of any text-based website, so you can skim lengthy articles or blog entries in no time.
It lets you select the most effective approach to summarize the stuff you care about by providing a wide variety of sample prompts in the settings.
YoutubeDigest: summarize using ChatGPT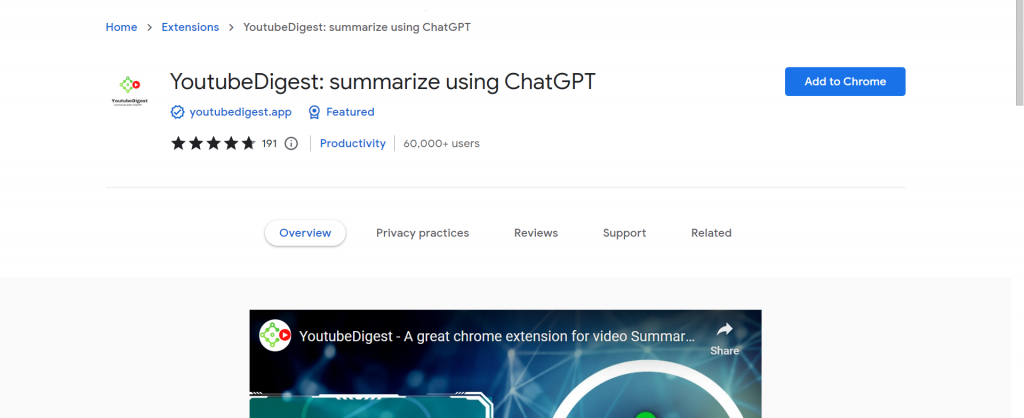 YouTubeDigest is a terrific add-on that makes use of ChatGPT Chrome Extensions AI to automatically transcribe video summaries from YouTube.
You have the option of using bullet points, paragraph summaries, or an article-style overview when writing a summary. It's also possible to convert text across languages and modify particular time spans.
Superpower ChatGPT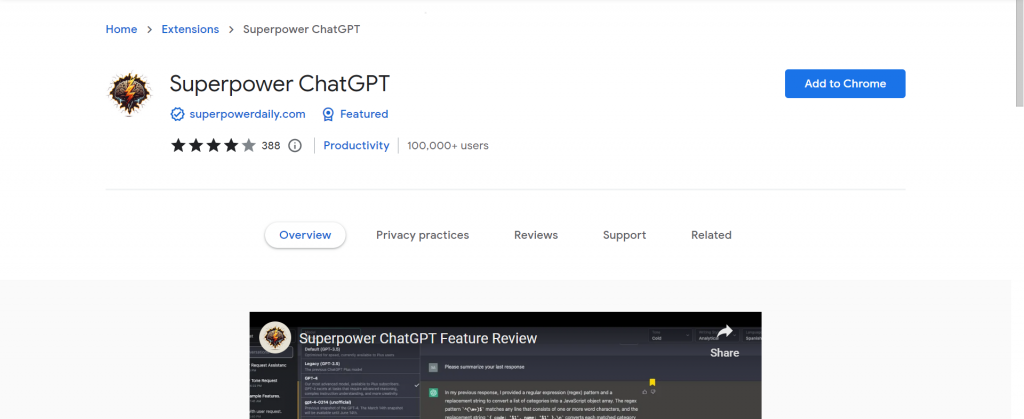 The Superpower ChatGPT add-on improves upon the original ChatGPT program in a wide variety of ways. ChatGPT can respond to a wide variety of situations because of its extensive library of prompts, which is regularly updated.
Folders and rearranging, auto-syncing, searching and highlighting, pinning messages, and mass deleting are just some of the chat management options available.
ShareGPT: Share Your ChatGPT Conversations
ShareGPT might be a lifesaver for anybody who wants to let their pals in on their fascinating ChatGPT talks. With the click of a button, you can now easily share your conversations thanks to this extension.
Once you have ChatGPT loaded, every chat will have a little share button; clicking this button will produce a shareable link.
Features to Look for in a Good ChatGPT Extension
Streamline content creation: Automate your content workflow, publish to social media, and send professional-looking emails in a flash with the help of ChatGPT Chrome Extensions.
Find direct and relevant answers: Improve the accuracy and freshness of ChatGPT Chrome extension suggestions by including relevant online results.
Personalize responses: You can swiftly reply to consumer inquiries on Twitter and LinkedIn with tailored responses using the ChatGPT Chrome Extensions Chrome plugin.
Improve efficiency and productivity: By automating routine processes, standardizing content production, and enhancing workflow, your team will save valuable time and operate more efficiently.
Reduce organizational costs: Chrome add-ons developed by ChatGPT Chrome Extensions optimize a wide range of processes without the need to engage new staff.
How to Install ChatGPT Chrome Extensions
The procedures for adding the ChatGPT Chrome extension are as follows:
Launch the Web browser.
Visit the Chrome Web Store to access it.
Type "ChatGPT" into the search field of the Chrome Web Store to find all the extensions for ChatGPT.
Select the ChatGPT extension you like and click "add to Chrome" button to install it,
Once downloaded and installed, You can start using the extension,
Installing ChatGPT couldn't be easier, and now you can get AI help in your Chrome browser!
Troubleshooting Common Issues
Here are some things to try if you're having difficulties with the ChatGPT Chrome extension:
Check Internet Connection: Make sure your internet connection is reliable.
Browser Compatibility: Verify that you're using the most recent version of Chrome.
Extension Activation: If the extension's icon doesn't show up, make sure it's enabled in Chrome's extensions settings.
Clear Cache: If you're having trouble using the add-on, try clearing your browser's cache and cookies.
Restart Chrome: Restarting the browser may sometimes fix inconsistencies.
Conclusion
Adopting ChatGPT and AI-powered solutions will help you improve your job, raise productivity, and increase efficiency as they are reshaping the digital marketing environment.
If you don't, your rivals could get a leg up on you. This means that sooner or later, you'll have to adapt to these cutting-edge innovations.