Are you looking for note-taking apps to take notes while you're on the go? You're in luck if so! Now more than ever, technology has made it simple for both business people and students to find an app that works perfectly for them. There are a lot of choices, though. How do you know which ones are best for you?
Don't be afraid! You can take lots of notes on an iPad, and there are lots of apps that can help you do that. We looked into it and made a list of the best iPad note-taking apps. You can use these note-taking apps made just for iPads for all of your personal and business needs.
Keep reading to find out which note-taking app should be at the top of your list if you want a reliable and useful way to take notes.
What is a Note-Taking App?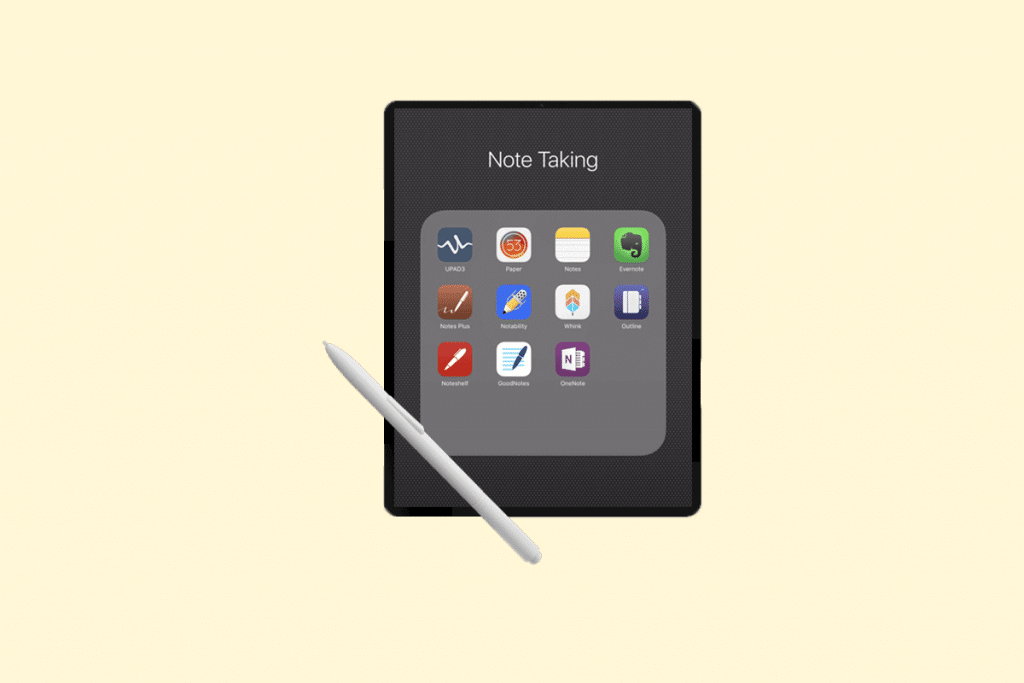 One type of app is a note-taking app, which lets users record information as digital files, multimedia, or live audio. For taking notes, people can write, draw, record, paraphrase, label, annotate, outline, and do other things with them. Basically, everything you could do with paper and a pen.
Note-taking apps may do more than just digitize your notes. They may also offer cloud-based storage, organization, and auto-backup. In the same way, the best note-taking apps might have special features like letting you share and work on notes together in real time, colour-coding information, and changing content formats, to name a few.
What's good about taking notes on an iPad?
The best note-taking apps do more than just let you take notes. They add extra features, like the ability to work together with other people in real-time and support for multiple styluses. With these extra features, you can take notes much better and be more productive overall.
Lightweight and easy to carry
Sometimes it's easier and lighter to carry around an iPad instead of a full laptop. Aside from being small, light, and easy to carry, iPads also have long battery lives. This means you can take notes for long periods without worrying about running out of power in the middle.
Easy ways to add multimedia from real life to your notes
It's easy to take a picture of the whiteboard or lecture slides with your iPad while taking notes in class or during a group brainstorming session and add it to your notes.
Stylus (also called Apple Pencil) support
When you use the Apple Pencil to take notes, you can make your mind map or mark up a diagram right away. It's great for adding notes to slides, making notes on pictures, and underlining text.
Simple cloud-based sync
The iPad is set up so that you can sync your notes with cloud storage services like iCloud or Dropbox. This makes it easy to access your notes from any device.
Help with OCR
A lot of iPad note-taking apps have advanced optical character recognition (OCR) that lets you look for words or phrases in pictures and handwriting. A lot of note-taking apps for the iPad can also read your handwriting and turn it into typed text.
7 Best Note-Taking Apps for iPad
The best note-taking apps for iPad are as follows:
Apple Notes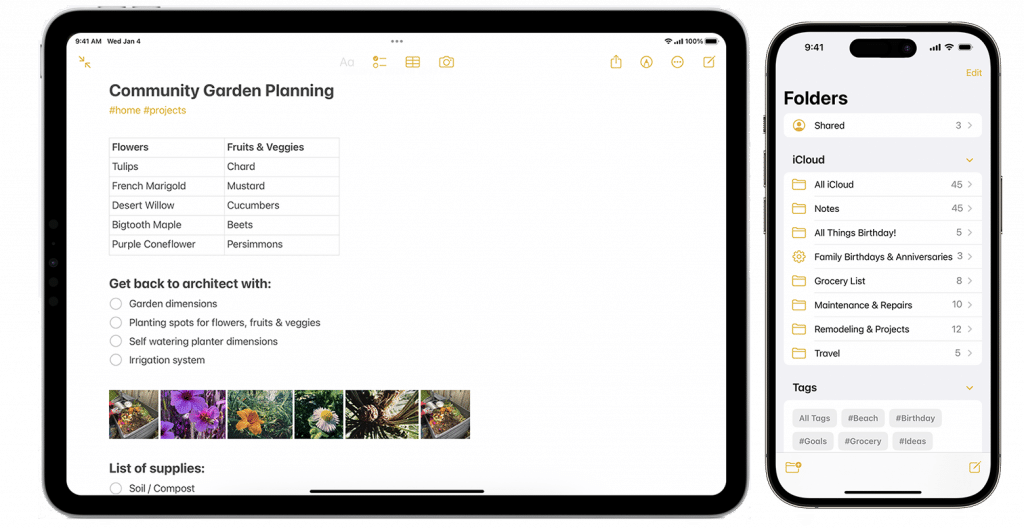 From the wide range of note-taking apps for iPad, let's start with the well-known Apple Notes. It comes free with your macOS or iOS device, so it's a no-brainer for writing down ideas or drawing masterpieces by hand. It has great drawing tools that make sketching and illustrating very easy, so don't forget about them.
It's great that Apple Notes is free, but what makes it stand out is how well it works with other iOS apps. Do you have iCloud and other Apple gear? If you want to take great notes, you can easily switch between your iPad, iPhone, and Mac. Are you afraid of losing your important thoughts? Do not be afraid! iCloud backs up everything for you automatically. To top it all off, you can ask Siri to make voice notes for you while you're out and about.
Like most other note-taking apps, it comes with the usual tools like pens, highlighters, and more. They're all in a toolbar that can be moved around the screen to make the workspace even more unique. But even though Apple Notes may not seem very interesting at first, it has some cool features that will surprise you.
Good Notes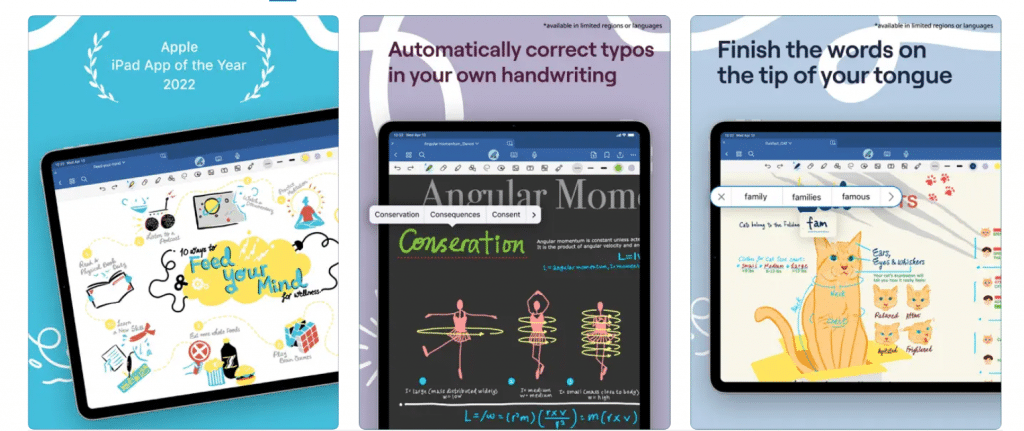 GoodNotes is designed to work with Apple products, so it focuses on making the note-taking app simple to use and nice to look at for iPad users. It can be changed in a lot of ways and has great tools for staying organized. It is possible to make notebooks, use tags and folders, and even "favourite" notes. With this powerful search tool, these tools for organizations make it easier to find what you need.
GoodNotes looks through all of your notebooks and folders when you search for keywords. The search results are then neatly put into groups, such as titles, typed notes, and written notes. You can search within a single notebook if you'd like to, though. You can make your notebooks and folders look unique by adding your covers, which isn't possible in a lot of other popular note-taking apps. iPad users can also have more than one document open at the same time. With the multi-window view, you can now work on multiple notebooks at the same time—just drag and drop them into place.
There is a special document format in GoodNotes that works like a real deck of flashcards. These are great for going over the study material again. Anki and Quizlet are online study tools where you can make and review flashcards. You can also import your flashcards and organize them into sets. These sets can have text, pictures, or even notes that were written by hand. All you have to do to see how much you know is look through the flashcards.
Notability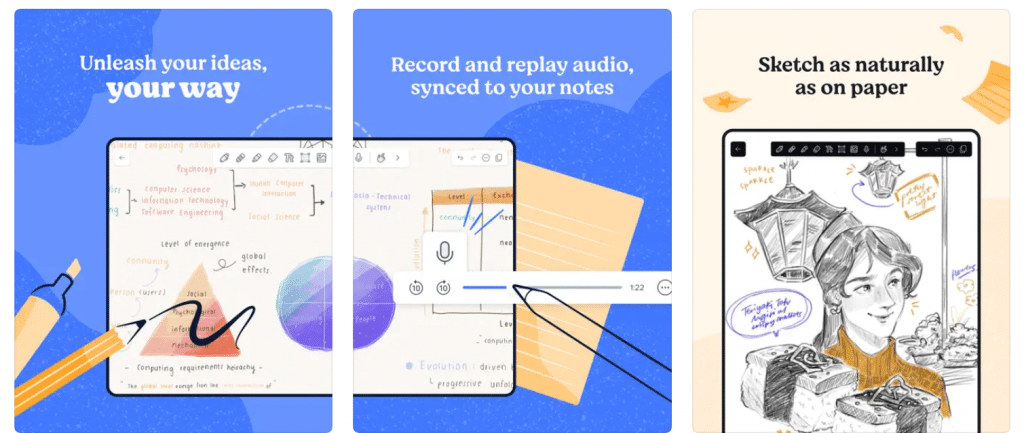 Notability is a great note-taking app for taking and organizing digital notes because it has many useful features. One thing that makes it stand out is that it can record sound very well. You can record sound while writing or typing notes with Notability. Then, when you go back and look over your notes, you can listen to the audio that goes with each part to hear any important details you might have missed.
To keep your privacy safe, Notability will only record sound if you give them permission to. You can even record sound in more than one note at the same time, which is helpful if you need to talk about different things. The microphone is turned off by the note-taking app when you close the cover or folio on your iPad. This keeps your recordings private. But this feature is only available on iPads made after 2020. Additionally, Notability can only be used on iOS and macOS.
Other note-taking apps let you record sound, but Notability is different because it has tools built in for editing sound. It's easy to split or trim an audio file that you recorded or imported. In fact, you can split your recording into several parts or combine several audio recordings into a single file.
Noteshelf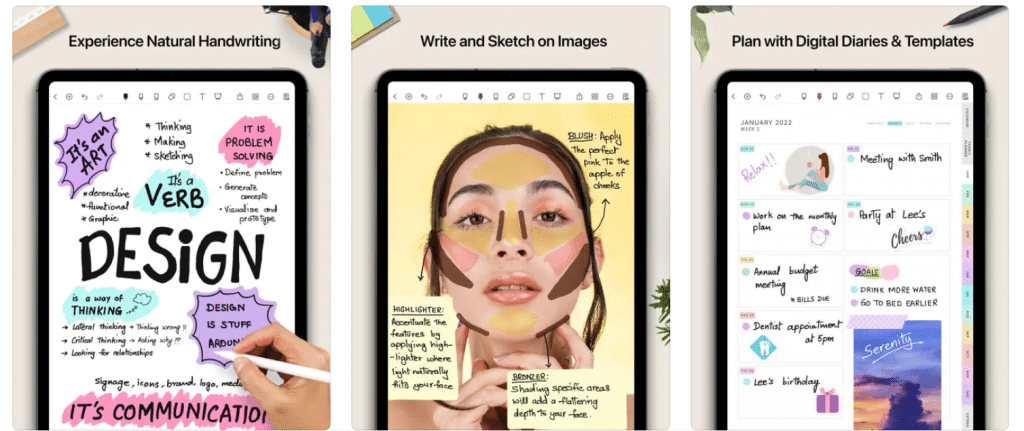 If you want the best iPad note-taking app, between GoodNotes and Notability, Noteshelf is a good midpoint. Not only does Noteshelf have a sleek, easy-to-use interface, but it also lets you change a lot of things, like the page templates and notebook covers, as well as the pen types, colours, and sizes.
To make things even easier, Noteshelf has a useful Favorites Toolbar where you can store and find all of your masterpieces. Noteshelf is the best digital magnifier out there. You can use the Zoom Box to write small text or get closer to notes you already have. You can change a lot of things, and the tool interface loads right on the magnification bar, which makes it easy to switch.
Noteshelf has a lot of the same features as Notability. For example, you can annotate PDFs and switch between note-taking apps with the iPad's split-screen mode. It also lets you record voice notes along with written ones, which is great for going back to lectures or meetings later. Speaking more than one language well? You will be thrilled to know that Noteshelf can read handwriting in 65 languages! It's a great tool whether you're learning by yourself or in a class.
You can also send notes to iCloud, Dropbox, Google Drive, OneDrive, and Evernote from Noteshelf. Because Notability doesn't export to Evernote, Noteshelf is our top choice for serious Evernote fans. Not having a free plan is Noteshelf's main flaw, which may turn off a lot of people.
Evernote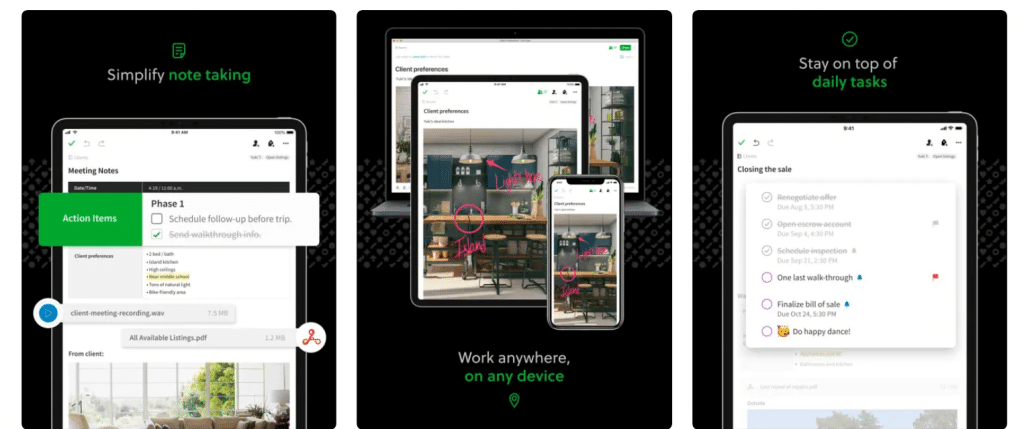 This is the best note-taking app – Evernote, if you like to get things done. Besides a place to write down notes, it has other parts that will help you get things done, like a Tasks section for making to-do lists and more. If you have an Evernote Premium Plan, you can change everything about the home dashboard. This way, you can organize your stuff in any way that works best for you.
When you take notes, you can pick from more than fifty templates. Things you can do for work, school, and your own life are up to you. Evernote's collaboration features let you make shared notebooks where other people can work with you and see what changes have been made to your notes. You can choose whether people on the team can change the notes or just look at them. Plus, there's work chat, where everyone can talk and share their thoughts. You can also leave comments on notes that other people have shared.
With its web clipper and note-taking features, Evernote is very useful, but what makes it stand out is that it can become your second brain or productivity system. On top of that, Evernote can read handwritten notes on iPad, while alternatives like Notion and Mem focus on projects and productivity. One problem with Evernote is that you can only write in certain areas. This means that you can't add notes to existing ones like you can in other tools.
Nebo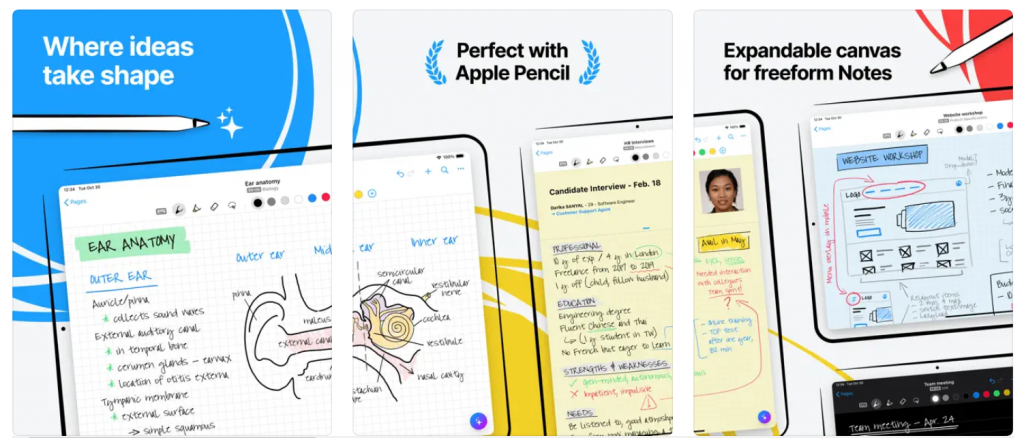 Nebo is unique because it is easy to use both sketching and taking notes, so you don't have to switch between apps. It has two main types of pages: notes and documents. The papers have lined pages that can be used for simple note-taking and can have text typed or written by hand. As opposed to this, the notes pages give you an infinite space to draw sketches and diagrams without any limits on where or how they are placed.
Nebo also has useful pen gestures for changing text. For instance, if you strike through some text, it will be erased. Putting a line up between two paragraphs will crack them apart. Nebo also lets you change the thickness of your lines based on how hard you press on the keyboard.
Nebo makes it easy to link diagram shapes, lines, and text. You can use this to make mind maps, flowcharts, or concept diagrams that you can interact with. Your notebook can also have links that let you quickly move between different parts or pages of your note. To make your diagrams more interesting, you can also add pictures, videos, voice notes, or handwritten notes.
LiquidText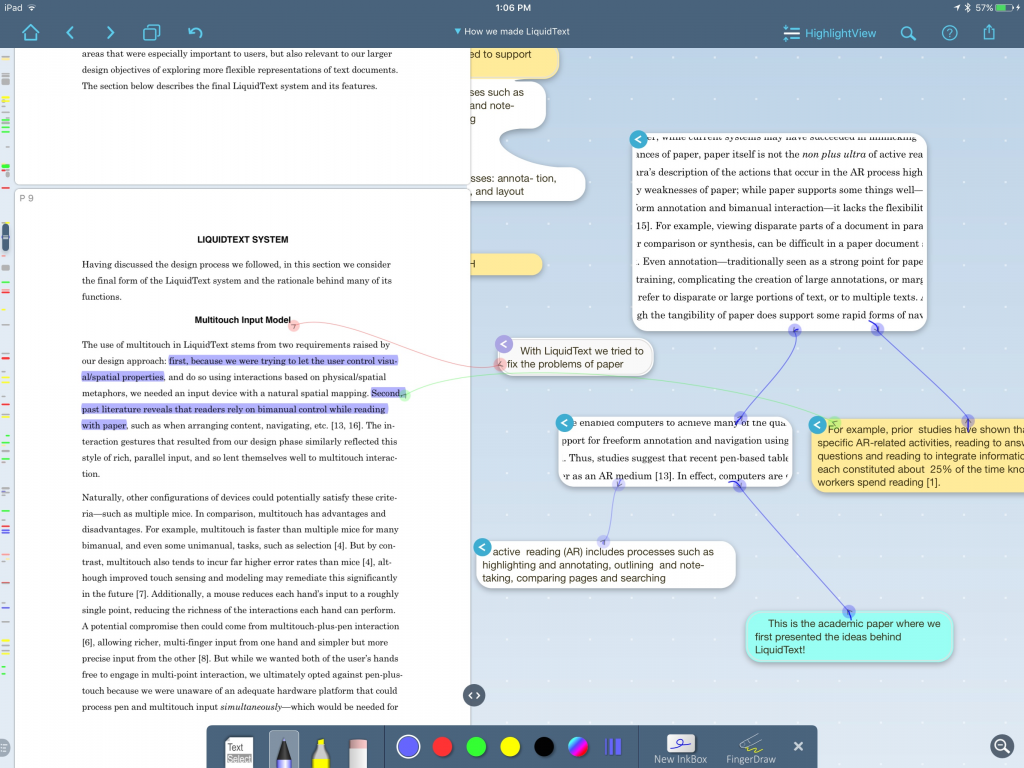 While LiquidText is a great note-taking app, it's especially helpful for researchers who work with long documents. The ability to work with PDFs is one of the best things about the app. By entering the URL, you can mark up, import, and even turn web pages into PDFs. After that, the note-taking app will make a PDF copy of the web page you chose.
LiquidText lets users make projects that are all about the same subject. Tools like annotations and linking can help you connect different parts of your document that are about the same subject. It's easy to move from one section to another and see how they are connected thanks to these links. The app also has a "focus" mode that lets you look more closely at certain parts of your document.
One way to save a separate piece of text in a PDF file is to select it and highlight it. This part is called an "excerpt." It's easy to make multiple excerpts and put them together into new documents. You can open and look at multiple PDF files at the same time by using the "multi-document" feature. This lets you compare and study different parts of the documents at the same time.
Conclusion
Without a doubt, the best note-taking app is very helpful. What you choose may depend on what you want to do. Do you want an app with lots of features or just something simple to write down your shopping list? Or maybe a web-based notepad that you can use anywhere if you spend a lot of time in your tabs.
What you need, how often you need sketches (or don't), and what you plan to do with your notes when you're done may affect your choice. Some people don't want to export.