Are you searching for the best note-taking apps? Taking notes is something that everyone does, but everyone does it in their unique way. Notes are critical to us, whether making a grocery list, writing down meeting minutes, or summarizing a book. Note-taking apps have become very useful in this digital age, and they can meet many different preferences and needs.
This blog post is an in-depth look at the best note-taking apps on the market. It will help you find the one that meets all of your needs. We'll also give you a quick look at how app integration can make your favourite note-taking app even better.
What makes the Best Note-Taking Apps?
There are a few important things to think about when picking the best note-taking app. There can be big differences in how well you can take notes and organize them depending on these things. Let's look more closely at these important criteria:
Functionality
A great note-taking app should not only do what you want it to do but go above and beyond it. It needs to be great at the things it does best, like making, editing, organizing, and searching for notes. It's great to have more features, but they should fit in well and be easy to use.
Easy of use
Any app for taking notes needs to be easy to use. Like taking notes with a pen and paper, the process of taking notes should be quick and easy to understand. An easy-to-use interface is important if you want to make taking notes a regular part of your life.
Cross-Platform Support
Today's world is very connected, so it's important to be able to access your notes easily from different devices and platforms. Your notes should be easy to get to whether you're on your computer, phone, or tablet. It is also important to have offline access to your notes so that you can access them even when you can't connect to the internet.
Worth the money
It's great to have free note-taking apps, but it's important to make sure they'll last and have all the features you need. Buying a paid or subscription-based app can sometimes give you access to more features and better support over time.
The best note-taking app for you should be fully functional, easy to use, and available on multiple platforms. It should also be a good value for the money. You should take the time to try out different apps using these criteria to find the one that works best for you and how you like to take notes. Remember that the right note-taking app can change how you take notes and organize them, which will make your life easier and more organized.
Now, let's look at the best note-taking apps that meet these needs.
Best Note-Taking Apps
A good note-taking app is important for everyone, whether you're a student, a worker, or just someone who likes to keep their thoughts in order. And because there are so many great choices, it can be hard to pick the right one.
In 2023, these are the 5 best note-taking apps for Mac:
Apple Notes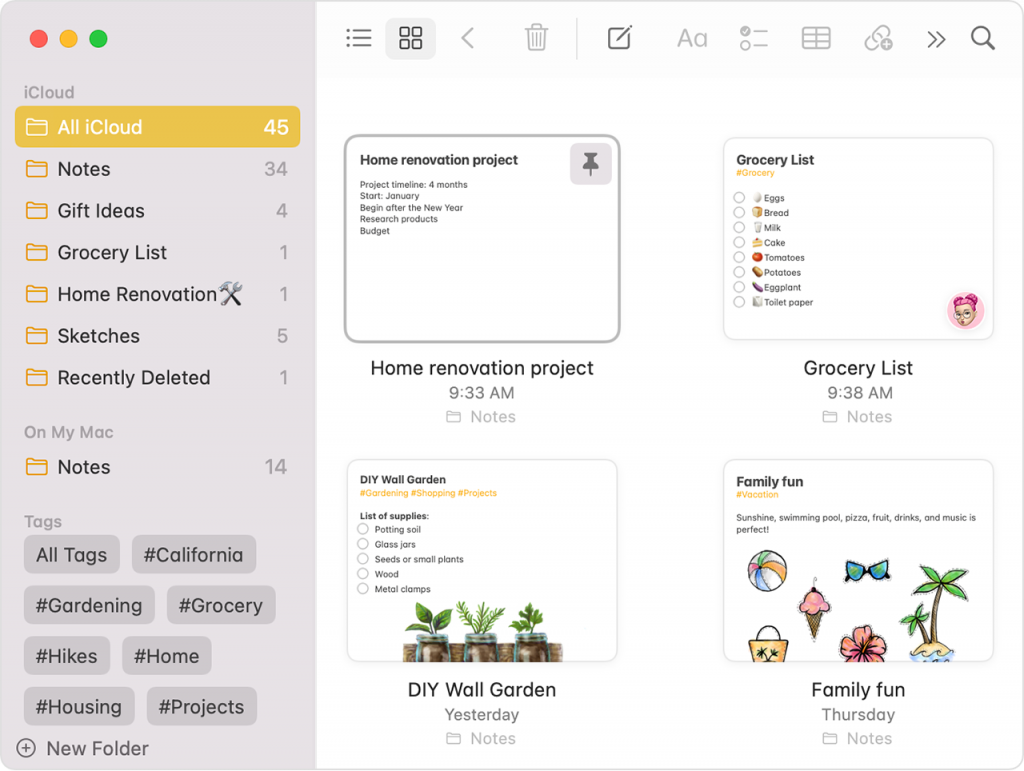 The note-taking app that comes with macOS is Apple Notes, which is a great choice for anyone who wants a simple, easy-to-use app. It has all the basic features you need, like the ability to make checklists, add images, and take text notes. Other Apple apps, like Reminders and Mail, can also be used with Apple Notes.
Pros
Free. You can use Apple Notes if you have an Apple device.
Formatting tools that work well enough. Italics, bold, and different fonts are all there.
Cross-platform editing through the browser is possible. There's no need to get around Google Drive or Dropbox. You can get to your notes on a PC by logging into your iCloud account in a browser.
Can make lists of folders that are nested inside each other. This is strange because some paid apps don't have this feature. Apple, you did great.
Cons
No mixed Markdown. A free tool can't have everything, can it?
Price: Free
Platforms: iOS, Mac
Microsoft OneNote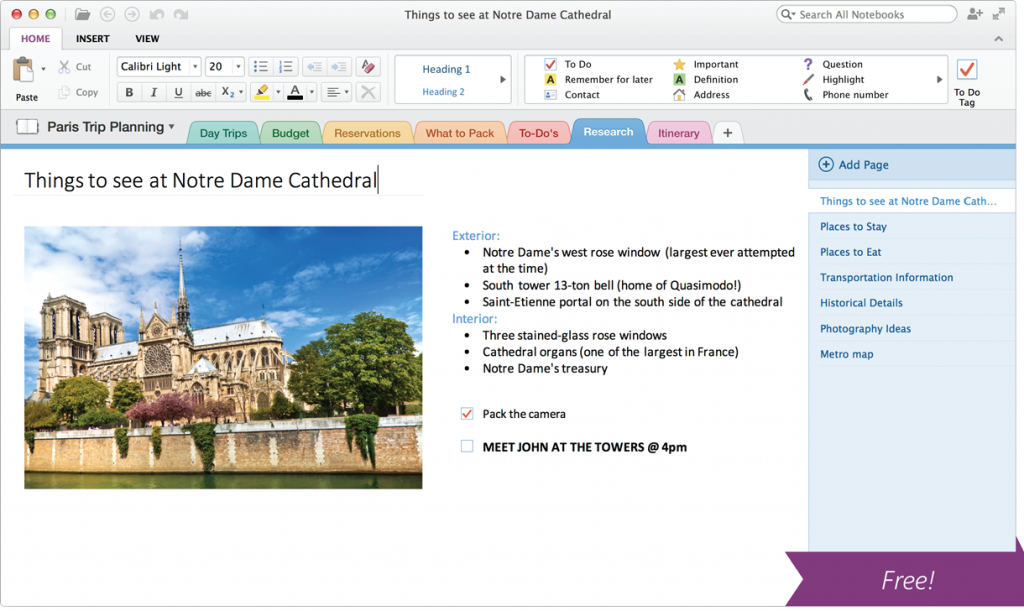 There are more features and more power in Microsoft OneNote than in other note-taking apps. It works well for professionals and students who need to take detailed notes, work with others, and arrange their notes in different ways. OneNote also has apps for the web and phones, so you can get to your notes from anywhere.
Pros
Of course. Free. You can do everything Evernote can do with it, but there is no paid version. You get all of the features right out of the box.
On basically all the platforms (for free). You can use OneNote on as many devices as you want. Other note-taking apps, like Evernote and Bear, charge extra to let you do this.
Not shaped. OneNote lets you put text boxes anywhere on the screen, while Evernote doesn't. You're good at drawing. You can even make the background look like a notebook with lines on it!
Cons
Not even as organized as Evernote. It doesn't have any ways to sort notes, like by when they were created or last changed.
Interface that is hard to use and doesn't allow for many tags. OneNote has notebooks and dividers inside of notebooks. After that, you can also make notes inside notes smaller. But the user interface is all over the place. There are notebooks on the left, dividers at the top, and notes on the right.
Price: It comes free with a Microsoft 365 plan, which costs at least $69.99 a year. Check to see if your school or job gives you free access.
Platforms: Android, iOS, Mac, Windows, Web
Bear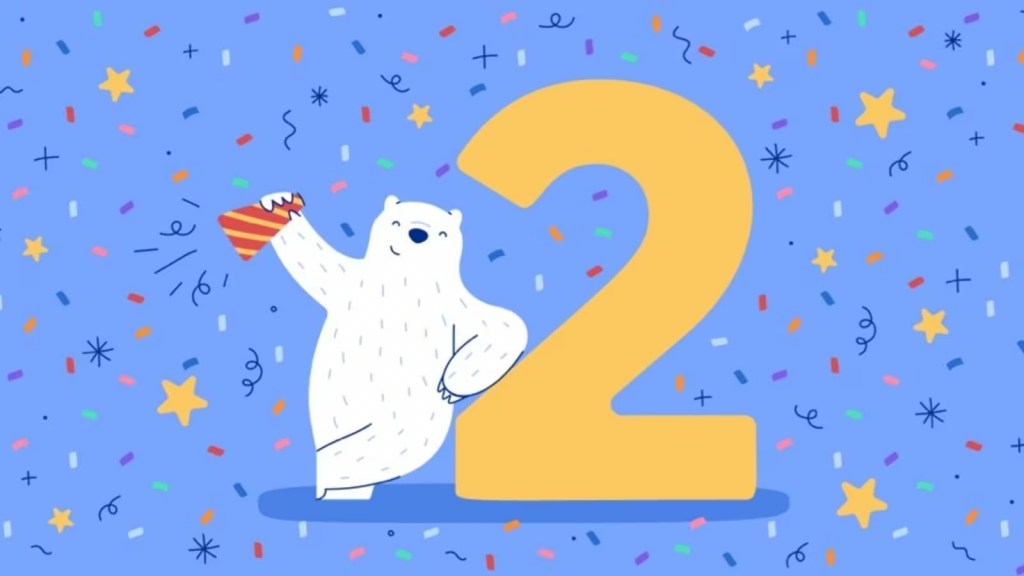 Bear is a beautiful, simple note-taking app that's great for people who want to write without being interrupted. It has a clean, simple interface, and you can format your notes in a number of different ways. Bear also comes with a Markdown editor that makes it easy to make documents that are rich and well-formatted.
Pros
Hybrid editor for Markdown. You don't have to guess how your formatted Markdown will look once you're done writing because Bear does it for you.
A simple way to organize things. Bear lets you tag each note with "#" and "/" and nest those tags inside each other. There is a #NestedHierarchy Archive feature. A small feature that saves time. By archiving a note, you can't find it or organize it, but it's still there.
Clean time for writing. The writing is easy to read and looks good right out of the box on Bear. If you pay for the Premium version, you get six free themes that look even better.
Cons
Only a Mac and an iPhone.
Price: Most of the features are free. If you pay $1.49 a month for the Pro plan, you can sync your notes across devices and get more export options.
Platforms: iOS, Mac
Ulysses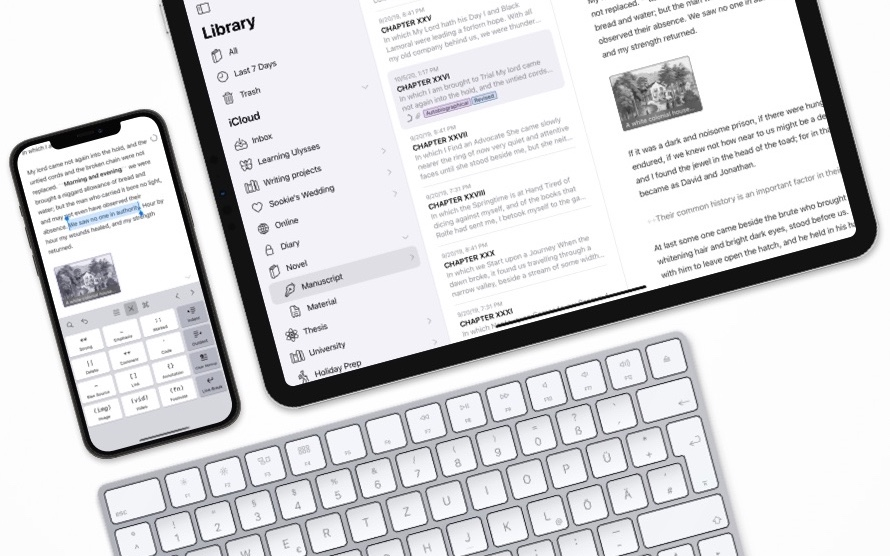 Ulysses is a great app for writers and journalists that lets you take notes and write. It lets you write without being interrupted and has many tools for organizing and formatting your notes. Ulysses also works with Markdown, which makes it easy to export your notes to PDF or Word, among other formats.
Pros
A writing app with all the features. This is the app you should get if you want to use it for all of your writing tasks, from researching to writing to printing.
Mode of focus. Many authors use Ulysses to write their books. But with its Full-Screen focus mode, Ulysses doesn't get in the way like some other powerful writing apps.
Can be changed. Ulysses has different skins, such as Dark Mode. Not only that, but you can also pick from several different markup styles and publishing formats.
Putting things on WordPress. When done writing, editing, and formatting a blog post in Ulysses, you don't need to go back to the WordPress dashboard to publish it. With Ulysses, you can format images, add tags, categories, and meta-data, and then upload them all from the app.
Cons
Very expensive. There's no free plan, but it costs $5.99 a month. If you are a student for 6 months, you can get it for $1.99 a month.
Only for Mac and iOS. Like Bear, the Ulysses app can only be used on Apple products. It's possible to edit your files on a Windows computer, though. Just save them in a Google Drive or Dropbox folder that is synced, and then edit the rich text file that it gives you.
Price: $5.99 a month
Platforms: iOS, Mac
Notion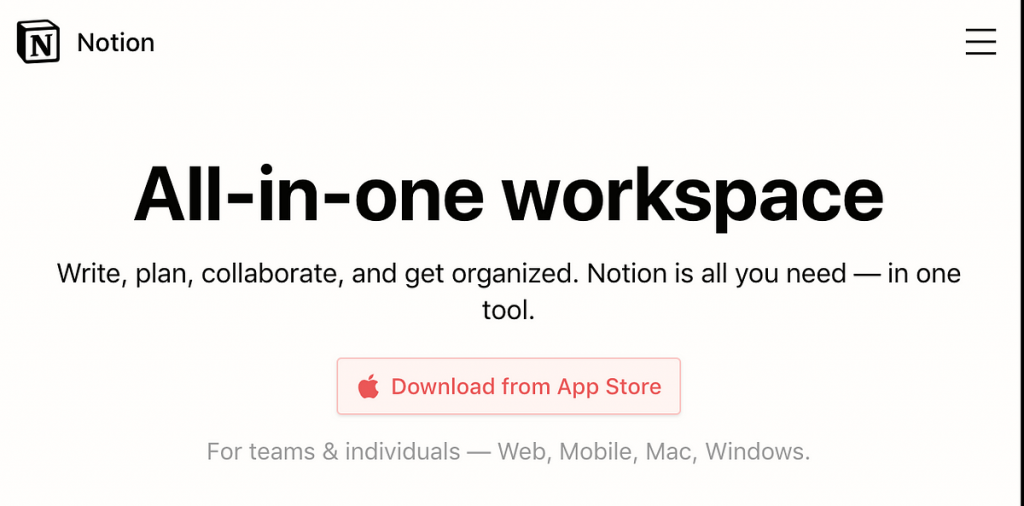 Notion is a creative note-taking app that lets you work with other people and save your notes online. It also has a hybrid editor that lets users change the way text looks and makes tables that let users take their notes to the next level.
Users can also add pictures and other media to their notes to make them more accurate and appealing to the eye. Its hierarchical organization makes it easy for people who took notes to find them again and understand what was written. The notion also lets users save time by making templates of the ways they like to take notes.
Pros
Pages that can bend. There is a template engine in Notion that lets you make a template from almost anything, even a collection of pages with different levels. It also has great tools for previewing and embedding media, such as a gallery view for photos and videos.
Tables with power. In Notion, tables are not just charts; they're also databases. The databases in Notion are like Google Docs and Google Sheets. You can change each row in a table as if it were its Notion page.
Organizational structure with levels. That is, Notion does this. It's even possible to make a group of text into a dropdown that you can roll up when you need to hide information that you don't need right away.
Blender editor. While writing in Notion, you can use Markdown or regular keyboard shortcuts and UI elements to make your text look better.
Personal accounts are free. If you don't mind that you can only upload 5 MB of files, Notion's free plan has everything you need to make notes.
Cons
It doesn't work offline. To use Notion right now, you need to be connected to the internet. This is a big problem right now, but the team is working to fix it.
Price: It's free.
Platforms: Android, iOS, Mac, Windows, Web
Conclusion
Last but not least, the best note-taking app is the one that works best for you. Take some time to look into these options, keeping your needs and workflow in mind. There is a note-taking app out there that will help you get more done and stay organized.
Remember that the way you take notes is unique to you, and the right app can make a huge difference. Have fun taking notes!
Also Read: Best Walking Apps for iPhone
FAQs
What is a note-taking app?

A note-taking app is a computer program that lets people make, organize, and save different kinds of notes, like text, images, audio, and sometimes even handwritten notes.

What is the best note-taking app on a Mac?

The "best" note-taking app for Mac can be different for each person, depending on their needs and preferences. Evernote, Apple Notes, Microsoft OneNote, Bear, and other options are all very popular.

Are there any free Mac note-taking apps?

Yes, there are several free note-taking apps for Mac. These include Google Keep, Apple Notes, Simplenote, and Joplin. They let you take simple notes without having to pay for a subscription.

Can I sync my notes between these apps and devices?

Most note-taking apps do let you sync your notes across devices. This lets you get to your notes from the web, your iPhone, your iPad, or your Android phone.

Can I add pictures or files to my notes in these apps?

Yes, a lot of note-taking apps let you add files, pictures, and even audio recordings to your notes, so you can take notes that are rich in multimedia.

Can you write or draw on these note-taking apps?

Apple Notes and Microsoft OneNote are two note-taking apps that let you write and draw by hand or with a stylus on compatible devices.