Why waste time digging into an app when you can get its most crucial information from the home screen? The best widget apps for iPhone let you check your favourite subreddits, check new messages, track steps, and easily see your favourite photographs. Which meets your standards? Before making a decision, read our detailed list of the 15 most useful and best widget apps for iPhone.
iOS widgets let users customize their experience and boost productivity. These shortcuts let you rapidly access data and functionality from the iPhone's main screen. While iOS comes with certain widgets, the App Store has several third-party options that may improve your widget experience. This article will review some of the best widget apps for iPhone which are free and paid, and provide a selection of helpful and best widget apps for iPhone that can be tailored to your lifestyle.
Best Free Widget Apps for iPhone
Launcher
Launcher is one of the most customizable and powerful widgets that you can get for your iPhone. You read it correctly. This best widget app for iPhone is very adaptable, allowing you to instantly access the software of your choice. You can also set it up to initiate FaceTime video calls, text messages, emails, and phone calls. In addition, it may be used as a shortcut to go to your preferred online destinations.
To highlight, the widget app allows you to play your favourite music with your choice music app with music launchers and even modify app icons, labels, and stack widgets, making it ideal for frequent iPhone music listeners who make use of the greatest music applications available. Keep in mind that the full capabilities of Launcher may only be accessed by purchasing the paid version. Taking into consideration everything, it's one of the best iPhone widgets available right now.
Rating: 4.5/5
Review: The Launcher, downloaded years ago, stands out. It continually adds features, streamlining essential tasks with a single swipe. Customizable launchers for work and home, along with scheduled settings, make it an indispensable tool.
Widgetsmith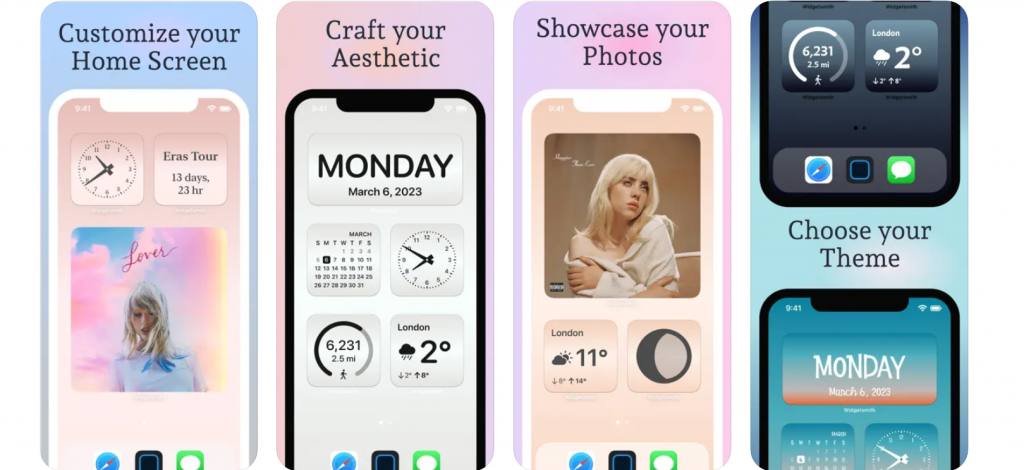 One of the most popular and one of the best widget apps for iPhone home screen, Widgetsmith offers a robust library of useful applications. Since the widgets are flexible, you may adjust them to your liking. Custom widgets may be dynamically scheduled to display information at certain times of the day, such as the weather in the morning, the calendar throughout the day, and the highly useful activity ring progress (needs Apple Watch) in the evening.
Remember that the premium edition of this best widget app for iPhone software for iOS home screens requires an in-app purchase if you want to access all the amazing features, such as access to tide and weather-hosted data.
Rating: 4.7/5
Review: Widgetsmith is among the best widget apps for iPhone which is widely appreciated for its flexibility in creating custom widgets. Users find it intuitive and enjoy the wide range of customization options it offers. Some users mention that it greatly enhances the visual appeal and functionality of their home screen.
Install: Free, $1.99/month
Photo Widget: Simple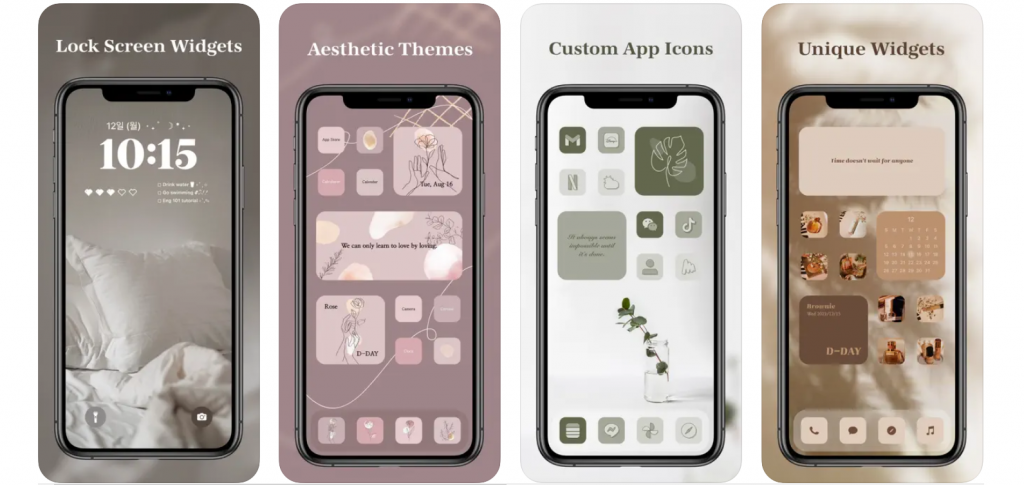 This best widget app for iPhone – The photo widget app is handy, but it lacks personalization. Unfortunately, the stock pictures widget program will automatically grab featured images, even if you'd like not to have them on your home screen. It is annoying, but at least you can disable highlighted pictures in the stock photos widget. Here's when a lovely, free iPhone photographs widget comes in handy.
You can configure the Photo Widget: Simple's refresh interval to automatically cycle through your picture album. And if you ever want to keep any under wraps, you can do it without much trouble. When these features are considered, it's clear that Photo Widget: Simple is one of the best widget apps for iPhone available.
Rating: 4.7/5
Review: Users appreciate the Photo Widget for its straightforward approach to displaying images on the home screen. They find it useful for personalizing their device with cherished photos, making it a popular choice among those looking to add a sentimental touch to their home screen.
Install: Free
Smart Stack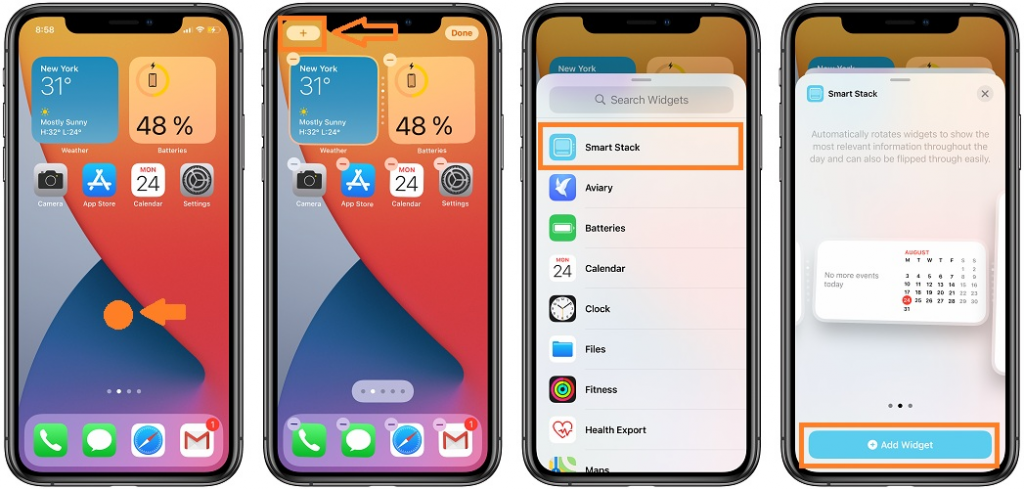 Smart Stack has a lot going for it. The capacity to tailor what's shown on your iPhone to your specific use patterns is its greatest strength. For instance, this best widget app for iPhone will show podcasts when you want to listen to them and reminders when you want to see what you have coming up.
Photos, Music, Reminders, Weather, and Calendar are just a few of the interesting app widgets that have been combined to create this unique experience. Yes, Siri's recommendations are a part of it too. From the home screen, you may quickly get the most important data by scrolling through the available widgets. Smart Stack may be modified to better meet your requirements. You may, for instance, shift the widgets about or get rid of the ones you don't want.
Rating: 4.5/5
Review: The user has appreciated it a lot.
Comes Pre-installed
Apollo for Reddit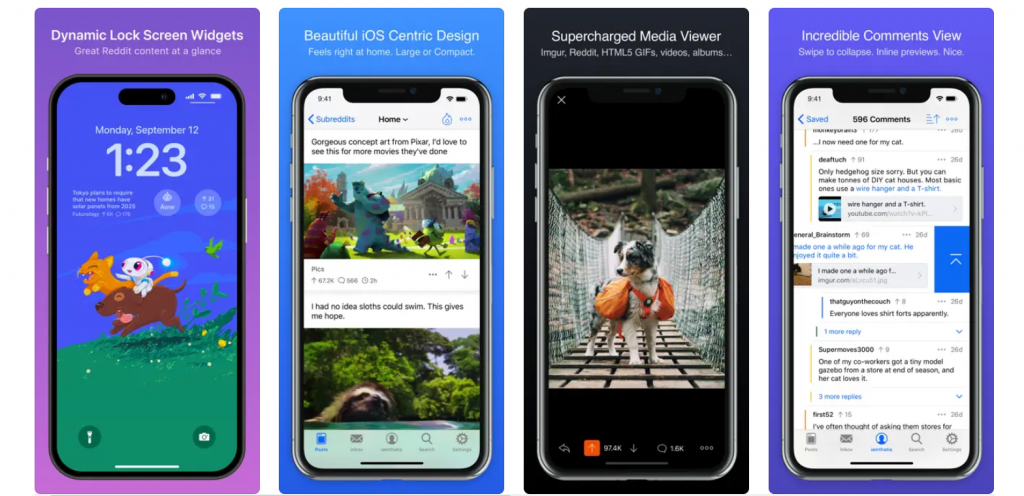 Apollo, often regarded as the greatest Reddit software, is designed for those who wish to easily monitor their favourite subreddits. It is among the best widget apps for iPhone. Apollo is a minimalistic and easy-to-use iPhone widget. The variety of sizes and styles available means you may choose one that perfectly fits your requirements. The "Posts Grid Widget" is useful since it displays a grid of recent posts from a specified feed. If you want to keep up with the most popular pictures in a particular subreddit, you'll probably adore Apollo's wallpaper widget.
Rating: 4.8/5
Review: According to users, Apollo outshines Reddit's app with its extensive array of features and customization. It offers dedicated search bars within hidden posts and saved content, enhancing the value of saving content for future sharing. This level of functionality sets Apollo apart in a league of its own.
Install: Free, $0.99/month for premium version
Batteries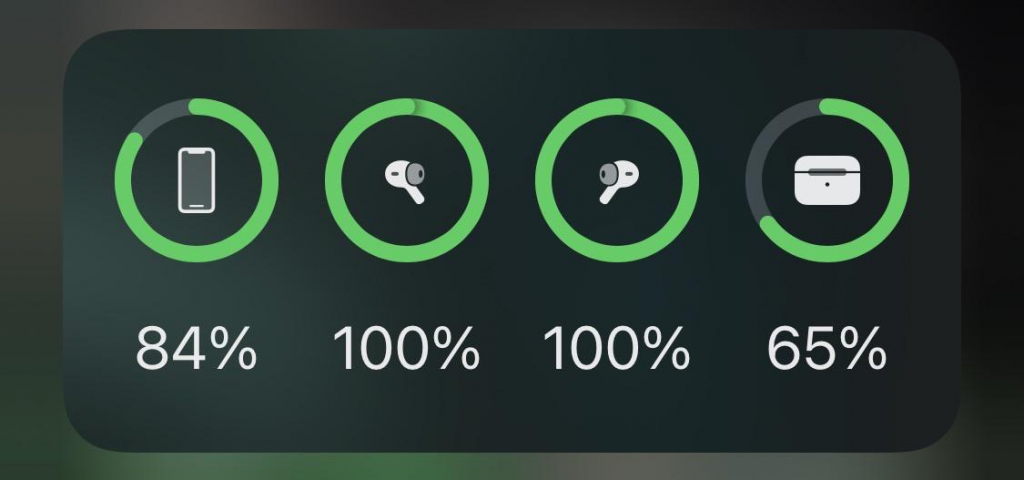 One of the best widget apps for iPhone, "Batteries" makes it easy to monitor the charge of not just your iPhone but also any Bluetooth headphones you may have attached, such as AirPods or AirPods 2.
You shouldn't miss out on this one if you want to monitor your devices' battery levels from the widgets panel. It's already installed, so there's no need to download or pay for anything else to use it.
Rating: 4.8/5
Review: Users state that batteries emerge as a superb alternative to the official app, boasting a wealth of practical features and extensive customization options. It's evident that the app's creator, undoubtedly a dedicated user themselves, has infused it with elements tailored to delight power users. This thoughtful design sets Batteries apart for a truly personalized experience.
Comes Pre-installed
Spark Mail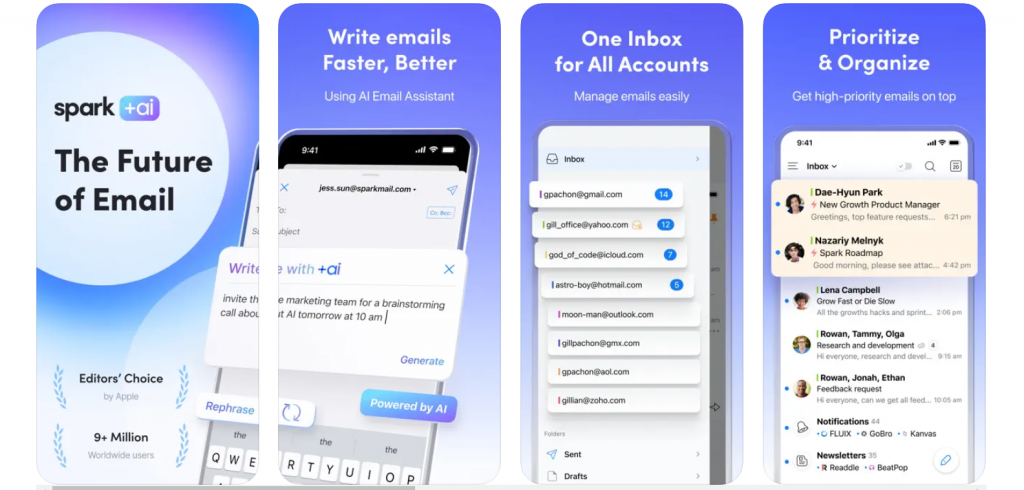 Spark Mail is unparalleled in its ability to successfully manage an ever-growing inbox of email messages. Readdle's email client is great for eliminating unnecessary messages and helping you stay focused on what's important.
Spark allows you to centralize your email management by linking all of your accounts in one convenient location. If you appreciate this well-known email client, you will probably want to try out its useful and alone of the best widget apps for iPhone. Notably, the widget is available in many layouts, allowing you to choose the best layout for monitoring emails directly from your iPhone's home screen.
Rating: 4.5/5
Review: The users asserted that this particular email client stood out as the finest option for iOS. They claimed to have experimented with various alternatives, all of which exhibited one drawback or another. For instance, the next most promising contender, Outlook, boasted excellent design and features, yet fell short in the aspect of enabling attachment retrieval from the iOS 'Files' app. It was these minor nuances that set the preferred client apart. The person commended the developers for their meticulous attention to detail in every aspect.
Install: Free
Best Paid Widget Apps for iPhone
Weather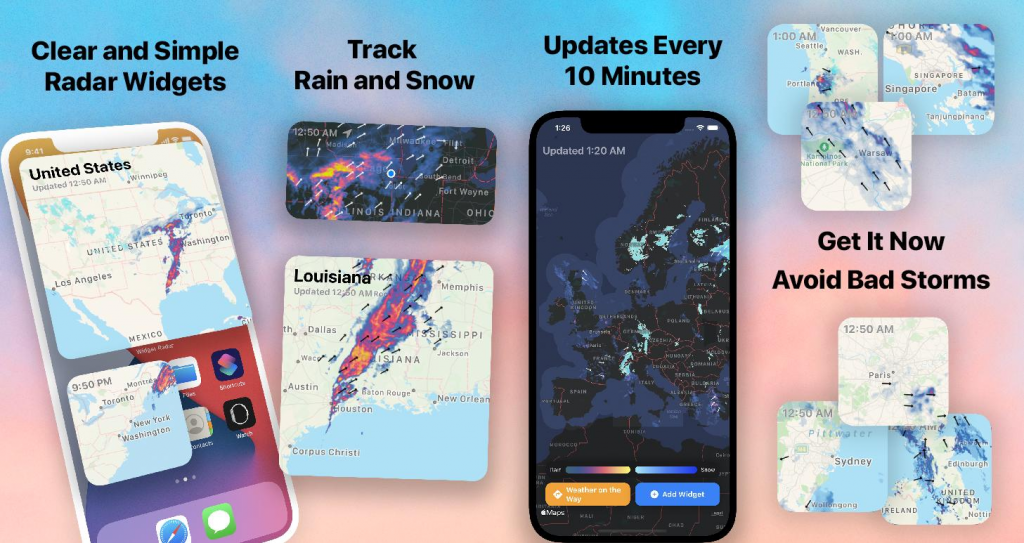 The weather widget, which displays the day's forecast and current temperature, is another of my favourite and most-used widgets. The weather app is no longer necessary to monitor fundamental climatic indicators, such as temperature and pollutant concentration in the air. If you have an iPad and don't want to download a separate weather app, the best widget app for iPhone is the most convenient method to check the forecast.
While the iPhone's default weather widget is adequate for most uses, more intuitive options exist in the form of Carrot Weather ($4.99) and Hey Weather (free). In addition, they provide a great deal of personalization, letting you choose which pieces of data to display first.
Rating: 4.5/5
Review: Users say that Weather Widget is a game-changer for iOS users seeking accurate and accessible weather updates. Unlike the default app, it offers a wealth of features and customizable settings, allowing for a truly personalized experience. It's evident that the creators understand the needs of weather enthusiasts, as the app is packed with functionalities that go above and beyond.
Comes Pre-installed
Calendar and Reminders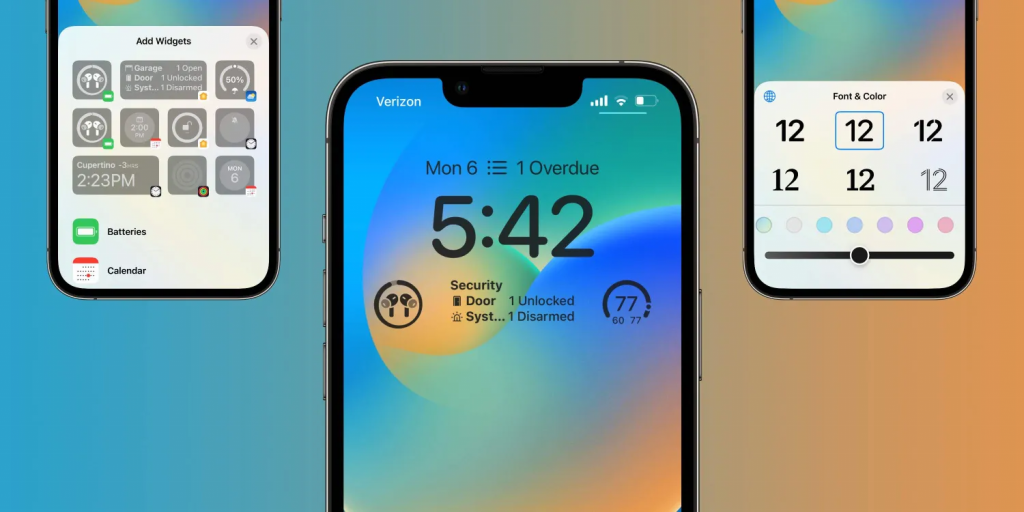 The best widget apps for iPhone – The calendar widget is one of my go-to iOS widgets since it provides me with a snapshot of my schedule at a glance. Most of the best third-party calendar applications, such as Fantastical (Free, in-app purchases), BusyCal ($4.99), and others, include widgets in addition to the iOS calendar.
The default widget may serve as a functional calendar and reminder tool. But if you want more flexibility, you should look at third-party options.
Rating: 4.5/5
Review: According to users, this is among the best widget apps for iPhone. The Calendar feature provides a clear, visual representation of events, seamlessly syncing across devices. From meetings to personal appointments, it ensures users never miss an important date. The ability to set customizable alerts and recurring events adds an extra layer of convenience.
Comes Pre-installed
ScreenKit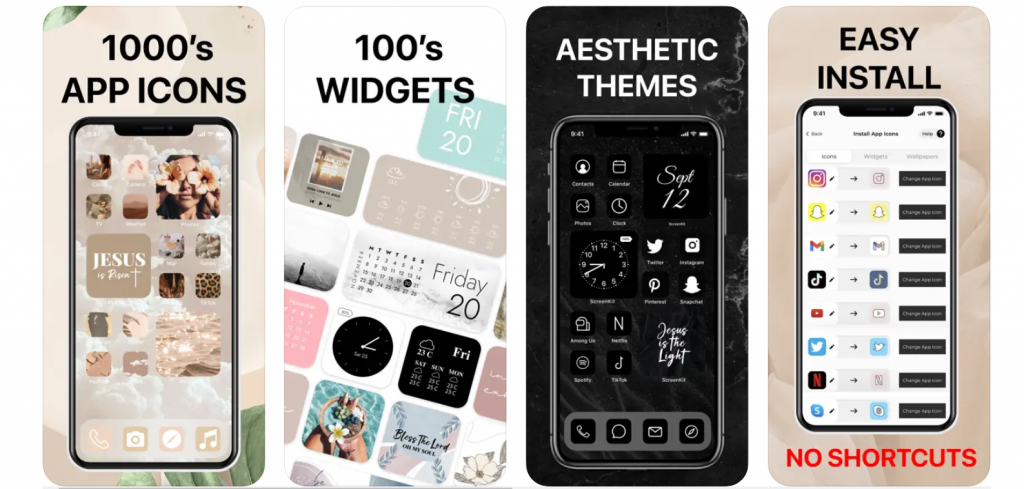 ScreenKit isn't simply a widget app for iPhone; it's much more than that. You shouldn't miss it if you're looking for a comprehensive program to modify your iPhone's home screen. The software allows you to personalize your iPhone's home screen with your choice of over 5,000 attractive icons and over 500 visually appealing themes and widgets.
Widgets may be found in many various types, such as clocks, counters, batteries, dates, calendars, and more. You may customize your home screen any way you want by adding various widgets. In addition, it has a useful icon swap that lets you make unique icons for your iOS apps.
Rating: 4.1/5
Review: The users say that having used this app for a month, I'm thoroughly impressed. The themes are a standout feature; their current cottagecore background brings a delightful touch to the phone. Swift installations allow a complete phone transformation in just 15 minutes. It's a 5-star experience, but I have a couple of concerns.
Install: Free, $2.49 for ScreenKit+ with VIP
DataMan – Data Usage Widget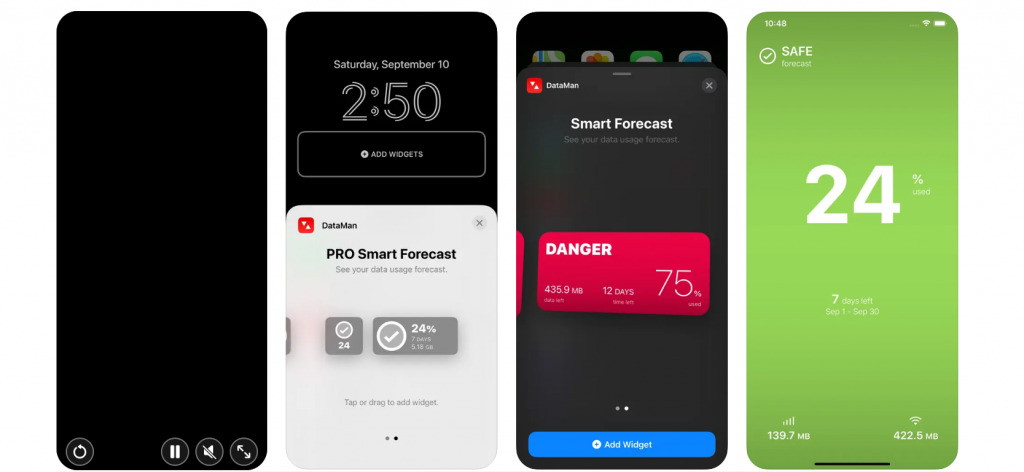 If you don't monitor your data usage, your bandwidth could run out of steam unexpectedly, potentially causing you to miss your deadline. There are a number of apps that claim to monitor data usage, but not all of them actually work. Don't worry though; this is where DataMan comes in.
With this one of the best widget apps for iPhone, keeping tabs on how much data you use is a breeze. And you can do that right from the iPhone's main menu. If you want to know how much data you have left before beginning a long video-streaming session or intensive browsing, you can do so quickly and easily with the home screen data usage widget.
Rating: 4.5/5
Review: According to users, in the case of the latest iPhones, users face limitations. Manual data usage resets and aligning billing cycles with providers are not options. The term "unlimited" mainly pertains to high-speed data, especially for hotspots. The app falls short in not separately reporting Hotspot data usage. Including this in the subscription version would greatly enhance its value. The user expresses willingness to assist in testing this feature.
Install: ($0.99)
Features and customization options of best widget apps for iPhone
The best widget apps for iPhone offer a range of features and customization options to enhance the user's home screen experience. These apps provide the following:
Widget Creation and Customization: They enable users to create custom widgets with various sizes and configurations, allowing for a personalized display of information.
Diverse Widget Types: These apps support a wide array of widget types, including weather, calendar, clock, news, reminders, battery, music, and more, ensuring users have access to a comprehensive set of functionalities.
Content Customization: Users have the flexibility to choose what specific information or functionality is displayed within the widget. This includes selecting preferred calendars for events, choosing specific news sources, and more.
Theme and Style Options: They offer a rich set of customization options, allowing users to adjust the appearance of widgets to match their personal preferences and overall home screen aesthetic. This encompasses themes, colours, fonts, and styles.
Multiple Widget Layouts: The apps provide various layouts tailored for different widget sizes, ensuring optimal use of screen space while displaying relevant information.
Widget Arrangement Tools: Users can easily arrange and organize widgets on the home screen, enabling them to create a cohesive and personalized layout that suits their workflow and preferences.
Quick Actions and Integration: These apps often include quick action capabilities, enabling users to perform tasks directly from the widget. This might involve creating a new event in the calendar, sending a message, or initiating a call. Additionally, they seamlessly integrate with various apps to pull in relevant information.

How do the best widget apps for iPhone improve the home screen experience?
The best widget apps for iPhone significantly enhance the home screen experience via:
At-a-Glance Information: These apps provide users with at-a-glance access to important information without the need to open specific applications. This means users can quickly check the weather, see upcoming events, view news headlines, and more right from the home screen.
Efficient Task Management: Widgets enable users to perform quick actions directly from the home screen. For example, they can create calendar events, send messages, make calls, or even control smart home devices, streamlining their daily tasks.
Personalization and Customization: Users can tailor widgets to display information that is most relevant to them. They can choose the type of information displayed, customize the appearance, and arrange widgets in a way that suits their workflow and preferences.
Reduced App Switching: With widgets, users can access information and perform tasks without having to switch between multiple apps. This saves time and improves overall productivity by keeping important information readily available.
Enhanced Aesthetic Appeal: The ability to customize widget appearance, including themes, colours, and styles, allows users to create a visually pleasing and cohesive home screen layout that reflects their personal style.
Streamlined Information Retrieval: Widgets act as a window to real-time or frequently updated data. This means users can quickly get the latest news, weather updates, stock prices, and more, directly from the home screen.
Increased Awareness of Important Events: Widgets can be set up to display upcoming events, tasks, and reminders. This helps users stay organized and ensures they don't miss any important deadlines or appointments.
Optimized Screen Space: Users can choose from various widget sizes and layouts to make the most efficient use of their screen real estate. This ensures that the information displayed is clear and easily accessible.
Conclusion
Since the introduction of the iPhone, widgets have become an integral element of the user experience, enabling people to quickly and easily get the information they need from their home screens. There is a wide variety of widget applications, both free and commercial, to meet your specific requirements and tastes. Check out the App Store for the most up-to-date widget applications as of the day you're reading this, or look into some of the popular options listed in the prior comment. The best widget apps for iPhone may improve the appearance and performance of your iPhone's home screen, turning it into a more useful and tailored device for your routine chores and information demands.