Want to test out Google's new artificial intelligence chatbot, Google Bard? As of the most recent update, there is no longer a waitlist. Anyone in 180 countries who is 18 or older and has a Google account can immediately access Google Bard. The new PaLM2 AI language model in Bard makes it more accurate, supports more languages, and can even do things that ChatGPT and ChatGPT Plus can't.
New artificial intelligence (AI) tools have made headlines with their cool new ideas and impressive skills. At the same time, Google's own creation has been getting a lot of attention for a completely different reason. The world has been blown away by a new wave of AI tools that show us a new way to work and find information that will make our lives and work easier. We show you how ChatGPT and other cutting-edge AI tools are changing the world, how to use their power and the risks that might come with them.
As a generative AI tool, Google Bard is meant to be a helpful AI chatbot that can write everything from cover letters and homework to computer code and Excel formulas, question answers, and even full translations. Like ChatGPT, Bard uses AI to respond to questions in a way that sounds like a conversation between two people. Google Bard's performance, on the other hand, has been criticized more than once. From its terrible debut to its official launch, users have had a hard time getting the chatbot to give them correct information or even follow a conversation without going crazy.
What is Google Bard?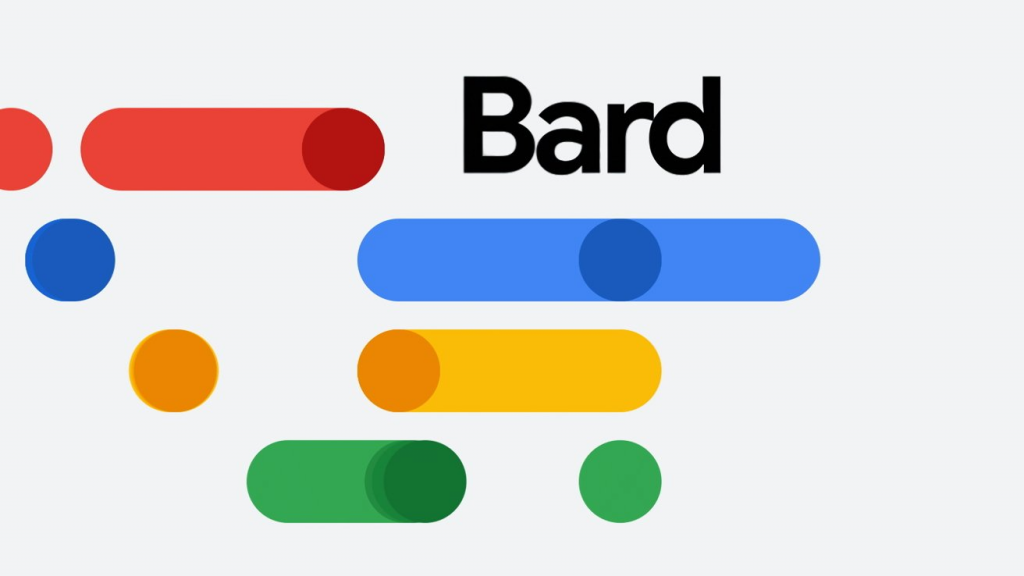 Google Bard is a chatbot that uses a large language model (LLM). Google AI made it. Bard was trained on a huge set of text and code, so it can write text, translate languages, make creative content, and answer your questions in a useful way.
Even though Google Bard is still being worked on, it could be a handy tool for learning, communicating, and having fun. Bard could be used to make interactive learning experiences, personalized content, or help customers, among other things. In simple language:
Bard is an AI chatbot that can have conversations with you like a real person. It uses natural language to answer questions, write emails, do tasks, help you with your homework, and answer questions.
Bard is now out in English, Japanese, and Korean, and it will soon be out in even more languages. Google Bard AI can be used in more than 180 countries and territories, such as the US, UK, India, Pakistan, and Nigeria.
Even though Bard and Google Search are not yet connected, Google has plans to do so soon. This could change the way you search on Google in a big way.
How to Use Google Bard
Get started by going to bard.google.com and logging in with your Google account, if you haven't already. If Try Google Bard comes up, click it and agree to the terms of service. On the chat screen, Bard gives you some questions to ask if you don't have any of your own.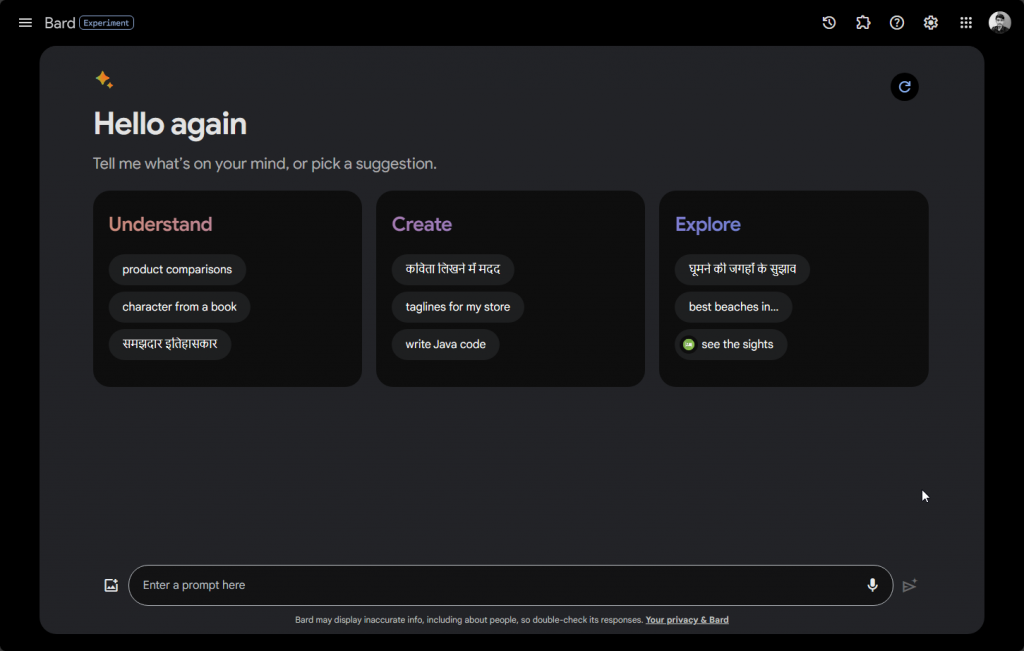 Pick one of the practice questions and wait for the answer.
Tell Bard to Google it
You can ask more questions about the same subject based on the answer. You can also click the "Google it" button, and Bard will suggest similar searches. To do a Google search on that subject, click on the link to one of them.
Next, say what you think about the answer. If you liked the answer and thought it was helpful, click the "thumbs up" button. If you did not like or find the answer useful, click the "thumbs down" button. If you click "Down," you'll be asked to explain why you chose that rating and add any other comments. Click "Submit" when you're done.
You can ask more questions about the same subject from here on out. Click the "New chat" button at the top of the left sidebar to switch topics.
Ask Bard to change its answer
You can tell the AI to change a response based on your question and Bard's answer. This is especially helpful if you want Google Bard to write something. After you send your request, scroll down to the bottom of the response and click the "Modify response" button. You can tell Bard to change the answer to make it longer, shorter, easier, less formal, or more formal.
Don't rule anything out: Look at More Drafts
If you ask Bard to come up with content, it will also come up with different drafts of the text. To do this, ask Google Bard to write something. In the upper right corner of the answer, click the drop-down menu that says "View other drafts." There are three more versions of the text that you will see. Pick out one to see. If not, click the "Regenerate drafts" button to see three more drafts.
Say what you want
After that, you should give the voice request or question option a shot. You need to click the microphone icon in the prompt. You might need to let Google Bard use your mic the first time you do this. Type your words and press the "Submit" button.
Make Google Bard read its answer out loud
You can hear the answer spoken out loud on the other side. In the upper right corner of the answer, click the "Listen" icon. To stop or pause the narration, click the Pause icon.
Check your question again
Click the Edit text button to the right of your question to change how it is asked and get a different answer. After you change the text, click the Update button to get a new answer.
Use your exact location to get local information
By default, Google uses your IP address to figure out where you are in the world. That's not always true, though. You can tell Google Bard to use your exact location if you want it to help you find nearby stores, restaurants, businesses, and landmarks. Just make sure you don't mind giving Google your exact location.
Click on the city at the bottom of the left sidebar and then click on Update location to set this up. Click "Allow" to let Bard know where you are. To use the exact location, go to the About this location window and click on it. The link under "Location" changes from your IP address to the name of your device. You can now use Google Bard to find out about activities and places in the area.
Put pictures on Bard
You can not only write a text query, but you can also upload a picture or other image to Bard to get information about it. To do this, pick out the picture and click the Send File button to the left of the prompt. You can save the file as a JPG, PNG, or WebP file. After you upload the picture, type a question or request that tells Bard what you want him to know about the picture, then click "Submit."
Send or save a response
Want to write something else or share it? Click the three dots next to the response after you've sent your request. Click Copy in the pop-up menu, then paste the answer into a different program or document.
By default, other users can't see what you share with them. You can share the answer with everyone if you want to, though. Choose Share from the menu that appears after clicking the Share & export button. When you click the "Create public link" button, the conversation is made public online. Anyone who has the link can see it. You can also email, post on Facebook, tweet, or Reddit the link.
If you want to use Google Docs to make a document, you can send the answer to it. Choose Export to Docs from the menu that comes up when you click the Share and Export button. If you click on the Open Docs link, the text will open in Google Docs, where you can make changes.
Once you're done writing your answer, click the Share & export button and choose Draft in Gmail. Click on the link that says "Open Gmail." After that, the text shows up in Gmail, where you can change it.
Keep track of your conversations
Finally, you can keep track of all your chats. To see all of your old chats, click "Show more" in the upper left corner. You can choose one to see it and, if you want, pick up the conversation where you left off. If you click on the three dots next to a chat, you can pin it, rename it, or delete it.
What is Google Bard used for?
Bard is an AI that can work with you to help you research topics, write text, and write code. Any question you might ask a coworker or friend who knows a lot about the subject could be a prompt in Bard. Google Bard could be used to do things like:
Explore your choices or come up with some ideas.
Look into a subject or find things, books, or ideas that are related.
Write an email.
Make a plan for a book, blog post, project, or proposal.
Condense, rephrase or sum up text.
Help write code or fix bugs in it.
You can also speed up a search with Bard. Take the task of gathering information about specs to choose a laptop as an example. Like any other Google Search, you would look for a product, click on a link, and then copy and paste information into a Google Doc. Then you would do it again for every other laptop you wanted to compare.
You could use Google Bard to send a single command to the system that tells it to compare two, three, or more laptops and show the results in a table. You could then save the response to a Google Doc. There may be only two steps left in what used to be several: Ask, and then export.
Who Can Use Google Bard?
Everyone over the age of 18 who has a free Google account or a paid Google Workspace account can use Google Bard. (Google doesn't explain how it knows if someone using Google Bard is at least 18 years old.)
Bard has to follow both the Google Terms of Service and the Google Generative AI Additional Terms of Service. Users are not allowed to use Bard to make their own machine-learning models or technology that works with them.
People with a Google account can use the chatbot right now in more than 180 countries and territories. It is important to note, though, that Google Bard is not available in the European Union (EU) or Canada because of rules in those places.
Security and Google Bard
Google records users' conversations, locations, and usage information when they use Bard. Users can choose to give responses a thumbs up or down. Google says that this information is used to make the chatbot smarter and more useful.
Chatbot users can change how long conversations are saved by clicking on "Bard Activity." By default, conversations are saved for up to 18 months. People who use Google Bard can also look at their chat history and delete conversations at any time.
The EU AI Act, a proposed law that came out in May 2023, has made people more interested in the need for Google to be more open about how the data Bard collects is stored, accessed, and shared.
Supporters of the bill want to make sure that AI governance projects are in line with the General Data Protection Regulation (GDPR). GDPR is a set of rules and regulations for data protection that gives people more control over their data.
Google Bard's Capabilities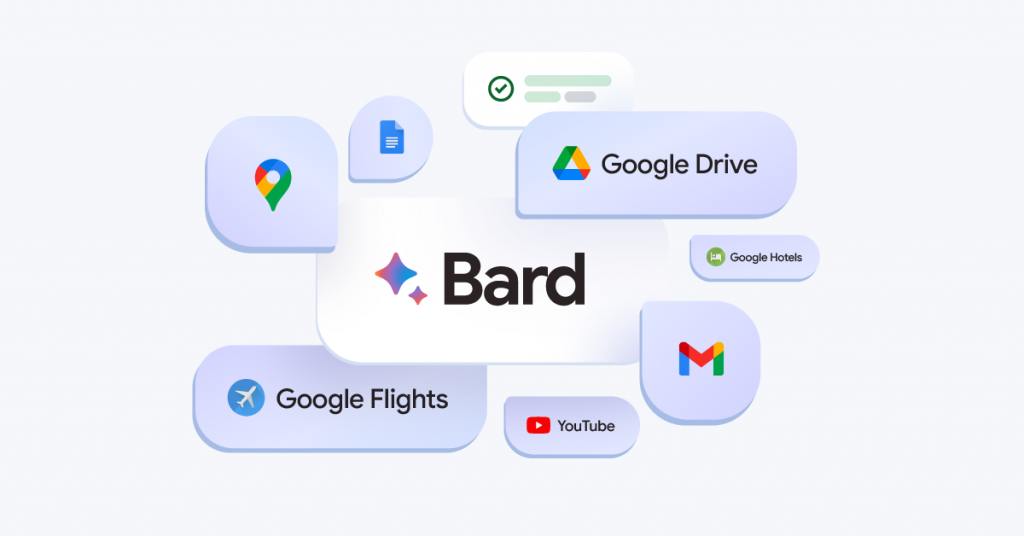 Integrating Google Bard with other Google products to increase productivity, make teamwork better, and boost creativity is one of its best features. Here are some:
Export your text directly in several file formats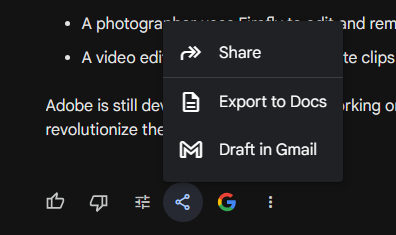 With the help of Bard AI export, you can lighten your load. Google Bard, a creative powerhouse, gives you many ways to send your art to other people. Prepare to be amazed as Bard expertly changes your work into different formats, showing the world how it can be used in a million different ways.
Bard can make text in Word, PDF, and HTML, among other formats. You can easily use your work in other programs or give it to other people this way. You can, for example, send Bard a Word file of a story he wrote for you or a PDF file of a report he made for you. You can also download an HTML copy of a website that Bard summarized for you.
Use Adobe Firefly to make pictures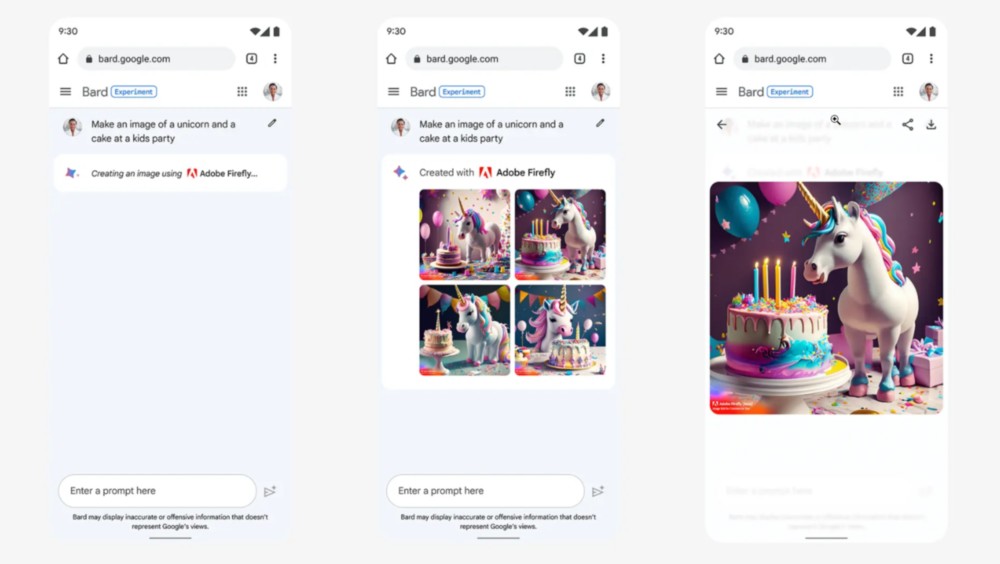 Are you ready to be amazed when Bard shows off their brand-new artistic skills? Introducing Adobe Firefly, a magical tool for making pictures.
Adobe Firefly is "a family of creative generative AI models" that can make great photos whenever you need them. Soon, Google will directly add Firefly's method to Google Bard to make the service easier for more people to use. This means that users will be able to ask Bard for photos through prompts and get the photos through Adobe Firefly.
Dark theme
For those of you who have been waiting, the long-awaited dark mode for Bard is finally here. Yes, you will be able to use Google Bard in a dark theme just like any other app!
To turn on the dark mode, click the "Use the dark theme" button in the bottom left corner of the Bard online interface. To get to the Use Dark theme button in the bottom left corner of the Google Bard website on a phone, click the menu icon in the upper right corner of the website.
Google Bard AI lets you write code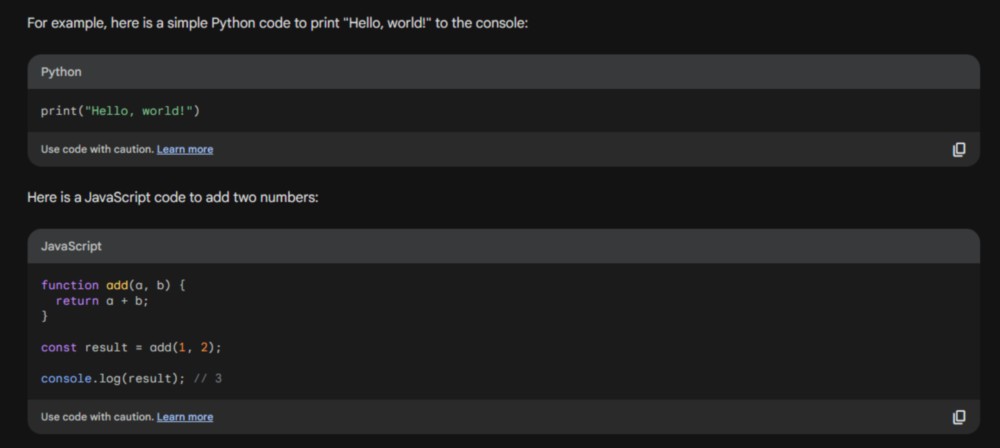 Think about an AI chatbot that was excited about coding but couldn't do it. Well, BARD can now code like a pro. Now is the time to make coding easy with Google Bard AI. ChatGPT and other Bard AI competitors have offered coding help since the beginning. Fortunately for Google, Bard's coding skills have gotten so much better that talking about them took up a lot of the presentation time at Google I/O 2023.
Because Google worked so hard, Google Bard has become a coding genius. It is now easy to generate, debug, and explain code. Bard AI was the star of the latest Google I/O event, where it amazed everyone with its Python-based mastery of the "Scholar's Mate" move in chess. People were pumped up for the event. You are about to go on an amazing adventure where coding turns into a beautiful dance between human creativity and AI.
Access to the Internet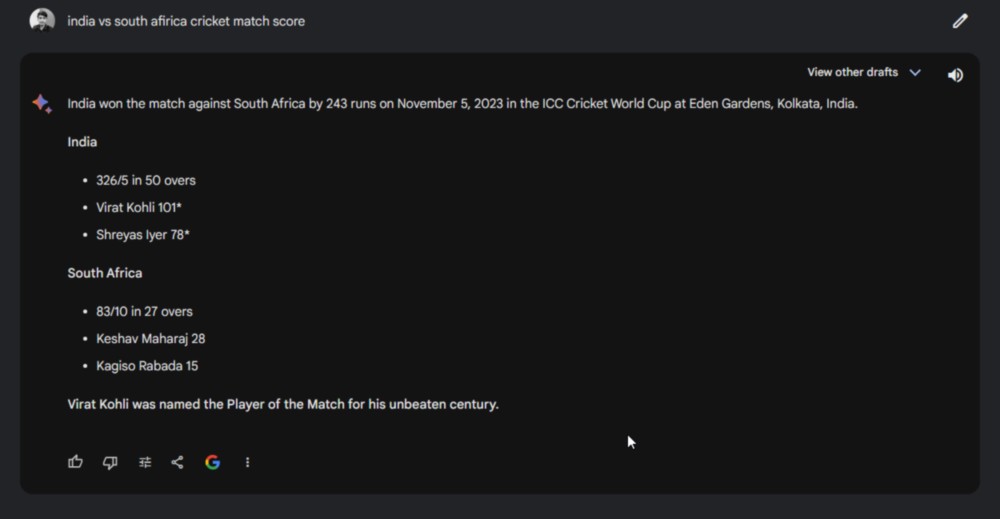 Bard has an advantage over its competitors because it keeps a secret about one of its weapons. Since Bard gets its power from a direct internet connection, it plays in the whole internet. As you type your questions or ideas into Google Bard, it uses real-time online searches to find the most up-to-date and useful information on the web.
So Bard can write texts or find answers to your questions by using the most up-to-date and useful information that is easy to find online. You can use this feature a lot for things like research that need to access web content.
Even you can double check response provided by Bard with search results by pressing the Google logo next to the share button, It will highlight similar text from given response with other website data.
Listen for voice commands
Google Bard can understand what you say and do what you say. This is helpful if you'd rather talk, are busy, or can't use your hands. It can take your thoughts and turn them into beautiful paragraphs or give you answers to even the toughest questions.
These are some ways that you can use Bard's voice commands:
Bard can write a song, a poem, or a story for you.
You can ask Google Bard to translate something from one language to another.
Bard can answer a question you have about something you're interested in.
You can even ask Google Bard to do something for you, like make a to-do list or set a timer.
It works with Google Products with Bard Extension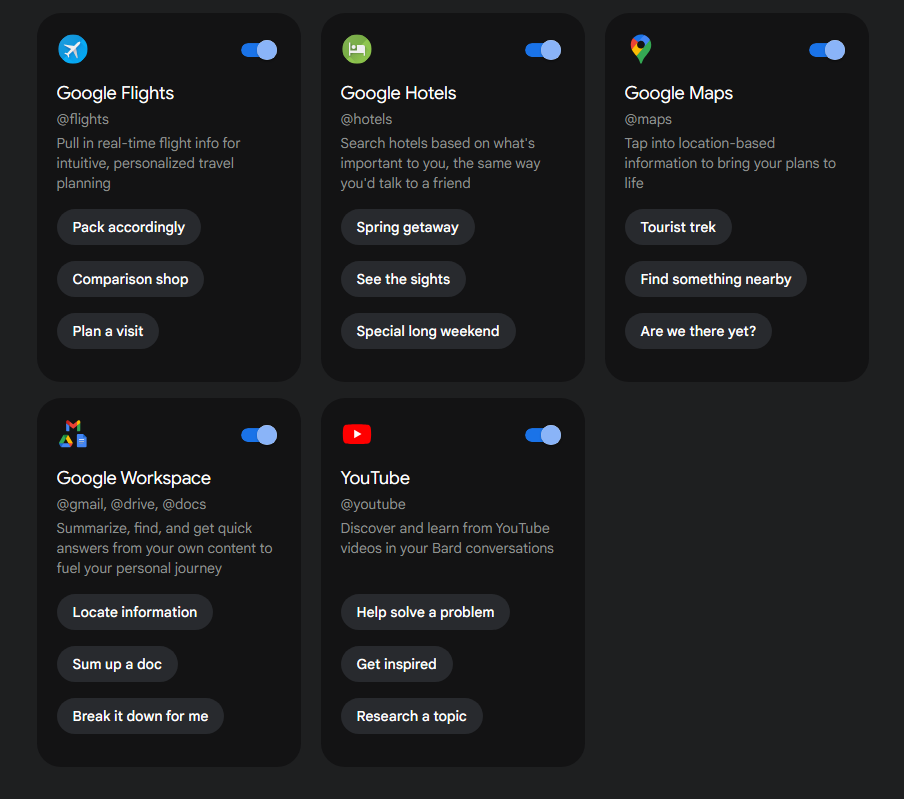 Google doesn't try to leave any holes in Bard's abilities. The future holds a lot of amazing possibilities as Google Bard's creative skills easily connect with other Google services. Imagine that Bard works well with Google Sheets, Docs, and even Maps, making a place where you can be productive and creative at the same time. When these services work together, the options are endless, giving Bard AI a whole new set of functions to enjoy and thrill users.
Tips and Tricks for Google Bard
To make sure you get the best results from Google Bard AI, you need to use a few strategies that make it work better. Here are five things you can do to get better at using Bard AI and get more accurate results.
Use short and easy prompts
Since Google Bard AI responds to prompts, we need to be careful about how we ask for things. It is important to be clear and brief in our requests so that Google Bard can understand and meet our needs. You can say something like, "Write me a short family story," instead of "Write me a short story." Bard will then focus on that theme to write you a short story.
Give enough facts and details
Bard AI responds based on the specifics you give it in your prompts. Bard AI will give us a better and more accurate answer if we give it more information. In this case, if you need help writing a follow-up email, be very clear about how you want Google Bard to structure and tone the email.
Make your prompts more personal
To get Google Bard AI to answer better, we can give our requests more personality. If you have an e-commerce site and want to write a blog post about how to set up an e-store, for example, you can set the mood with words like funny, professional, or idiomatic. Based on the style of writing we want, Google Bard AI will write the content in that way. It makes the responses more interesting to read than the standard ones it would normally come up with.
Tell Bard AI to show the data in a table
If we need a lot of information, tell Google Bard AI to show it to us in the form of a table. We will also be able to understand the results better because they are in table format.
Check the results that Bard generated
Artificial intelligence has its limits, which is something we all know. That's why it's important to always check, fix, and edit any answer from Google Bard or language-model chatbots. Google Bard AI is still being tested, so it might not always be correct or up to date. Because of this, it is very important that we carefully check, test, and evaluate online content to make sure it is correct.
Google Bard for Different Use Cases
The Google Bard tool from Google is a creative invention meant to make finding information easy for users. This flexible program has a huge amount of potential to make the user experience much better by making everyday tasks easier and collecting useful information. Brad will likely help you with the following daily tasks:
Resolve your concerns
When you have a question, you can just ask Google Bard, and it will use its AI algorithms to come up with an answer.
Don't forget to ask follow up questions to make sure you get more details.
Automate tasks
The chatbot can make the user experience much better by doing things automatically that would need to be done by hand otherwise. One example is that it can handle boring tasks like booking a flight or a table at a restaurant, saving users time and money and making their lives easier.
Turn AI into your assistant
Not only can this chatbot help you get more done, but it can also remind you of tasks or appointments that you need to carry out. This AI assistant can help you keep track of your schedule and send you reminders.
Serve as a social hub
The chatbot can be used as a flexible way for users to start conversations. Since the chatbot can be used in both group and one-on-one settings, it can help make conversations more interesting and stimulating by bringing new and interesting points of view to the table.
With the new AI-driven changes to Google Search, you'll soon be able to get a full picture of any subject. Web users can quickly find the information they need and then find different points of view or in-depth information about related topics, all in formats that are easy to understand. These new technologies will change the way people research on the web.
How far AI can go with Google Bard?
Artificial intelligence (AI) today gives us more chances to learn more about things and turn them quickly into useful knowledge, which makes it easier for people to find what they need. AI is useful when you need to put together different ideas to answer a question that doesn't have a single right answer.
Soon, AI-powered Search features will be able to boil down complicated data and different points of view into formats that are quick and easy to understand. These new AI features will soon be available on Google Search. Google also wants to create a set of tools and APIs that will help developers make AI apps that are more useful and creative over time. These improvements could be very important for startups that want to make AI systems that people can trust.
Google Bard compare to a Google Search
When you use natural language or keywords in Google Search, it gives you relevant links. When Google Search is very sure that a certain answer is correct, it may show the information very prominently. For example, a piece of content from Wikipedia, a sports score, or weather data.
Google Bard makes answers to natural language questions and pictures that are uploaded. When you search, you might get an answer and a list of links. But a Bard response could be the first of many conversations in a chat-like style. You can ask Google Bard to expand, clarify, rephrase, or make up a new answer at any time. When Google Bard extensions are turned on, it may also use personal data from Google services like Gmail, Google Drive, and Google Docs.
Conclusion
Google's move into generative AI search and tools like Google Bard show how AI is becoming more and more important to the search experience. As AI keeps getting better, we can expect search results that are even more personalized and fun to use. By adding AI technologies, Google will be able to better understand what users want, give them more accurate answers, and make experiences more immersive.
With the help of AI, Google's Search Generative Experience is changing how we use search results. Users can go on interactive story journeys and better look through search results with Google Bard and Generative AI Search. Even though these AI-powered tools have their limits, the future looks bright for how AI will be used in Google's search tools. Enjoy generative AI search and see the power of AI come to life right in front of your eyes.
FAQs
Can I use Google AI Bard on my phone or tablet?

Yes, you can use Google AI Bard on your phone. To use the feature, just open your phone's browser and go to the Google Labs website.

Does Google Bard come in languages besides English?

At the moment, Google Bard only accepts input in English. In the future, more languages may be supported.

How well does Google Bard work?

Bard's answers are checked by Google as an experiment, but the company makes it clear that "Bard may display inaccurate info, including about people, so double-check its responses. Your privacy & Bard"

When you use Bard, you should make sure that any response you get is correct.

Can the Google AI Bard be used for business?

Google AI Bard can be used for business purposes, yes. Google Bard can help writers, game developers, and content creators improve their work and keep people interested.

Do the stories that Google Bard makes have copyrights?

Google Bard makes up stories for each user that are unique and don't break any copyrights. It's important to read and follow Google's terms of service about how to use the generated content, though.