Are you experiencing the nightmare scenario of losing your important files due to accidental deletion, hardware failure, or a virus attack? Have you been searching for the best photo recovery software to bring your precious photos back to life? Look no further than Remo Photo Recovery.
In this comprehensive review, we aim to answer the burning question – Is Remo Photo Recovery the best photo recovery software on the market? Using thorough analysis and in-depth research, we will provide you with an objective evaluation of the software's features, performance, pricing, and customer support. Whether you are a professional or casual user, our review will help you make an informed decision on whether Remo Photo Recovery is the right choice for your data recovery needs.
So, buckle up and get ready to dive into the world of data recovery software, as we take a closer look at what Remo Photo Recovery has to offer.
Remo Photo Recovery Verdict
Remo Photo Recovery is an outstanding software that offers a reliable and efficient solution for recovering lost or deleted photos. With its user-friendly interface and powerful features, Remo Photo Recovery ensures a smooth and hassle-free photo recovery process.
The software's quick and deep scan options provide flexibility in recovering images, and its preview feature allows you to selectively recover specific photos.
Remo Photo Recovery's exceptional performance, combined with its intuitive interface, makes it a top choice for both novice and experienced users. With Remo Photo Recovery, you can confidently reclaim your valuable photos and cherish them once again.
Pros
Easy to use,
Wide range of supported storage,
You can scan and preview deleted files before you buy a license
Cons
Not Free,
Pricing might feel steep
About Remo Photo Recovery
Remo Photo Recovery is a data recovery software designed to help users retrieve lost or deleted files from various storage devices, including hard drives, memory cards, USB drives, and more. Here's a review of Remo Photo Recovery based on its features, performance, and user experience
Features of Remo Photo Recovery
Explore the powerful features of Remo Photo Recover
Wide Device Compatibility: Supports photo recovery from hard drives, memory cards, USB drives, and other storage media. Software is available for Windows and Mac OS both.
Multiple File Formats: Recovers a wide range of photo formats, including JPEG, PNG, TIFF, RAW, and more.
Quick and Deep Scan: Performs a quick scan to quickly identify recently deleted or lost photos. Also Conducts a thorough deep scan to recover photos from formatted or inaccessible storage devices.
File Preview Selective Recovery: Preview and selectively recover specific photos, saving time and storage space.
The list of useful features doesn't stop here but these are the main features you will be mostly interested in.
How to Use Remo Photo Recovery
To use Remo Photo Recovery, first, visit Remo Photo Recovery's official website and download it from there.
Launch the software,
Now Select the storage drive from where you want to recover files,
Now Scan will take some time depending on storage size,
When the scan completes you will see the preview of your lost and deleted files, preview those files,
Select files you want to recover and save them to a different storage drive from where you recovering to make sure you don't overwrite them while in process.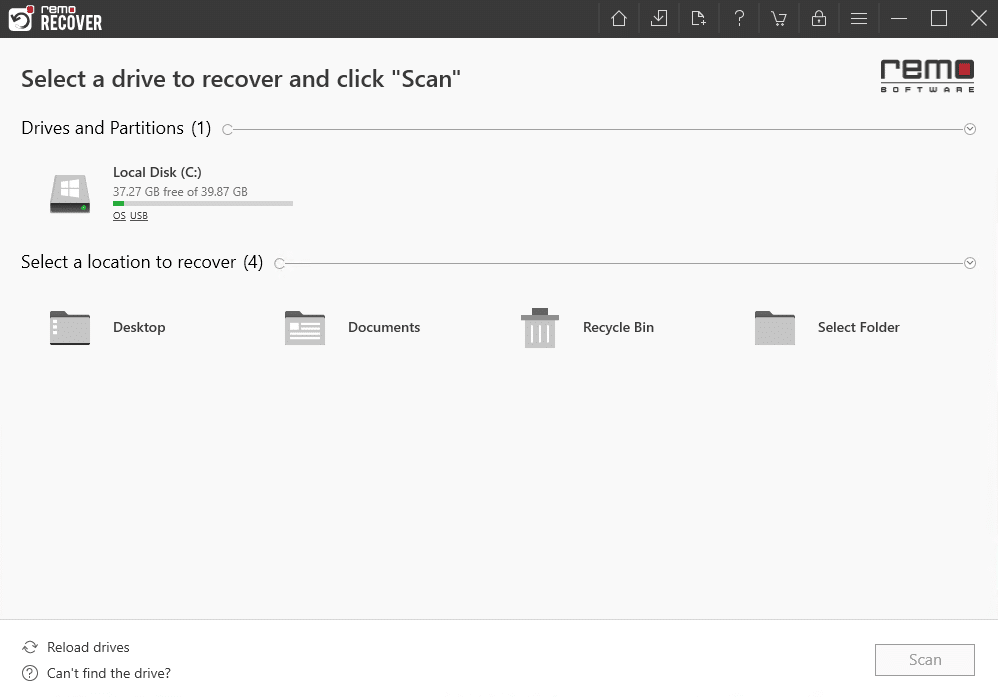 Conclusion
In conclusion, Remo Photo Recovery software stands out as a dependable and efficient solution for retrieving lost or deleted photos. With its impressive range of features, intuitive interface, and reliable performance, Remo Photo Recovery seeds confidence in users seeking to restore their valuable memories. Whether it's accidental deletion, formatting, or other data loss scenarios, Remo Photo Recovery emerges as a trusted companion, ensuring that your precious photos are recovered safely and effectively.