WhatsApp offers a great way to stay in touch with friends and family all over the world. One of the new best features of WhatsApp is the ability to use message reactions. Message reactions allow you to quickly and easily respond to a message without having to type out a response.
Message reactions are not something new that WhatsApp is introducing, the same feature is available on iOS messages, telegram, Instagram messages for a long long time.
WhatsApp just started rolling out this feature in Beta to their users.
UPDATE: WhatsApp now allows all emojis to be used as reaction. previously it was limited to just 6 emoji.
How WhatsApp Message Reactions Look
I have installed the beta version of WhatsApp and after a few days I got access to message reactions, here is how it looks on the phone,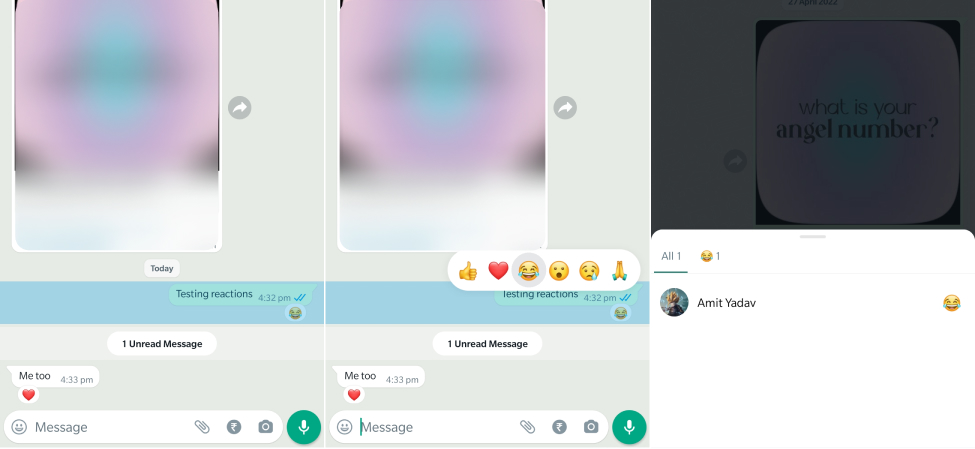 You can see by who reacted with what emoji,
You can also react to your own messages too.
Who can use WhatsApp message Reactions?
Join Beta WhatsApp to test message reactions to be specific beta version 2.22.8.3
You can get your hands on beta by joining the Beta program on the Google Play Store or sideloading the beta .apk from websites like APKMirror.
Once you have your hands on Beta then you can cross your fingers 🤞and try to use the feature because this feature is still rolling out.
How do you react to a message in WhatsApp?
Message reactions are rolling out is confirmed by Mark Zuckerberg in a Facebook post and previously by Will Cathcart in a tweet. You can read about other features that are soon coming soon to WhatsApp on the WhatsApp blog post.
To use Reactions on messages just follow these simple steps
Open the Chat where you want to react to a message
Press and hold on to the message for pop-up
In the pop-up, you will have 6 emojis(👍❤️😂😮😢🙏) that you can use to react
Tap the emoji you want to use as a reaction
Your reaction emoji will now appear below the message
The list of emojis will expand in future current you can use only these 6 emojis:👍❤️😂😮😢🙏
This single feature will save time and effort you put in chat to find who reacted to your message.
Now you don't have to juggle emoji replies to any congratulatory messages or important messages.
This will also increase engagement from users who just lurk around the group and never reply, now they can react to msg without writing a single word😂.
Since message reactions are added a new setting is also added to toggle reaction notifications in settings,
Settings->Notifications->Reaction Notifications