Netflix is the biggest streaming services provider and you can enjoy Netflix not only on your mobile, computer and smart TV but also on game consoles and Blu-ray players and many other devices,
The only question is what you are going to watch on Netflix because Netflix has a massive library of movies, shows and Netflix Originals, it's really hard and confusing to choose one. Netflix also generates thumbnails and suggestions based on your interest profile so it's really hard to stop your temptation to watch a movie and regret at the end because you didn't like the movie.
Here are some of the great apps that will enhance your Netflix watching experience because you will be able to better select a movie that you are really going to like. To find your favourite shows use Secret Netflix Codes
So let's get started
Must-have apps for Netflix
Flutter
Netflix has now become a one-stop solution for your entertainment need, you can watch movies, serials and Netflix originals all at one place.
Only one problem is there that Netflix by default doesn't show IMDb ratings of any title available on Netflix and IMDb ratings gives you a better picture of how real audience like that title.
One solution is that you copy the title you want to watch head over to IMDb website or app and check rating Or use Flutter app where you don't have to leave your Netflix app, every time you open any movie or shows details screen Flutter will show IMDb rating of that movie as a bubble overlay.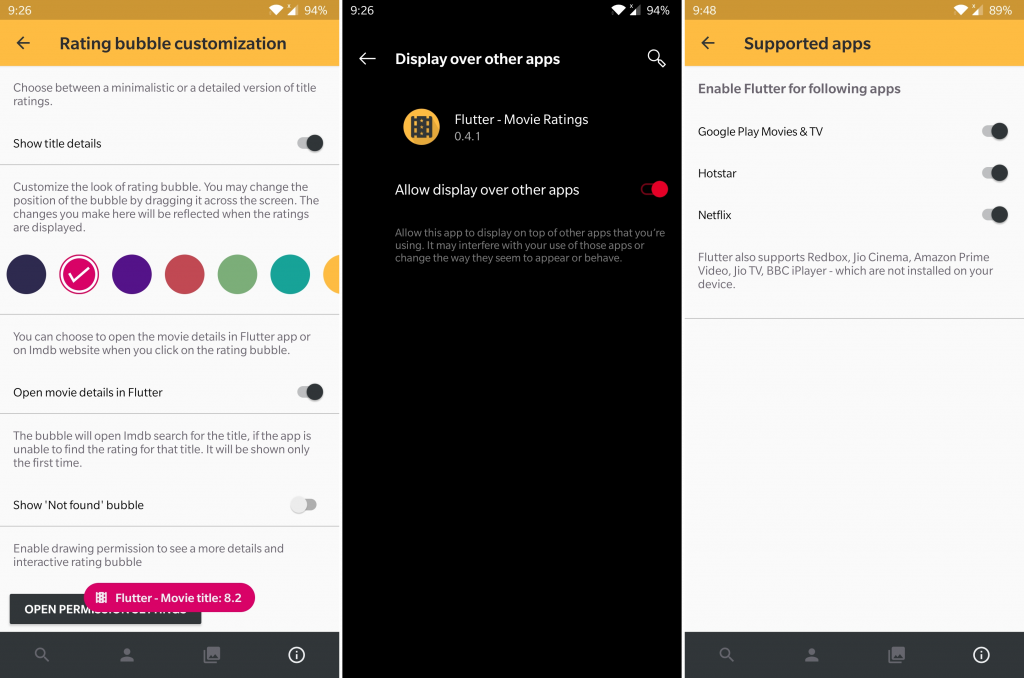 First, install Flutter app and give overlay permission to show rating bubble over app and accessibility permission to read the movie and show the title name from the screen.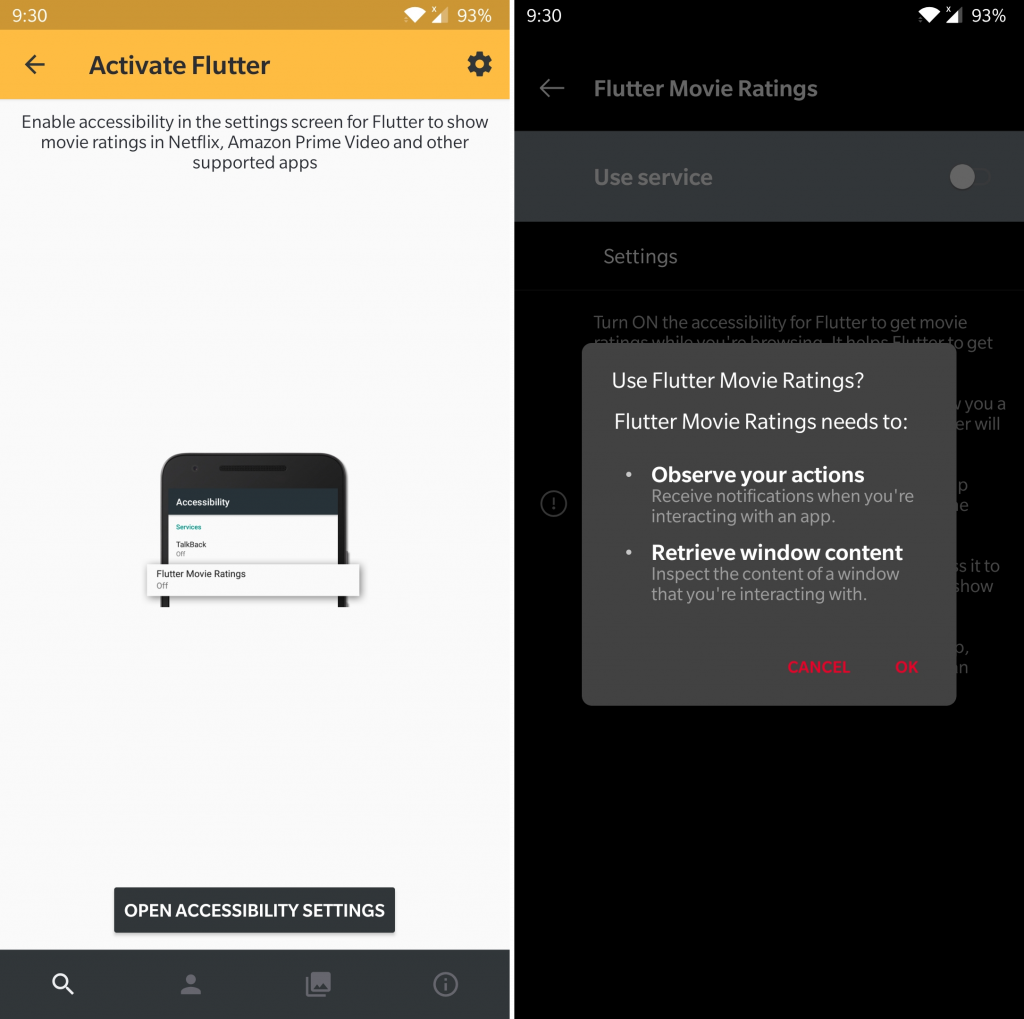 and also don't forget to remove the app from battery optimisation list otherwise android will stop the app from running in the background.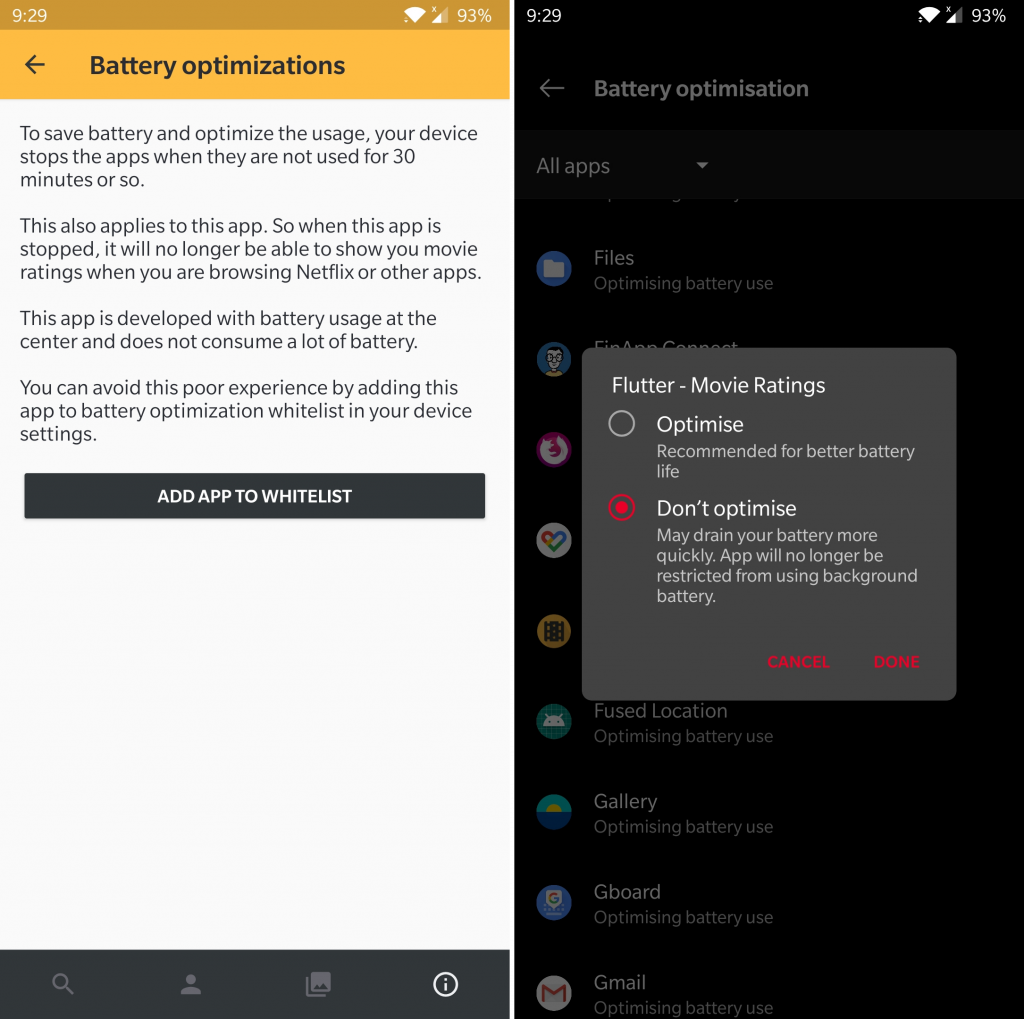 Just watch
If you have subscriptions of streaming services like Netflix, Hulu, Hotstar and don't know which movie available on what platform then Just Watch is for you.
On Just Watch you can search and create your own watch list, you don't need to create multiple watch list on every platform just create one watch list and every time you have time select the movie you want to watch, app will show you on what platform that movie is available in what quality you just have to select your favourite service nothing else.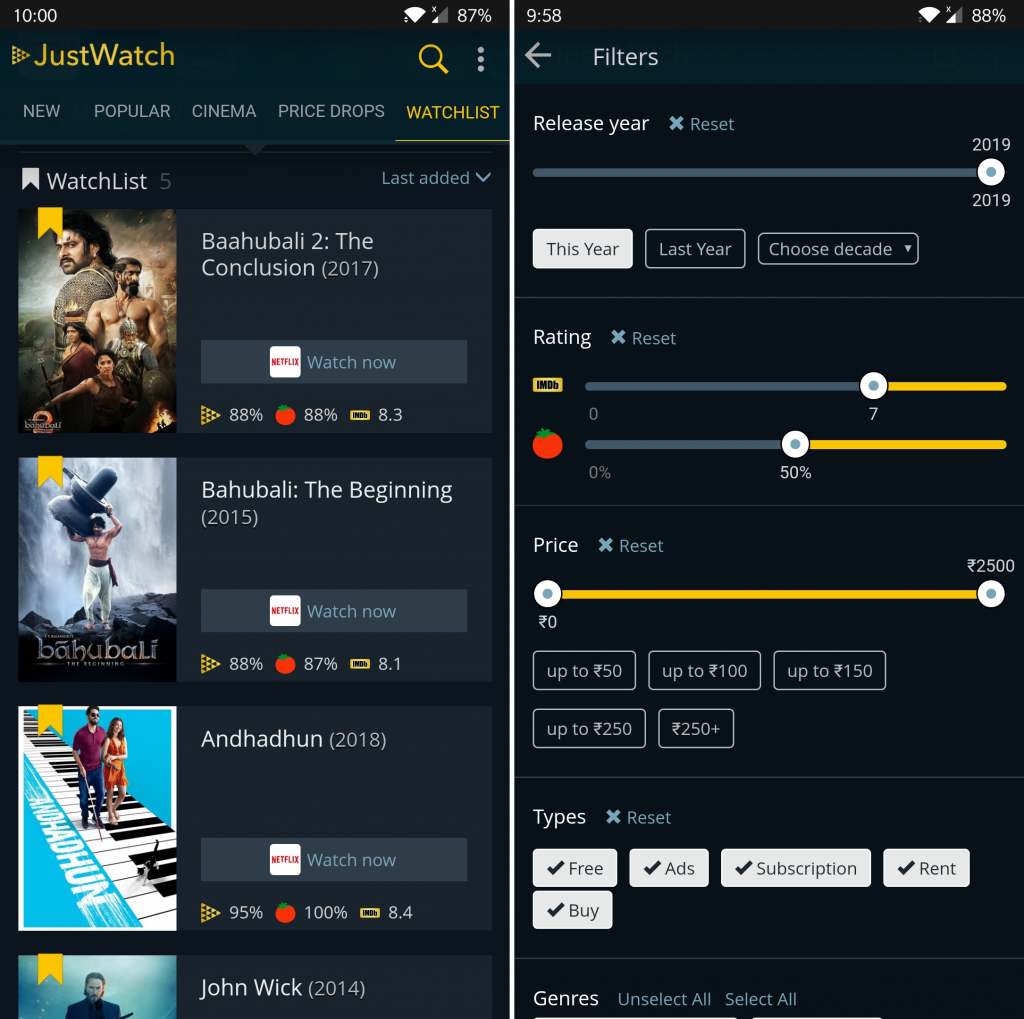 If Netflix doesn't have your selected movie then Just Watch will show you from where you can buy and rent it or directly stream that movie, so you don't have to jiggle around multiple apps.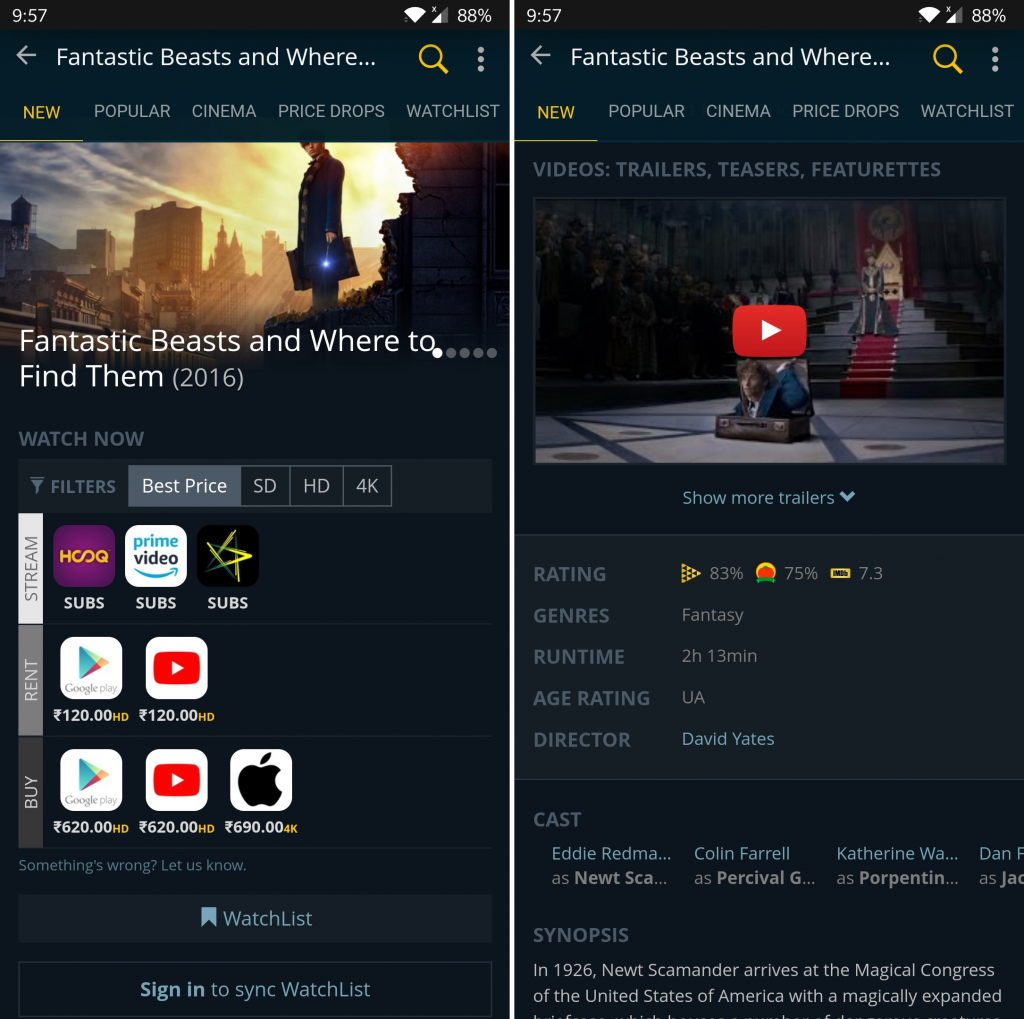 Just Watch will show you in timeline manner when new titles added to Netflix so you know what's fresh on Netflix, Just Watch also shows you ratings from IMDb, rotten tomatoes in-app so you know what's worth watching.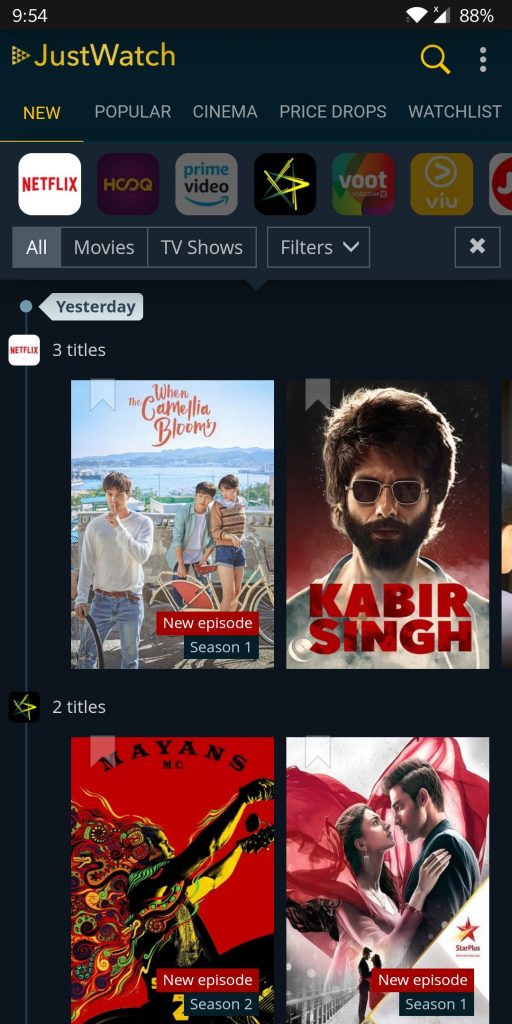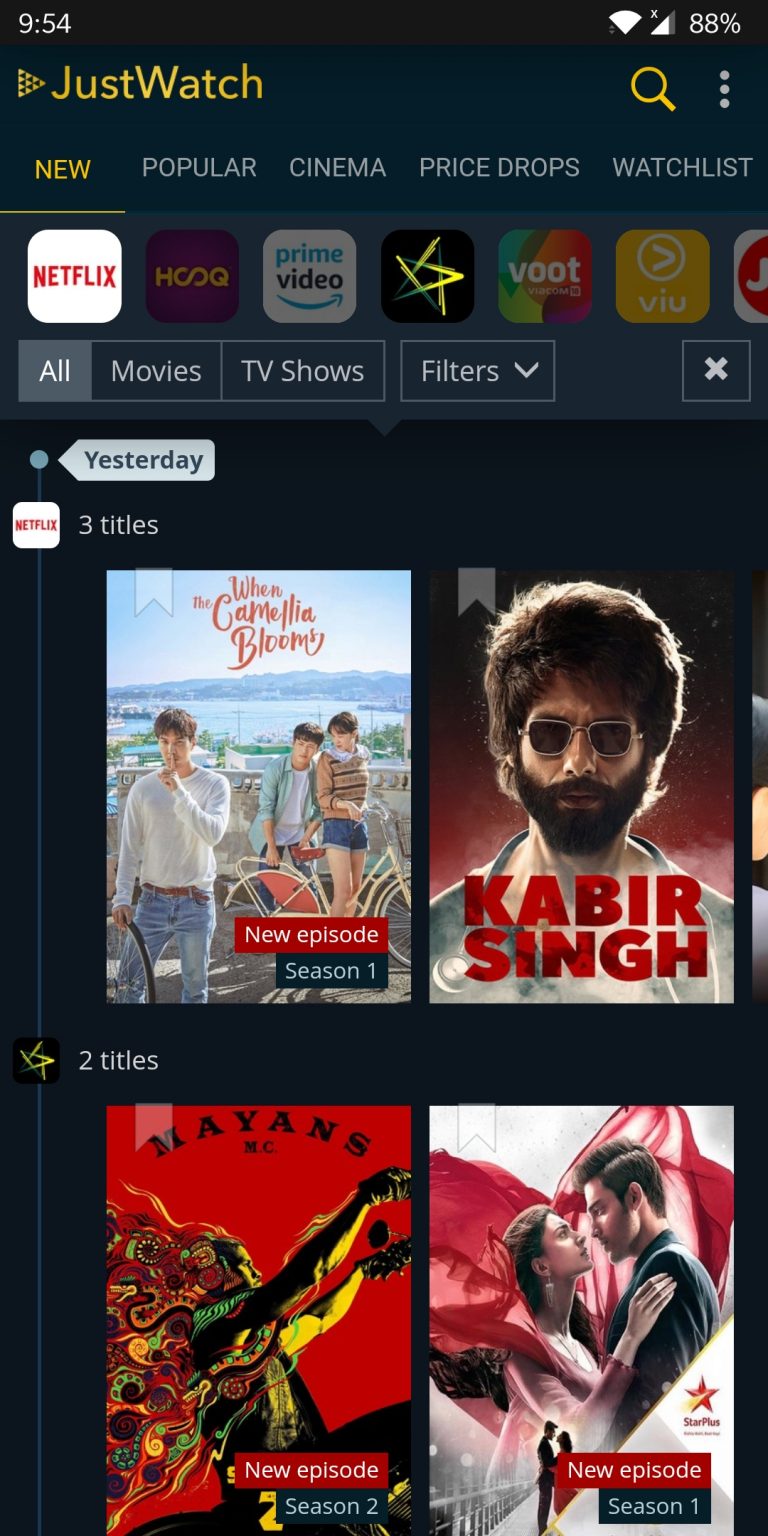 visit
justwatch.com
Rave
Watching Netflix with friends is something different experience than watching alone at home to solve this problem you don't have to drive to your friend's house just use Rave.
Rave gives you a medium to sync your Netflix watching experience with your friend, you can chat and talk at the same time while watching Netflix.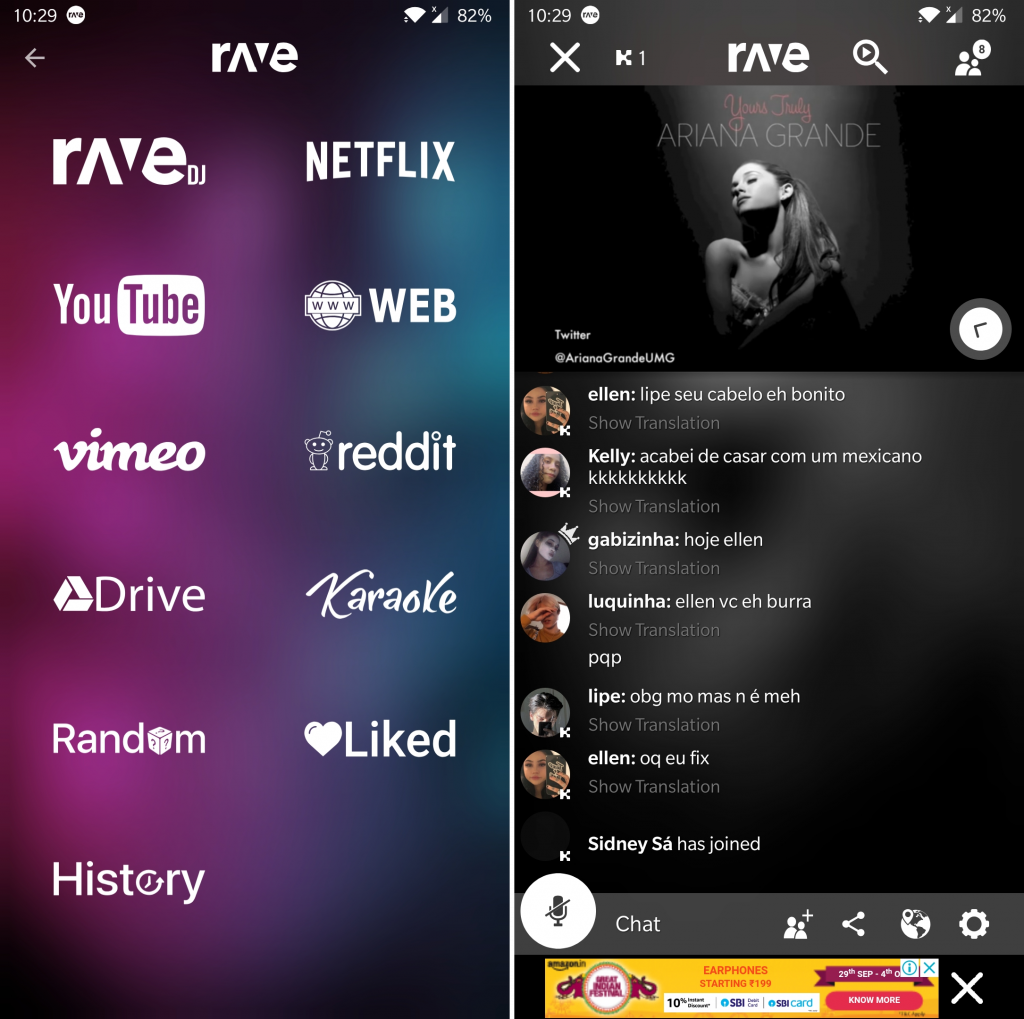 For Rave to work you and your friend both need to have a Netflix account. Rave also works with YouTube, Reddit, Vimeo and many more.
https://play.google.com/store/apps/details?id=com.wemesh.android
VPN Apps
All content of Netflix is not available to a global audience, some content is geo-locked so if you want to watch that content you have two option either visit that country or use VPN to simulate that you are in that country.?
If you have chosen VPN option then here are some paid VPN that works with Netflix, free VPNs are unreliable and steals your personal information. You can try free trial of paid VPNs to check what works for you.
You can check more on /r/NetflixViaVPN/
Vidangel
While watching Netflix movies and shows with the family ever felt awkward because of language and scene show on the screen, nowadays every movie has some scenes that will make you uncomfortable to watch it with your kids and family.
Vidangel app that will solve this problem for you just connect your Netflix account and filter objectionable visual and audio right from the app before watching the movie.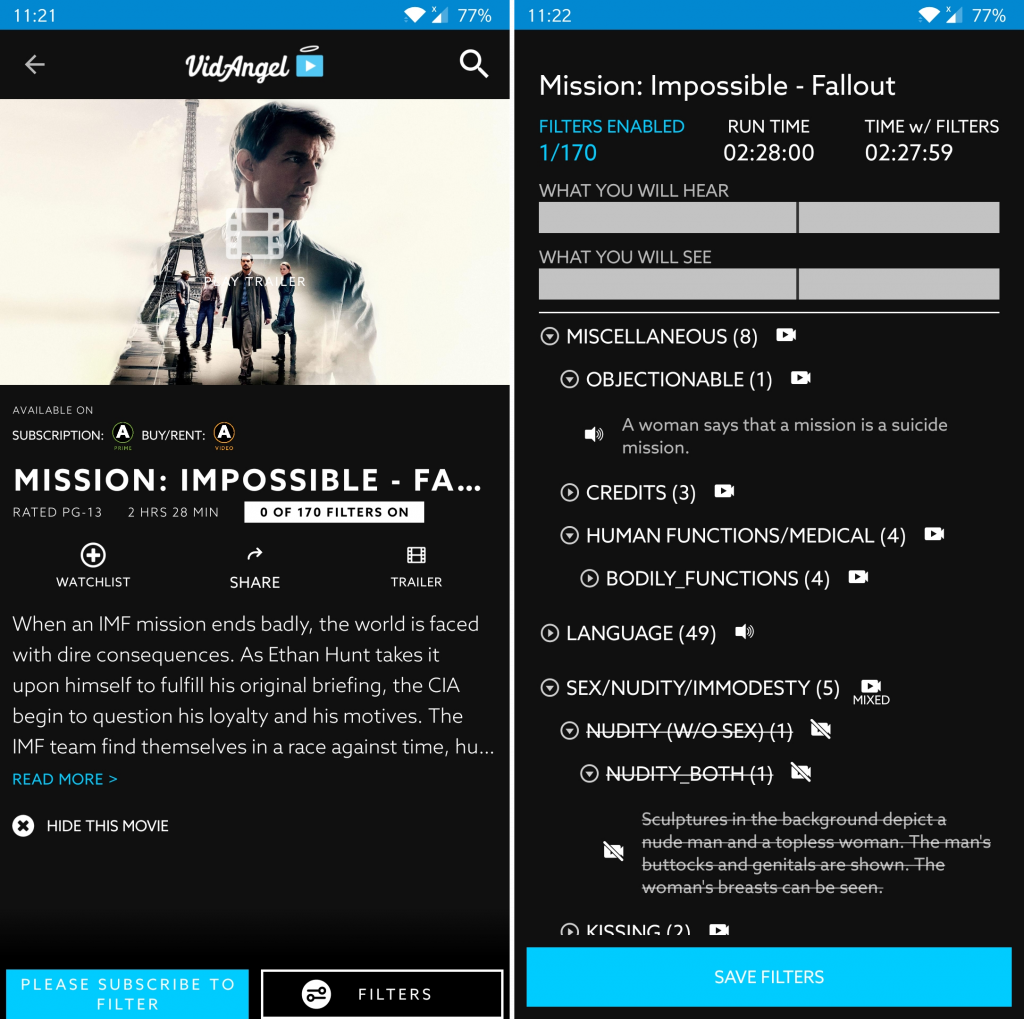 Vidangel app needs a subscription of $9.99 /month to connect your favourite streaming service with app and automatically filter content based on your selection.
Filter your content to make it a safe watching experience for kids and family from 18+ to Kids friendly or enough friendly to watch in public commute without tilting your screen.?
Reelgood
Let's spin the wheel to select the movie you should be watching today on Netflix,
Reelgood has many features but one of the best is roulette where you can select genre, minimum IMDb rating & rotten tomato score to let the roulette decide a move for you today and if you don't like the suggested movie hit the spin button again?.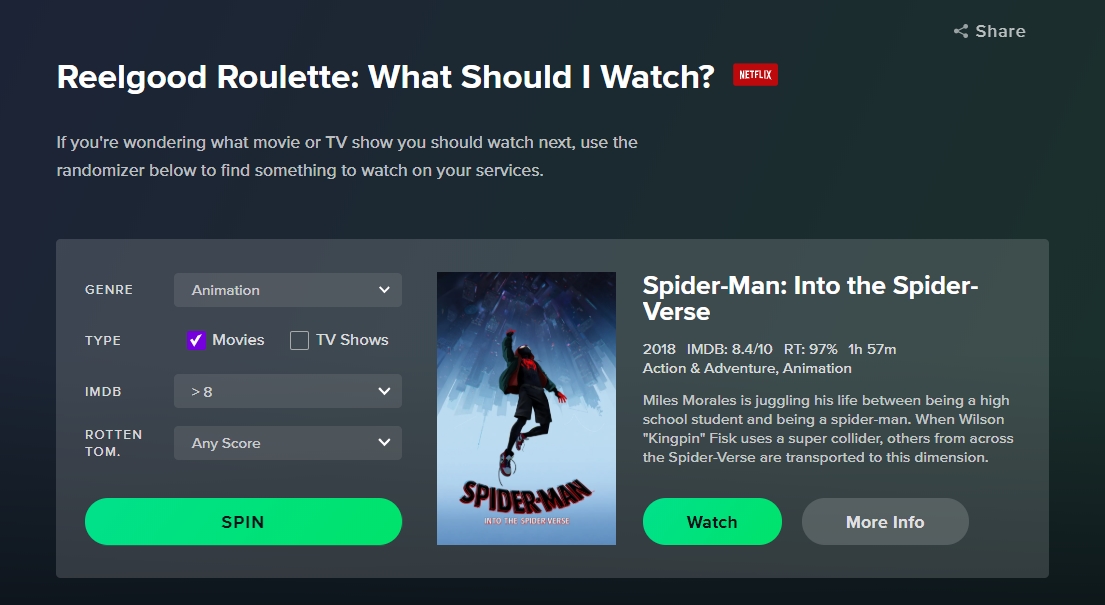 You can also check what's popular, New, Movies & Shows on Netflix even coming and leaving on Netflix also because Netflix adds lots and lots of content time to time bases.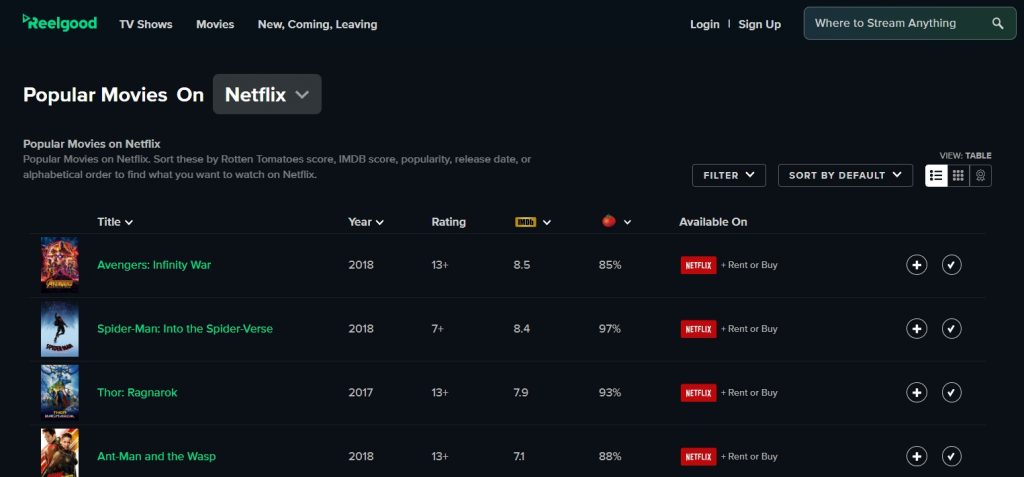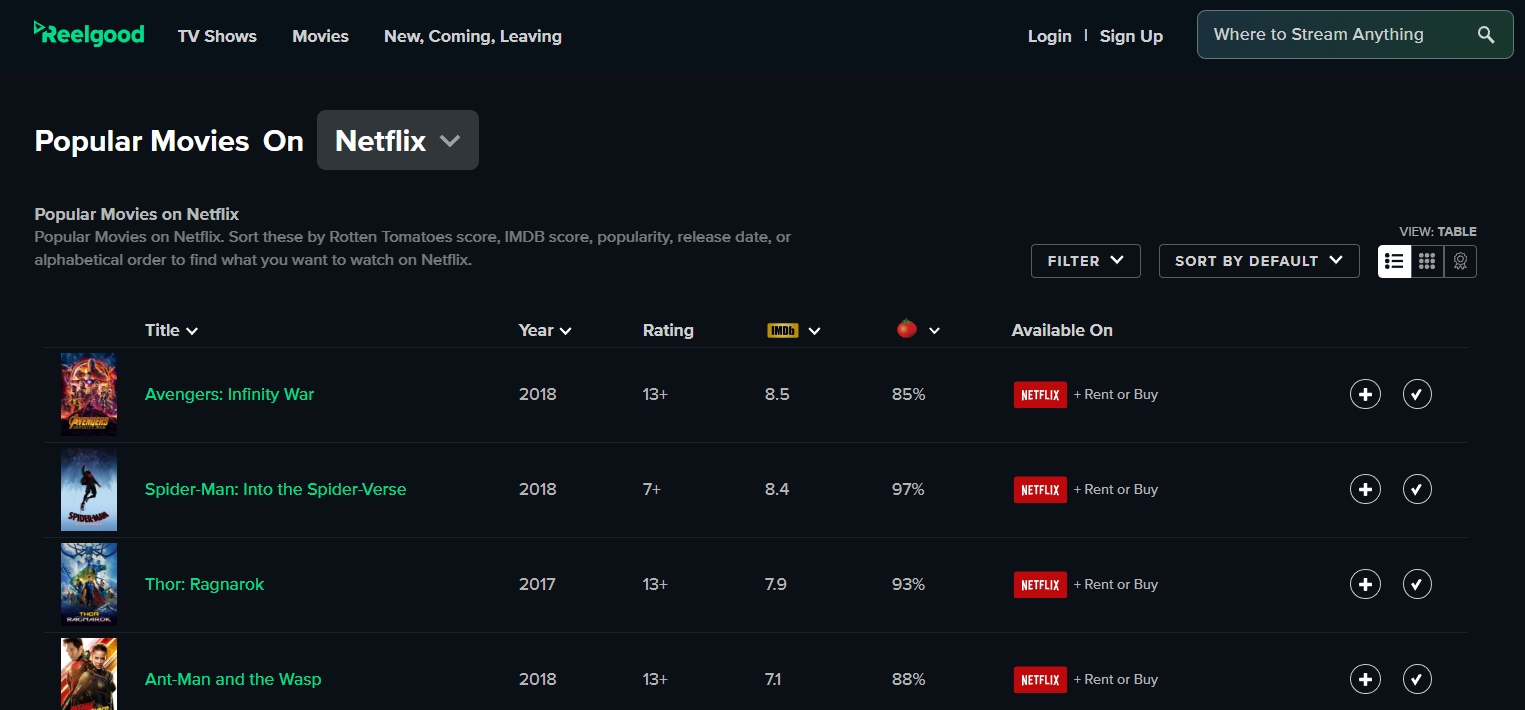 Visit reelgood.com
Flixable
Flixable is another good website that lets you search moves and shows on Netflix and gives you direct link to watch it on Netflix,
You can filter your search with IMDb ratings, genre, audio language to find best content on Netflix, you can obviously sort the result by release year, rating and title.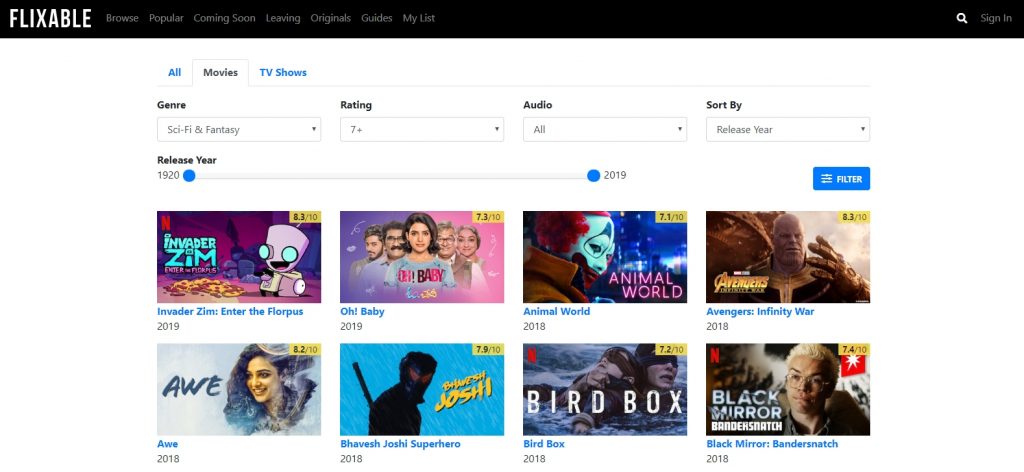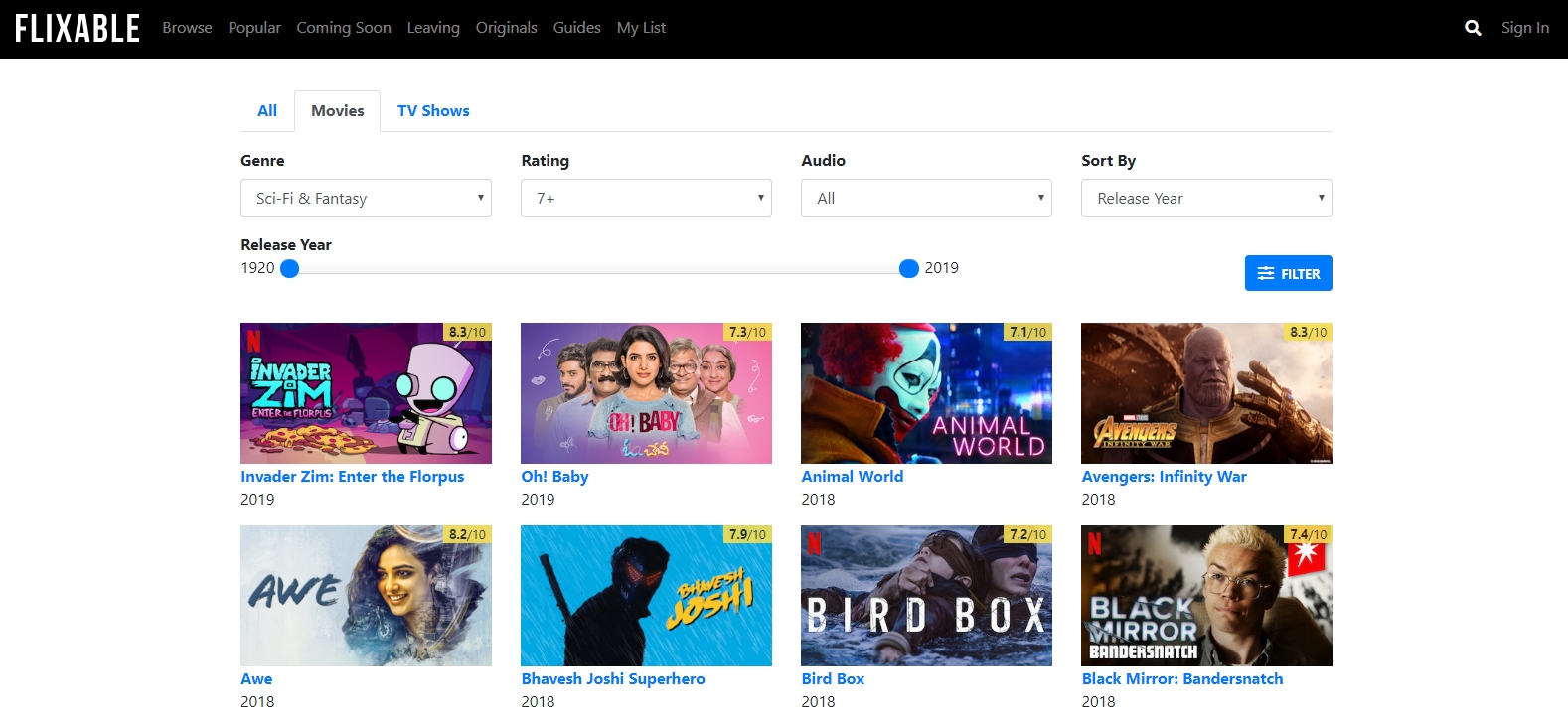 Visit flixable.com
That's a Wrap
I hope you found some useful app and websites here to ease your Netflix content searching experience. Now can decide easily what to watch and what not easily.
There may be more services available for Netflix that provide wonderful services so let us know about any of the services and we will be happy to share that with everyone.