Ever wondered what you listen to on Spotify and want to know how much you've listened to it?
Spotify is a close second to YouTube when it comes to music streaming services.
You not only get access to millions of tracks but can also follow your favourite artists, save playlists and create your own playlists.
Spotify lets you view basic stats such as your top artists and tracks of the month.
If you are looking for ways to comprehensively view your Spotify stats, we have got you covered. In this article, we will show you how to see your stats on Spotify.
See Spotify Stats on PC (Desktop, Web)
Open the Spotify app or Spotify web player then click on your name at the top right corner to open the menu, then click on 'Profile' from the menu to open your Spotify Profile.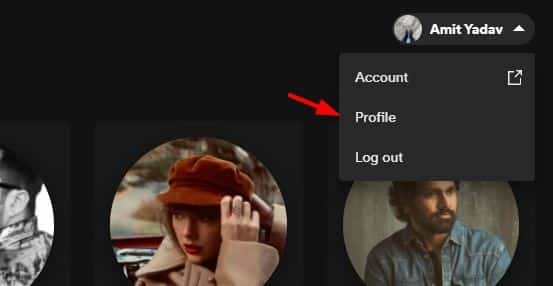 Once you are on your Spotify profile page you can see the following stats
Top artist this month (50 artists)
Top tracks this month ( 50 tracks)
Public playlists
Recently played artists
Followers
Following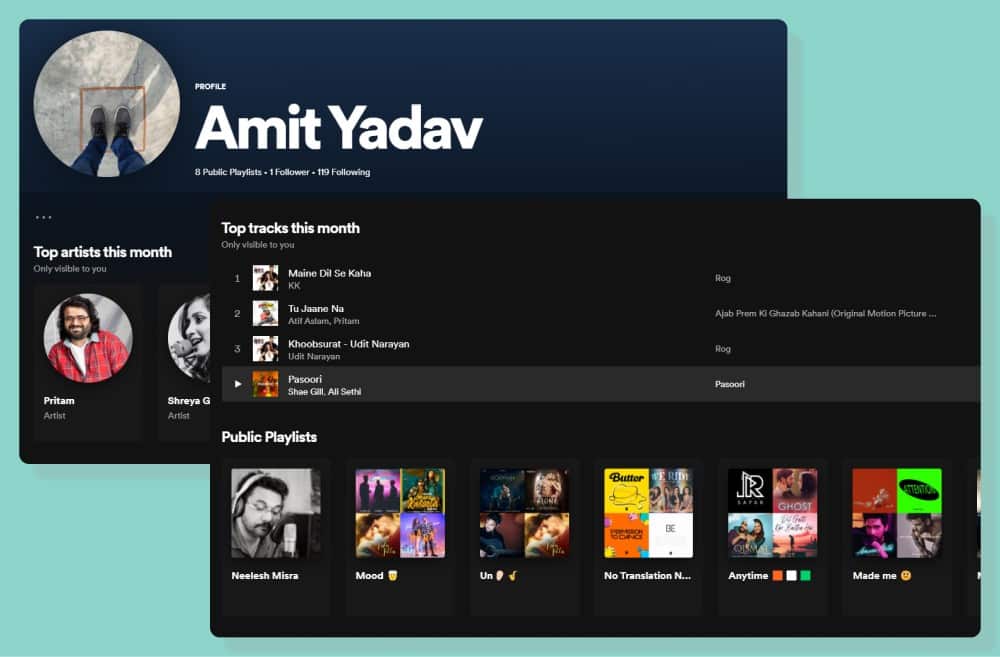 This Spotify stats don't actually reveal anything interesting based on your stats, like all-time favourite tracks and artists.
To see more details stats about your Spotify keep reading where we will be using some third-party websites to pull data about your Spotify account.
See Spotify Stats on Mobile (Android, iOS)
Data available to see on Android and iOS is pretty limited,
the only thing you can in the app is 'Recently played artist' even to see this you have to enable it from settings to show recently played artist on your public profile.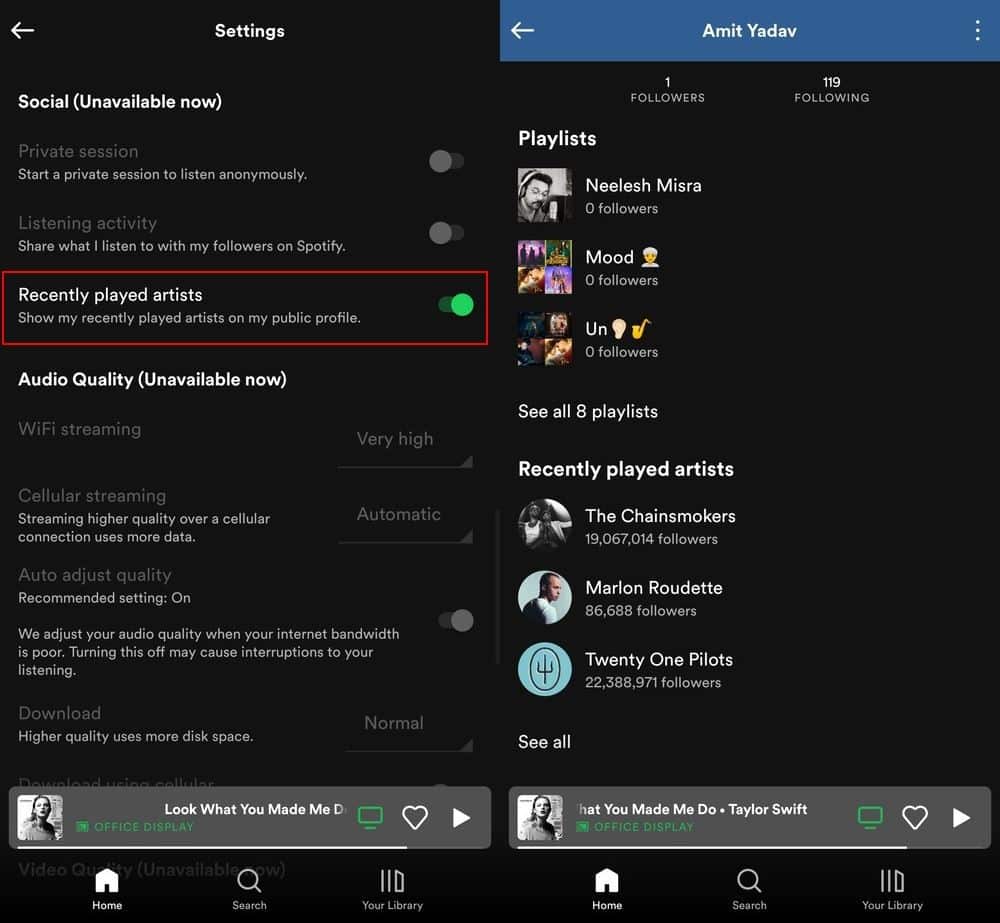 If you don't want to show this on your public profile then you have to disable this setting after seeing the recently played artist list.
Instead of going through this hassle best option is to open Spotify Profile in the browser to see more stats about your Spotify account.
Check Spotify Wrapped to Revisit your Top Songs
Spotify wrapped is now an annual tradition of Spotify to showcase every user's top songs of the year. This wrapped
Spotify wrapped started in 2016 to show a compilation of the most played songs, artists, and genres in the year in proper format and playlists so Spotify users can enjoy and share the content with others.
You can see all Spotify Wrapped from 2016 to the previous year and if you used Spotify in these years, You will also find one playlist that lists your top played songs of the year.
Mine top played songs list is present from 2019 as Spotify started making Spotify Wrapped from 2019 for Indian users,
You can check Spotify wrapped from 2016 to the previous year to see if your top song's playlist is there or not.
Here is a link to all Spotify wrapped pages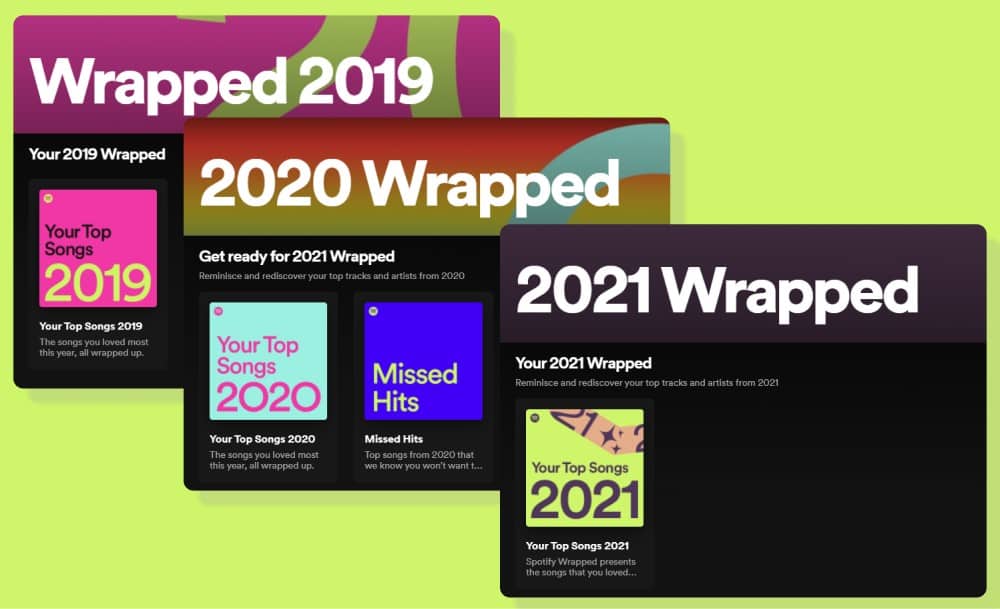 Third-Party Sites to Access your Spotify Stats
Before you begin keep in mind that third-party sites do provide you with more in-depth details about your Spotify account but that also means your data is shared with them.
If you are more concerned about how they treat your data then do check out their privacy policy to see how they treat your data.
Once you are ready to use third party sites continue below to know most about your Spotify.
Use Volt.fm to See Your Spotify Stats
If you can't wait for the annually Spotify Wrapped you can make your own wrapped early by using volt.fm + Spotify.
Volt.fm provides more in-depth data about your Spotify account that Spotify is not telling you.
First, step first go to volt.fm and sign in with Spotify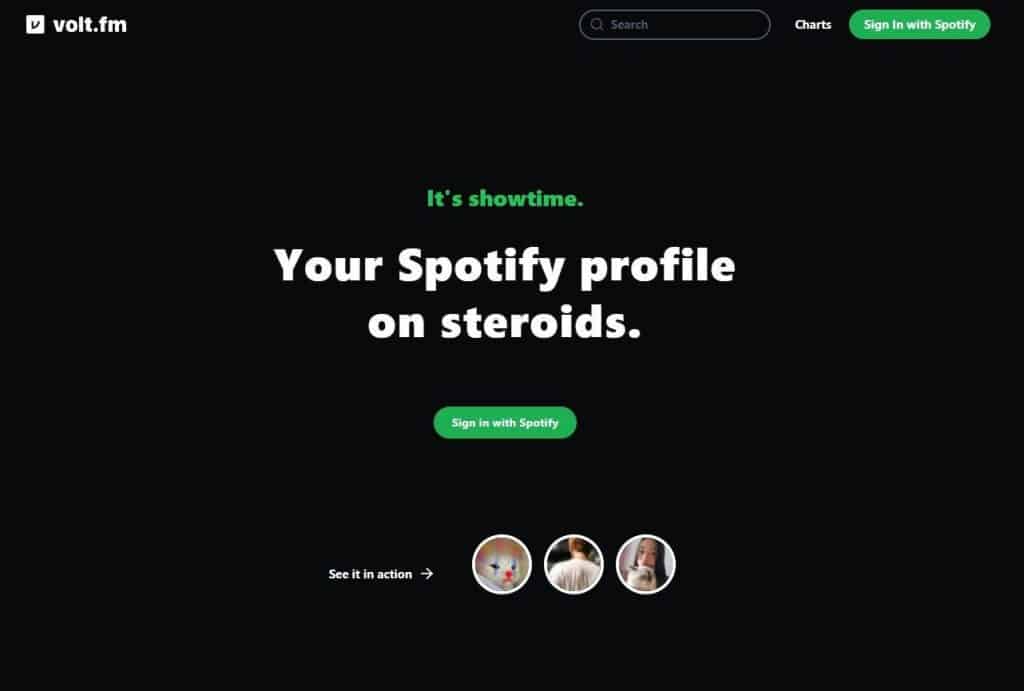 Accept the terms and conditions and read what data volt.fm will see from Spotify once accepted. You can always remove permission once you are done with the application.
After login you will be redirected to your dashboard, You will receive a publically accessible URL, so keep it secret if you don't want to share it with anyone or just go to settings and make your profile private.
All data available on the page is available in 3 timeframes: 1 month, 6 months and all time.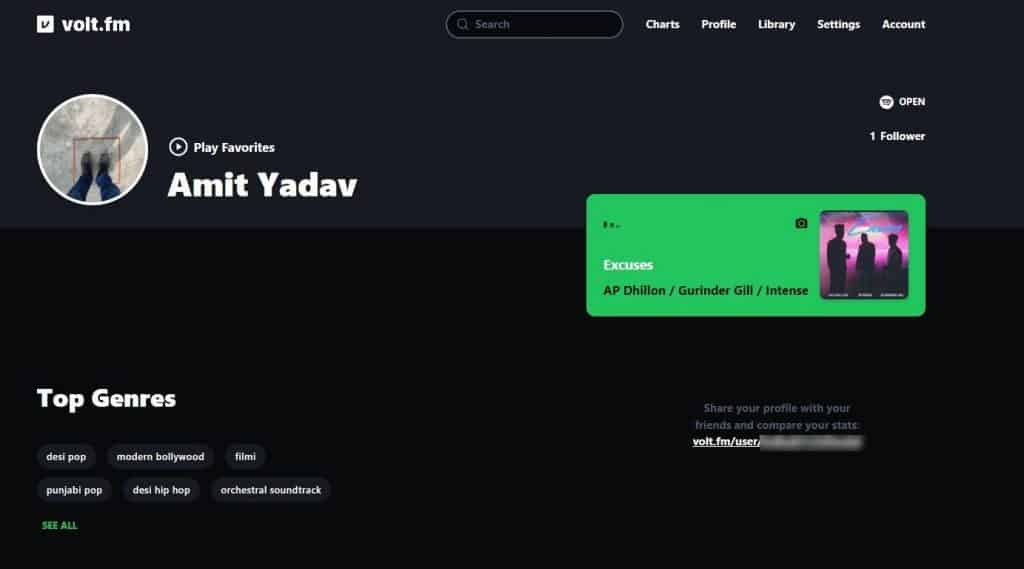 At the top of your page, you will find Top Genres played by you, you can click on see all to see more genres.
Scroll down on the page to see your Top artists and Top songs, you can change the timeframe in the list to see the top songs and artists during 1 month, 6 months or all time.
Click on the see all button to see the full list of 99 items in the list.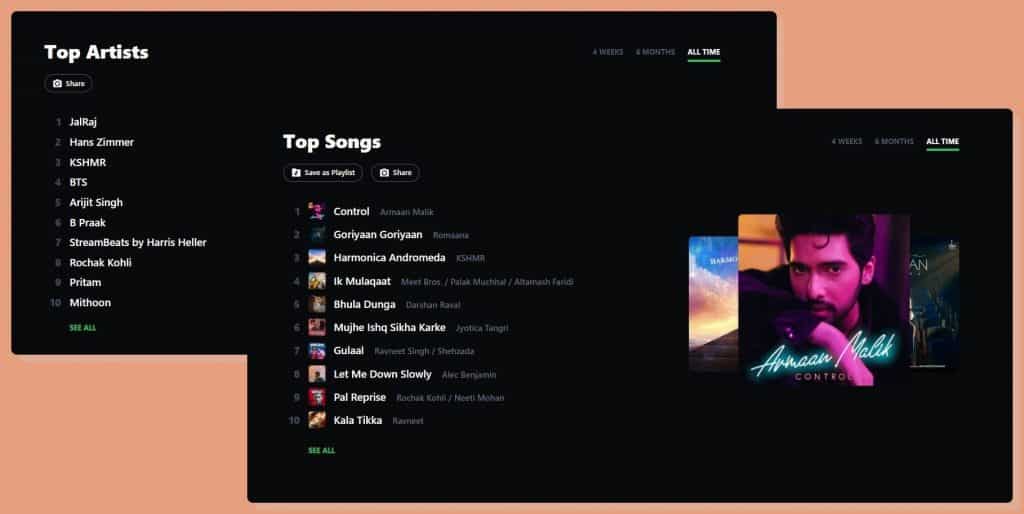 Scroll more to see the Analysis of your Spotify songs, like
What type of music do you listen
You listen to popular songs or average songs or songs that few users enjoy
Songs you listen to based on the release date, Your newest listened song and your oldest listened song
Songs by length, in two categories songs shorter than 5 minutes and 6-10 minutes.
I find some of this data incorrect like songs by release date specifically.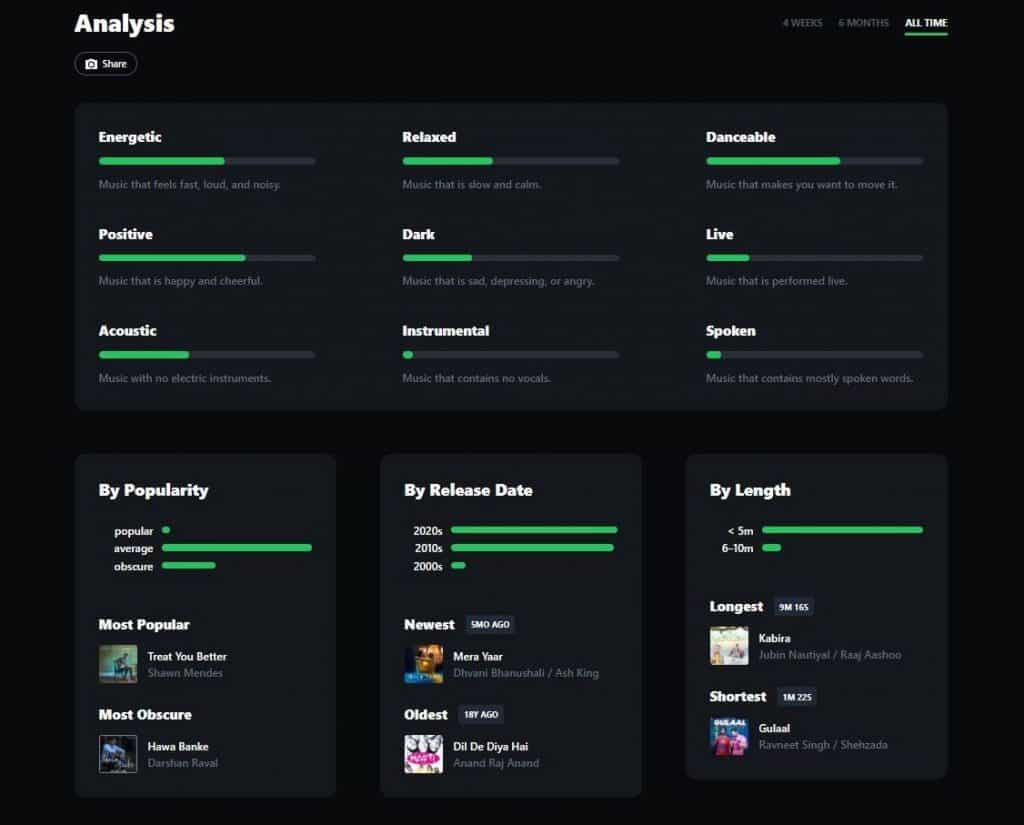 volt.fm offers more features and settings you can check and customize your profile.
Check your Spotify Stats with Stats.fm
Stats.fm offers Spotify stats in beautiful UI.
You can easily navigate through UI to see your Top artist, tracks and genres easily, you can also see the date for 1 month, 6 months and all time. Pro members can see the data based on custom duration.
Many additional data points are only available to premium users only.
Use 'Stats for Spotify' to Check your Spotify Stats
Stats for Spotify is one o the simplest and most straightforward way to know your top artist, songs and genres list.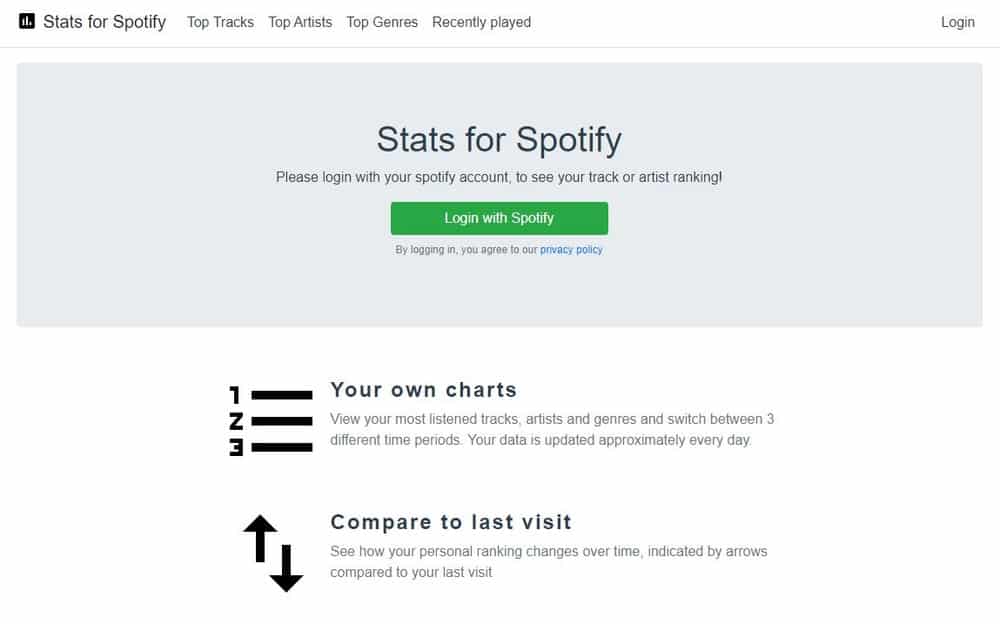 Just log in to the site and select one of the options from the list
Top Tracks
Top Artists
Top Genres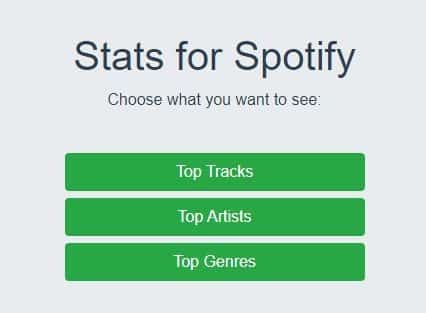 Here you can see all the stats about your most listened to artist, tracks and genres.
You can change the time frame to know your current most listned tracks to all-time most listned tracks.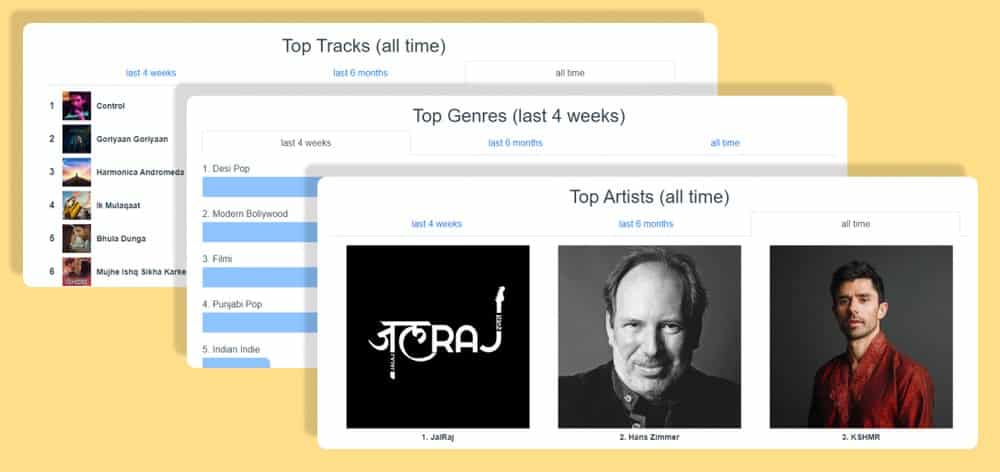 From the navigation menu, you can also check the Recently played songs list with the date and time you played the song.
Try Obscurify to Know How Obscure Your Music Taste Is
Have you ever thought about how unique is the Spotify songs you listen to?
Obscurify is here to tell you exactly that.
You can compare your stats with other users' stats in your country or with any other country that used the obscurity site.
First, visit Obscurify Music and log in with Spotify
Once you accept the data access permission of Obsurify you can continue
After login, if you scroll down the first thing you will is the top genres you listen to,
You can click on the genre to see the artist name that comes under that genre.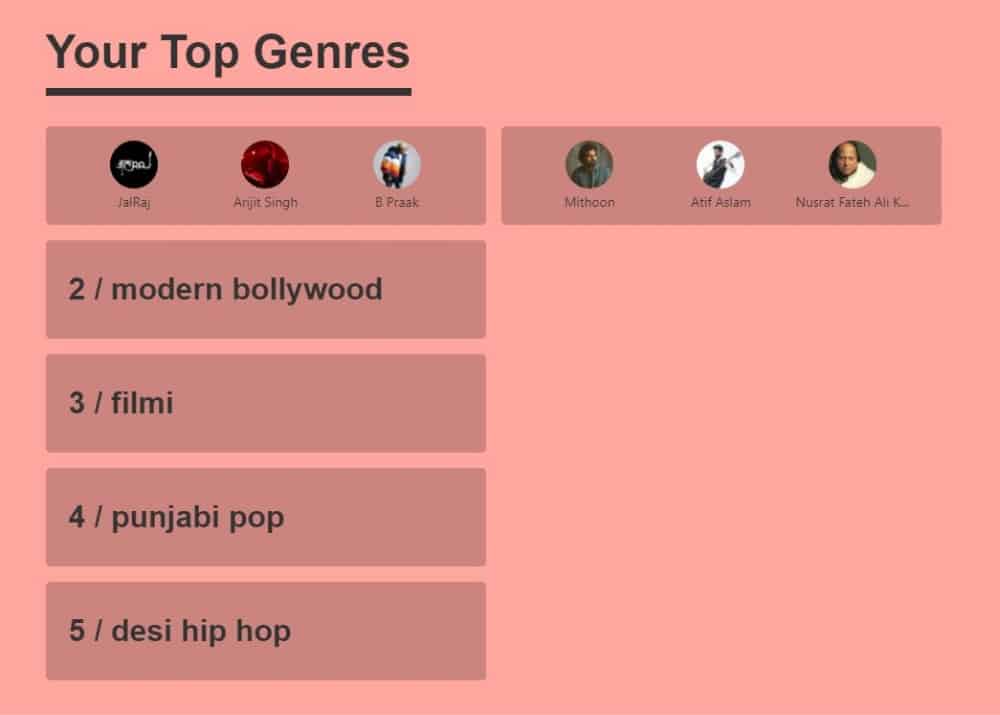 Scroll more and You will find the Obscurity Rating that tells you how unique songs you listen to.
You can change the country to change the data shown on the page, Obscurify automatically selects the country selected in your account.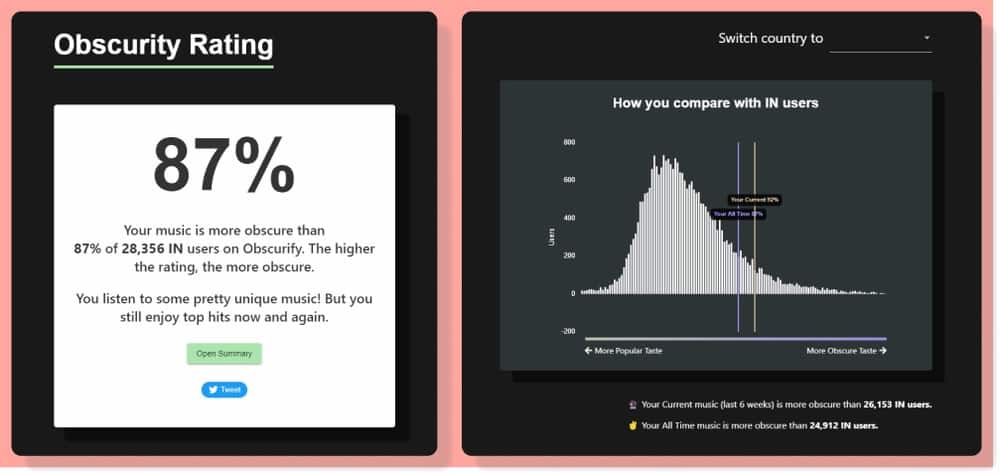 You can click on 'Open Summary' to see the top songs and artist names pop up.
Scroll more to find Your Most Obscure Artist and Tracks list that list may contain songs you just randomly played some time, the same goes for artists also.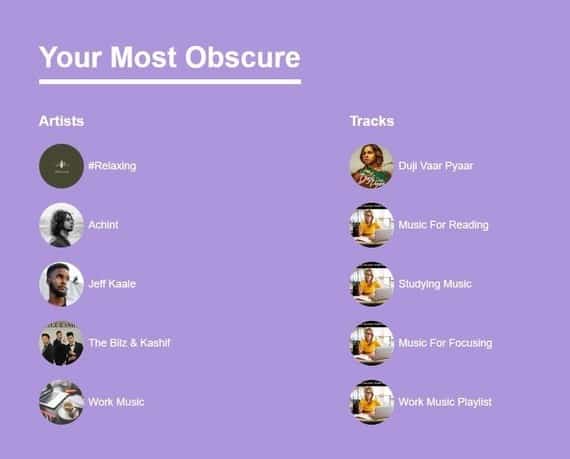 Scroll a little bit more to find some more about the Mood of the songs you listen to,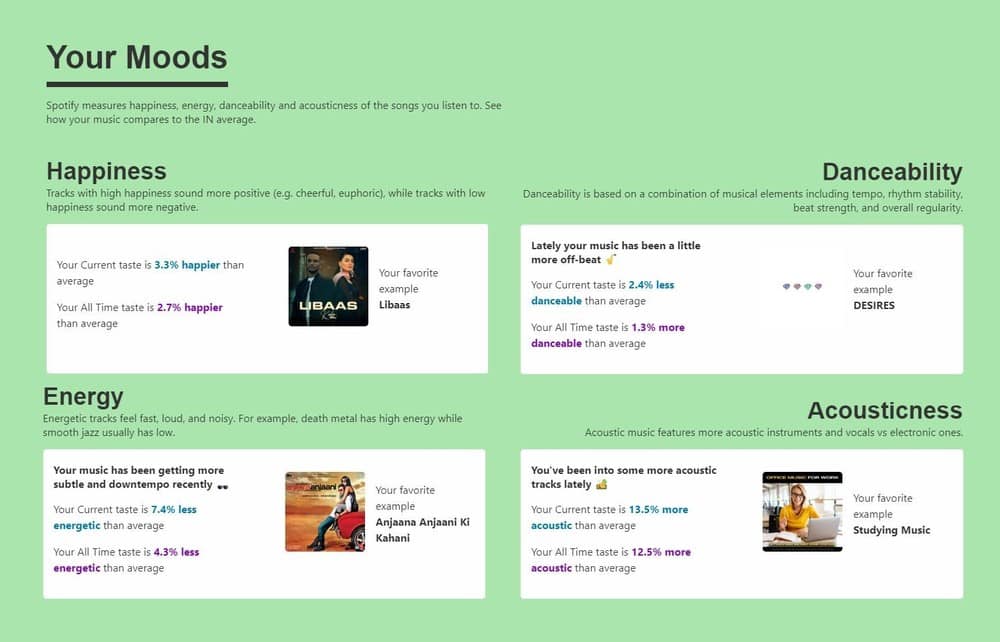 Scroll more to find some more sections that will give you details about
Top artist, songs
Music of what decades you listened to,
As for me, I have listened to music from different decades. if click on any one of them you can see the songs that belong to that decade.
You can create your unique obscurify profile to compare your music taste with your friends.
At the end, you will have some recommendations of songs you should listen to based on your music taste.
'How Bad Is Your Spotify' Test
No like to be judged? do You?
But you would love to be judged by this A.I that judges your taste in Music by looking at your Spotify music listing history. You can also try it with your Apply music if you like.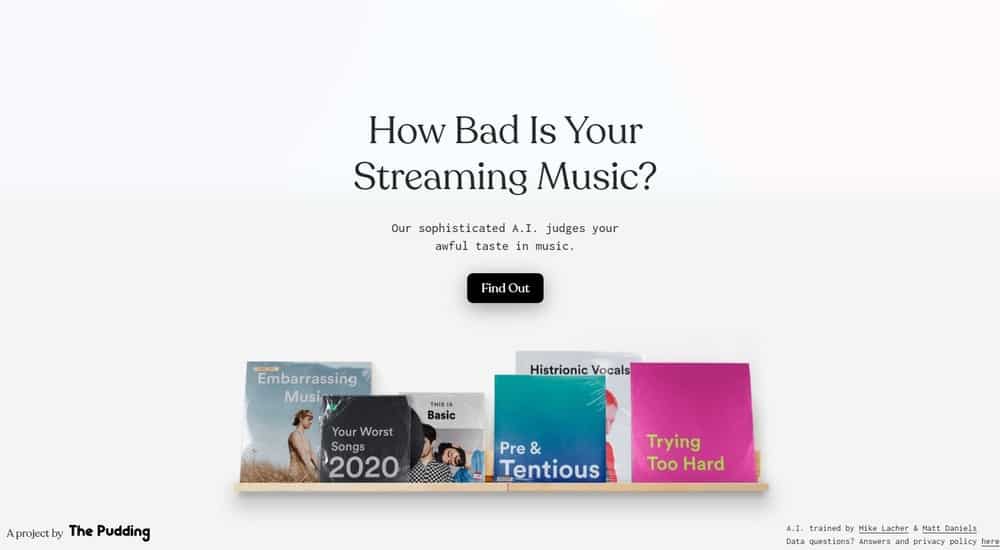 First, visit Judge My Music and click the 'Find Out' button and then Log in with Spotify,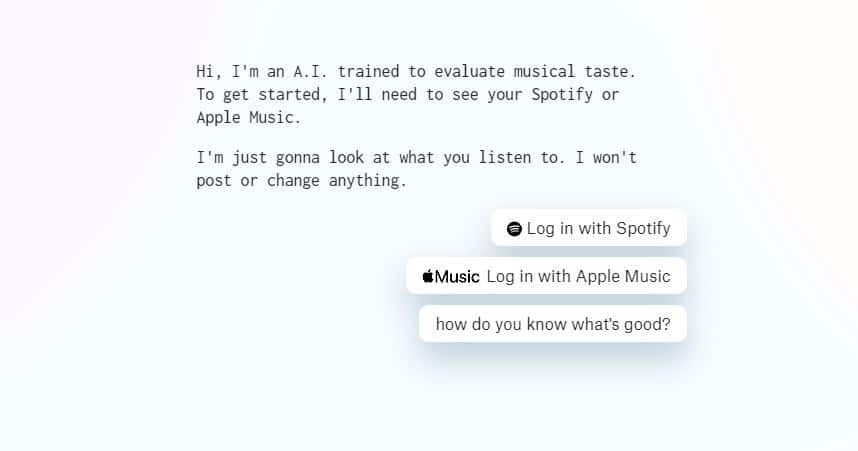 Once you accept how much data they will access from your Spotify account you can see the A.I in action.
Answer some fun questions and enjoy the process
After some time you will see your final page where you will have the result,
Here is mine, I don't actually listen to BTS that much, only 5-6 songs of BTS but I was judged for that😂. Comment down your favourite BTS song name in the comments.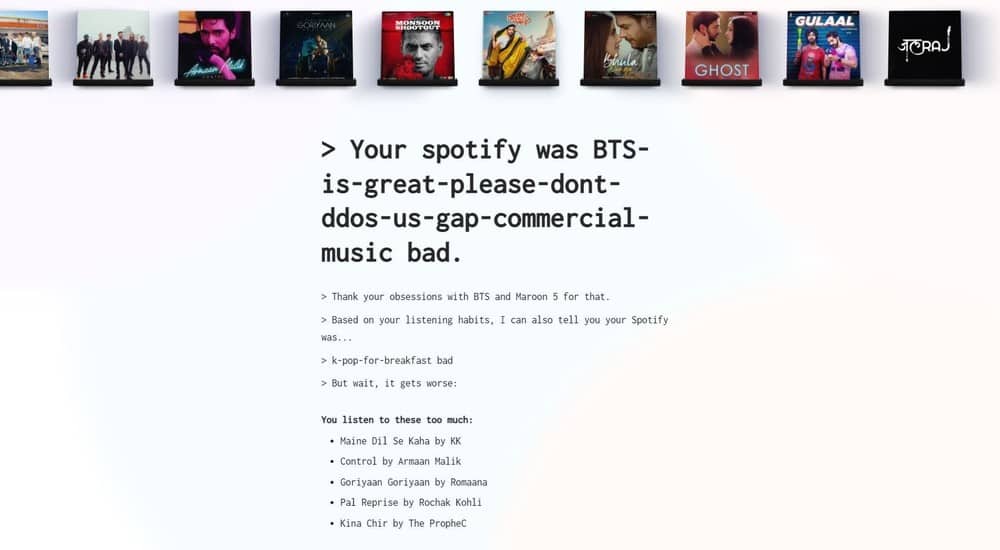 While You are here checking your Spotify stats you might love to customize your desktop Spotify player, Here is how to customize your Spotify
Remove third-party app access to your Spotify Account
You have tried and tested multiple ways to get the stats about your Spotify account,
Now it's time to remove apps to access your Spotify data because you will not be using every app in the list for sure.
Visit Spotify Account Apps to the approved applications list that has access to your data.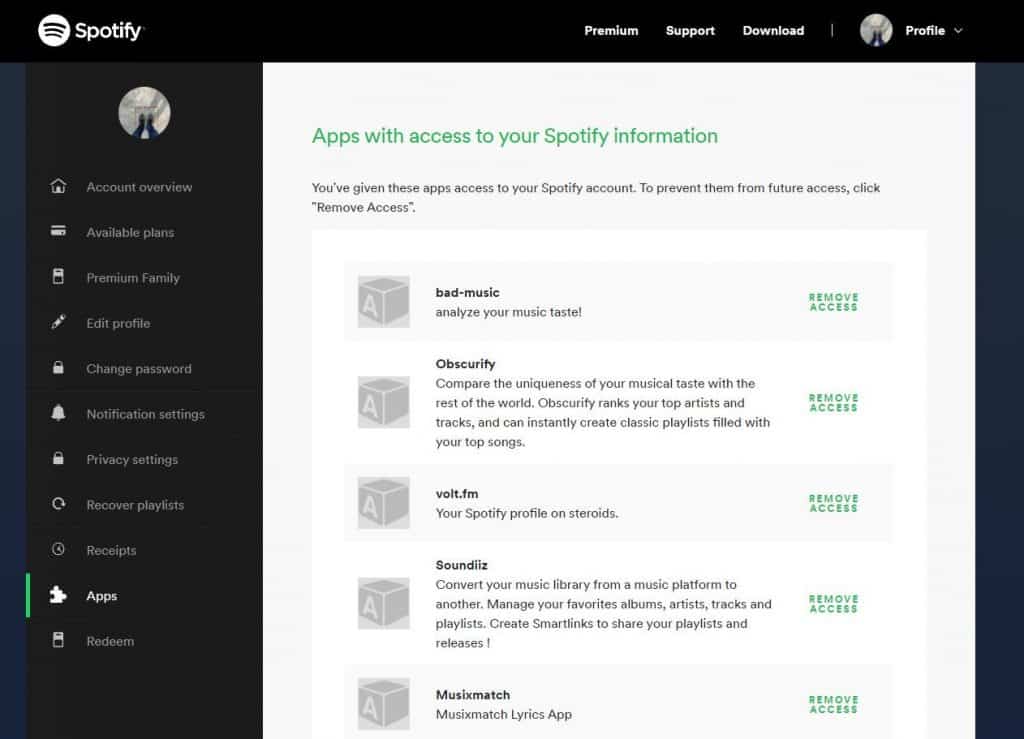 Now you know how to check your stats of Spotify from basic to advance using third party websites. You also know how to remove those third-party websites from accessing your data after you got what you want to know.